"As the Maya exploited the patterns of power in time and space,
they used ritual to control the dangerous and powerful energies
their [pyramids and structures] released."
- Linda Schele and David Friedel, A Forest of Kings
"I took three pictures of the pyramid trying to get lightning.
In number one, nothing happened. In number two, nothing happened.
In the third  picture is the beam and lightning."
- Hector Siliezar, on vacation tour near
Kukulkan Pyramid, Chichen Itza, Yucatan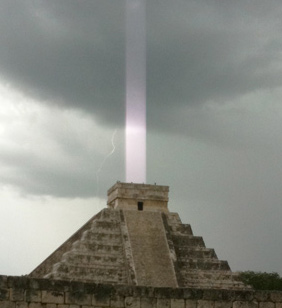 February 21, 2012  Los Angeles, California - In the first week of February 2012, an Earthfiles viewer sent me the photograph above of the Mayan Kukulkan pyramid with a pale pink beam coming out of the top and asked me if I knew the background of the photograph that is displayed in some Mayan-related websites. I contacted my friend and colleague Jaime Maussan in Mexico City, who said it was a real photograph taken on July 24, 2009, by Hector Siliezar on vacation with his wife Glenda Hernadez and their two girls, Stephanie and Destiny. Hector and Glenda were both born in El Salvador, but Hector moved to Los Angeles, California, in 1986 to sell cars and later to work in receiving and shipping for warehouses. By 1990, Glenda joined Hector as a resident, became a bank teller, gave birth to their daughters and the couple married in 2006.
Click here to subscribe and get instant access to read this report.
Click here to check your existing subscription status.
Existing members, login below:

© 1998 - 2023 by Linda Moulton Howe.
All Rights Reserved.