"There are these two trees that were at least 60-feet-tall
and 10 feet apart from each other ... snapped now about 15 to 20 feet
off the ground ... and the upper parts are laying in my driveway."
- John  Nieuwenhuis, Owner, Little John's Excavating
and Envir. Services, Kalamazoo, Michigan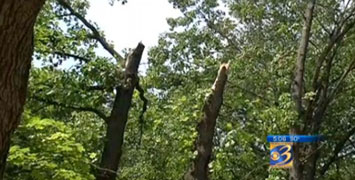 Updated: May 30, 2012  Kalamazoo, Michigan - Between 10:30 PM on Sunday night, May 27, 2012, and the next morning at 8:30 AM local time in four counties of southwestern Michigan, something highly strange caused booms loud enough to provoke residents to call police and fire departments.

© 1998 - 2018 by Linda Moulton Howe.
All Rights Reserved.