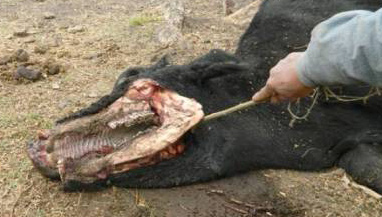 "If there is another mutilation, the ranching community will really be up in arms. What concerns us is what they (mutilators) are going to do next?"
- Mike Clarke, Owner, Esty Ranch, Gunnison, Colorado, August 7, 2012
"There was an absolutely horrific cat mutilation in Southwest Las Vegas the last week of July 2012."
- Las Vegas World News, August 6, 2012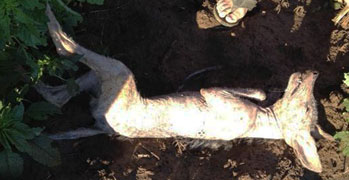 August 10, 2012 UPDATE - from investigators Visao Ovni in Argentina, translated by Scott Corrales of Inexplicata:
"Mysterious Animal Mutilations in Argentina August 8, 2012
ARGENTINA. There are more than a month, mysterious deaths animal deaths with mutilations and extraction of organs have been taking place in different rural areas of Argentina as departments in the fields of Victoria (east of Rosario), Colonia Yerua (west of Concordia), Viale and Villaguay - all located in the province of Entre Rios. The cuts are precise and cauterized. The cases come by multiplying since the second week of July (2012).

© 1998 - 2018 by Linda Moulton Howe.
All Rights Reserved.