"The AH-64 was literally at treetop level or even a little below, and this guy was in my Louisville, Kentucky, neighborhood doing what we call 'nap-of-the-Earth,' which means following the contour of the Earth to evade radar, a military technique in enemy territory."
- U. S. Army veteran, after unexplained booms reported January 7-8, 2013, throughout Tri-State region  of NW Kentucky, SW Indiana and SE Illinois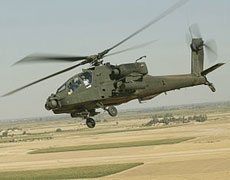 March 1, 2013  Louisville, Kentucky - Over the past two years, Earthfiles has reported about many boom mysteries throughout the United States often followed by low-flying helicopters that seem to be in search mode. Two dramatic recent examples of low, searching military helicopters a few days after loud, unexplained booms both occurred mid-January 2013, in Louisville, Kentucky, and Cedar Hills, Utah.

© 1998 - 2018 by Linda Moulton Howe.
All Rights Reserved.