– "These USAF humvees were equipped with a satellite-looking
apparatus that would fold out and emit a huge sound wave that
he said 'when it hit a tank, it would liquefy the occupants.'"
- Oregon resident
– "Starting with the Second World War, there was a division of the U.S. Army that was referred to as the Ghost Army. Part of what they were involved in was sonic deception, putting loud speakers in the battlefield to create a false impression. ... the U.S. Army in Vietnam had a division of psychological operations called Wandering Soul. This involved helicopter-mounted loudspeakers playing simulated Buddhist chants, fabricated sounds of the dead ancestors of the Viet Cong fighters speaking to them from the afterlife to try and persuade them to surrender. ... now is the use of ultrasound driven directional audio speakers that can actually rupture eardrums from a distance."
- Steve Goodman, Hyperdub and
2009 author of Sonic Warfare, London, England
Updated:  Original March 8, 2013  Albuquerque, New Mexico - The following is correspondence to Earthfiles.com about the "sound gun" technology that I first reported in this news website's "Mysterious Booms - A Secret Military Weapon?" and on Coast to Coast AM radio March 1, 2013.
UPDATE March 10, 2013: Earthfiles has received several references to sonic warfare with Ultrasonic Weapons (USW) - outside human hearing - and Long Range Acoustic Devices (LRAD), in which sound is used to cause pain in crowd control and other applications and can damage ear drums within 49 feet (15 meters), according to LRAD Corporation officials.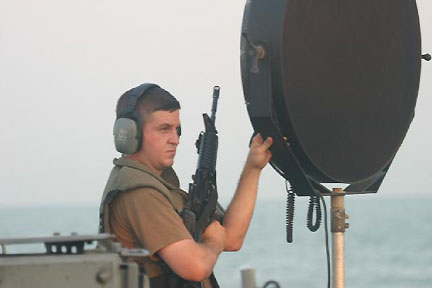 Click here to subscribe and get instant access to read this report.
Click here to check your existing subscription status.
Existing members, login below:

© 1998 - 2023 by Linda Moulton Howe.
All Rights Reserved.