— "The sounds being heard are coming from the Earth itself. Changes deep inside the core are vibrating the crust near thin areas and causing the crust to act like a speaker most often times projecting deep waves up to the ionosphere where they are (bounced back) at audible frequencies... These inner ground vibrations are also what is causing the sink hole issue around the world... and underground water sources are being vibrated to the point of dispersion."
- Retired electronics engineer 2005, Hill AFB, Utah
— "Then an explosion happened right in the middle of my living room that had the sound and force of an explosion with an after-sound of breaking  glass."
- Resident Anna Hoaglan, Woodland Hills, CA, March 7, 2013
— "This sounded like someone set off dynamite in front of my house."
- Eddie Lashley, Louisville, Kentucky, on March 17, 2013
— "Why was the Civil Air Patrol Wing at Bowman Field, Kentucky, monitoring with a Cessna Skyhawk over Louisville from June through October 2012, for 6 to 8 hours a day on a classified mission?"
- Kentucky resident between Fort Knox and Louisville, Kentucky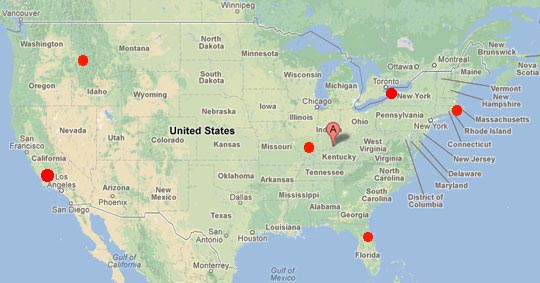 Updated March 28 / Original report on March 19, 2013  Louisville, Kentucky - Since March 7, Earthfiles has received many more boom, light flash, military helicopter and higher strangeness sounds of metal crashing and glass breaking reports - but no physical evidence or known source. Here is a sampling:

© 1998 - 2018 by Linda Moulton Howe.
All Rights Reserved.