"The Captain perceived an object pass within a few feet above the aircraft. It could best be described as cigar/rugby ball-like in shape, bright silver and metallic-like in construction."
- Page 87, U. K. Airprox Board Report, January 5, 2014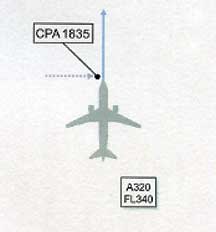 "We still don't know what it was, but it was there."
- Bremen police spokesman, January 6, 2014
January 10, 2014 London, England and Bremen, Germany - Six months ago on July 19, 2013, at 6:35 PM local London time in England, a Captain of an A320 airbus was flying at 34,000 feet about 20 miles west of the Heathrow Airport over the Berkshire countryside. According to a recently released U. K. Airprox Report No. 201308:

© 1998 - 2018 by Linda Moulton Howe.
All Rights Reserved.