– "When the boom hit, a glass plate and drinking glass shattered into
micro bits that sent pieces flying at least twenty feet away!"
- Skylar Massey, Rancher, Kamiah, Idaho
– "I was sitting in the house watching TV and I heard this loud explosion — not like a firecracker or a cherry bomb — more like dynamite
or like a military-type explosion."
- Ron Eldridge, retired Guidance Counselor, Antigo near Clintonville, WI
May 29, 2014  Kamiah, Idaho, and Antigo near Clintonville, Wisconsin - Four months ago in my February 2014 Earthfiles, COAST and Dreamland reports, I interviewed an audio technician in Kamiah, Idaho, not far from Lewiston. He had been sitting on his porch around 10 PM at night when he heard a weird, metallic sound above him.
He said, "It was like a road grader with the blade down on asphalt or metal."   He looked up and saw a large, black triangular aircraft going overhead — each corner glowed with light.  See 022714 Earthfiles.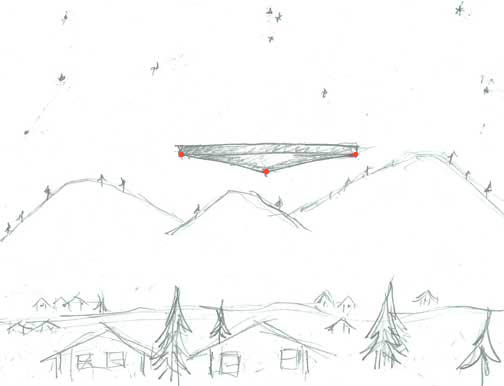 © 1998 - 2018 by Linda Moulton Howe.
All Rights Reserved.