— "This new mutilation was directly north about 150 feet from the first
three mutilated cows I had last year."
- Alex Peterson, Owner, Windmill Angus Ranch, Haigler, Nebraska
— "It looked like a spotlight from helicopters ... a really, really bright white ...
but it was like a solid beam. And it did at one point look like
there was something black in the beam."
- Michael Knight, ranch hand sighted light beam  above
Alex Peterson Windmill Angus Ranch in Haigler, Neb., Sept. 19, 2014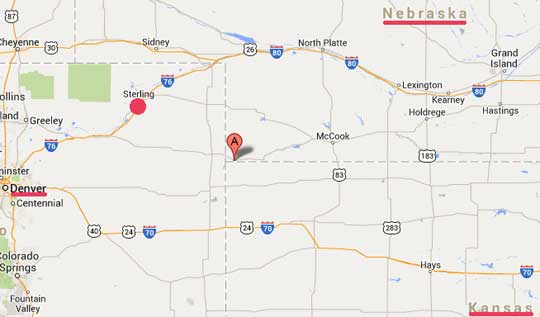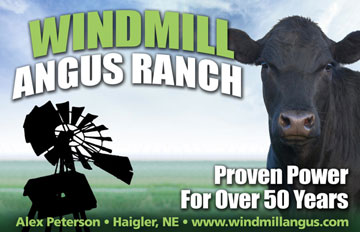 September 26, 2014  Haigler, Nebraska - It was only a year ago that rancher Alex Peterson in Haigler, Nebraska, about 190 miles east of Denver, Colorado, suffered half a dozen mutilations of his pregnant black Angus cows between June and August 2013. See 081013 Earthfiles. Alex and his father have been raising cattle in Haigler since the 1930s and now Alex has 600 pure bred black Angus. One of those big, pregnant Angus cows was dropped nose-first into a small pasture hole discovered on August 1, 2013. Alex Peterson knew after he dragged her 1700-pound body from the hole and found a perfectly preserved spiderweb inside the hole, that she was dead when dropped straight down into the small hole. Otherwise, her struggle and breathing would have destroyed the fragile web.
Click here to subscribe and get instant access to read this report.
Click here to check your existing subscription status.
Existing members, login below:

© 1998 - 2023 by Linda Moulton Howe.
All Rights Reserved.