"The federal government came out a couple of weeks ago with their
loss numbers for the bee industry last year:  42% loss. That 42% is not the
number of total losses. That's the number of empty boxes. So, in reality,
every time you replace a queen, you're replacing that beehive. So most
beekeepers are looking at 80% to 120% losses."
- Dave Hackenberg, Owner, Hackenberg Apiaries, Lewisburg, PA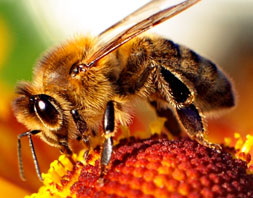 June 25, 2015   Lewisburg, Pennsylvania - On May 19, 2015, the White House issued a Presidential Memorandum called "National Strategy to Promote the Health of Honey Bees and Other Pollinators."  It was put together by an Obama-appointed Pollinator Health Task Force.

© 1998 - 2018 by Linda Moulton Howe.
All Rights Reserved.