"We should be very careful about artificial intelligence. If I had to guess
at what our biggest existential threat is to humanity, it's probably that."
- Elon Musk, Head of Tesla and SpaceX, supported by
Microsoft's Bill Gates and U. K. Astrophysicist Stephen Hawking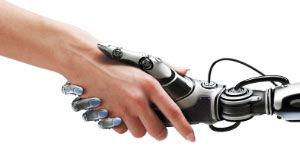 "I think it is quite likely that within a few centuries the overriding
intelligence (beyond humans) will be machines because ... they are not
organic and most exploration will be by machines and not humans.
...So if we find aliens in space, they will be machines."
- Martin Rees, Ph.D., Astronomer Royal and Emeritus Professor of
Cosmology and Astrophysics, University of Cambridge, England
June 26, 2015 Cambridge, England - On June 1, 2011, Martin J. Rees, Ph.D., Astronomer Royal and Emeritus Professor of Cosmology and Astrophysics from the University of Cambridge, was in London's Buckingham Palace before Prince Phillip. He was there to receive the prestigious 2011 Templeton Prize for his "profound insights on the cosmos that have provoked vital questions that speak to humanity's highest hopes and worst fears." The Templeton Prize began in 1973 when it honored Mother Teresa before she received the Nobel Peace Prize. Others receiving the honor have been the Dalai Lama and mathematician George Ellis from South Africa, who thinks Einstein was wrong that time is an "illusion" and describes his own theory in the following Earthfiles report.
Click here to subscribe and get instant access to read this report.
Click here to check your existing subscription status.
Existing members, login below:

© 1998 - 2023 by Linda Moulton Howe.
All Rights Reserved.