"I have black on the outside. …that's where the black, round, shiny part is. ... Oh, I'm viewing ETs. ... So move me back to the place with the yellow light. ... That's when I got … an incubator."
- Lyn Buchanan in July 14, 1986, Controlled Remote Viewing for DIA's DT-S STAR GATE unit about "Rendlesham Forest Incident"
24 years before Staff Sgt. James Penniston first publicly discussed details in 2010 of the December 26, 1980, telepathic download with binary code he received in Rendlesham Forest near RAF Bentwaters/Woodbridge after he and Airman 1st Class John Burroughs were overwhelmed by a bright white light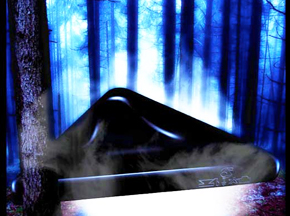 Return to Part 1.
September 25, 2015 - Albuquerque, New Mexico - These are the thirteen pages unclassified and "approved for release 2000/08/08" on the CIA website of the July 14, 1986, practice Controlled Remote Viewing (CRV) session done by Lyn Buchanan in the DT-S unit of the Defense Intelligence Agency based at Fort Meade, Maryland. One page after "E.T.s" notation is missing without explanation.
Click here to subscribe and get instant access to read this report.
Click here to check your existing subscription status.
Existing members, login below:

© 1998 - 2023 by Linda Moulton Howe.
All Rights Reserved.