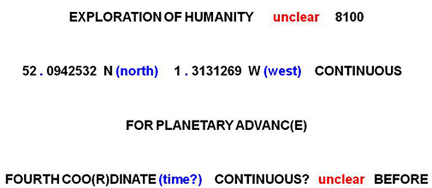 Return to Part 1.
November 4, 2015 for KGRA PHENOMENON Radio audience / original Earthfiles posting on January 7, 2011  Timberlake, North Carolina - There are problems in trying to translate the stream of zeros and ones that former RAF Bentwaters/Woodbridge Staff Sergeant James Penniston wrote down in his notebook after the traumatic encounter with lights and craft of unknown origin on December 26, 1980.

© 1998 - 2018 by Linda Moulton Howe.
All Rights Reserved.