"The UFO was like two plates with one inverted on top of the other ...
about 20 to 25 feet off the ground ... light metallic grey, about 25 feet
in diameter, maybe 15 feet high. It had three windows."
- William H. Cashman, Atty., New Haven, Connecticut, describing
close encounter with UFO in early 1980s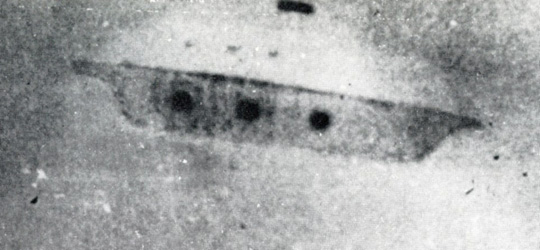 October 28, 2016 New Haven, Connecticut - Over the decades of UFO reports, one of the repeated descriptions in the United States and other parts of the world has been, "it looked like two pie pans or plates put together at the rims." There is one historic photograph that was close enough to show details of a round aerial craft that looked like two pie pans joined at the rim. There were three windows below the rim. The black and white photograph was taken with a Polaroid camera when Gabriel Kozora was photographing his 11-year-old son in front of their house in New Castle, Pennsylvania, on June 28, 1967. Mr. Kozora said the UFO was about 60 feet long and hovered overhead for about 15 seconds before moving off to the northwest.
Click here to subscribe and get instant access to read this report.
Click here to check your existing subscription status.
Existing members, login below:

© 1998 - 2023 by Linda Moulton Howe.
All Rights Reserved.