"Seems to be coming from the sky and moves around.  A few times it felt as if it was charging fast back towards my house after becoming somewhat distant. Enjoy the lovely sounds of orcas dying in the sky!"
- Amanda Rhodes, FB post with video/audio, Spokane Valley, WA
December 15, 2016 Albuquerque, New Mexico - On the night of December 13 to 14, 2016, thousands of people in the Spokane Valley region of Washington state reported on Facebook and Twitter about strange, eerie sounds coming from the sky all night long.
1) Spokane Valley, Washington
Here is a very good 11-minute video/audio at 3 AM recorded at Sullivan Road and Broadway Avenue in Spokane Valley and posted on YouTube. Worth listening all the way through:
https://www.youtube.com/watch?v=r1f5BkFPpc0
On Dec 14, 2016, at 2:08 PM, MKF in Spokane Valley, Washington, wrote to Earthfiles.com:
Linda, below is a link and photograph of two beams at same time of noises from our local KHQ station in Spokane, Washington, posted by a resident in comments for KHQ Facebook about strange noises all night in Spokane Valley, WA. I live on South hill of Spokane, so did not hear this. Also windows were closed because it is frigidly cold.
These noises sound very much like posts you have made to Earthfiles.
Thank you,
Marie
Spokane, WA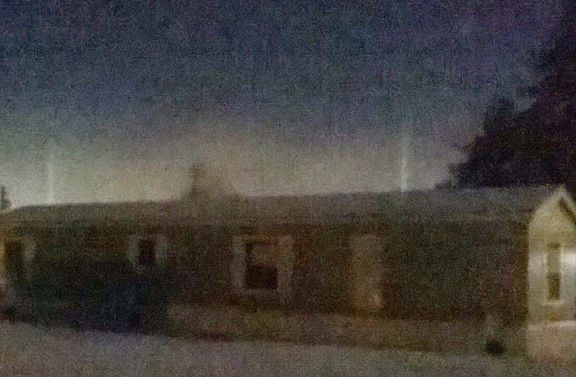 Photo on KHQ Facebook page December 14, 2016, of two vertical whitish beams that appeared above the foreground house at the same time that eerie, metallic sounds were being recorded on an iPhone by a Spokane Valley, Washington, resident on the night of Dec. 13-14, 2016, and posted at the KHQ Facebook.
Click here to subscribe and get instant access to read this report.
Click here to check your existing subscription status.
Existing members, login below:

© 1998 - 2023 by Linda Moulton Howe.
All Rights Reserved.