"I'm looking straight into the eyes of what we would now call a mantis.
... they make telepathic connections through the eyes ... through your
retina and the optic nerve to your brain."
- Simon Parkes, former Councilor for London Borough of Hackney, 1994-1999;
Councillor of Whitby Town Council 2011-2015, North Yorkshire, U. K.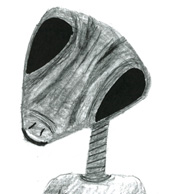 December 21, 2016 Whitby, North Yorkshire, England - A month ago in a November 24, 2016, Earthfiles and COAST radio broadcast, I interviewed a 50-year-old Staten Island, New York, resident, who asked me to call him "Steve Bishop." He told me about his father's U. S. Air Force job from World War II on through the 1970s to retrieve dead non-humans at crash sites from Roswell and beyond. Paralleling his father's work were Steve's childhood abductions by a cream-colored, tall insectoid being that looked like a praying mantis with huge dark eyes. Steve tried to tell his mom and dad about the large praying mantis coming into his bedroom with small Grey beings, but his father didn't want to talk about any of it and would get angry at his young son, Steve, for any mention of the strange beings. Steve and I talked about whether his father knew there was a link between the praying mantis interactions and abductions of Steve and the father's job of retrieving dead E. T. bodies from crashes.
Click here to subscribe and get instant access to read this report.
Click here to check your existing subscription status.
Existing members, login below:

© 1998 - 2023 by Linda Moulton Howe.
All Rights Reserved.