"We do not know what it was, but we do know what it was not."
- Gen. Ricardo Bermúdez, Director, CEFAA,
Committee for the Study of Aerial Phenomena, Santiago de Chile
January 9, 2017 Santiago de Chile - The Chilean government's Committee for the Study of Aerial Phenomena (CEFAA) in Santiago de Chile has released unclassified videotape (never classified, but took two years to release) of a naval helicopter carrying out a routine daylight coastal patrol on November 11, 2014, when the camera operator noticed an unidentified flying object ahead. See Websites below for full video. The first appearance of the UFO was as two dark spheres joined together that were was flying horizontally and at a steady speed similar to that of the naval helicopter.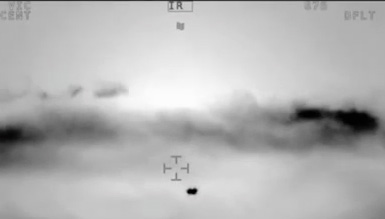 © 1998 - 2018 by Linda Moulton Howe.
All Rights Reserved.