"It sounded like a bomb just went off outside our house."
- Mt. Holly, No. Carolina Resident, January 17, 2017
January 19, 2017 Mt. Holly, North Carolina - Tuesday night, January 17, 2017, beginning at about 8:03 PM Eastern, the Channel 9-WSOTV newsroom in Mt. Holly, North Carolina, began receiving dozens of calls from viewers reporting a mysterious, loud, house-shaking boom. Channel 9 reporter Ken Lemon learned Mt. Holly police and county dispatchers also received over thirty 911 calls in a couple of hours from worried residents trying to find out what caused the bomb-like sound.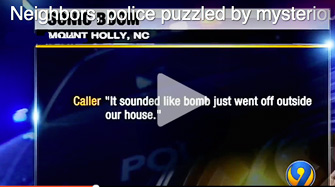 © 1998 - 2018 by Linda Moulton Howe.
All Rights Reserved.