"We could see an unprecedented number of false warnings being issued by cyber attacks. And think how upsetting that will be to people."
– Scott Portzline, Three Mile Island Alert, Security Committee Chairman, Harrisburg, PA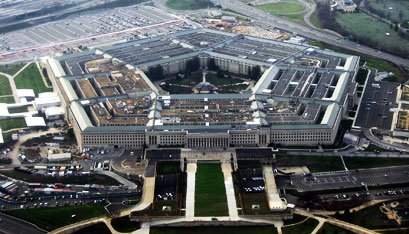 Return to Part 1.
January 26, 2018 – Harrisburg, Pennsylvania – On January 16, 2018, The New York Times reported that "a newly drafted United States Nuclear Posture Review January 2018sent to President Donald Trump for approval would permit the use of nuclear weapons to respond to a wide range of devastating but non-nuclear attacks on American infrastructure." For example, those are the cyberattacks that can take down large power grids.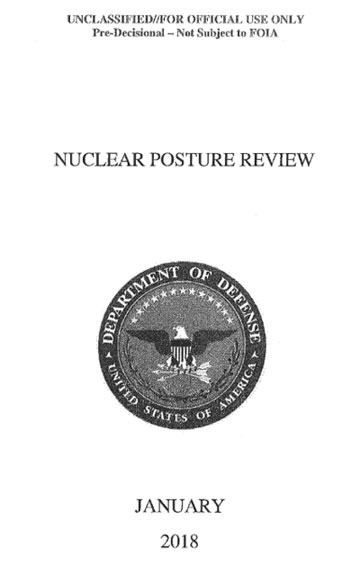 Prior to the Trump administration, DoD policy said the United States would "only consider the use of nuclear weapons in extreme circumstances to defend the vital interests of the United States or its allies and partners." Now the new Trump draft expands the use of nuclear weapons if there are "attacks on the U. S., allied or partner civilian population or infrastructure, and attacks on U. S. or allied nuclear forces, their command and control, or warning and attack assessment capabilities."
Thus, The New York Times January 16, 2018, headline: "Pentagon Suggests Countering Devastating Cyberattacks with Nuclear Arms."

The Department of Defense knows that our adversaries in Russia, China, North Korea and Iran have all done some moderate forms of cyberattacks and that Russia has infiltrated some American utility systems with what they call "Black Energy." But none of that to date has caused a major blackout in a large region of the United States.
However, the very fact that there are now geopolitical discussions about even wanting to use nuclear arms in retaliation for cyberattacks means the chances increase that it could happen.
---
Interview:
Scott Portzline, 
Three Mile Island Alert, Security Committee Chairman, Harrisburg, Pennsylvania: 
"COULD YOU PLEASE GO INTO THE DETAILS OF THE SIZE OF BOMBS? AND YOU SENT ME SAN FRANCISCO AND HAWAII NUKE MAPS. MAYBE YOU COULD USE THOSE AND EXPLAIN WHAT CURRENT DAMAGE WOULD BE.
OK. The North Korean bomb right now is estimated to be 150 kilotons. That's 10 times more powerful than the Hiroshima bomb we used against an enemy in World War II. That's the same yield as is currently on a U.S. nuclear cruise missile. These are missiles that can be fired from submarines or aircraft, and they are low-flying, jet-powered missiles that have programmed into them a flight path at low-altitude that follows the terrain. So if one were to hit Honolulu, Hawaii, it would wipe out everything between the airport and Diamond Head.
150 Kiloton Nuclear Bomb Drop On Honolulu
Takes Out Everything Between Honolulu
Int'l. Airport and Diamond Head.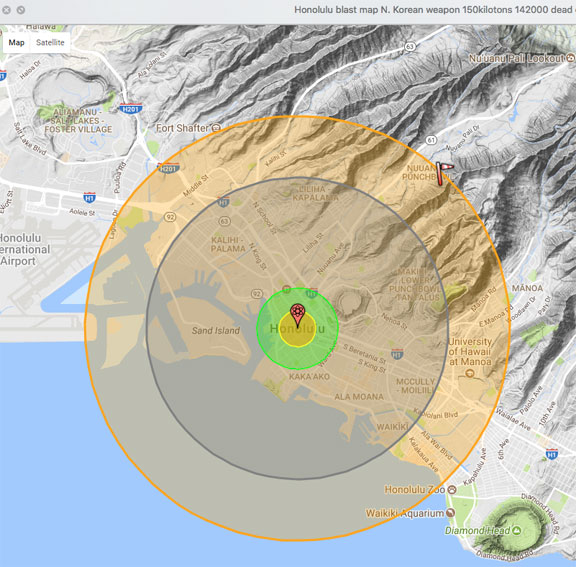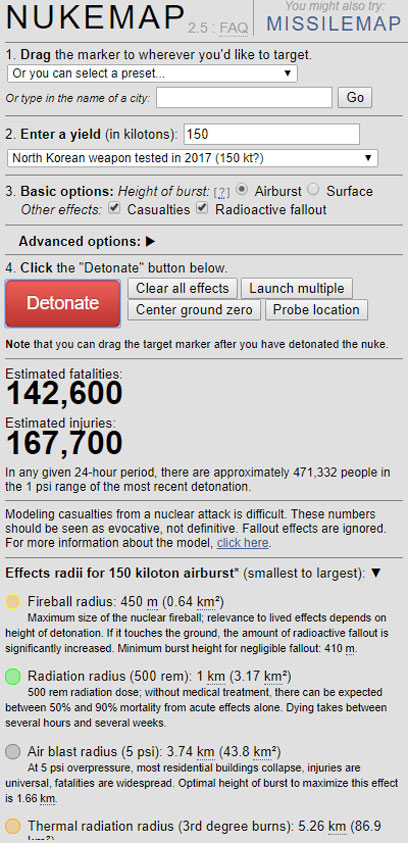 Scott Portzline: The fireball itself from the blast is half a mile wide. The radiation that is released like gamma rays and so forth, which is a direct shine onto a person, is 1.25 miles wide. 50 percent or more of the people will die within several hours to several weeks. So that's actually a smaller bomb, but you know, you're wiping out a city. And the air blast itself can knock down buildings, and it's going to rupture eardrums and cause many injuries. The air blast itself is four and two-thirds miles wide. The thermal blast will burn people's skin, third degree burns, six and a half miles wide. Some of the burns will not cause much pain because it will destroy the nerves. It will burn so deeply through the skin that it will kill the nerves, and so some of those people won't even have much pain from the burns. But it will be so bad that some of the people will require amputations.
I'M LOOKING AT THE COLORED NUKE MAPS THAT YOU SENT. THERE'S A WEBSITE. COULD YOU GIVE OUT THE URL FOR THESE NUKE MAPS?
Yes. It's nuclearsecrecy.com/nukemap. And they're spelling N-U-K-E-M-A-P.
I AM LOOKING AT THE MAP FOR HAWAII SINCE THIS HAS BEEN THE MOST RECENT ALERT ON JANUARY 13TH. IF I'M READING THIS CORRECTLY, IT IS SHOWING THAT ALL OF DOWNTOWN HONOLULU WOULD BE GONE.
Yes.
AND THAT THEY'RE ESTIMATING THE FATALITIES AT 142,600.
Yes. Those are estimates. And then the injuries, 167,700. These are very good maps because you can enter any city in the world. It's like a Google map. And then you can enter the size of the weapon.
LET'S SAY IN TERMS OF MILES FROM SAN FRANCISCO OR HONOLULU IN THESE NUKE MAPS, HOW MANY MILES ON AVERAGE WILL PEOPLE BE ABLE TO SURVIVE?
It depends on the yield. But with the North Korean size, 150 kilotons, and with the ionizing radiation being deadly to about 50 percent of the people, is a mile and a quarter. But the thermal radiation is six and a half miles wide. So it's easy to see that there's going to be a lot of people severely injured and possibly dying from just the thermal burns from six miles. If you go to the nuke maps, you can enter a different yield. So enter 30 megatons. You're going to see something entirely different, and it'll make you sick because you're going to see, in some cases, the thermal range will be 50 miles in diameter.
OK. LET'S SAY THERE IS A BLAST. YOU'RE STILL THERE, YOU'RE STILL ALIVE, YOU HAD THE FARADAY CAGE, YOU HAD YOUR ELECTRONICS IN THERE, BUT YOU HAVEN'T DONE ANYTHING TO THE WINDOWS. WOULD YOU THEN ACCOMPLISH ANYTHING ABOUT HELPING TO KEEP RADIATION OUT AFTER A BLAST IF YOU THEN START GAFFER TAPING FROM THE INSIDE OF THE HOUSE?
Yes, because it will be just like a dirty bomb scenario. What we're trying to do is prevent the ingress of radioactive particles, particulate matter, that would come in. And you want to turn off your circulation fans so you're not drawing it from another room in your house. It's going to be a tough time. I already have my plastic cut to size. I don't even have to fool around when it's time to go to my safe room in my house.
Should Nuclear Weapons Be Used to Retaliate Against Cyberattacks?
WE'VE BEEN TALKING ABOUT SOME OF THE PRACTICAL ASPECTS OF WHAT WE'RE DEALING WITH IF THERE IS A 150-KILOTON NUCLEAR ATTACK FROM NORTH KOREA OR A 30 MEGATON ATTACK FROM SOME OTHER COUNTRY.
LET'S GO TO THE JANUARY 16TH, 2018, NEW YORK TIMES HEADLINE, "THE PENTAGON SUGGESTS COUNTERING DEVASTATING CYBERATTACKS WITH NUCLEAR ARMS" AND HERE'S THE FIRST PARAGRAPH: "A NEWLY-DRAFTED UNITED STATES NUCLEAR STRATEGY THAT HAS BEEN SENT TO PRESIDENT TRUMP FOR APPROVAL WOULD PERMIT THE USE OF NUCLEAR WEAPONS TO RESPOND TO A WIDE RANGE OF DEVASTATING BUT NON-NUCLEAR ATTACKS ON AMERICAN INFRASTRUCTURE, INCLUDING WHAT CURRENT AND FORMER GOVERNMENT OFFICIALS HAVE DESCRIBED AS THE MOST CRIPPLING KIND OF CYBERATTACKS."
SCOTT, WHAT IS YOUR PERSPECTIVE ON COUNTERING CYBER ATTACKS WITH NUCLEAR ATTACKS?
Well, I actually think it's a necessity, and I'm going to have a lot of people hating me for that thought. But when you consider losing the grid or the damage to a nation that can occur from cyber attacks, it can bring a nation to its knees. So we have to be sure to let other nations know, "If you do something like this, your nation's not going to exist."
And that's that horrible concept of mutually-assured destruction. But the truth is, for at least the last 60 years, it's worked. We could see an unprecedented number of false warnings being issued by cyber attacks, and think about how upsetting that will be to people. And this is one reason the United States is considering retaliating that type of manipulation with a nuclear attack.
BUT WE'RE DEALING NOW WITH TAUNTS AND INDESCRIBABLE WORDS GOING ON BETWEEN THE LEADER OF NORTH KOREA AND THE PRESIDENT OF THE UNITED STATES. WHAT IF IT DID ESCALATE TO THE NORTH KOREANS SAYING, "OK. I'M GOING TO BLAST HAWAII?"
EXPERTS BELIEVE THAT HE HAS THE CAPABILITY OF AT LEAST PUTTING A 150-KILOTON ON A MISSILE.
Yeah. We're in the awful truth of two neighbors arguing and fighting, so they both dump a foot of gasoline in their yard, and they're saying, "I'm going to light this match."
And we have two leaders of our nation and North Korea, who are also showing off, and they're walking around smoking a cigarette saying, "I'm not afraid of you! My cigarette's bigger than yours! And we're going to be all right, trust me, you'll see."
Well, that's where we're at today, and it's madness! So each advance in technology and other nations wanting to advance their technologies brings us closer and closer to this sort of destruction. And it can happen by accident, not just from bravado.
Will North Korea Try Nuke Sneak Attack by Hiding Missile in Fishing Boat?
I really think that North Korea is going to use a different technique, and that's with a fishing boat, or a cargo vessel, or a shipment of some sort. And they could bring a dozen nuclear weapons into the United States that go undetected. Let's say 60 percent of them work and be detonated across our nation, what do we do then? Who are we going to blame? I mean, this will be the devastation that's possible. North Korea, I think, is doing a lot of posturing for political reasons and economic reasons, but I think the way they fight is going to be unexpected.
SO YOU'RE SUGGESTING, SCOTT, THAT THEY COULD USE SOMETHING LIKE A SUITCASE BOMB INSIDE OF A FISHING TRAWLER OR SOME BOAT OR SOME KIND OF VEHICLE THAT THEY GOT INTO THE UNITED STATES?
Yes. Photographs of what they claim is their thermonuclear bomb would easily fight in a shipping container.
What Percentage of American Shipping Containers Are Monitored for Suitcase Bombs?
DO WE HAVE ANY WAY TO MONITOR, X-RAY, OR SEE A SUITCASE BOMB IN ONE OF THE SHIPPING CONTAINERS OF THE HUNDREDS AND THOUSANDS THAT ARE GOING THROUGH THE WORLD ALL THE TIME?
Yeah, we do have a way, but it's the needle in the haystack still. The last numbers that I had, and these are old numbers, is that only about 2 % of our containers were being monitored in that manner. You better believe that not every one is being checked. So let's say that North Korea or another nation tried to introduce something like that into the United States, and half of the containers get caught. It doesn't matter. Those other ones that come through and are successfully detonated will change the world.
DO YOU FEEL THAT IN THE NEXT DECADE THAT WHAT WE'VE BEEN TALKING ABOUT TODAY COULD ACTUALLY HAPPEN?
Yeah. I also worry about Pakistan and Indian, who definitely do not trust each other. All of our nations are on this hair trigger alert. North Korea doesn't have that yet, but because of the hair trigger alert, the idea is we need to launch our weapons before they are destroyed by an incoming attack.
Even A Rising Moon Can Fool Radar
But the problem is we almost did start a nuclear strike because of errors with people or computers or radars or satellites. In 1960, NORAD — that's the North American Aerospace Defense Command in Thule, Greenland — I've been to that Air Force Base and I saw those radar screens there. They used to have four huge football field-sized radar screens looking over the North Pole to detect incoming missiles from the former Soviet Union. It was part of the early warning system, which was a series of radar sites stretching from Greenland across northern Canada and terminating in Alaska.
Well, on that particular day, the system was very new, the computer concluded that there was a massive incoming missile strike from the Soviet Union. And computers calculated a confidence level at being 99.9 % certain that it was correct. But the radar was echoing off the moon. The moon had just come up over the horizon. It wasn't missiles. It was the moon!"
Return to Part 1.
A

lso see:
---
Websites:
Interactive Map for Nuke Sites: http://nuclearsecrecy.com/nukemap/
"Powerful Pictures Show What Nuclear 'Fire and Fury' Really Looks Like," August 9, 1917, National Geographic: https://www.nationalgeographic.com/photography/proof/2017/08/fire-fury-hiroshima-nagasaki-anniversary-nuclear-atomic-bomb-pictures/
"An Introduction to Nuclear Electromagnetic Pulse," by Jerry Emanuelson, B.S.E.E.: http://www.futurescience.com/emp.html

© 1998 - 2018 by Linda Moulton Howe.
All Rights Reserved.