"This blew our minds because no one had ever heard of anything like this in a vertebrate. … I think we're going to look at the greatest drop in species diversity ever seen since man has been around."
– Biologist David Owens, Ph.D. Emeritus, College of Charleston, SC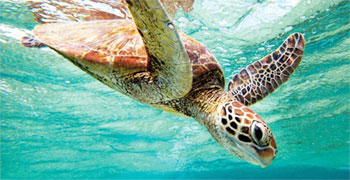 January 26, 2018 – Charleston, South Carolina – For centuries in ancient China, Indonesia, Bali, Australia, Hawaii and the Cayman Islands, the big and beautiful green sea turtles have been eaten as a delicacy and their skin tanned for handbags. All the hunting, poaching and egg harvesting have greatly reduced the turtle populations. And now another threat to their survival is coming in a bizarre way. Climate change is turning 99% of baby sea turtles into females. That means fewer and fewer males to fertilize females, so by the end of this century warming century, the green sea turtles could be facing extinction.
How could this happen in Mother Nature? It turns out that green sea turtles don't develop as male or female based on sex chromosomes as humans and most other mammals do. Instead, it's how warm or cold it is outside the turtle egg that determines the sex of the growing embryo. All of this is the subject of a recent journal report in Current Biology in which hard, detailed data confirms that green sea turtles are temperature-dependent for sex determination.
One of the leading turtle experts in the United States is Professor Emeritus and biologist David Owens, Ph.D., at the College of Charleston in South Carolina. He has contributed to the research and says, "This is one of the most important conservation papers of the decade. On a warming planet, there will not be enough males in sea turtle populations." He means not enough males to fertilize the huge expected female population. And that could mean the end of the green sea turtles.
Raine Island, Australia: World's Largest Green Turtle Nesting Population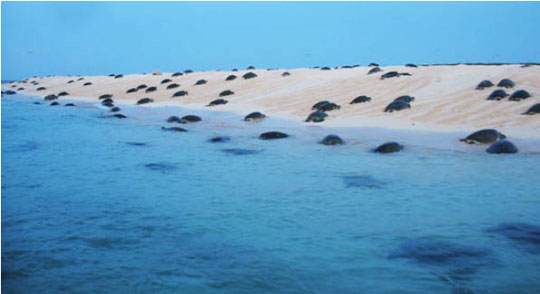 On Australia's east coast there is a beach called Raine Island. It is famous for having a quarter million turtles lay their eggs there each year when temperatures have been around 29 degrees Celsius, which is about 85 degrees Fahrenheit. A degree or so above that temperature, you get 100% females. Below that temperature, you get 100% males. Today in this warming world, scientists have found that more than 99% of young turtles are female and even 87% of older females are female. The disturbing ratio is 116 females for every juvenile male turtle.
A few inseminating males can go along way, but researchers are seriously concerned that the green sea turtle might not survive after this century. That would be a huge loss to so much marine life because the green sea turtle is a keystone species on which so many other creatures depend on in the ecosystem for their own survival.
Professor Owens concludes: "Climate change is clearly the culprit."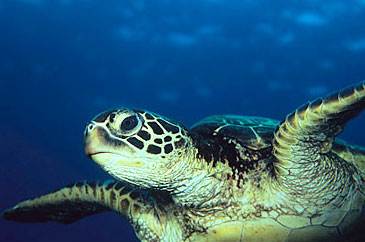 ---
Interview:
Prof. Owens, Charleston, South Carolina : "I did my Ph. D. work at a turtle farm in the Caribbean. I was working with these turtles, and all of a sudden, I was finding these really strange sex ratios in which I had 90 percent females and 10 percent males, and the same population the following year, a new batch of babies, would be 80 percent males and 20 percent females. So it was like switching. And this was really bizarre because almost all vertebrates and definitely all mammals have a genetic mechanism where it's almost always 50/50 in all species. So this blew my mind and made my research very difficult because with turtles, until they're adults, which takes 35 years, you can't tell if they're males or females.
So I was really thrown for a loop. I told some people that turtles must have a bizarre way of determining sex, and it turned out that a guy in Toronto did a really cool experiment in which he incubated eggs at different temperatures, and he found out if he incubated them at say 30 or 31 degrees, he got all females. If he incubated them at 28 degrees, he got all boys. And this like blew our mind because no one had ever heard of anything like this in a vertebrate where it wasn't just genetic base, you know, XY chromosomes or XX.
And so this was shocking, and we were all at the time trying to figure out what does this mean? Many turtles have a temperature-based sex determining system. They don't have the genetic system that we're used to. We began to realize this could be a problem, and so I worked doing experiments to try to understand the system and try to figure out, I mean, we couldn't even tell males from females. So I would do surgery, and I would look inside. You can tell males from females. That's really hard on the animal. And so we developed a system to look at the blood, and it turns out that the little males have slightly more testosterone than the little females.
Male Turtle Hatchlings Are Disappearing on Australia's Great Barrier Reef
THIS NEW ARTICLE IN THE NEW YORK TIMES ON JANUARY 11TH, ONE OF THE THINGS IT'S HIGHLIGHTING IS THAT MALE HATCHLINGS ON AUSTRALIA'S GREAT BARRIER REEF ARE DISAPPEARING.
Yeah. So the great thing about this experiment that these folks did in Australia was that they took the whole barrier reef and looked at one species of green sea turtle, but looked a several places, in fact, two key places: one way far south, which is colder; and one way far north, which is going to be very warm beaches there. And it's at those warm beaches that we now know they're producing so many, many more females. So I think they're saying 99-point-something percent female production.
And so the problem is you can't go to the beach and just start sacrificing eggs. That's totally unethical. So what people have learned to do over the years is they go to the foraging grounds because this animal takes so long to become an adult, if you catch it out on the foraging grounds where it's eating algae or grass, and you just bring a blood sample into the laboratory, then you can use my blood sample assay thing to figure out if it's a male or a female. And so that's the basis of how we generate these sex ratios.
And what makes this particular experiment so cool is that in addition to that, which we've been doing for years and finding these pretty high female sex ratios, they also took the blood and did genetic studies to figure out where the turtle came from. But that's when they found out that all the turtles from Raine Island were like 88 percent female and you know, like 13 or 12 percent male. And this was like, oh my God, a real shocker because it was such an extreme difference. And then they realized that the older the turtles were, the more males they still had, and the younger the turtles were, the fewer males.
Raine Island's 99% Females Is "Disturbing Part of Story"
THE BOTTOM LINE IS BECAUSE OF THE WAY THEY APPROACHED THIS RESEARCH, YOU NOW HAVE DEFINITIVE CONNECTIONS BETWEEN THE TEMPERATURES OF THE BEACHES AND THE WATER WITH A NEARLY 100 PERCENT FEMALE POPULATION, WHEREAS 30 YEARS AGO, THERE WERE SO MANY MORE MALES.
Yeah. Raine Island producing almost all females is what's the disturbing part of the story.
THE SCIENTIFIC METHOD IS STRONGLY LINKING THIS CHANGE UP TO NEARLY 100 PERCENT FEMALE SEA TURTLES HAS TO BE LINKED WITH THE TEMPERATURE OF THE SAND AND THE WATER.
Yeah. Because of the way they determine sex, I can't think of any other way to explain it. And in fact, we've done lots of laboratory experiments. So for example, you take a clutch of 100 turtles, and you divide them into three or four groups and incubate the groups at different temperatures. It's a perfect fit. The hotter you incubate them, the more females you have. And in fact, above 31, they're all female. Below 28, they're all males.
Green Sea Turtles Are Keystone Species — Losing Them Would Be "Catastrophic"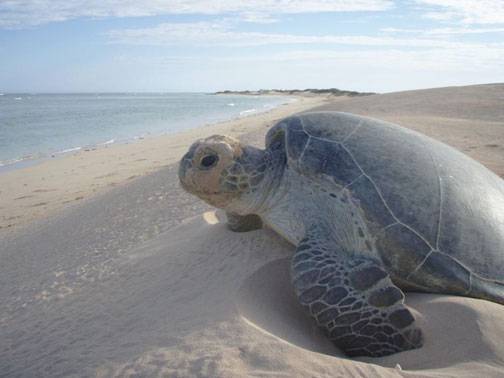 WHAT IS THE IMPLICATION FROM JANUARY 2018 LOOKING FORWARD THROUGH THE REST OF THIS CENTURY? IF THIS IS WHAT IS HAPPENING NOW, WHAT MORE DO YOU SEE COMING?
Well, I'd love to be able to reverse the climate change, and I'll do everything I can do and convince people to get on the bandwagon and pay attention to climate change. I do think that that's the primary strategy that we should still be working on. But I really believe that most of the seven sea turtle species now are looking at this feminization thing. They have a long life. 50 to 70 years for these green turtles. I mean, we're not talking about something that's going to happen real quickly. There are males in the population right now, and they will keep coming back for decades. But 20, 30, 40 years from now, those males will be dying, and the new recruits will almost all be female. So at that point, there will not be adequate males for fertilization. And therefore, you'll get infertile eggs, which will not be viable. And so that's the real big worry in the long term.
SO BY THE END OF THIS CENTURY, WE ARE TALKING ABOUT AN EXTINCTION POTENTIAL. THAT THERE MAY NOT BE ANY MORE GREEN SEA TURTLES BECAUSE EVERYTHING HAS BEEN GETTING WARMER AND WARMER AND ALL-FEMALE POPULATIONS.
Yeah.
IF THE GREEN SEA TURTLE WENT EXTINCT, WHAT WOULD THE DOMINOES FALLING RESULT BE?
Well, that would be a catastrophe because the green sea turtles are sort of like one of the primary herbivores on coral reefs and tropical areas. So they graze on algae, they graze on sea grasses. Those are marine plants that the green turtle eats. And they're a really important part of that ecosystem because they come in, and they forage those, and then other animals, other predators come in, and they take advantage of that ecosystem.
So by not having animals eating the algae, it becomes overgrown, then they'll be other kinds of predators that come along because you don't have a balanced ecosystem. And you have an animal that's a primary, what we call a keystone animal in algae, marine plant systems. So that's one good example, I think. Lots of animals eat sea turtles. Sea turtles are eaten by all kinds. I had mahi mahi last night for dinner, and the stomach contents of a mahi mahi with 15 baby sea turtles in its gut. Mahi mahi eat baby sea turtles.
So that's a part of their normal foraging systems. So here we have, if you lose that particular species, you're going to lose a major chunk of our marine shallow water systems. Some sea turtles like the hawksbill eat sponges. Other sea turtles eat crabs. And some eat jellyfish. So losing sea turtles would be catastrophic.
Humans Will Have to Bioengineer Earth to Save Biodiversity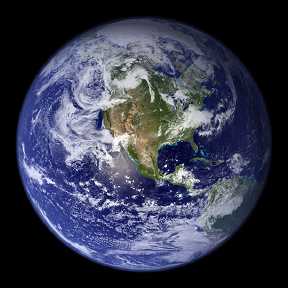 WELL, PROFESSOR, WHAT YOU'RE DESCRIBING IS THAT HUMANS COULD FACE HAVING TO BIOENGINEER THE ENTIRE PLANET IN ORDER TO TRY TO MAINTAIN THE EARTH AS WE HAVE KNOWN IT.
Yeah. To maintain our biodiversity, we are going to have to try more and more situations to bioengineer the criteria that animals need, and plants as well. So that, to me, doesn't sound like a very pleasant world. But yeah, I think we're going to have do a lot more bioengineering if we're going to keep these animals around with us. But I think a lot of marine animals, particularly the sea turtles and the corals and the things that are kind of fixed in a certain area, they're going to have great difficulty.
If we don't do any bioengineering, which would be really sad because I think we can, it's readily available, I think we're going to look at the greatest drop in species diversity ever seen since man has been around. Species diversity goes up and down with the climate change, which is normal, with ice ages, all that kind of stuff. But what we're seeing now is a drop in species that's unprecedented as far as we can tell in all the history of life. So that would be a really bleak world.
IT SEEMS TO ME IF THAT IS TRUE, IF THAT'S WHAT'S COMING, THEN IT ISN'T JUST THE POPULATIONS OF ANIMALS, IT'S GOING TO BE A HUGE CHALLENGE FOR HOMO SAPIENS SAPIENS TO KEEP SURVIVING AS THEY HAVE IN PLACES WHERE THEY HAVE LIVED.
Yeah. We're going to have to deal with warmer temperatures. Our northern cities are going to have some awfully hot weather. They're going to have to be able to handle the air-conditioning demands or whatever to make sure people are safe. And so I think you're right. That's a very good way to look at it.
Crocodiles Are Strangely Opposite the Turtles

The Australian Estuarine or Saltwater Crocodile (Crocodylus porosus) is the largest reptile
in the world and can be found all across northern Australia, to the Solomon Islands and Vanuatu across Papua New Guinea, Indonesia, the Philippines, Malaysia, all the way to Vietnam, Cambodia, Thailand and India. and everywhere in between because of their swimming strength.
These crocs can travel hundreds of miles at sea. The males can grow to 23 feet
(7 m.) and can weigh up to 2,204 pounds (1,000 kg). Photo by fvanrenterghem.
THIS COULD BE A CONDITION THAT HAUNTS OUR PLANET FOR THE REST OF THIS CENTURY WITH HUMANS ONLY DISCOVERING THAT IT IS A REALITY WHEN THE DECLINE IN POPULATIONS CAN BE TRACED BACK TO THE FACT THAT SUDDENLY IN GLOBAL WARMING THERE WAS A RISE IN EITHER FEMALES OR MALES THAT THREW OFF THE BALANCE OF NATURE.
Yeah. If you want to hear something really strange, you know how this system works in crocodiles?
NO.
They're primitive reptiles, just like the turtles. All crocodiles, that includes like our alligator is considered a crocodilian, our crocodile in south Florida and all over the world, all of those hot temperatures make males and cold temperatures make females.
THE OPPOSITE.
It's the opposite of turtles. And we were all just looking at each other like, "What does this mean?" And so at this point, climate change warming trends don't seem to be having an impact on crocodilians, so almost each group you now have to do studies to make sure you understand how the animals really work. And not just reproduction, but foraging, what they eat, things like that. So it's a real high-demand concern to try to convince people to do what they can to reduce our carbon in the environment, and then also try to save species when we can."
Same Warm Temperatures Are Turning South Florida Turtles Female
Also in January, Florida Atlantic University biologist Jeanette Wyneken, Ph.D., published in the journal Endangered Species Research that since documenting temperatures and rainfall from 2010 through 2013 and collecting turtle hatchlings to determine the gender: "I haven't found a male hatchling in three years." Prof. Wyneken is Director of the marine biology lab at Gumbo Limbo Nature Center in Boca Raton. She now estimates that for every 100 female sea turtles, there is only one male, similar to the Australian green sea turtle ratio of 116 females to each male. That's why by the end of this century, if all the big turtles on all the warm beaches around the world are female, it will be an extinction crisis.
A

lso see:

08/15/2008 — Amphibian Warning Bell of Mass Extinctions

06/21/2008 —Updated June 25, 2008: Increasingly Acidic Pacific Coast Waters Threaten Marine Life
---
More Information:
For further information about nuclear missiles, please see the many reports since 2011 in the Earthfiles Archive. This is only a sampling:
---
Websites:
"Warmer Weather Is Turning Turtles On This South Florida Beach Female," January 26, 2018, Phys.org: https://phys.org/news/2018-01-warmer-weather-turtles-south-florida.html
"More Female Sea Turtles Born As Temperatures Rise," January 10, 2018, The New York Times: https://www.nytimes.com/2018/01/10/science/female-sea-turtles-global-warming.html
"What Causes A Sea Turtle to Be Born Male or Female?" by NOAA:
https://oceanservice.noaa.gov/facts/temperature-dependent.html

© 1998 - 2018 by Linda Moulton Howe.
All Rights Reserved.