— "The North Korean bomb size now is estimated to be 150 kilotons. That's ten times more powerful than the Hiroshima bomb that the United States dropped on Japan."
– Scott Portzline, Three Mile Island Alert,
Security Committee Chairman, Harrisburg, PA
— "The magnitude of the effect of an EMP attack on the United States, or any similar advanced country, will remain unknown until one actually happens.   Unless the device is very small or detonated at an insufficiently high altitude, it is likely that it would knock out nearly the entire electrical power grid of the United States."
– Jerry Emanuelson, B. S. E. E., Intro to Nuclear Electromagnetic Pulse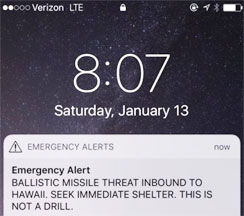 January 26, 2018 – Harrisburg, Pennsylvania – On Saturday morning January 13, 2018, at 8:07 AM in Hawaii, cell phones blared a terrifying alert:

Then across TV and radio networks came another emergency alert:  "If you are outdoors, seek immediate shelter in a building. Remain indoors well away from windows. If you are driving, pull safely to the side of the road and seek shelter."
During the next 38 minutes, parents even tried to put young children down storm drains in the street.
Shock Video: Children Were Placed In STORM DRAINS During False Hawaii Ballistic Missile Warning," January 13, 2018, NBC News.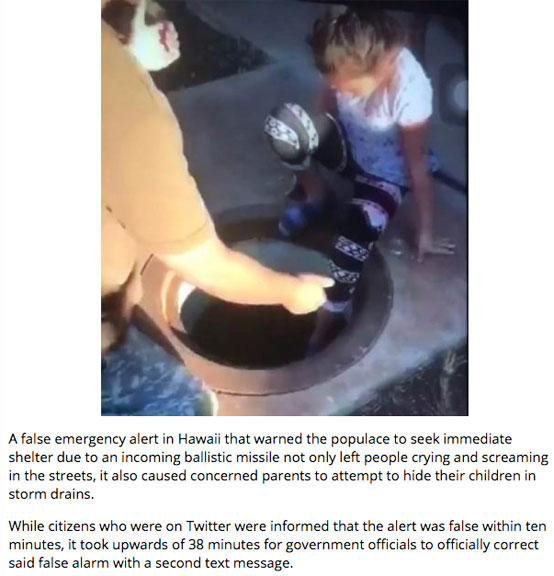 Hawaii Residents: "I didn't know what to do or where to go."
U. S. PGA Tour golfer John Petersen tweeted: "I'm under mattresses in the bathtub with my wife, baby and in-laws. Please, Lord, let this bomb threat NOT be real."
TV news began to run interviews with lots of Hawaiian residents, most saying the same thing:  "I didn't know what I was supposed to do or where to go." Americans are clearly NOT prepared for nuclear attacks.
38 Minutes Later Warning Declared Human Error
After 38 minutes, the missile warning was cancelled as human computer error.  But Hawaii's governor, David Ige, after a brief tweet did not go on TV to talk to his state's panicked citizens until 5 hours later! That's when he apologized for the Hawaii Emergency Management Agency's human mistake described as "a veteran Agency employee picking the wrong option on his computer for a routine drill and then confirming his wrong choice."
This week Governor Ige told reporters after his State of the State address, "I have to confess that I don't know my Twitter account log-ons and the passwords," which delayed for 5 hours his tweet that the nuclear missile alert was a false alarm caused by human error.
The New York Times reported that the Hawaii HEMA emergency management employee — who set off the panic — was temporarily re-assigned, but there were no plans to fire him or identify him publicly. Then by Thursday, January 25, 2018, ABC News reported that at a hearing with the Senate Committee on Commerce, Science and Transportation it was confirmed that the HEMA employee who sent out the false nuclear ballistic missile warning "is refusing to cooperate with the Federal Communications Commission (FCC) investigation." So far no explanation has been given for the lack of cooperation.
Three Days Later Another Nuclear Missile False Alarm In Japan
Then three days later on Tuesday, January 16, 2018, another false missile alarm was set off — this time in Japan.  It happened when mainstream media broadcaster NHK sent out a news alert that North Korea had launched a nuclear missile and that Japanese citizens should take shelter.
However, five minutes later, an NHK spokesperson apologized and said its
J-Alert government warning system was not to blame. Instead, like the Hawaii situation three days earlier, NHK said it was their own "staff that had mistakenly operated the equipment to deliver news alerts over the internet."
Back in Hawaii, the Hawaiian Emergency Management Agency confirmed there was a menu that included a button labeled "DRILL" compared to one for "LIVE ALERT." The long-time HEMA employee clicked on a computer "pop-up message asking whether the employee was sure he wanted to send the alert.  He confirmed that he did."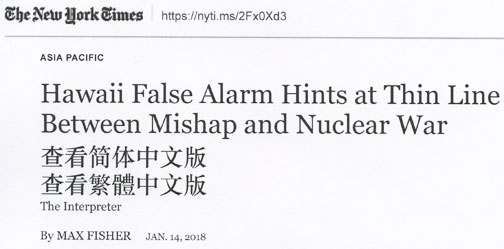 The day after the false alarm set off panic in the Hawaiian islands, on January 14, 2018, The New York Times headlined what nuclear experts are afraid of:
"Hawaii False Alarm Hints At Thin Line Between Mishap and Nuclear War." Is it really possible in this near-middle of the 21st Century to kick off a deadly nuclear war by accident?
Adding fuel to the real nuclear missile threat question are U. S. President Donald Trump, who has tweeted insults to North Korea's leader, Kim Jong-un. Jong-un has tweeted back insults to Trump calling him "the bark of a rabid dog" and "a spasm of a lunatic."
No rational person wants to deal with nuclear radiation — whether from a deliberate nuclear weapon attack or an accident. And one man who was twenty years old at the time had the shock of dealing with nuclear radiation in his home town of Harrisburg after the Three Mile Island nuclear power plant suffered a partial meltdown on March 28, 1979. This is considered to be one of the most serious accidents in U. S. commercial nuclear power plant operating history. Millions of Curies of radiation were released.
[ Editor's Note: The curie is a unit of ionizing radiation (radioactivity), symbolized Ci and equal to 3.7 x 10 10 disintegrations or nuclear transformations per second. This is approximately the amount of radioactivity emitted by one gram (1 g) of radium-226. The unit is named after Pierre Curie, a French physicist. ]
Since then, Scott Portzline has devoted his life to monitoring safety and security at nuclear power plants and trying to help people understand how dangerous nuclear weapons are. Scott is a member of Three Mile Island Alert and the Security Committee Chairman in Harrisburg, Pennsylvania. Scott also investigates lost and stolen nuclear materials in the United States.
After I heard so many Hawaiians on TV news saying, "I didn't know what to do or where to go," I called Scott for answers. He has maps of what various-sized nuclear bombs can do to Hawaii or San Francisco. I also wanted to know more about EMPs — electromagnetic pulse airbursts — and the Trump administration calling for nuke retaliation to terrorist cyberattacks. But we began with what to do if a nuclear missile threat is real.
---
Interview:
Scott Portzline, Three Mile Island Alert, Security Committee Chairman, Harrisburg, Pennsylvania: "If you're outside, you could easily be doomed. A person wants to go as far below ground as possible because of the shielding that's created by the ground. What you're protecting yourself against is the heat and the fire and the initial radiation. You're also protecting yourself against the blast pressure, the huge shockwave that can knock down buildings.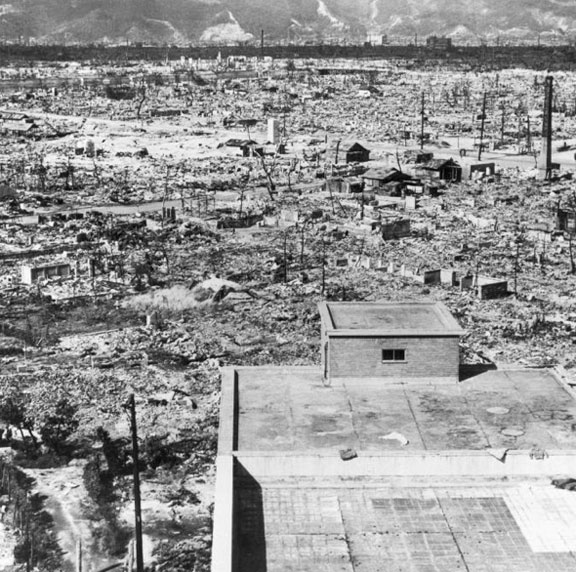 You don't want to have your eyes open looking out the windows because if you see that blinding light, it might render you blind the rest of your life. So you don't want to do that. Another thing you don't want to do is shelter in a sewer. I feel so sad that I saw video of people showing how they had put their children down manholes to protect them by putting them underground. But that, of course, is what the government said to do. It's on their webpage.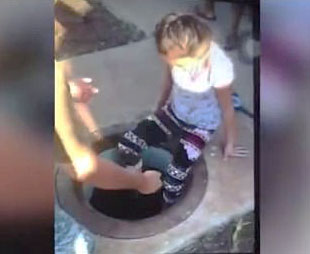 YOU'RE TALKING, SCOTT, ABOUT WHAT WE SAW ON TELEVISION ON SATURDAY, JANUARY 13TH, IN THAT 38-MINUTE PERIOD IN HAWAII WHERE SOME PARENTS TRIED TO PUT THEIR YOUNG CHILDREN DOWN MANHOLE COVERS.
Yeah. And that could have killed them over a false alarm because of the gasses. There's very dangerous and toxic gasses that can build up in a sewer line — hydrogen sulfide, ammonia, methane, carbon monoxide, and sulfur dioxide, to name a few. So don't do that. And the government needs to put information about things like that on their website.
YOU MEAN, THEY NEED TO SAY, "CAUTION" ON THEIR FEDERAL WEBSITES, "DO NOT PUT CHILDREN AND ANIMALS DOWN MANHOLE COVERS UNDERGROUND BECAUSE OF POISONOUS, TOXIC FUMES."
Exactly. Yes, that has to be there. If you're going to tell people to go as far below ground as possible or shelter underground, then you need to specify any dangers associated with that because we're giving people options here. Not all options are going to work out, and some of the options come with a high price. I don't want to put my child in a sewer and have a chance of killing him, especially if it's a false alarm.
Bury Radioactive Clothes and Take Long Shower If Water Available
And if you were to be outside and have fallout particles come down on you, you're going to need to take off all your clothes and shower and bathe and bury your clothes, if you have time or ability to do that, to get away from the radiation that the clothes would be contaminated with.
SCOTT, I HAVE HEARD A RECOMMENDATION THAT IF YOU WERE OUTSIDE OR NEAR A WINDOW OR A DECK WHEN THERE WAS AN ATOMIC BLAST, AND YOU SURVIVED, AND THAT YOU HAD ACCESS TO RUNNING WATER, THAT YOU SHOULD SHOWER FOR AT LEAST 20 MINUTES?
Oh, yeah. I would take several showers, actually. But you know, here again, you're torn between you have to pick your options. Just because you survive one blast doesn't mean there's not another blast coming. It depends on who's behind this and what type of war we're having.
So you may survive one blast, but maybe not a second. Now, that's getting to the extreme, but that is part of our reality, unfortunately. What we're dealing with now is the scenario that happened in Hawaii and what people should do. They should definitely take shelter immediately.
Is EMP More Destructive Than Nuclear Blast?
THE EMP IS BEING TALKED ABOUT IN MANY CIRCLES AS PERHAPS BEING MORE DAMAGING OF A LARGE INFRASTRUCTURE, BRINGING DOWN ALL ELECTRICITY, AND THAT WOULD, IN THE LONG RUN, BE WORSE TO THE LARGE POPULATION OF THE UNITED STATES THAN EVEN THE TAKE-OUT OF A CITY LIKE SAN FRANCISCO.
Oh, yeah. That's true.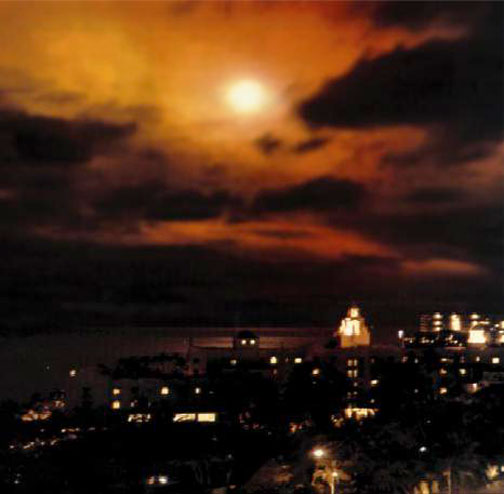 The 1960s U. S. and Russian research of what happens in electromagnetic pulses (EMPs) from various altitudes and sizes is detailed by Jerry Emanuelson, B.S.E.E., Futurescience, LLC:
"The Starfish Prime EMP test by the United States test in Operation Fishbowl was detonated at 59 minutes and 51 seconds before midnight, Honolulu time, on the night of July 8, 1962.
Although nuclear EMP was known since the very first days of nuclear weapons testing (mid-1940s), the magnitude of the effects of high-altitude nuclear EMP were not known until a 1962 test of a thermonuclear weapon in space called the Starfish Prime test.
The Starfish Prime test knocked out some of the electrical and electronic components in Hawaii, particularly in Honolulu, which was 897 miles (1445 kilometers) away from the nuclear explosion. When the 1.44 megaton W49 thermonuclear warhead detonated at an altitude of 250 miles (400 km).
The EMP test made no sound. There was a very brief and very bright white flash in the sky that witnesses described as being like a huge flashbulb going off in the sky. The flash could be easily seen even through the overcast sky at Kwajalein Island, about 2000 km. to the west-southwest.
After the white flash, the entire sky glowed green over the mid-Pacific for an instant, and a bright red glow formed around "sky zero" where the detonation had occurred.   The initial fireball lasted less than a second before being dissipated along the Earth's magnetic field lines.  This was followed by a bright red-orange auroral display lasting more than 7 minutes.  Long-range radio communication was disrupted for a period of time ranging from a few minutes to several hours after the detonation (depending upon the frequency and the radio path being used).
In a phenomenon unrelated to the EMP, the radiation cloud from the Starfish Prime test subsequently destroyed at least 5 United States satellites and one Soviet satellite.  The most well-known of the satellites was Telstar I, the world's first active communications satellite.  Telstar I was launched the day after the Starfish Prime test, and it did make a dramatic demonstration of the value of active communication satellites with live trans-Atlantic television broadcasts before it orbited through radiation produced by Starfish Prime (and other subsequent nuclear tests in space).   Telstar I was damaged by the radiation cloud.  The damage to Telstar 1 increased each time that it traveled through the belt of radiation, and it failed completely a few months later.
  The damage was very limited compared to what it would be today because the electrical and electronic components of 1962 were much more resistant to the effects of EMP than the sensitive microelectronics of today.  Also, the Starfish Prime warhead was very inefficient at producing EMP.
The magnitude of the effect of an EMP attack on the United States, or any similar advanced country, will remain unknown until one actually happens.   Unless the device is very small or detonated at an insufficiently high altitude, it is likely that it would knock out the nearly the entire electrical power grid of the United States.   It would destroy many other electrical and (especially) electronic devices.   Larger microelectronic-based equipment, and devices that are connected to antennas or to the power grid at the time of the pulse, would be especially vulnerable.  Deliberate regional attacks, using lower altitude nuclear detonations, are also possible."
In testimony before the United States Congress House Armed Services Committee on October 7, 1999, the eminent physicist Dr. Lowell Wood, in talking about Starfish Prime and the related EMP-producing nuclear tests in 1962, stated:
"Most fortunately, these EMP tests took place over Johnston Island in the mid-Pacific rather than the Nevada Test Site — or electromagnetic pulse would still be indelibly imprinted in the minds of the citizenry of the western U.S., as well as in the history books.  As it was, significant damage was done to both civilian and military electrical systems throughout the Hawaiian Islands, over 800 miles away from ground zero.  The origin and nature of this damage was successfully obscured at the time — aided by its mysterious character and the essentially incredible truth."
Scott Portzline: Now, if people have a plan, they would have what's called a Faraday bag or a Faraday cage to protect their communication devices, like a radio and their cell phone.
CAN YOU EXPLAIN FOR THE AVERAGE PERSON WHAT A FARADAY CAGE IS, WHERE THEY CAN GET THEM, AND HOW FAST THEY WOULD HAVE TO PUT THEIR COMMUNICATION DEVICES IN IT?
Yes. A Faraday cage is a metal container to block out the electromagnetic pulse that's generated in one-billionth of a second during a nuclear blast, far faster than any surge protection devices that we have can protect your device. You know, it's a switch that basically opens up when it gets a high voltage.
Well, these EMPs that result from a nuclear blast will wipe out your cell phone, your radios. So if you're in a shelter, but didn't protect those devices, now you're very tempted to come back out too soon. And you're going to be frantic trying to find out where your loved ones are and what's happened to them. That's why it's very, very important to have a Faraday cage or bag of some sort. And here's how you do that.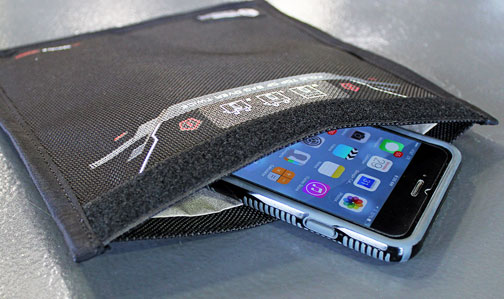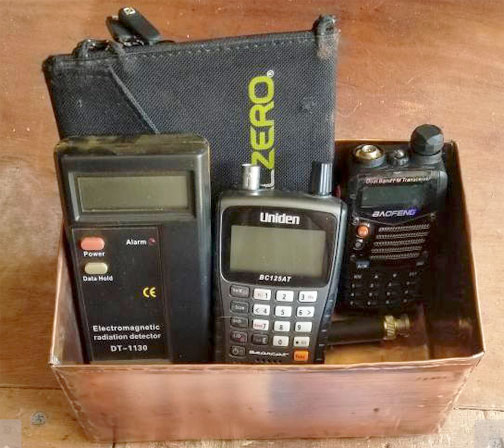 You can go online and buy a simple Faraday bag for less than 10 dollars. I prefer, if you're doing your planning, and you should, go get a small metallic, outdoor type trash can that's maybe two feet high. You don't want something enormous. And it has a metal lid.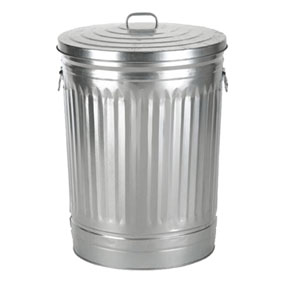 And so after you've made your phone call to a couple of loved ones saying, "Here's where I'm going," you know, "I'm following my plan for when I'm at work, and I'm going to be in this shelter. In the meantime, I'm turning off my cell phone, and hopefully the radio will still work when we pull it out of our Faraday cage after we decide it's time to try to establish contact again."
The range of an EMP bomb depends on the yield of the bomb and the altitude. Some people think the EMP threat is overstated, but that's definitely on a local level where we'll dealing with miles, I don't think it's overstated at all.
Radioactive Fallout
So what is fallout? It's the radioactive particles that rain down from the sky as they become heavy enough to fall down, or sometimes literally in rain that can be triggered after a nuclear blast. In some cases, it may take two days until you can come out. Radiation actually disintegrates — or decays, I should say, rather rapidly. Let me give you some numbers here.
And when a nuclear device or nuclear bomb goes off, it creates hundreds of different radionuclides. Most of these decay to stable elements within a few seconds to minutes, but about 160 will be radioactive after one hour. And then after a few hours, there will be about 80 different nuclides having a range of less than one second to 30 years of lifetime.
So radionuclides with less than a seven day half-life virtually disappear within eight to 10 weeks by becoming stable. Actually, most of the fallout decays rather rapidly compared to the first 12 to 24 hours.
20 Radionuclides With Long Half-Lifes
But there's about 20 radionuclides in fallout that have a half-life of more than seven days, and that constitutes the long-term radioactive contamination that we worry about, things like strontium, thorium, and of course, uranium and plutonium. After about a year, very little radioactive remains in the fallout residue. Near background level, but just a little bit higher than it ought to be.
Now, after the blast occurs, wait a little while and try to turn on your radio to hear if there's any communications giving you directions or updating you of what's going on. That's going to be natural, too. Try to use your cell phone. Good luck with that because the EMP might have taken out everything. And really, the same with the radio transmissions. Because of the lingering radioactivity, you may have very poor communications or very scratchy signals from a radio station, but over some time, you'll get that back.
But the panic that people will have to fight will be tremendous, the psychological worries, and you can't feel doomed. You have to concentrate on focusing on living, and you may have to go a day without food and water if you hadn't prepared, but most people can do that.
1 to 2 Days After Nuclear Impact
Then after the first day or two, you'll start to get a sense of what the government is telling you about where the radiation is being measured and where it may be safe or not. The government may have recommendations to evacuate a certain area to another specific area. And maybe the government will even be able to provide transportation with that.
Radiation Sickness Symptoms
Headache
Fever
Nausea
Vomiting
Diarrhea
Dizziness and disorientation
Bloody vomit and stools
You're going to be checking yourself for the symptoms of radiation. So with a medium dose of radiation, you're going to have nausea and vomiting first, within two hours or even one hour. If it's a severe amount of radiation, that will happen within ten minutes, and if that's happening, you're probably going to die. Diarrhea is the next thing you'll notice, and that happens within 8 hours, on a higher dose, within one hour. And you'll have a headache within the first day. I think everybody's going to have a tension headache anyhow. So you'll have a fever. Your body's going to have to cope with all these cells that are dead, including in your blood and in your bone marrow, and you'll have a fever as the body's trying to get rid of these unwanted bacteria that will start to go also.
And that will be within three hours, even one hour. You'll suffer from dizziness and disorientation within a week if you're getting very sick.
SCOTT, WHAT YOU MEAN IS THAT IF YOU'RE CLOSE ENOUGH OR THE BLAST IS INTENSE ENOUGH, THAT THE RADIATION IS GOING TO KILL THE BACTERIA IN YOUR OWN BODY, AND THAT'S GOING TO CAUSE ILLNESS INSIDE OF THE PERSON STILL ALIVE.
Well, that's a good point because it's actually twofold. As you have cells that are dead within you, the foreign bodies in your immune system will surround them and try to get rid of them, and you may develop a fever. If you've ever had a bad infection in a limb, sometimes you'll notice that that limb is actually warmer than the rest of the body. But you're right. The good bacteria also gets killed, and your colon and your stomach lining won't be able to digest your food, so what happens within in a week, you'll have bloody vomit and stools.
And the infections will be occurring, and your wounds won't be healing, and you'll have low blood pressure. So these are all the symptoms of radiation illness, and if the government's prepared, they'll be able to measure the radioactive dose that you may have received."
Continued in Part 2.
Also see:
---
Websites:
Interactive Map for Nuke Sites: http://nuclearsecrecy.com/nukemap/
"Powerful Pictures Show What Nuclear 'Fire and Fury' Really Looks Like," August 9, 1917, National Geographic: https://www.nationalgeographic.com/photography/proof/2017/08/fire-fury-hiroshima-nagasaki-anniversary-nuclear-atomic-bomb-pictures/
"An Introduction to Nuclear Electromagnetic Pulse," by Jerry Emanuelson, B.S.E.E.: http://www.futurescience.com/emp.html

© 1998 - 2018 by Linda Moulton Howe.
All Rights Reserved.