"It's disastrous for marine life, so right now there are around 800 species that could go extinct because of this plastic pollution."   —  Boyan Slat, Founder and CEO, The Ocean Cleanup, The Netherlands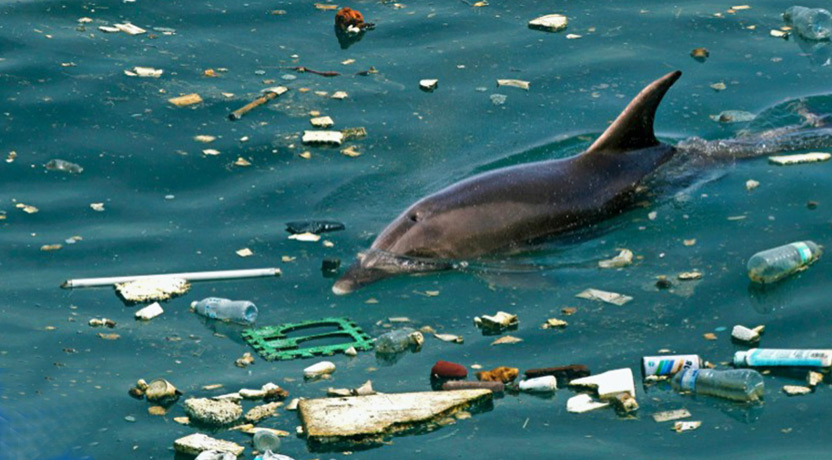 April 27, 2018  The Netherlands – On March 22, 2018, a report in the journal Nature was entitled, "Evidence that the Great Pacific Garbage Patch is rapidly accumulating plastic." The research was done by The Ocean Cleanup led by its Founder and CEO Boyan Slat in collaboration with fourteen other marine scientists. Everyone was stunned to find that the great ocean garbage patch equaled 620,000 square miles, or about 80,000 tons of plastic trash, which was up to 16 times larger in size than previously reported — more than twice the size of Texas and continuing to grow between Hawaii and California! The plastic trash and other garbage in the Pacific is expected to keep increasing at least 2 % each year unless something is done to clean it up.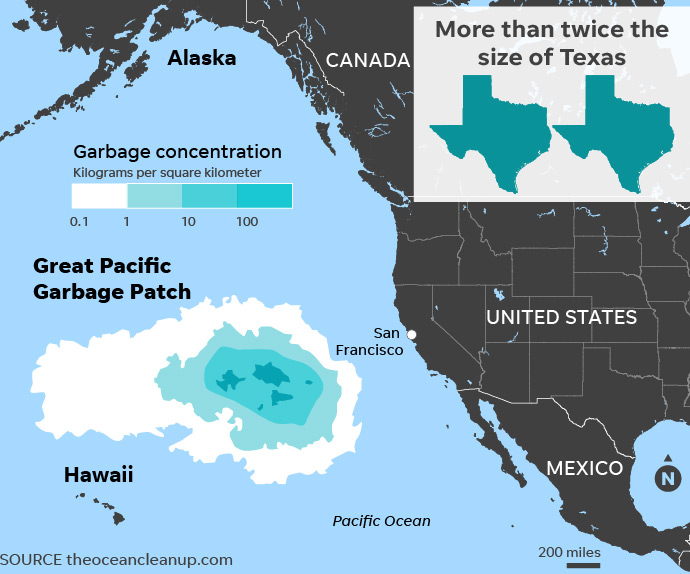 According to the United Nations Environment Programme (UNEP), the Earth's global population in 2016 was more than 7 billion people who have been producing and throwing away over 300 million tons of plastic each year. That huge number is expected to increase, so UNEP warns that by 2050, there will be more plastic than fish in the world's oceans!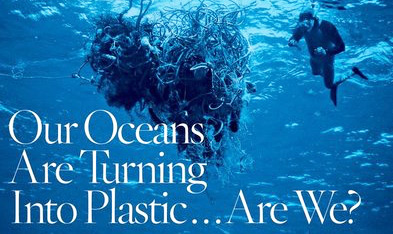 Humans in 2018 are now using more than 320 million tons of plastic. And two-thirds of all plastic is less dense than seawater, so it floats on the ocean surface. When people use the ocean as a trash dump, lots of the plastic stays afloat and moves in the ocean currents piling up where the waters naturally spiral in massive vortexes called gyres [jires]. Eventually with storms and tides, the plastic garbage washes ashore covering once-clean beaches.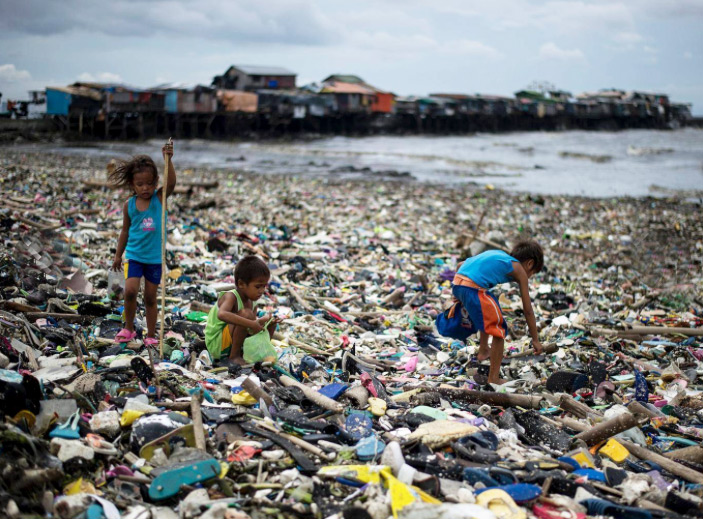 Floating at the surface of the Great Pacific Garbage Patch are lots of  plastic nets discarded by fishermen and called "ghost nets."  The Ocean Cleanup research reported that nearly HALF —  46% — of the plastic mass in the Pacific Ocean are ghost nets that are constantly entangling and killing marine creatures.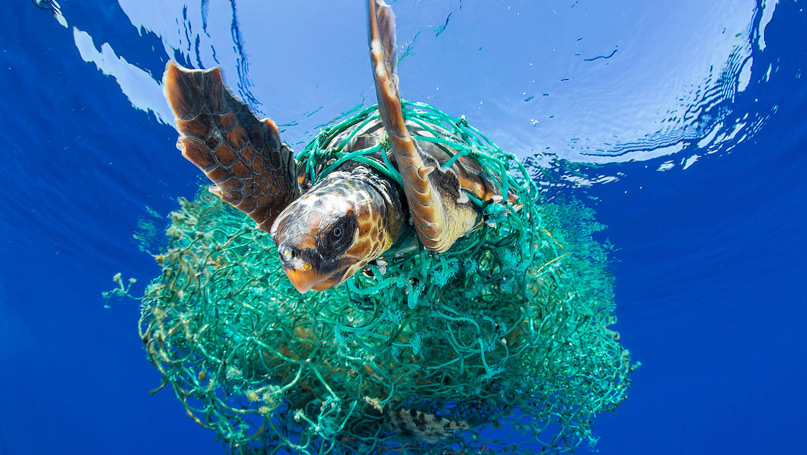 Sea turtles can eat as much as 74% (dry weight)  of their diets in ocean trash plastics. But the plastic just fills up their stomachs, killing the turtles either by starvation or poisons from toxic ingredients in the plastics. Investigations have confirmed that  84% of plastic floating on the ocean surface is found to have at least one toxic chemical [Persistent Bio-accumulative Toxic Persistent Bio-accumulative Toxic (PBT)]. 
The Founder and CEO of The Ocean Cleanup has worried about the growing plastic garbage problem since he was 16 years old scuba diving in Greece and came across more plastic bags than fish. He started asking, "Why can't we clean this up?" That question led to the current full time career that Boyan Slat now has at age 23.
Boyan's goal in the summer of 2018 is to first test a system to remove discarded fishing gear and nets. He plans to get a fleet of 60 cleanup systems operating full time this summer of 2018. He estimates if they all work, he could remove half of the Great Pacific Garbage Patch every five years for the foreseeable future. Here now from The Netherlands Ocean Cleanup is Boyan Slat.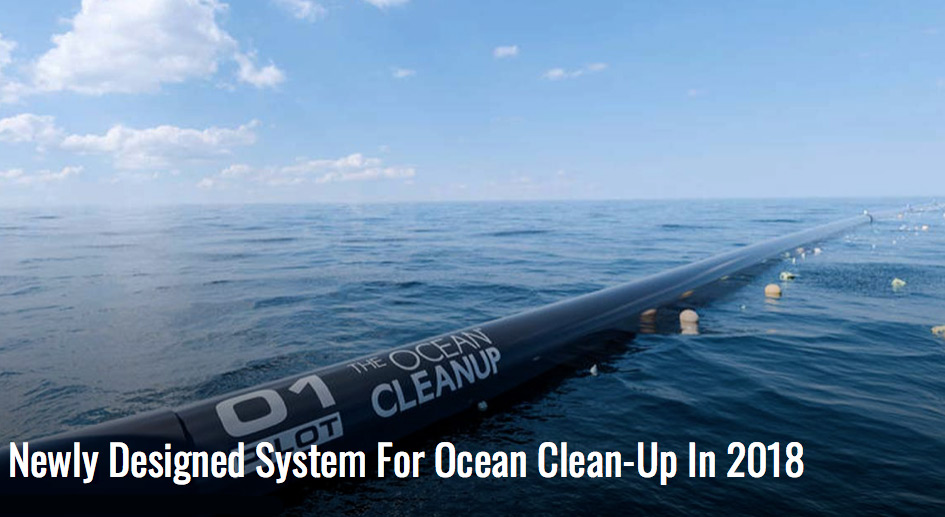 ---
Interview: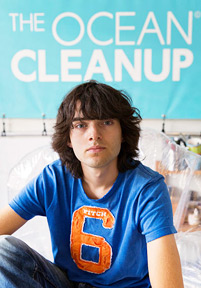 Boyan Slat, 23, Founder and CEO of The Ocean Cleanup, The Netherlands:  "What we found was that there's 16 times more plastic in this Great Pacific Garbage Patch. There are 1.8 trillion pieces of plastic in an area twice the size of Texas. It's continuing to grow, and it doesn't go away by itself. And there's really three problems with having this plastic in the ocean.
1) First of all, it's disastrous for marine life, so right now there are around 800 species that could go extinct because of this plastic pollution.
2) Then we have the economic impact. The United Nations estimates that there's around $13 billion dollars of damage being done by plastic pollution every year to tourism and to fisheries and other industries.
3) And finally, what happens is that this plastic breaks down into these smaller and smaller pieces, microplastics, and the thing is that those tiny pieces attract chemicals to them, and when fish and other marine life eat this plastic, it eventually ends up in the fish on our dinner plates, and thereby causing potential health impacts as well.
How Could Humans Let Pacific Plastic Garbage Grow to Three Times Size of Texas?
COULD YOU HELP US ALL UNDERSTAND HOW THERE COULD BE A GROWTH TO 1.8 TRILLION PIECES OF PLASTIC AND A GARBAGE DUMP IN THE PACIFIC OCEAN THAT IS 16 TIMES LARGER THAN ANYONE THOUGHT? HOW IS THIS POSSIBLE?
Yeah. So, the problem that we see in the ocean garbage patches is an accumulation of damage being done over the past 60 years. Ever since we started using plastic on a large scale after the Second World War, plastic ended up on the streets and then maybe into rivers, and then from rivers into the ocean. And the amount of plastic increased, and hence the amount of plastic in the ocean is also increasing. And the reason why we have these ocean garbage patches is because there are five areas in the world where ocean currents converge. So, they act like the sink of your bathtub, and the plastic wants to concentrate in those areas. Once the plastic is in there, it doesn't go away by itself. And the only way to get that concentration down again is by going out there and cleaning it up.
WHAT HITS ME FROM WHAT I HAVE BEEN READING IS WHY WASN'T THERE MORE OF AN AGGRESSIVE ATTEMPT TO CLEAN UP THE PLASTIC 10 YEARS, 15 YEARS AGO WHEN IT SEEMS THAT IT WOULD BE CLEAR THAT PLASTIC ACCUMULATING IN THE OCEAN WOULD BE A THREAT TO MARINE LIFE?
Yeah, that's a good question. So, definitely the amount of knowledge on the problem has increased a lot. Our work has also been part of that. But, on the other hand, there have been ideas in the past to go out to clean up, but they were based on ideas where one would use boats and nets to go out and fish for plastic. But the thing is, although there's a lot of plastic, it's spread out over this vast area, meaning that it would take tens of thousands of years to clean up just one of those patches if you were to go fishing for plastic. Really the key in the technology that we have developed is that instead of going after the plastic, we let the plastic come to us. So, we use very long floating barriers to let the ocean currents do the hard work for us to first concentrate the plastic before we take it out. I think that has really been making a difference. So, what I've found over the past few years is that there's not a lack of will to clean this up. People really want to see this thing go away. But it was simply that the technology wasn't there to do it, and that's what we've been developing.
BUT HOW DO YOU GET THE PLASTIC THAT IS GATHERED IN THE EQUIPMENT, HOW DO YOU GET IT INTO SOMETHING THAT TAKES IT AWAY IN BULK, AND WHAT ARE YOU USING? CAN YOU DESCRIBE THE WHOLE PROCESS?
Yes. So, to use an analogy, you have a park that's full with leaves. If you were to pick up those leaves one by one, it would take a very long time. But if you have a leaf blower and first blow all the leaves in a central pile and then pick up the pile of leaves, then it's easy to remove that pile of leaves from the park. So, a similar thing is the approach that we're using for the ocean. So, instead of leaf blowers, we use these cleanup systems. They concentrate the plastic, but once it's concentrated in those u-shaped, funnel-shaped devices that go around like a Pac-Man and concentrate the plastic, is that once the plastic is in there, then it's very easy to get it out, and the technique that we're using with this first system that we're launching this summer is we're putting a very fine mesh net around the clouds. Every two months when a boat comes, we put that around this cloud of plastic that is in this cleanup system, then we close the top, we close the bottom, we make sure there's no marine life in it, and then we simply lift it up with a crane so you'd have this bag full of plastic suspended, and then we put it on the boat, and then the boat takes it to land for recycling.
HOW LONG IS IT GOING TO TAKE YOUR PROCESS TO GET RID OF THIS 1.8 TRILLION PIECES OF PLASTIC?
So, with a fleet of 60 cleanup systems, we estimate we should be able to remove half the Great Pacific Garbage Patch after five years. [ See Ocean Cleanup Technology in Websites below.]
IS IT BEING ADDED TO EXPONENTIALLY?
Sure. So, we still see an increase of plastic coming into the ocean. To solve this problem, two things need to happen. On the one hand, we need to deal with the legacy, the stuff that's already in the ocean, but on the other hand, we also have to prevent more plastic from entering the ocean in the first place because otherwise maybe in 50 years we have to start all over again.
Half A Million Marine Animals Die Each Year With Stomachs Full of Plastic
IN THE PAST WEEK, THERE WAS AN ARTICLE THAT HAS MADE WORLDWIDE NEWS: "SPERM WHALE SWALLOWS 64 POUNDS OF TRASH AND DIES OF GASTRIC SHOCK."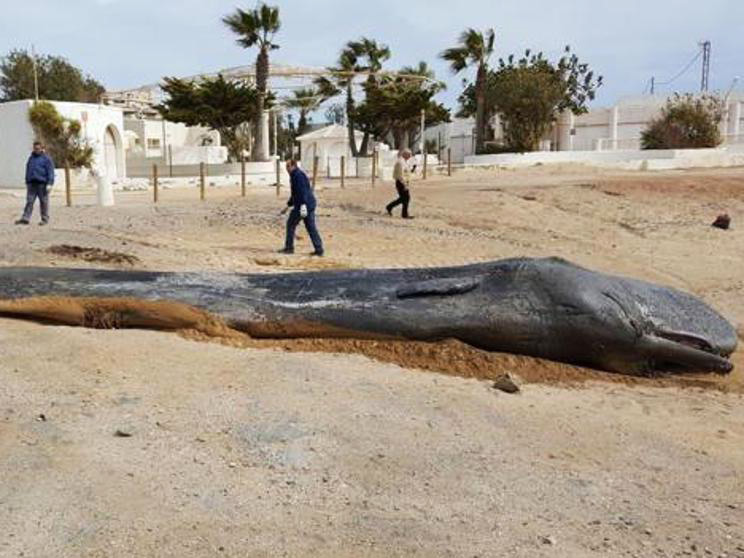 COULD YOU EXPLAIN WHAT HAPPENED TO THIS SPERM WHALE, YOUNG AND VIGOROUS, AND HOW IT IS A SYMBOL OF ALL THE MARINE LIFE OF WHAT WE'RE UP AGAINST?
Yeah. Marine species, they mistake plastic for food, and then they consume it, the stomach gets full, which causes the whales to starve to death. This is not just a single example. I think every few months or so you see an article like that from all over the world. I think it's a striking example of the impact of plastic pollution.
THIS SPERM WHALE THAT SWALLOWED 64 POUNDS OF PLASTIC AND TRASH AND DIES OF GASTRIC SHOCK, HE WAS KILLED BY HIS OWN INTESTINES NOT BEING ABLE TO ELIMINATE ALL THAT PLASTIC THAT WOULD NOT BREAK DOWN INSIDE OF HIS GUT, AND THEREFORE HE WOULD BE OVERCOME BY FUNGI AND BACTERIA.
Right.
DO YOU HAVE A STATISTIC ON HOW MANY WHALES, SEALS, ALL OF THE MARINE CREATURES ARE DYING EACH YEAR NOW FROM THIS SYNDROME OF CONSUMING SO MUCH PLASTIC?
Yeah. The statistics say that some 300,000+  marine mammals and a million+ seabirds each year die from this phenomenon.
EATING PLASTIC.
Correct.

WHAT IS THE SIZE OF THIS HUGE PATCH NOW?
Two to three times the size of France, four times the size of California. I think the diameter of the most concentrated area is roughly 500 miles.
IF YOU WERE NOT TRYING TO DO THE OCEAN CLEANUP NOW, AND NO ONE DID, WHAT DO YOU THINK THE CONSEQUENCES WOULD BE IN 10 YEARS IF THIS PACIFIC PATCH CONTINUED TO GROW AT THE RATE IT IS, AND WHAT KIND OF IMPACT WOULD IT HAVE ON OCEAN LIFE?
The patch would continue to grow, and more species would get affected. And I think the most warning thing is that 93 percent of the plastics are large objects, but over the next few decades, what is going to happen is that all those large objects will fragment down into these very hazardous and hard to clean up micro plastics, which would magnify the problems. So, we look at this problem as being a ticking timebomb if we don't clean it up, then all that large stuff will become micro plastics, too. And then we have a much bigger problem that will be much harder to clean up.
Plastic Microbeads – Less Than 5mm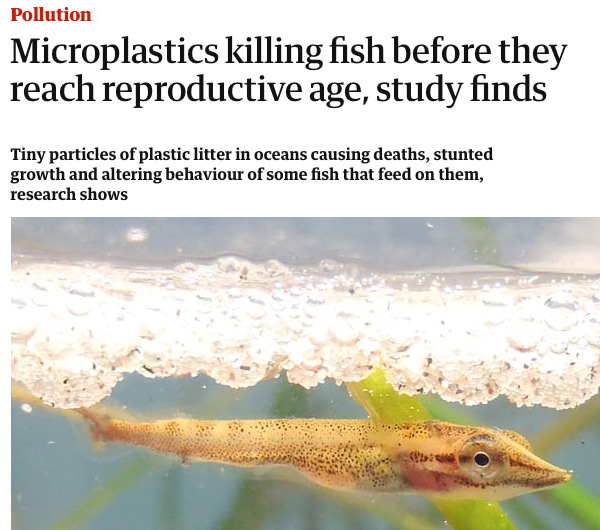 WHAT HAPPENS WITH MICRO BEADS INSIDE MARINE LIFE?
Yes. The smaller they get, the more prone they are to ingestion. So, the more it looks like food to marine life, it can have many affects. Chemicals leaching out of plastic into marine life, we have the penetration of the stomach wall, and starvation because their stomachs can be full of plastic.
BY 2030, THAT'S ONLY 12 YEARS FROM NOW, IF YOU WEREN'T DOING ANYTHING, IT WOULD HAVE CONTINUED TO GROW, BUT EVEN WITH THE PROCESS THAT YOU HAVE NOW, IS IT SIMPLY GOING TO TRY TO KEEP UP WITH GROWTH?
Yeah, so the 50 percent in five-year reduction that we're aiming for, in that we actually account for new plastics. So, we can get it out of the patch much faster than it flows into the patch. But ideally, we also stop new plastics entering the ocean.
BUT IF IT DOESN'T WORK OUT, WHAT WOULD YOUR PROJECTION BE FOR THE FATE OF MARINE LIFE AND THE OCEANS IF NO ONE GETS ON TOP OF THIS?
Yeah, this is what some people call the extinction event where we see that the rate of species extinctions is many times higher than the natural background rate, and that would probably accelerate into the future. But again, I'm optimistic that we would be able to turn the tide."
Bacterial Enzyme Discovered That Breaks Down Plastic Drink Bottles
This month of April 2018, scientists reported that the discovery of an enzyme in bacteria found by accident in a Japanese waste dump can break down plastic drink bottles.
Researchers at the University of Portsmouth, U. K., then manipulated the enzyme to see how it had evolved, but tests showed they had by accident made the molecule even better at breaking down the plastic used for soft drink bottles. Prof. John McGeehan at the University of Portsmouth told reporters: "What actually turned out was we improved the enzyme, which was a bit of a shock.  It's great and a real finding. …What we are hoping to do is use this enzyme to turn this plastic back into its original components."
The scientists think they can recycle the chemicals broken down by the bacterial enzyme back into making plastic, ebbing from chemicals to plastics back to chemicals. Theoretically, that should reduce the amount of plastic in the environment. The shocking statistic is that 1 million plastic bottles are sold every minute around the world and only 14% are recycled. So many end up in the oceans where they are piling up on once beautiful beaches and killing marine life.
Also see:
05-29-2014 – Plastic Microbead Trash from Oceans to Great Lakes Hurting Birds, Marine Life — and Humans?
---
More Information:
11-03-2016 – Latest World Wildlife Report Shows Steep Declines — World's Vertebrate Populations Half of What They Were In 1970.
04-29-2016 – Global CO2 Rise Is Changing Ocean Chemistry and Killing Marine Creatures, While Rising Ocean Temperatures Are Killing Great Barrier Reef Coral07-20-2002 – Extinctions of Earth Life Are Accelerating Rapidly
01-05-2002 – Global Warming Update – Could Increasing Carbon Dioxide Gas Be Transformed Into Limestone?
12-22-2001 – Scientists Warn That Climate and Earth Life Can Change Rapidly
---
Websites:
"Evidence that the Great Pacific Garbage Patch is rapidly accumulating plastic," March 22, 2018, Journal Nature: https://www.nature.com/articles/s41598-018-22939-w
The Ocean Cleanup Technology in 2018:  https://www.theoceancleanup.com/technology/
"More plastic than fish in our oceans," May 16, 2016,
Popcornin:  http://www.popcornin.in/more-plastic-than-fish-in-the-ocean/
Bryan Slat's Ocean Cleanup Project to Launch in 2016, June 2, 2015, Mother Nature Network:  https://www.mnn.com/earth-matters/wilderness-resources/blogs/boyan-slats-ocean-cleanup-project-to-launch-in-2016
Plastic Microbeads, NOAA's Office of Response and Restoration:  https://response.restoration.noaa.gov/about/media/what-do-we-know-today-about-microbeads-and-microplastics-ocean.html
Impact of Microplastics On Marine Life, U. K. University of Exeter:  http://www.exeter.ac.uk/research/feature/microplastics/

© 1998 - 2018 by Linda Moulton Howe.
All Rights Reserved.