"Human hearing range is 20 Hz to 20,000 Hz. Below 20 Hz down to 4 Hz is infrasound. Above 20,000 Hz is ultrasound. Infrasound is usually not perceived as a tonal sound, but rather as a pulsating sensation, pressure on the ears or chest. Ultrasound can cause ear pressure, headaches, nausea and fatigue. Microwaves  are electromagnetic waves with frequencies ranging from 300 MHz to 300 GHz." – Assoc. of Veterans Administration Audiologists (AVAA), March 2010

Return to Part 1.
April 27, 2018  Cambridge, Massachusetts –  If you try to match up the symptoms of the 34 Cuban embassy diplomats with possible sonic weapons using infrasound, ultrasound, or microwaves — here is a breakdown of frequency impacts.
1)
1) Infrasound are frequencies below what humans can hear —  around 20 Hz downward. In Nature, volcanos and earthquakes emit infrasound that animals can detect, but not people. Below is a graphic of infrasound weapon targets and effects. Reference 19 states: "Blunt-object trauma" effect from "high-frequency, non-diffracting acoustic bullet that creates plasma in front of the target."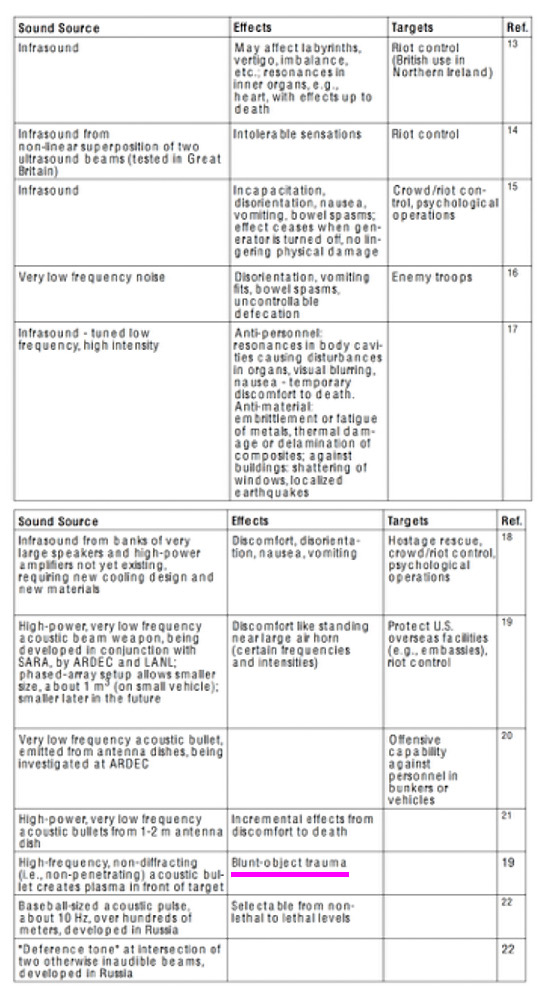 2) Ultrasound Frequencies are above 20,000 Hertz. Ultrasonic weapons (USW) of various types use sound to injure, incapacitate, or kill an opponent. Some sonic weapons are currently in limited use or in research and development by military and police forces.
Recently computer science engineers at the University of Michigan-Ann Arbor and Zhejiang University investigated the mystery of a regular pattern of peaks in the Cuban Embassy sound separated by approximately180 hertz. The professors wanted to know what could make the ripples every 180 Hz? And what mechanism could make an ultrasonic source produce audible sound?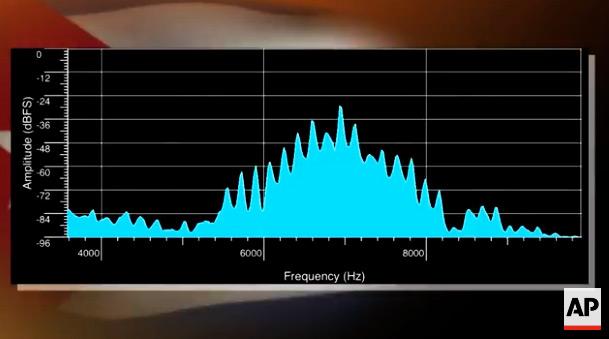 Their unproved hypothesis is that intermodulation distortion is responsible and that "ultrasonic emitters can produce audible by-products that could have unintentionally (or intentionally?) harmed the diplomats."
3) Microwaves Frequencies range from 300 MHz to 300 GHz. Microwave weapons penetrate walls and rooms.
Historically there have been leaks about Pentagon developments of sonic weapons such as the March 9, 2007, Wired.com report  "Zapping Through the Walls." It highlighted  Pentagon research and development of an  "ultra sonic/infra sonic cannon that could remotely incapacitate or disarm occupants of compartments of a ship or rooms of a building."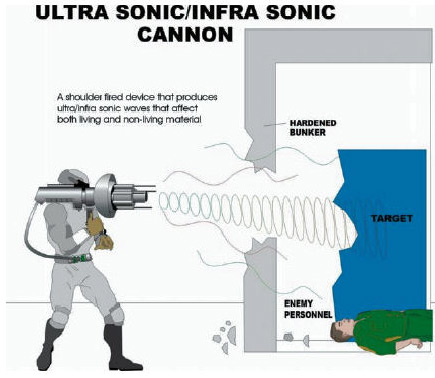 In the Cuban Embassy mystery, Dr. Smith has determined that audible sound is not causing the range of disabilities reported by the American and Canadian diplomats. So I asked Dr. Smith about directed energies.
---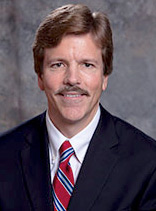 Douglas H. Smith, M. D., Professor of Neurosurgery and Director, Center for Brain Injury and Repair, University of Pennsylvania, Philadelphia, PA: 
Linda Moulton Howe: "THE NEW YORK TIMES SAID, QUOTE, 'DR. SMITH AND HIS COLLEAGUES DO NOT THINK AUDIBLE SOUND CAUSES THE INJURIES. THEY SPECULATED PERHAPS A DEVICE THAT PRODUCED ANOTHER SORT OF HARMFUL ENERGY ALSO PRODUCED AN AUDIBLE SOUND, AND THESE WOULD BE IN THREE CATEGORIES: LOW-FREQUENCY INFRASOUND, HIGH-FREQUENCY ULTRASOUND, AND MICROWAVES.'
Douglas Smith, M. D.:  Correct. I mean, those are the three leading candidates that you'd think if you had some kind of what's called directed energy. These things have been investigated experimentally by others, and all of these using animal models have shown that all three can induce brain damage. But at the same time, this is problematic. These are studies where these directed energy impulses are very close to the brain, sometimes right directly in contact to the brain in case of ultrasound. So, not being an expert in these kind of directed energies, I can't speak with authority, but I do recognize that there are a lot of problems with any of those, although those are the leading candidates.
COULD YOU GO INTO WHAT YOU ALL HAVE NOW STUDIED IN TERMS OF THE VICTIMS, AND CAN YOU GO INTO YOUR UNDERSTANDING OF WHAT CAN GENERATE IN MILITARY RESEARCH OR OTHER RESEARCH LOW-FREQUENCY INFRASOUND, WHICH I UNDERSTAND CANNOT BE HEARD BY THE NORMAL HUMAN EAR, HIGH-FREQUENCY ULTRASOUND, AND MICROWAVES? YOU MUST HAVE BEEN BRIEFED ON WHAT KIND OF RESEARCH OR TECHNOLOGY COULD GENERATE THOSE THREE TYPES.
Well, I think that people are aware of different types of directed energy weapons of sorts. You know, you've heard of pirates trying to take over a ship, maybe a cruise ship, and certain types of energy beams, sound beams are sent out to try to repel them. There are ways of thinking about shooting down aircraft or missiles with different directed energies. So, this is public knowledge. There are devices to do this. None that we have known of so far that are directed to injuring the human brain.
Various Frequency Targets and Effects
THE BRAIN, IN ADDITION TO IT BEING SORT OF HOLOGRAPHIC, IT ALSO HAS SECTIONS WHERE THE OCCIPITAL LOBE DOES ONE THING AND SO FORTH. WOULD THERE BE ANYTHING ABOUT THE SPECIFIC AREAS OF THE BRAIN THAT WOULD HELP YOU UNDERSTAND HOW THE ENERGY HAD TO BE FOCUSED TO CAUSE A COMPLEX OF SYMPTOMS THAT INCLUDED TERRIBLE HEADACHE AND DISORIENTATION AND IMBALANCE AND VISION OUT OF FOCUS AND HEARING LOSS. THAT ALL OF THAT, THAT THERE WOULD HAVE TO BE MORE THAN ONE PART OF THE BRAIN THAT WOULD HAVE HAD TO HAVE BEEN TARGETED?
The brain is not like you see the diagrams of the cuts of beef. It doesn't work like that. There are regions of the cortex, which is a thin layer on the outside of the brain that has domains, so the one area, as you said, might control vision. Another area controls arm movement, etc. But they're all part of a network. They send these nerve fibers to other parts of the brain that signals process and sends to yet another. So, we're talking about networks. So, there's not exact targeting of specific areas so much; it's how some kind of injury affects specific networks that pass throughout the brain.
HOW ARE YOU GOING TO STUDY THIS GOING FORWARD?
Well, that's neuroimaging, which takes a look at the white matter tracts. The white matter is where these nerve fibers go. Outside the cortex is the grey matter where the neurons are, the nerve cell bodies, and they send a very long, thin nerve fiber called an axon across the white matter. So, the white matter is the area that is selectively vulnerable where these nerve fibers all reside going in multiple directions in these tracts—T-R-A-C-T-S—that form the network of the brain, the electric grid of the brain.
IF THERE WERE ANY MORE NEW CASES, EVEN IF MOST OF THE AMERICANS OR CANADIANS ARE GONE, IS THERE ANYBODY IN CUBA WHO WANTS TO HAVE HELP AND THAT THEY WOULD GET A HOLD OF YOU IF THERE WERE NEW CASES, AND THEN WOULD IT MAKE SENSE FOR PEOPLE FROM THE UNITED STATES, SAY YOU AND THE DEPARTMENT OF DEFENSE TO GO THERE WHEN THERE WERE NEW CASES TO SEE IF YOU COULD PICK UP SOMETHING?
So, you're bringing up a really important point is that we're trying to develop what we call an operational diagnostic criteria, which basically just means we need a clear diagnosis for this syndrome that some people call Havana Syndrome, and we want to be able to have clear identifiers. So, it won't just be that somebody might worry they have a stomach flu or have some kind of viral illness or other kind of symptoms, something that's not part of the syndrome. So we need to rule in and out individuals with various types of medical complaints. What's being done now is that the State Department has initiated a pretest, a cognitive test. It's a little bit more elaborate but similar to the types of baseline tests that people take before they participate in sports, for example, so you can more easily determine if they've had a concussion or not. So, a lot of medical information is being taken of individuals before they're deployed abroad, specifically to Cuba so that it'll be easier to diagnose this syndrome if there are more exposures.
DO YOU KNOW OF ANYBODY WHO IS TRYING TO DEVELOP TECHNOLOGY THAT WOULD BE A MOLECULE SPECIFIC ENERGY THAT WOULD BE MOLECULARLY RESONANT WITH BRAIN TISSUE?
So, that I really don't know about. Medically, ultrasound is used. That's direct contact. Radio frequency, which microwave is kind of under that umbrella. Radio frequency beams are used for types of tissue oblation as well. But those are supposed to be curative. I am unaware of any specific technology that could beam something that directly affects the brain without any kind of contact.
Diffusion Tensor Imaging
AS WE SPEAK ON APRIL 19TH, 2018, WHAT IS GOING TO BE THE NEXT STEP IN YOUR RESEARCH AND WHAT'S HAPPENING IN THE BIG PICTURE WITH THIS CUBAN EMBASSY?
I can speak for our research pretty well, and that is we are interested in further investigating how these injuries are similar and different from concussion. For example, we did brain images using MRI, and we found no abnormalities. Now, we would say that that's normal because we see the same thing in persistent concussion. Because this brain network is affected, the structures are so small and spread throughout the brain that subtle damage to them, although the functional aspect is quite clear, clinically, we don't find changes on neuroimaging, what we call conventional neuroimaging like CAT scans, CT scans, or with MRI. However, there are emerging technologies with MRI that specifically look at the brain network and the connectivity of that network, at it's function and connection. And so you've probably seen these in magazines and what not, all these kind of colored fibers that run throughout the brain.
It's called diffusion tensor imaging. So, we're using this type of approach. In concussion, we see that that network is affected or changes in the network and a loss of connectivity or at least a change in connectivity amongst individuals. So, we're applying that same type of technology to examine the brains of the American U.S. government employees who were stationed in Cuba who have these symptoms.
WOULD THIS TECHNOLOGY THEN SHOW YOU VERY SPECIFIC SPOTS IN THE BRAIN THAT PROBABLY WERE TARGETED?
I don't know if we'll see targeted, but we're very interested in looking at networks that are involved in the same areas, we'll call them domains, where the function has been affected. For example, for balance or for vision, you know, for eye tracking, we can look at the parts of the brain that the networks of the brain that normally control that function. And so these networks are not in one spot. They're distributed throughout the brain, but we can track them according to the very specific pathways.
IF THERE WERE PEOPLE WHOSE HEARING WAS AFFECTED, DOES THAT SAY TO YOU THAT AT LEAST SOME OF THIS DIRECTED ENERGY WAS BEING DIRECTED AT THE AUDITORY CENTER OF THE BRAIN?
The sound part, I think, is quite simple. The loud sound can affect these little nerve fibers that are deep within the ear, and they become damaged. When people age, those fibers start to disappear as well. That's why older folks often lose hearing or some hearing. So, think of that as kind of a separate issue from the central nervous system issues, what's within the brain, and how those pathways might be affected. And that's exactly what the current study is looking at. So, can we find something we'll call an anatomic explanation for the symptom like what we've seen in persisting concussion?
ANATOMIC WOULD BE THE ENERGY FROM A DIRECTED WEAPON ON VERY SPECIFIC AREAS OF THE BRAIN?
Yeah. We wonder if that will be what we're looking for. Is the distribution of the injury unique? Is it specific? You know, so maybe some areas are more vulnerable to whatever this is. Just like what we see with concussion, that there are certain of these networks that seem more selectively injured or vulnerable than other areas.
IS IT POSSIBLE THAT DARPA OR SOME OF THE DEPARTMENT OF DEFENSE OFFICES MIGHT BE WORKING IN BLACK PROJECTS TRYING TO COME UP WITH MOLECULE SPECIFIC ENERGY SYSTEMS?
This is way outside my purview. I could only speculate as much as anybody off the street. As this study progresses, we'll obviously work toward publishing the data, so that would be the next step where we're going to be releasing more information. But that's not going to be in the very near future.
WE HAVE SOMETHING THAT IS REALLY STRANGE IN DIRECTED ENERGY, AND THAT THE RUSSIANS OR SOMEBODY ELSE MIGHT HAVE AN ANSWER, AND THEY'RE NOT SPEAKING UP.
It is a mystery, and it's a little alarming, which might be the goal. Just think, if the strategy was to run American government employees out of Cuba, it was a successful exercise. And if it were indeed something like human experimentation, they got a result, which concerns many of us that this may not be the end."
Return to Part 1.
Also see:
06-13-2017 – Part 3 – Secret History of CIA, NSA and DIA Investigations into Extrasensory Perception
06-09-2017 – Part 2 – Secret History of CIA, NSA and DIA Investigations into Extrasensory Perception
06-09-2017 – Part 1 – Secret History of CIA, NSA and DIA Investigations into Extrasensory Perception
---
More Information:
12-18-2016 – Update – Eerie Metallic Sounds in Spokane, WA, and Booms in Spearfish, SD, and San Jose, CA
12-15-2016 – Part 1: Strange Booms and Eerie Metallic Sounds Are Back in Washington and Pennsylvania
11-24-2016 – Strange Pinging Sound on Arctic Seafloor Scaring Off Animals
11-06-2016 – Two Northern Mysteries — Strange, Persistent Ping from Arctic Seafloor and "UFO? or 1950 Bomb?" Northwest of Vancouver, B. C.
04-25-2014 – Infrasound, Booms and Quakes
---
Websites:
"How We Reverse Engineered the Cuban 'Sonic Weapon' Attack," March 15, 2018, IEEE Spectrum:  https://spectrum.ieee.org/semiconductors/devices/how-we-reverse-engineered-the-cuban-sonic-weapon-attack
"U. S. Army Bioeffects of Selected Nonlethal Weapons," 1998 Unclassified: https://westcoastactionalliance.org/wp-content/uploads/2015/01/2006-417E-7-2006-U.S.-Army-Bioeffects-of-Selected-Nonlethal-Weapons-1998-Study-Addendum-NGIC-1147-101-1998-2006-U.S.-Army-Letter.pdf
Ultrasound Deterrents for Personal, Home and Property Protection:  https://www.amazing1.com/ultrasonics.html
"Scientists can't explain why diplomats in Cuba are suffering from 'traumatic brain injury,'" April 17, 2018, The Washington Post:  https://www.washingtonpost.com/news/worldviews/wp/2018/04/17/scientists-cant-explain-why-diplomats-in-cuba-are-suffering-from-traumatic-brain-injury/?utm_term=.2202f118a3a3
"Dangerous sound? What Americans heard in Cuba attacks," October 13, 2017, Associated Press: https://apnews.com/88bb914f8b284088bce48e54f6736d84?utm_campaign=SocialFlow&utm_source=Twitter&utm_medium=AP
"The sound in Havana: What Canadians and Americans heard in Cuba attacks," October 12, 2017, Canadian Broadcasting Company:  http://www.cbc.ca/news/politics/cuba-sound-attacks-recording-1.4352118
"The psychoacoustic effect of infrasonic, sonic and ultrasonic frequencies within non-lethal military warfare techniques," June 11, 2016, Littlefiled.co: https://littlefield.co/the-psychoacoustic-effect-of-infrasonic-sonic-and-ultrasonic-frequencies-within-non-lethal-cf05e1fd8673
"Where's My Acoustic Bazooka?" April 1, 2008, Wired.com: https://www.wired.com/2008/04/wheres-my-acous/

© 1998 - 2018 by Linda Moulton Howe.
All Rights Reserved.