"We all believe this is a real syndrome (in Cuba). This is concussion without blunt head trauma."
– Douglas H. Smith, M. D., Director, Center for Brain Injury and Repair, University of Pennsylvania
April 27, 2018  Cambridge, Massachusetts – Nine months ago in August 2017, there were a series of international headlines about a mysterious syndrome that was making American and Canadian diplomats in the U. S. Embassy in Havana, Cuba, sick with hearing loss, headaches, dizziness, fuzzy vision, losing balance and not being able to think straight. To date, the total affected have been 24 Americans and 10 Canadians.

---

"Dangerous Sound"?
On October 12, 2017, the Associated Press was the first to release a short 6-second recording of one of the many recordings made by investigators of strange sounds at the Cuban Embassy.  AP stated:  "The recordings themselves are not believed to be dangerous to those who listen. Sound experts and physicians say they know of no sound that can cause physical damage when played for short durations at normal levels through standard equipment like a cellphone or computer.  I have placed the 6-second recording of the sound released by Associated Press below in this report.
I have listened to the strange irritating sound that's like a speeded up cicada. Cuban Embassy diplomats who have been affected by the "brain attacks" confirm the AP audio recording is consistent with what they heard. "That's the sound," one of them said.
What device produced the original sound/s remains unknown. Americans affected in Havana reported they perceived that the sounds hit them at extreme volumes. Is a sonic weapon the culprit? If so, who was aiming at the offices of American and Canadian diplomats — and why?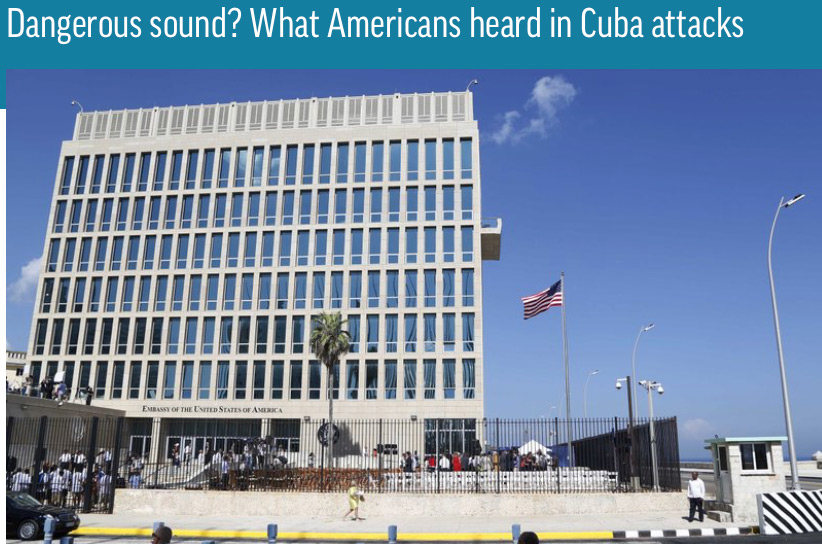 Cuban Embassy "Dangerous Sound"  Stats:
– 34 American diplomats
– 10 Canadian diplomats
–  All recordings reviewed by AP were variations of the same high-pitched sound.
–  Impacts of bizarre sound/s varied person to person. Does human target need to be in sonic weapon line of sight to be impacted? Some diplomats said attacking sounds "seemed narrowly confined to one room or parts of a room."
–  20 some different frequencies, or pitches, embedded in strange sound discovered by AP's using a spectrum analyzer that measures a signal's frequency and amplitude. Plotted on a graph, the Havana sound forms a series of "peaks" that jump up from a baseline, like spikes or fingers on a hand.  "There are about 20 peaks, and they seem to be equally spaced. All these peaks correspond to a different frequency," said Kausik Sarkar, an acoustics expert and engineering professor at George Washington University, who listened to a recording with the AP.
–  The sound pulsed in varying lengths: 7 seconds, 12 seconds, 2 seconds, several minutes or more. Then silence for a second, or 13 seconds, or 4 seconds before the sound abruptly started again.
– How much of the bizarre 20-frequencies also contain infrasound or ultrasound above or below what the human ear can hear, but could target brain tissue?
–  Some embassy employees who have asked for anonymity were given recording devices to turn on if they hear the sounds. 
–  U. S. Navy has analyzed the audio recordings, but "did not respond to requests for comment on the AP tape. State Department spokeswoman Heather Nauert wouldn't comment on the tape's authenticity."
Trying to figure out what happened to the 24 American and 10 Canadian diplomats that worked at the Cuban Embassy is Douglas H. Smith, M. D., Professor of Neurosurgery and Director of the Center for Brain Injury and Repair at the University of Pennsylvania in Philadelphia.
---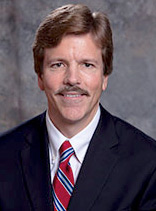 Douglas H. Smith, M. D., Professor of Neurosurgery and Director, Center for Brain Injury and Repair, University of Pennsylvania, Philadelphia, PA:  "It was actually quite different from person to person. The one thing that was the same was hearing a strange sound, typically loud, but the difference was the sound could be anything from like a high-pitched type of noise or something that sounded like cicadas to a low tone or kind of a scraping metal tone, and even the sensations they described were different. Like some people felt vibrations or that weird feeling you have when the car window's open and you have like a baffling type of sensation to others just feeling kind of out of it. So, the description of the initial encounter with whatever this exposure was — was all over the place with exception of most of them felt they had a strange experience with some sound.
WAS THERE FULL HEARING LOSS WITH ANYONE?
No. In a couple of cases there was some hearing loss. In most cases that is not the case. The complaint at that time is it seemed to be something about hearing a noise and maybe some ear pain and some headaches. So, the initial exams were like for an ear, nose, and throat type of specialty to examine them. It was during those exams that while there was clearly some auditory, something about the hearing, that they also had what really kind of looked like persisting concussion symptoms, and that's what brought them to the University of Pennsylvania and our center to be examined specifically to see how these symptoms were similar or different from concussion.
IN FACT, IN THE RECENT NEW YORK TIMES, IT SAYS, QUOTING YOU, 'UNIFORMLY EVERYONE WHO SAW THESE PATIENTS WAS ABSOLUTELY CONVINCED IT LOOKED LIKE CONCUSSION PATHOLOGY. INABILITY TO REMEMBER, PROCESSING SPEED—THOSE ARE SUCH CLASSIC SYMPTOMS WE SEE IN CONCUSSION. WE ALL BELIEVE THIS IS A REAL SYNDROME. THIS IS CONCUSSION WITHOUT BLUNT HEAD TRAUMA,' QUOTING YOU. CAN YOU EXPAND INTO WHAT YOU HAVE FOUND AND WHAT YOUR INTERPRETATION IS CURRENTLY OF THE CONCUSSION WITHOUT BLUNT HEAD TRAUMA?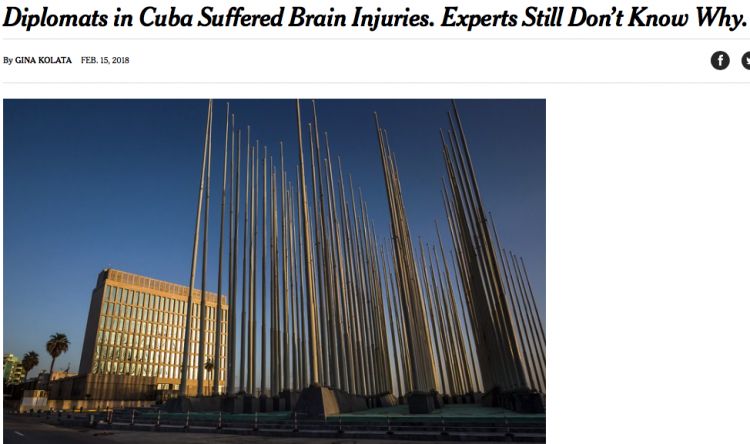 Nobody likes to have balance issues or have vision issues where you really can't quite converge your eyes to read if your job is to read a computer screen, for example, or papers. But for anyone that their biggest concern is that they would complain about the most were cognition. If they're not at their full performance—how quickly they think, memory function, just like you noted—so that was the most impressive, but certainly the balance issues and vision issues were a very common finding amongst these individuals.
WHAT WOULD PRODUCE SOUNDS THAT WOULD RANGE FROM CICADA TO HIGH-PITCHED TO A VARIETY OF PITCHES?
We don't think audible sound—the range where humans can hear sound—can hurt your brain. So, we think the sound or the sounds that were heard or even maybe imagined because you know you can have the perception of sound with some kinds of energy exposures without an actual sound, but we think there is no sound that hurt their brains. It's not the sound. We think that was a side effect. For example, if you heard a mechanical noise in the woods and you went in to investigate and you saw a bunch of trees cut down, you don't think it was a sound that cut the trees down. So, we think the sound was coincident with whatever was causing the injuries. And the difference of the sound could be for a variety of reasons. It could be how close the noise is.
ANY SPECULATION ABOUT DISTANCE FROM THE EMBASSY IN CUBA THAT THESE DIRECTED ENERGY WEAPONS WOULD HAVE TO HAVE BEEN TO HAVE SO MUCH IMPACT ON SO MANY PEOPLE?
Yeah, I mean, just think about it. I'll give you an example. Something that's used medically is ultrasound. That's used to oblate axons, nerve fibers that might give you pain someplace in your body, but that's done with direct contact with a device through gel. And similarly, this is also used to try to oblate, destroy, tumors within the brain, but that's also very direct contact with the tumor. That's with a big device with direct contact. It's hard to imagine what kind of device could send something like ultrasound through the air, which it doesn't travel well, through maybe walls or glass windows to hit a human body, penetrate the skull, and then go into the brain. So, why would these types of energies only hurt the brain and not other regions of the body? So, I'm afraid I might have more questions than answers, but it is extremely hard to imagine how a directed energy beam is employed that's targeted maybe even certain individuals, although we're not sure about that, and that can travel long distances. So, what you bring up is very much the conundrum.
Brain-Tissue-Specific Sonic Weapons?
WELL, AS I HEAR WHAT YOU JUST SAID, YOU ARE DESCRIBING SOME KIND OF A TECHNOLOGY THAT WOULD BE ABLE TO FOCUS AT ANY SPECIFIC DISTANCE PROGRAMMED WITH THE IDEA THAT IF THE GENERATOR WERE A HUNDRED YARDS AWAY, THAT IT WOULD BE BUILT SO THAT THE FREQUENCY WOULD HAVE A FOCUS A HUNDRED YARDS THROUGH BRICK, THROUGH WINDOW, THROUGH SKULL, WITH A FOCUS IN THE BRAIN MATTER.
Yeah, but you'd also need line of sight. Even if you imagine you could focus it, then how would you always have line of sight to an individual. These are all really kind of perplexing. You could go back to what happens in the brain in concussion. We have a fair idea that the blow to the head causes the brain tissue to push and pull against itself, and that selectively injures the brain's network, which is made up of all these tiny fibers that would take more than a hundred next to each other to be as wide as a human hair, and they really form the electric grid of the brain. But they're so small they're fragile to these mechanical forces of impact and then become damaged. And that can explain why the processing speed, how quickly you think, could be affected because you can't send signals quickly across this damaged network. So, we understand that from a mechanical point of view for concussion with a single blow. How can you end up with a similar type of symptomatology based on network problems in the brain without the blow to the head? Is there another type of vibration force that even though it's not a major blow to the head, it can still disrupt these nerve fibers in a similar way that concussion does?
HAVE YOU TALKED ABOUT EXACTLY THAT QUESTION WITH ANYBODY FROM THE DEPARTMENT OF DEFENSE?
We have not been in close contact with the Department of Defense. We have funding from them for traumatic brain injury research. This would be more open discussions with people from various government agencies to discuss how could you arrive at this type of damage.
I'M WONDERING IF THERE IS SOME BLACK PROJECT, SOME WEAPON THAT HAS BEEN DEVELOPED THAT CAN TARGET SPECIFICALLY BRAIN MATTER LIKE A MOLECULE SPECIFIC RESONANCE FREQUENCY SO THAT IT WOULD GO THROUGH A LOT OF THINGS TO TARGET BRAIN MATTER. IS IT POSSIBLE THAT DARPA OR SOME OF THE DEPARTMENT OF DEFENSE OFFICES MIGHT BE WORKING IN BLACK PROJECTS TRYING TO COME UP WITH MOLECULE SPECIFIC ENERGY SYSTEMS?
This is way outside my purview. I could only speculate as much as anybody off the street. It's possible that there's something unique about the brain that would make it selectively vulnerable to some type of directed energy. For example, maybe the skull creates an echo chamber, or maybe the tissue properties of the brain are unique enough to be affected. But I can tell you I don't know if that's true. I don't any mechanism that would do that. But I have to be suspicious that there is something unique about the brain because the rest of the body's nerve system has the same type of small fiber structures that are in your nerves, and they were not affected.
WOW.  WHO WOULD HAVE THE TECHNICAL ABILITY TO DO THIS, AND WHY?
Yeah. I don't know. That's not my purview, but we look at this as a cluster, a public health issue. It affects a cluster of individuals. It's very curious that these individuals are American diplomats, by and large. The Canadians were affected as well.
THAT IS THE MOST RECENT ROUND OF PEOPLE LEAVING?
That's the most recent group of people leaving, yes. The Americans, we found 24, only 21 of which had full workups. And the Canadians, I read, there could be up to 10. So, you have to wonder in this strange world of neurotoxins like Novichok that we heard of recently or radioactive poisoning with Polonium or other even just PCBs that have been used. Most people think that if you want to send a message, you could just shoot somebody, but we have never heard of anything like this before.
[ Editor's Note: A former Russian spy and his daughter were poisoned by a chemical that is part of a group of nerve agents known as Novichok, UK Prime Minister Theresa May has said. France, Germany and the US have backed the UK's assessment that Russian involvement is the "only plausible explanation," in spite of Russian denials. ]
WE ONLY HAD DIPLOMATIC RELATIONS OPENED UP AT THE END OF THE BARACK OBAMA ADMINISTRATION WITH CUBA, AND THAT ALL OF THIS HAS HAPPENED SINCE THEN, AND THAT SEEMS CONTRADICTORY TO THE IDEA OF TRYING TO INCREASE FRIENDSHIP AND DIPLOMATIC ABILITY BETWEEN THE UNITED STATES AND CUBA. SO, WHO WOULD HAVE A MOTIVE TO TRY TO HURT AMERICAN DIPLOMATS IN THE EMBASSY AND HAVE SOME KIND OF TECHNOLOGY THAT IS NOT OUT IN THE PUBLIC TO DO THIS?
Yeah, that's right. That would be an important part of the investigation, and as you might know, the FBI went down to Cuba to investigate, and I'm sure other agencies are investigating. There's a Senate subcommittee meeting with Marco Rubio who questioned people from the State Department and others to get at this exact question. You have to understand the motivation, which might help where this came from and why it came. Unfortunately, I would say though that if the goal was to get the American diplomats to leave, the Canadian diplomats are also leaving, by and large. Only skeleton crews are being left behind.
HAS ANYBODY SPECULATED WITH YOU FROM A MILITARY CONTEXT IF THERE IS KNOWLEDGE THAT THE RUSSIANS ARE EXPERIMENTING WITH DIRECTED ENERGY WEAPONS AND THAT RUSSIA MIGHT BE THE CULPRIT?
So, I think certainly almost all major powers have some kind of programs to look at energy beams of sorts for multiple purposes. One might be to take down aircraft or drones or missiles."
Continued in Part 2.
Also see:
06-13-2017 – Part 3 – Secret History of CIA, NSA and DIA Investigations into Extrasensory Perception
06-09-2017 – Part 2 – Secret History of CIA, NSA and DIA Investigations into Extrasensory Perception
06-09-2017 – Part 1 – Secret History of CIA, NSA and DIA Investigations into Extrasensory Perception
---
More Information:
12-18-2016 – Update – Eerie Metallic Sounds in Spokane, WA, and Booms in Spearfish, SD, and San Jose, CA
12-15-2016 – Part 1: Strange Booms and Eerie Metallic Sounds Are Back in Washington and Pennsylvania
11-24-2016 – Strange Pinging Sound on Arctic Seafloor Scaring Off Animals
11-06-2016 – Two Northern Mysteries — Strange, Persistent Ping from Arctic Seafloor and "UFO? or 1950 Bomb?" Northwest of Vancouver, B. C.
04-25-2014 – Infrasound, Booms and Quakes
---
Websites:
"Scientists can't explain why diplomats in Cuba are suffering from 'traumatic brain injury,'" April 17, 2018, The Washington Post:  https://www.washingtonpost.com/news/worldviews/wp/2018/04/17/scientists-cant-explain-why-diplomats-in-cuba-are-suffering-from-traumatic-brain-injury/?utm_term=.2202f118a3a3
"Dangerous sound? What Americans heard in Cuba attacks," October 13, 2017, Associated Press: https://apnews.com/88bb914f8b284088bce48e54f6736d84?utm_campaign=SocialFlow&utm_source=Twitter&utm_medium=AP
"The sound in Havana: What Canadians and Americans heard in Cuba attacks," October 12, 2017, Canadian Broadcasting Company:  http://www.cbc.ca/news/politics/cuba-sound-attacks-recording-1.4352118
"The psychoacoustic effect of infrasonic, sonic and ultrasonic frequencies within non-lethal military warfare techniques," June 11, 2016, Littlefiled.co: https://littlefield.co/the-psychoacoustic-effect-of-infrasonic-sonic-and-ultrasonic-frequencies-within-non-lethal-cf05e1fd8673
"Where's My Acoustic Bazooka?" April 1, 2008, Wired.com: https://www.wired.com/2008/04/wheres-my-acous/

© 1998 - 2018 by Linda Moulton Howe.
All Rights Reserved.