"The black granite sarcophagus is one of the largest ever found in Alexandria. Experts have not yet determined to whom the huge tomb belongs." – Mostafa Waziri, Egypt's Supreme Council of Antiquities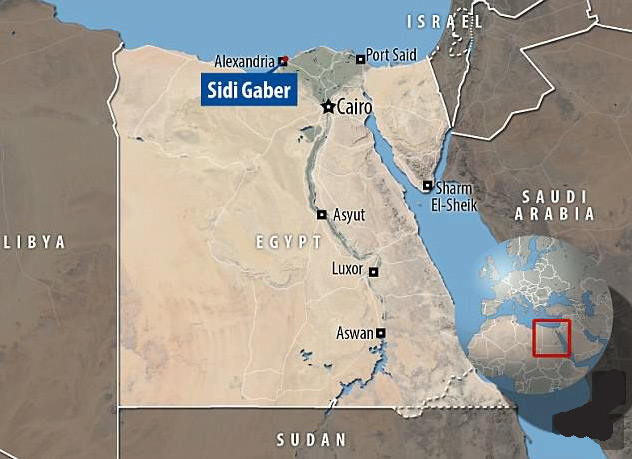 July 13, 2018  Alexandria, Egypt – A huge, black granite sarcophagus — one of the biggest ever found in Alexandria, Egypt — has been unearthed on Al-Karmili Street in the Sidi Gaber district along the Mediterranean water's edge. That neighborhood contains the Sidi Gaber railway station, one of Egypt's oldest.
Since 2011, the station has been expanding and turning old parts of Sidi Gaber into a railway museum. Egyptian law demands that owners of building sites must excavate before new constructions in order to look for buried ancient artifacts. So that's why the Supreme Council of Antiquities was digging in the Sidi Gaber district of Alexandria.
16 feet underground in soil that carbon dates to the Ptolemaic period from 305 to 30 BC, the antiquities investigators found there is a layer of unbroken mortar between the lid and the rest of the tomb. That means the coffin hasn't been opened in 2,000 years. Whoever is inside might be represented by a white alabaster head also found near the black sarcophagus. So far, who that might be is unknown.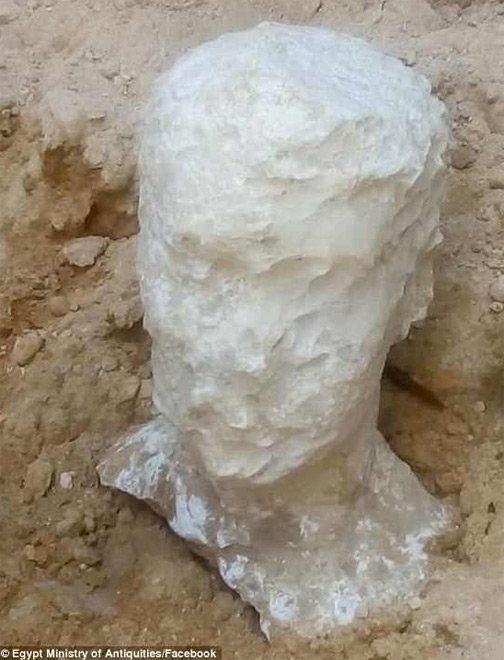 Ptolemy of Lagus was a Macedonian Greek general under Alexander the Great. Ptolemy I became a pharaoh ruler of Egypt and founded a dynasty that ruled for nearly three centuries from 305 – 30 BC, turning Egypt and Alexandria into a center of Greek culture. That was the last dynasty of ancient Egypt.
Also see:
11-20-2015 – Thermal Imaging of Great Pyramid of Giza Reveals "Impressive Heat Anomaly" On East Side
---
More Information:
12-18-2015 – Middle Eastern Mystery: Thousands of Odd Pre-Historic Stone Patterns
12-09-2015 – Mysterious Granite Head On U. K.'s Isle of Portland.
11-23-2011 – Greek Gods Were Extraterrestrials, Says Erich von Daniken in Latest Book, Odyssey of the Gods. 
04-23-2002 – John Anthony West Organizing New Effort to Date Weathering of Sphinx and Red Pyramid Chamber
---
Websites:
Ptolemaic Dynasty in Egypt:  https://en.wikipedia.org/wiki/Ptolemaic_dynasty
History of Alexandria, Egypt:  https://en.wikipedia.org/wiki/History_of_Alexandria

© 1998 - 2018 by Linda Moulton Howe.
All Rights Reserved.