"The white-skinned humanoid doesn't say anything to me out loud, but I feel something in my mind, 'Look out there. The universe is full of – there is conflict between good and evil."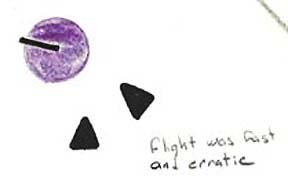 "I feel that the non-human entities have conducted genetic testing on mankind for centuries in order to alter human genetics and guide our evolution to a point where they can harvest a genetic component for cloning and/or hybrid that has the ability to contain a soul."
- "Joshua Rhinehall," Private Investigator, Pacific Northwest
Return to Part 1.
Reposted July 22, 2018 - April 14, 2014 Albuquerque, New Mexico - As the 1980s evolved into the 1990s and past New Year's Day 2000, my files filled up with contradictory descriptions of different types of non-humans and agendas ranging from positive entities trying to help humanity to negative — even dangerous — intents of insectoids, grey types, standing up reptiles and large, humanoid praying mantises.
Click here to subscribe and get instant access to read this report.
Click here to check your existing subscription status.
Existing members, login below:

© 1998 - 2023 by Linda Moulton Howe.
All Rights Reserved.