— "We did feel it. Shook the whole Justice Center. We aren't sure what it is. We do have some deputies out trying to figure out the source, but so far no news." – Marian O'Briant, Public Information Officer, Blount County Sheriff's Office
August 4, 2018 – Maryville, Blount County, Tennessee – This morning Earthfiles received this email from an official at the University of Tennessee in Knoxville:
TO:  Linda Moulton Howe <[email protected]>
RE:  Maryville, TN – Big Booms go unexplained.
Date:  August 4, 2018
Hello, Earthfiles.
FYI. Please add Maryville, TN (East TN near Knoxville) for mysterious booms so loud that people are awaken from sleep. Occurring all week (July 30th to August 4). Newspaper finally had info on the front page this morning. Explanations vary and are loose at best.
Keep up the great work.
Also this morning on Saturday, August 4, 2018, WVLT Channel 8 in Knoxville, Tennessee, headlined: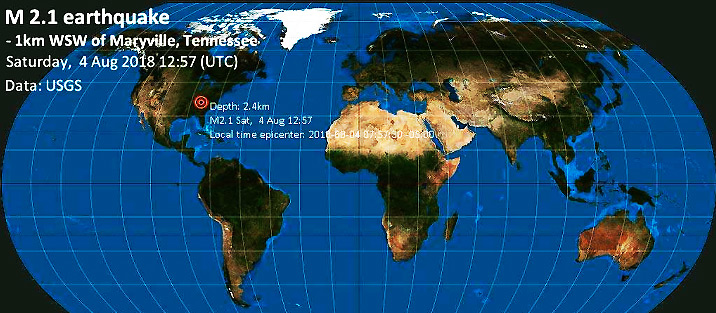 On August 1, 2018, The Daily Times in Blount County, Tennessee headlined:  "Mysterious loud booms reported in Maryville. Police said several loud booms reported in the Sandy Springs and Pearson Springs area Monday night (July 30, 2018)  remain unexplained. Maryville Police Chief Tony Crisp said several reports of the phenomenon, mostly described as four loud booms or explosions, came in around 9:30 PM Monday night. There was no weather and the U.S. Geological Survey (USGS) showed no recent earthquakes in the area."
"We checked and did not find anything and could never establish the cause of that boom. It's just a mystery at this point," said Police Chief Crisp.
Yesterday the City of Maryville, Tennessee, issued a press release about the week of huge booms mystery and "an earthquake-like event that happened just after 1 PM, August 3, 2018. We have not found any visible evidence of a surface blast and we can confirm it was not a result of a quarry blast. Local seismographs indicate a possible earthquake. However, we do not know for sure the cause of the event. Officials from USGS will need to make that determination. …The following information was posted on the USGS website:"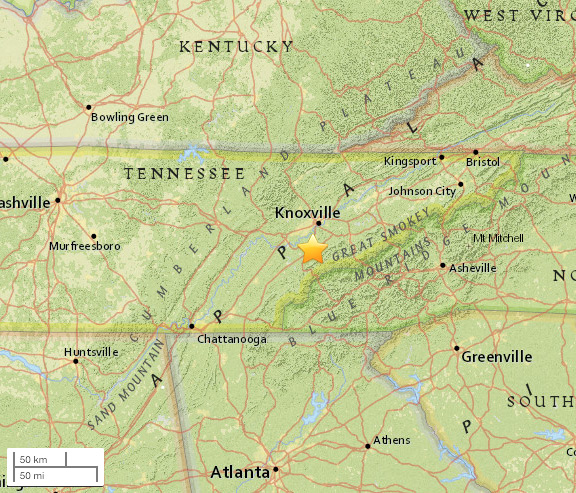 Dispute About Seismic Magnitudes and Whether Local Quarry Responsible 
WVLT Channel 8 reported Saturday morning, August 4, 2018, at its website that "late Friday evening, August 3rd, the USGS released an update saying the Univ. of Memphis determined that a quarry blast caused a 1.9 magnitude earthquake."
But on Saturday morning, August 4, the USGS updated their website and asserted the Friday quake was even larger — a 2.4 magnitude. USGS also reported another quake on Saturday morning at 8:57 AM local time that was recorded at 2.1.
Local Quarry Says NO Blasts From July 30 – August 4 — Except on Tuesday, July 31st.
Neither Friday, Saturday nor all the previous days of the week were there any quarry blasts at all, according to Carl VanHoozier, Community Relations Manager at Vulcan Materials Company, a quarry in Blount County.  Mr. VanHoozier told WVLT News Friday night, "The USGS is absolutely incorrect — there was no quarry blast today, or anytime this week. A 2.1 earthquake is pretty extreme. Our blasts are controlled and small. It's an earthquake, it's not a quarry blast."
However, early Saturday morning, August 4, 2018,  VanHoozier contacted WVLT again to report that "there had been a blast during the week, but it was on Tuesday, not on Friday."
On Friday, August 3, after the 1 PM unexplained boom, students and staff at Maryville City High School felt and heard another large boom at 2 PM.

Hundreds of Unexplained Booms Reported Around World Since January 2011
Earthfiles has been reporting about hundreds of boom reports around the world in both hemispheres since January 29, 2011. See Websites below for link to January 29, 2011 "Earthfiles Viewers Reports of Strange, Loud Booms."
'Boom' Heard Across SE Part Of Metro OKC USGS Says 'Boom' Was Not An Earthquake
POSTED by News 5 KOCO.com: 10:54 AM CST on January 27, 2011
OKLAHOMA CITY, OKLAHOMA — A loud 'boom' was heard by Oklahomans on Thursday morning, January 27, 2011m but officials confirmed that it was not an earthquake. Eyewitness News 5 began reporting a possible earthquake around 10:30 a.m. The United States Geological Survey said no such earthquake had occurred. The last earthquake in Oklahoma was at 9:53 a.m. on Jan. 19. It was a magnitude of 2.8, according to the USGS. So what was the January 27th morning boom?
Since then, the Earthfiles Archive now has 65 reports of mysterious, unexplained booms around the world and throughout the United States and Canada.
Also See:
01-09-2018 – Blast of Light, Huge Boom and Ground Shaking "Over Thousands of Miles in Russia"
06-01-2017 – Another Loud, Mysterious Boom — This Time in Georgia
---
More Information:
01-09-2018 – Blast of Light, Huge Boom and Ground Shaking "Over Thousands of Miles in Russia"
12-10-2017 – From Booms to Animal Mutilations to Aliens and Genetic Engineering
10-26-2017 – More Mysterious Booms and Sky Flashes in North Carolina and Australia
06-01-2017 – Another Loud, Mysterious Boom — This Time in Georgia
02-06-2017 – Green Fireball Over Lake Michigan Early Feb. 6, 2017, While Other Lights with Loud Booms Puzzle Eastern Quebec.
01-19-2017 – Unexplained, Loud, House-Shaking Boom Reported by Dozens to Mt. Holly, N.C. Police Night of Jan. 17th
12-18-2016 – Update – Eerie Metallic Sounds in Spokane, WA, and Booms in Spearfish, SD, and San Jose, CA
12-15-2016 – Part 1: Strange Booms and Eerie Metallic Sounds Are Back in Washington and Pennsylvania
10-19-2016 – New Mysterious Loud Booms in Idaho and California
---
Websites:
USGS Earthquake Hazards Program  M 2.4-2km SW of Maryville, TN: https://earthquake.usgs.gov/earthquakes/eventpage/se60060623#region-info
"USGS: Saturday morning earthquake in same Maryville area," Update, Saturday, August 4, 2018, WVLT Channel 8 (CBS):  http://www.wvlt.tv/content/news/Maryville-police-Whole-building-shook-following-mysterious-booms–490006281.html
"Mystery Booms Are Being Recorded Across the Country and No One Can Explain Why," November 24, 2017, Newsweek:  https://www.newsweek.com/mystery-booms-recorded-around-country-unclear-why-721533
"Earthfiles Viewers Reports of Strange, Loud Booms," January 29, 2011: https://www.earthfiles.com/2011/01/29/earthfiles-viewers-reports-of-strange-loud-booms/

© 1998 - 2018 by Linda Moulton Howe.
All Rights Reserved.