"It makes you question what exactly are the FBI trying to hide? You know, is this some kind of secret technology? Is it something much more sinister that they know that they can't readily identify or at least explain?" – John Greenewald, The Black Vault.com
August 31, 2018  Castaic, California – John Greenewald has been producing The Black Vault.com website since 1996, a challenge he started at age 15 with the goal to file FOIA requests on UFO-related subjects and to report about whatever documents he received. Then as if following John's lead, the FBI eventually in 2011 created their own online document archive and called it, "The Vault." Even though the FBI Vault gives the impression that everything the FBI has on a particular person or topic is there in the digital archive — that's not true. Even though the FBI has released hundreds of thousands of pages since 2011, last month in July 2018, John discovered that the FBI documents about cattle mutilations were not complete. So he filed a FOIA request to see what else the FBI had on the animal mutilation mystery that I have been investigating since September 1979, when I was producing the 90-minute special A STRANGE HARVEST for the CBS station in Denver. That documentary first aired on May 25, 1980 and received a Regional Emmy.
During my investigations, I had sherrifs, deputies and ranchers tell me that the mutilation perpetrators were  "creatures from outer space." Why? Because they were seeing completely silent objects in the sky over pastures that looked like small airplanes or helicopters, that would dissolve into misty clouds. Further, ranchers reported to sheriff's offices that beams of light were coming down from glowing objects in the night sky and some ranchers had even seen one of their cows rise in a beam of light or be lowered in a beam of light to the ground dead and bloodlessly mutilated. So who? or what? was placing those silent images of helicopters and small planes in the sky that could dissolve away in a misty cloud or patch of ionized air?
This question has come up again in a few never-seen-before animal mutilation documents dated 1979-1980 and released for the first time in July 2018 by the FBI to John Greenwald and his The Black Vault.com, the largest private citizen-run online repository of declassified government documents in the world.
---
Interviews:
John Greenwald, Producer and FOIA Researcher, The Black Vault, Castaic, California:  "To my surprise, the cattle mutilation mystery and animal mutilation documents that the FBI posted were not complete. And so, I filed a Freedom of Information Act request trying to see what else they had. I did that in July of this year, and as a response, I got new documents that had never been out before. They come from '79, and this is the same era that a lot of the other documents that they have released come from. And the reason I bring that up is because it supports the fact that the FBI strategically did not release these records for a reason. And I think that once you get into the documents and you start seeing exactly what the document has on it, you can kind of get a better picture of why they were essentially covering it up.
October 31, 1979 AIRTEL from FBI Bureau in Butte, Montana, to Director, FBI, Washington, D. C.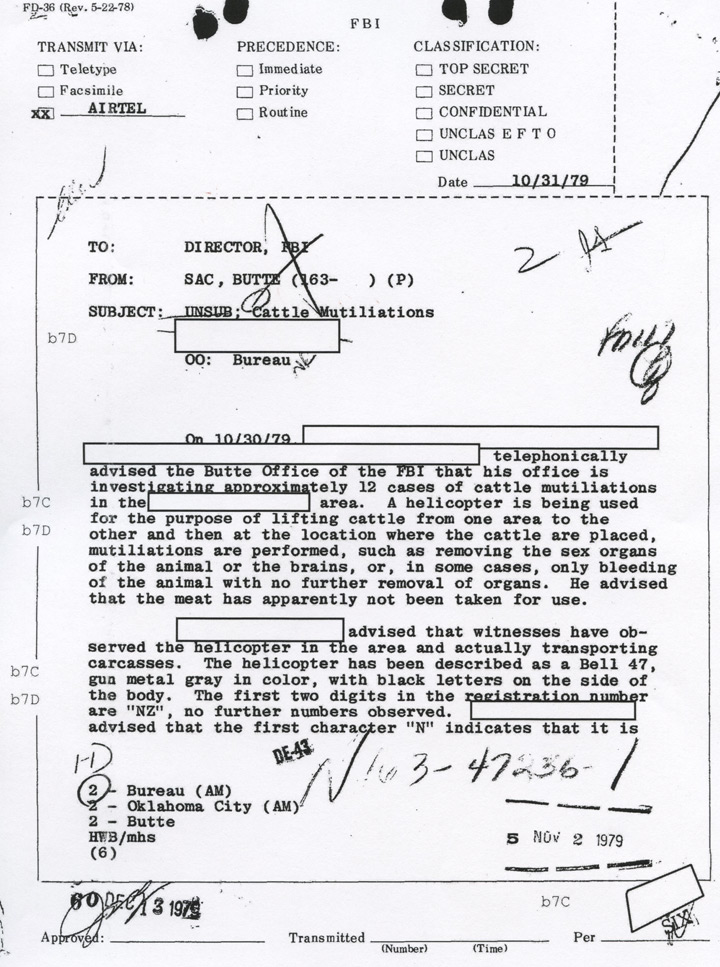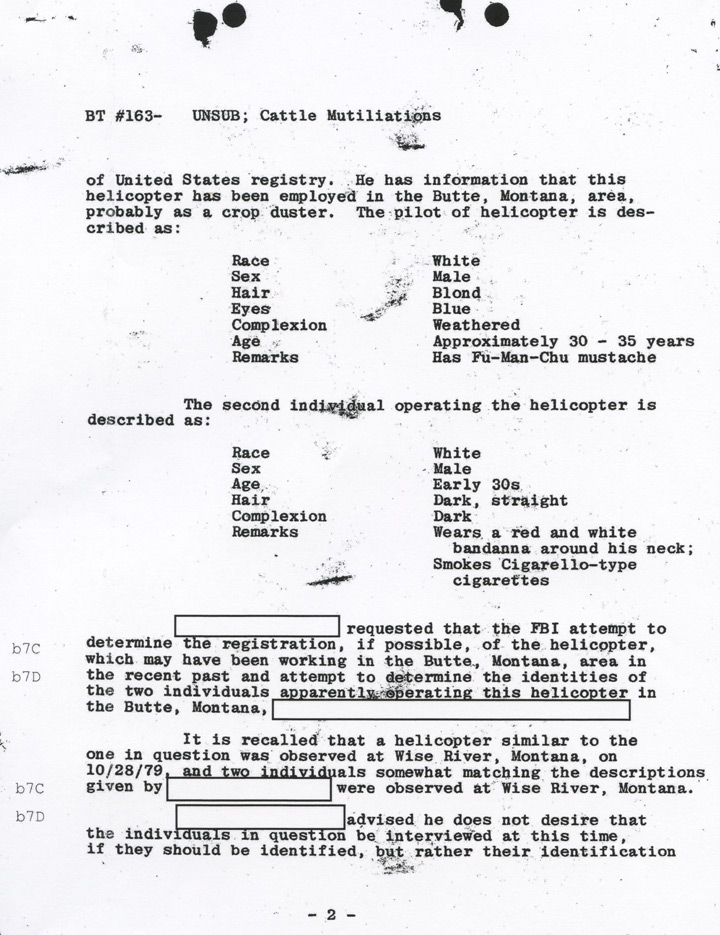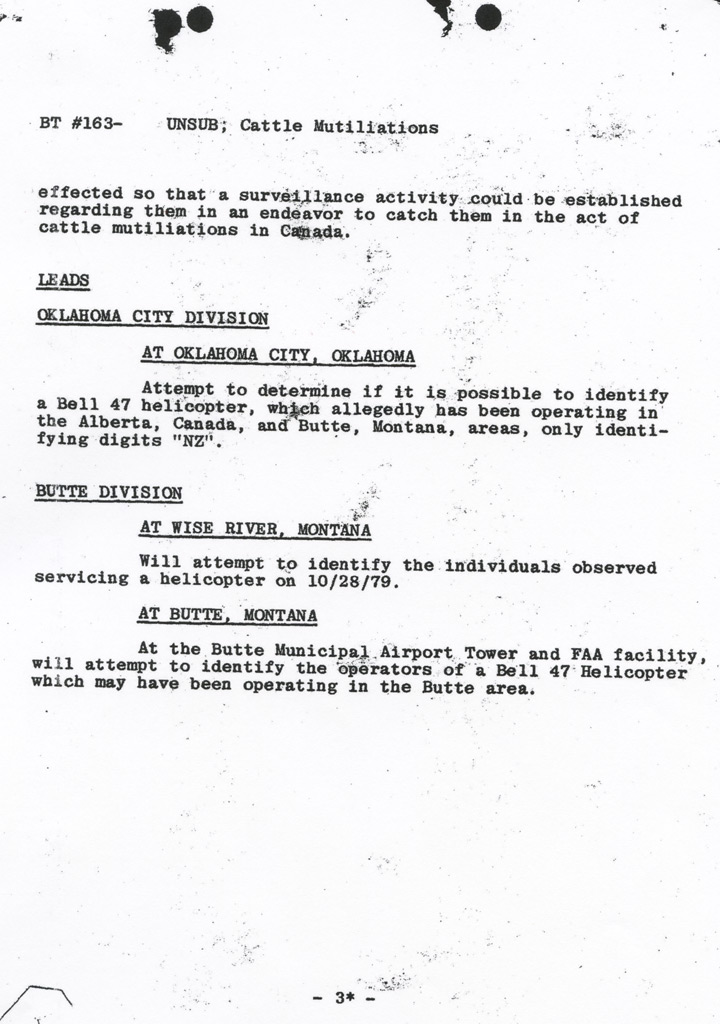 AND JOHN, I'M LOOKING AT OCTOBER 31ST, 1979 AS A DATE ON THE FIRST DOCUMENT THAT YOU HAD SENT.
Yeah.
IT SAYS, "THE FBI BUREAU CHIEF IN THE BUTTE, MONTANA OFFICE TRANSMITTED AN AIRTEL MESSAGE TO THE FBI DIRECTOR IN WASHINGTON D.C." IN PART IT SAID THE BUTTE OFFICE WAS "INVESTIGATING APPROXIMATELY 12 CASES OF CATTLE MUTILATIONS IN THE  *NAME BLACKED OUT*  AREA.
A HELICOPTER IS BEING USED FOR THE PURPOSE OF LIFTING CATTLE FROM ONE AREA TO THE OTHER, AND THEN AT THE LOCATION WHERE THE CATTLE ARE PLACED, MUTILATIONS ARE PERFORMED, SUCH AS REMOVING THE SEX ORGANS OF THE ANIMAL OR THE BRAINS, OR, IN SOME CASES, ONLY BLEEDING OF THE ANIMAL WITH NO FURTHER REMOVAL OF ORGANS. THE MEAT HAS APPARENTLY NOT BEEN TAKEN FOR USE.
*BLACKED OUT NAME*  ADVISED THAT WITNESSES HAVE OBSERVED A HELICOPTER IN THE AREA TRANSPORTING CARCASSES. THE HELICOPTER HAS BEEN DESCRIBED AS A BELL 47, GUNMETAL GREY IN COLOR WITH BLACK LETTERS ON THE SIDE OF THE BODY. THE FIRST TWO DIGITS IN THE REGISTRATION NUMBER ARE 'NZ'. NO FURTHER NUMBERS OBSERVED."
What Do Adult Cattle Weigh?
LMH: SO, WHAT ARE THE FACTS ON WHAT CATTLE WEIGH AND WHAT MAXIMUM WEIGHT COULD A BELL 47 PICK UP? ABOUT CATTLE WEIGHTS, HERE IS WHAT LONGTIME CATTLE RAISER ALEX PETERSON SAYS AFTER DECADES OF OWNING AND OPERATIING THE WINDMILL ANGUS RANCH IN HAIGLER, NEBRASKA.
John Peterson, Owner, Windmill Angus Ranch, Haigler, Nebraska:  A full-sized mature bull should weigh 2,500-2,800 pounds, and in really good condition, up to 3,000 pounds. An adult, full-grown mature female that's pregnant, anywhere from 1,500-1,800 pounds. And a mature adult female, 1,300-1,500-pound range.
LMH:  COULD BELL 47 HELICOPTERS IN 1979 LIFT UP A 2,500 POUND BULL OR AN 1,800 POUND PREGNANT COW, OR A 1,500 POUND NON-PREGNANT FEMALE?
I ASKED JOHN GREENEWALD, AND HE INTRODUCED ME TO RETIRED U.S. AIR FORCE MAJOR DAVID W. AIKEN. HE SERVED IN THE VIETNAM WAR FROM 1967-1968 WHERE ALL KINDS OF HELICOPTERS, INCLUDING THE BELL 47, WERE IN ACTION. MAJOR AIKEN ALSO KNOWS HOW THE BELL 47 SHOULD BE REGISTERED IN THE UNITED STATES. HERE NOW FROM HIS HOME IN EASTERN FLORIDA IS MAJOR DAVID AIKEN.
Bell 47 Helicopter Could Not Pick Up Adult Cows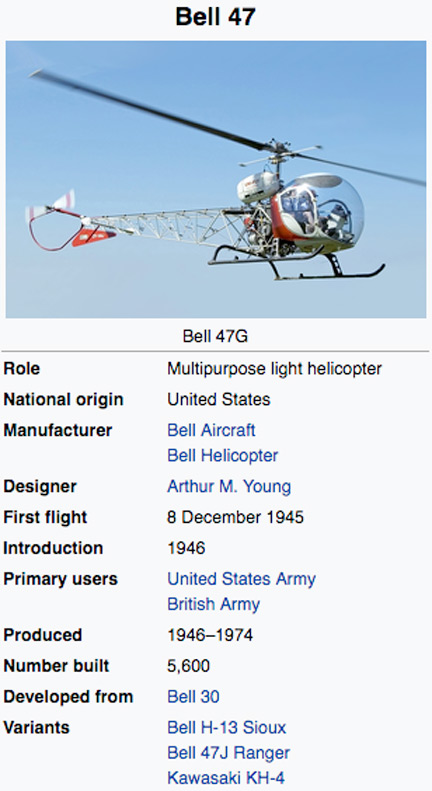 Retired USAF Major David W. Aiken, Eastern Florida:  There's never been an aircraft in the U.S. registered NZ, so obviously if somebody was using that helicopter, they didn't want it identified, and they changed the number. They altered it. So, I took what they call the empty weight or the dry weight. That's without any people onboard and no fuel, ok, so you've got to calculate how much your fuel weighs and how much you weigh and how much your passengers weigh, and you add that to the empty weight, and it better come out below the maximum lift weight. Subtract one from the other, and then you come up with a maximum payload of 1,057 pounds.
WHICH IS LESS THAN ALL THREE CATEGORIES OF A CATTLE RAISER'S AVERAGE WEIGHTS RANGING FROM 2,500-1,500 POUNDS.
Correct.
WITHIN THE NEXT FEW WEEKS, THE FBI'S OWN FIELD INVESTIGATIONS CONFIRMED THE FAA DID NOT HAVE ANY HELICOPTER REGISTRATION NUMBERS BEGINNING NZ. SO, THERE NEVER WAS ANY SUCH BELL 47 HELICOPTER LIFTING UP CATTLE.
FINALLY, IN A JANUARY 9TH, 1980 DOCUMENT JUST RELEASED IN JULY 2018 TO JOHN GREENEWALD'S FOIA REQUEST, THE BUTTE, MONTANA FBI BUREAU CHIEF STATED, "AT THIS TIME, NO FURTHER LOGICAL INVESTIGATION REMAINS TO BE CONDUCTED IN THE UNITED STATES IN THIS MATTER. SIGNED J.E. BAILEY, BUTTE, MONTANA FBI SPECIAL AGENT IN CHARGE."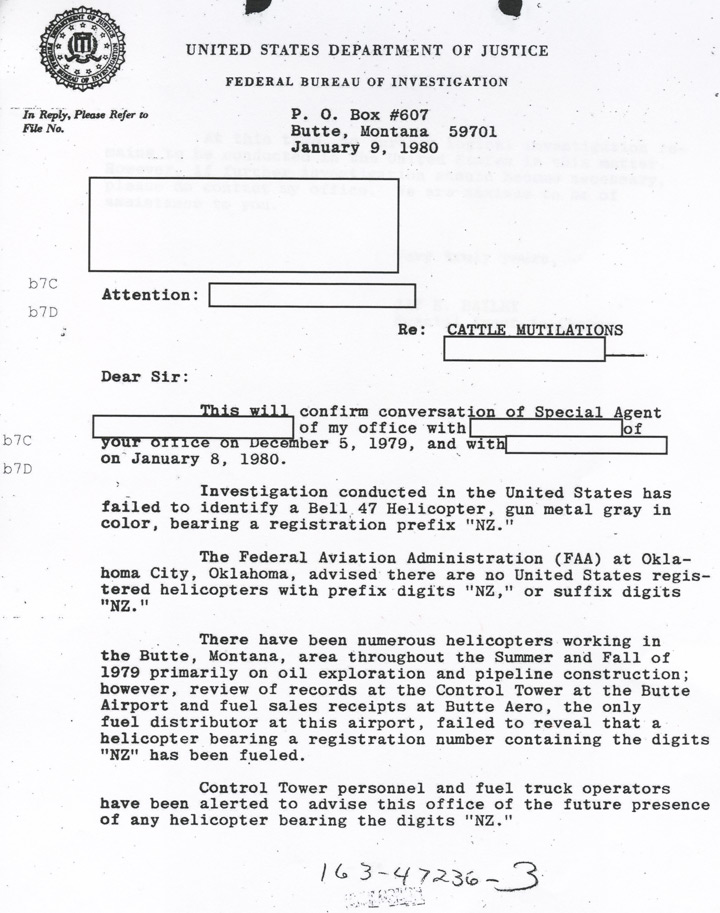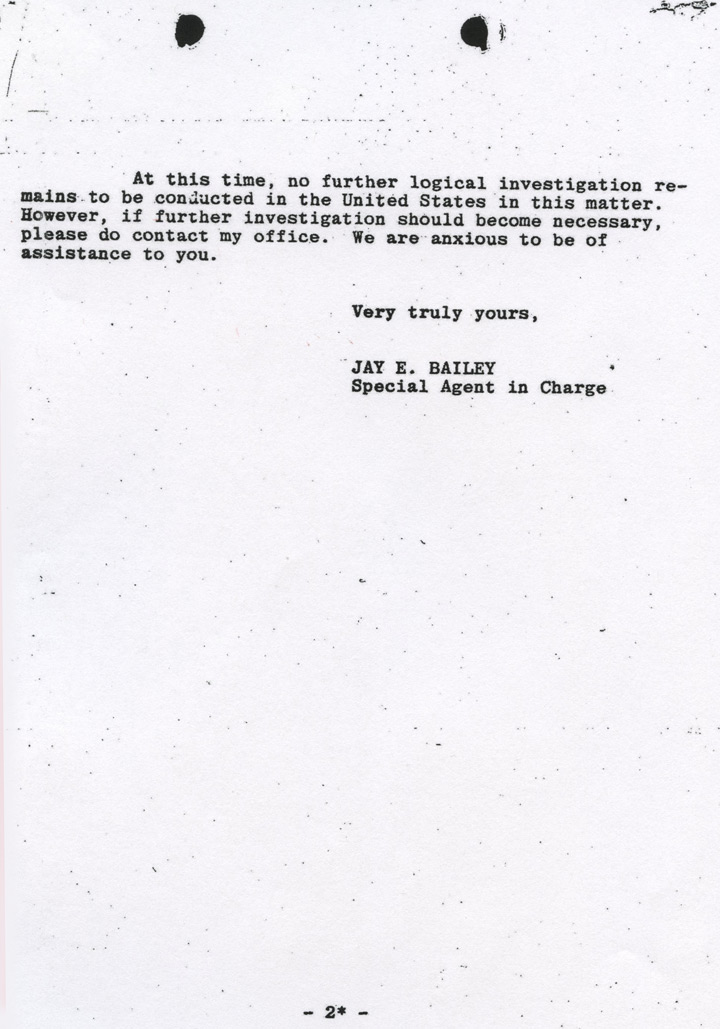 SO, WHAT THE FBI LEARNED PRIVATELY — BUT NEVER REPORTED PUBLICLY — WERE THE ACTUAL FACTS ABOUT WHAT MAXIMUM WEIGHT A BELL 47 COULD LIFT VERSUS WHAT ADULT CATTLE WEIGH.
JOHN GREENEWALD AND I TALKED ABOUT THE TIMELINE OF ANIMAL MUTILATIONS BEING REPORTED LONG BEFORE 1979. ANIMAL MUTILATIONS WERE BEING REPORTED AND PHOTOGRAPHED FROM THE 1960S, SO FROM 1960-1979, YOU'RE TALKING ABOUT 20 YEARS OF ANIMAL MUTILATIONS BEING REPORTED NOT ONLY IN THE UNITED STATES BUT THROUGHOUT NORTH AMERICA AND AROUND THE WORLD. AND THE FBI AND THE CIA KNEW THAT.
THERE IS THE TESTIMONY OF PEOPLE LIKE LOU GIRODO WORKING IN THE DA'S OFFICE IN TRINIDAD, COLORADO. AND HIS JOB WAS TO GET TO THE BOTTOM OF ALL THE ANIMAL MUTILATIONS THAT WERE HAPPENING IN SOUTHERN COLORADO.
AND HE PERSONALLY DESCRIBES HIS INTERVIEWS WITH RANCHERS AND PEOPLE WHO SAW WHAT THEY THOUGHT WAS A HELICOPTER OR A FIXED WING PLANE THAT DISSOLVED INTO A CLOUD AND DISAPPEARED.
Why Would FBI Try to Use Bell 47 As Explanation for Animal Mutilation Mystery?
John Greenewald, Owner and Producer, The Black Vault.com:  Yeah, and I think that the FBI knows outright that they can't explain this mystery. What was the motive for them to keep this a secret? What's interesting is there's no classification stamp on these documents, but obviously something was there for them to withhold the release initially in that big packet of information that they've released prior. And it does make you question, since the whole basis of this explanation/investigation for these cases with the Bell 47 being done by a human and so on — when you actually research that and find out that none of that can be true, it makes you question what exactly are the FBI trying to hide? You know, is this some kind of secret technology? Is it something much more sinister that they know that they can't readily identify or at least explain?
UFOs Over Wurtsmith AFB, Northern Michigan in 1975
BACK IN 1975, FOUR YEARS BEFORE THE FBI MEMOS ABOUT TRYING TO BLAME PEOPLE IN BELL 47 HELICOPTERS FOR THE BLOODLESS MUTILATIONS, AT WURTSMITH AIR FORCE BASE IN NORTHERN MICHIGAN, U.S. AIR FORCE MAJOR DAVID AIKEN HAD HIS OWN EXPERIENCE WITH UFOS AND THE AIR FORCE SAYING EVEN THEN THAT THEY WERE HELICOPTERS.
Retired USAF Major David W. Aiken:  UFOs came over at night over Wurtsmith Air Force Base in northern Michigan. Would have been October '75. These UFOs, the first one came in over the front gate, hovered over the front gate, shown a light down onto the guard standing. His supervisor was there also. They were engulfed in this light. These UFOs went out to the flight line. We called it the Christmas Tree. It was the alert pad where the loaded bombers sat alert. They saw it out there. The entire episode was quickly covered up, and they decided that it was helicopters.
(LAUGHS)
Well, there are no helicopters. The little town there was Oscoda. Oscoda, Michigan. There were no helicopters in Oscoda. So, you know, it was obviously a coverup.
WHY DO YOU THINK FROM YOUR YEARS IN THE AIR FORCE, NOW A RETIRED U.S. AIR FORCE MAJOR, WHY HAS THERE BEEN AN OBSESSION BY OUR GOVERNMENT TO COVER UP EVERY UFO/ET RELATED INCIDENT, HAVE POLICIES OF DENIAL AND NON-DISCLOSURES THAT HAVE KEPT PEOPLE QUIET TO THEIR DEATH?
And we can't do a thing.
BUT SIR, IF PEOPLE ARE GIVEN INFORMATION AND EDUCATION ABOUT MOST SUBJECTS, IT MAKES THEM STRONGER, NOT WEAKER.
I would agree there.
IF THESE KINDS OF ADVANCED TECHNOLOGIES THAT HAVE BEEN DEMONSTRATED IN THE LAST TWO CENTURIES, LET ALONE MAYBE THOUSANDS OF YEARS, IF THEY HAD ANY DESIRE TO ELIMINATE HOMO SAPIENS SAPIENS, THEY COULD HAVE DONE IT EASILY.
Oh, certainly. Way back when.
WE SEEM TO BE SERVING SOME KIND OF PURPOSE FOR AN ADVANCED ALIEN INTELLIGENCE OR INTELLIGENCES.
Yeah. And that itself is kind of scary, but there isn't a thing we can do about it except sit back and observe, I guess. There's stories out there that some kind of a deal was struck like the Grenada Treaty that allows them to live and work here as long as they don't cause too much trouble.
RIGHT.
Yeah. That's—there are a lot of phenomena that we can't explain any other way.
Orange Fireballs Commonly Seen in Florida?
Orange fireballs are big here in Florida. Have you heard about those?
OH, THE ORANGE FIREBALLS HAVE BEEN ONE OF THE MOST COMMON DENOMINATORS TO THE UFO PHENOMENON. AND IN THE ANIMAL MUTILATIONS, THERE WERE DEPUTY SHERIFFS WHO TOLD ME WHEN THE ORANGE SPHERES THAT LOOK LIKE FIRE SHOW UP, WE ALWAYS HAVE ANIMAL MUTILATIONS.
After I retired, I volunteered for the sheriff's department. And one New Year's Eve, I was out coming down the avenue, and I was by the civilian airport, and through my windshield, I see this orange fireball coming at us. My first thought was it was an aircraft on fire. But then I realized there was no sign of wings or a tail or anything, just this orange sphere. I stopped the patrol car. I got out. I watched this thing, and it moved probably maybe a hundred miles an hour at a height of maybe 50 feet directly over my head. I watched it until it was way, way out over the Gulf of Mexico and just a little white dot in the sky and kind of disappeared. Perfectly straight line. Never gained or lost altitude. Never changed course. Weirdest thing in the world. Completely silent."
Also see:
08-26-2016 – Part 2: Some FBI Docs About Unidentified Light, But Much Still Sealed 74 Years Later
08-13-2013 – August 20, 2013 – Updated with mp3 Interview Audio. Part 5: Recent Bloodless Animal Mutilations: Pregnant Cow Dropped into Hole Headfirst in Nebraska.
---
More Information:
---
Websites:
Majestic-12 MAJIC Documents: http://majesticdocuments.com
Majestic-12 MAJIC and Project Sigma: https://www.bibliotecapleyades.net/sociopolitica/esp_sociopol_mj12_32.ht

© 1998 - 2018 by Linda Moulton Howe.
All Rights Reserved.