"Arctic sea ice is decreasing. Greenland is melting. Antarctica is melting. …I think the outlook, if we keep on our current path, is not good."
– Kevin Trenberth, Ph.D., Atmospheric Physicist, National Center for Atmospheric Research, Boulder, Colorado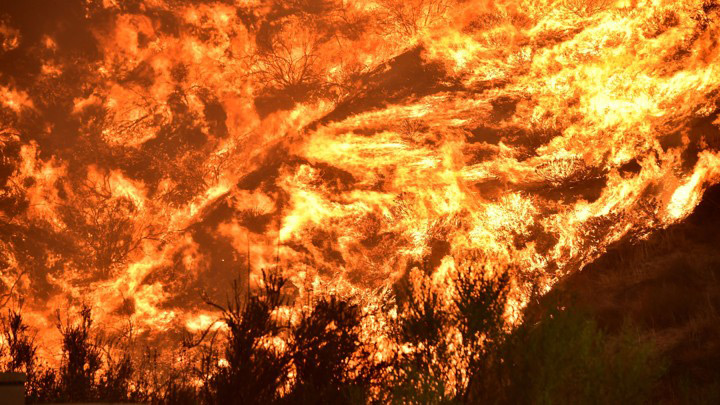 August 31, 2018  Boulder, Colorado –   On August 10th, 2018, The New York Times front page above the fold headlined that 2018 is the year that, "Global warming turned climate model into menace. Crops wilt — fires rage — and a scorching summer tells us we're not ready."
Five days later in The New York Times on August 15th, there was an Op-Ed feature by Thomas Friedman who asked: "What if all the extreme weather this year — linked to global climate change — gets even worse and more costly? … If you look at all the destructive extreme weather buffeting the world this summer of 2018 …" and then Friedman lists what makes this year different from all previous years:
— Europe has baked in unrelenting heat as high as 40 degrees Celsius, which is 104 degrees Fahrenheit! The extreme heat and drought have turned once-green fields to brown;
— Raging fires in Greece killed 91 people;
— British Columbia in Canada has had 460 new wildfires break out in a single day;
— Sweden has had terrible wild forest fires that are extending north into the Arctic Circle where in August, temperatures there have reached 86 degrees Fahrenheit — and there the thinning and breaking up of the Arctic sea ice has reached even the coldest Arctic parts this year for the first time on record! Waters north of Greenland that are normally frozen, even in Northern Hemisphere summer, are warming and opening.
— Japan has had the heaviest rainfall ever recorded and the highest temperature ever recorded — 106 degrees Fahrenheit in [ KOOM-uh-GUY-uh] Kumagaya, northwest of Tokyo.
— Death Valley in California reached 127 degrees Fahrenheit, breaking its own heat record;
— Eastern Australia has the worst drought in decades where a dairy farmer told the BBC – QUOTE – "It's gotten to the point where it's cheaper to shoot your cows than it is to feed them." – CLOSE QUOTE
— In July, the Carr Fire erupted in Redding, California, sending a 100-foot-high "wall of flame" through the town, causing mandatory evacuations of 92,000 residents and killed two firefighters.
— And in August, the Mendocino Complex Fire is the largest in California history and now exceeds 400,000 acres, half the size of Rhode Island and still burning.
Some climate scientists think we've already reached the tipping point where uncontrolled warming takes over our planet. Places on Earth could become UNINHABITABLE if increasingly 'Hothouse Earth' becomes the reality.'
But why are wildfires so ferocious in 2018?  I took that question to Kevin Trenberth, Ph.D., the Distinguished Senior Scientist at the Climate and Global Dynamics Laboratory of Climate Analysis at the National Center for Atmospheric Research in Boulder, Colorado. Dr. Trenberth is an international expert on global warming and shared in the 2007 Nobel Peace Prize for his long-time lead author contributions to the Intergovernmental Panel On Climate Change.
---
Interview:
 Kevin Trenberth, Ph.D., Atmospheric Physicist, National Center for Atmospheric Research, Boulder, Colorado:  We have clear information that the carbon dioxide in the atmosphere has increased by over 40 percent, and over half of that increase has occurred since 1985. So, the rate of increase is actually accelerating, going up, rather than declining. So, this creates a blanket, it cuts down on the escape of the Earth's radiation back into space. And so, it warms the planet. And so, this energy imbalance—where does the energy—extra energy—go? 92 percent of it ends up in the ocean, and we can measure that quite well. And so, the ocean heat content is going relentlessly upwards since the 1980s, in particular. There are small dips with El Ninos, but they're very small. And if you want a single indicator that the planet is warming, it's the global ocean heat content. So, 2017 is by far the warmest year on record for the planet as a whole, and that really means it's the warmest year on record for the oceans as a whole.
DR. TRENBERTH, IT WAS ONLY ON AUGUST 6TH-7TH OF 2018, THERE WAS A HEADLINE, THEY MEASURED THE HOTTEST TEMPERATURE IN THE OCEAN OFF OF SAN DIEGO EVER RECORDED.
That's true. So, it's been very hot just off the coast there, and it's been very hot in Los Angeles. In fact, it's been very hot in many places around the world. And so, coming back to my theme about where does the heat go? A lot of it goes into the ocean. A certain amount of it, a small fraction goes into melting ice. So, Arctic sea ice is decreasing. Greenland is melting. Antarctica is melting. But then the key question in this case is what about land? So, it's in drought or dry conditions that the heat can accumulate enough to make a difference. This applies in California, which is what is called a Mediterranean climate. It tends to be hot and dry in the summertime.
Why Are Fires So Ferocious in 2018?
And it's not just California, of course, it's very much the Mediterranean countries, and they've had major heatwaves and wildfires as well in Portugal, in Spain, in Greece, there have been massive wildfires this summer as well. And of course, it's not confined to California in the west coast region. There's a lot of wildfires at the moment up in Alaska, and there have been major wildfires earlier in Colorado and throughout the west, Oregon, Washington. And so, all of these regions are characterized by having had relatively dry conditions. And so, what happens in that case is that we've got this bit of extra heat. And we can actually measure what that is.
And it turns out to be one watt per square meter on a global basis. If you accumulate that over a month, that comes to 720 hours in a month, so that's equivalent to 720 watts per square meter over one hour. So, that's the amount of extra energy you accumulate over a month. Now, a square meter's fairly large, so let's break that down into say 10 square feet. That's about what it is. And so, 720 watts over one square foot for six minutes—720 watts is the power of a small microwave oven. So, this is equivalent to running a small microwave oven at full power for every square foot over six minutes. So, no wonder things catch on fire.
European Wheat Production Low Because of Extreme Drought
WOW. AND SIR, IN THE NEW YORK TIMES IT SAYS, QUOTE, 'WHEAT PRODUCTION IN MANY COUNTRIES OF THE EUROPEAN UNION ARE PREDICTED TO DECLINE THIS YEAR. IN BRITAIN, WHEAT YIELDS ARE PROJECTED TO HIT A FIVE-YEAR LOW. GERMAN FARMERS SAY THEIR GRAIN HARVESTS ARE LIKELY TO BE LOWER THAN NORMAL. IN SWEDEN, RECORD HIGH TEMPERATURES HAVE LEFT FIELDS PARCHED AND FARMERS SCRAMBLING TO FIND FODDER FOR THEIR LIVESTOCK. AND THE PRESIDENT OF THE FEDERATION OF SWEDISH FARMERS SAID IN AN INTERVIEW THAT HIS GROUP ESTIMATED AT LEAST ONE BILLION DOLLARS IN AGRICULTURAL SECTOR LOSES THIS YEAR. QUOTE, 'WE GET QUITE A FEW PHONE CALLS FROM FARMERS WHO ARE LYING AWAKE AT NIGHT AND WORRYING ABOUT THIS IS AN EXTREME SITUATION THAT WE HAVE NOT SEEN BEFORE,' CLOSE QUOTE.'
Yes. In Europe, they haven't experienced these kind of hot, dry conditions anything like as often as we're apt to get them in North America.
South American Corn Harvests Failing Because of Heat
IT ALSO CITES THAT EL SALVADOR, WHERE FARMERS IN THE EASTERN SIDE OF EL SALVADOR HAVE A FAILURE OF THEIR CORN HARVESTS THIS SUMMER AS TEMPERATURES, QUOTE, "SOARED TO A RECORD 107 DEGREES FAHRENHEIT, OR ABOUT 41 DEGREES CELSIUS." AND THE SKIES THERE WERE RAINLESS FOR UP TO 40 DAYS.
Yes. It's not just El Salvador. It's many other parts. I mean, in Japan, in the first part of July they had one of the worst floods or record. And then after, what, the first 10 days, they suddenly went into record high temperatures. And the whole of Honshu, the temperature was over 30 degrees Celsius, 86 degrees Fahrenheit. And in Tokyo, they had temperatures up to over 41 degrees Celsius, which was by far the highest on record.
THIS WAS HIGHER THAN 104 DEGREES.
Yeah, so this was 105-106 degrees.
Tipping Point Now to Ever-Increasing "Hot House Earth"?
NOW, DANIEL SWAIN IS A CLIMATE SCIENTIST AT THE UNIVERSITY OF CALIFORNIA IN LOS ANGELES, AND HE WAS QUOTED SAYING, "WE ARE LIVING IN A WORLD THAT IS NOT JUST WARMER THAN IT USED TO BE, WE HAVE NOT REACHED A NEW NORMAL. THIS IS NOT A PLATEAU."
Oh, that's very much true. People seem to think that with climate change, we're sort of going from one climate to another, but that's not what's happening. Climate change is actually destabilizing. It means you can't plan sensibly for the future because the change is the biggest factor.
LIVE SCIENCE ON AUGUST 6TH HEADLINED, "THE PLANET IS DANGEROUSLY CLOSE TO THE TIPPING POINT FOR A HOT HOUSE EARTH," AND THEN IT SAYS:  "THOUGH THE SCIENTISTS DON'T KNOW EXACTLY WHAT THIS THRESHOLD IS, THEY SAY IT COULD BE AS SLIGHT AS TWO DEGREES CELSIUS, AROUND FOUR DEGREES FAHRENHEIT, OF WARMING ABOVE PRE-INDUSTRIAL LEVELS."  DR. TRENBERTH, WHEN DO WE REACH THAT LEVEL OF FOUR DEGREES FAHRENHEIT INCREASE THAT MEANS OUR PLANET WOULD TIP INTO AN EVERYDAY, EVERY YEAR WARMING PLANET?
Yes, so the signs are already here. By about the 2050s is when the carbon dioxide will have doubled from pre-industrial levels and temperatures will be above two degrees Celsius, so that's three and a half degrees Fahrenheit above pre-industrial levels. And that's the kind of level that scientists have really been worrying about because that's the point where plants no longer grow where they currently grow. Forests won't be able to grow back if they're burned down. Farmers will have to grow different crops. The dislocation starts to become really severe and widespread. And so, this is something to avoid if we can possibly do that.
IF THAT COMES TO BE IN THE 2050S, DOES IT MEAN THAT THERE WOULD THEN BE PERPETUAL WILDFIRES IN ALL OF THE WEST, AND IN OTHER PARTS OF THE WORLD THERE WOULD BE EXTREME DROUGHT AND PERHAPS EXTREME FLOODING, ALL OF THESE EXTREMES, AND THEY WOULD NOT STOP?
Yes. So, the weather certainly becomes more violent. We certainly get an increase in extremes. Heavier rainfall events, a greater risk of flooding. We have longer dry spells and hotter dry spells. And so, then the question is can you adequately plan for these kind of things. We have failed to manage the growth of cities.
IF BY 2050 WE HAVEN'T GOTTEN A CONTROL ON FOSSIL FUEL BURNING, AND WE TIP INTO AN EVER-INCREASING HOTTER PLANET, IS THE SURFACE OF THE EARTH AT THAT POINT UNLIVEABLE FOR MOST HUMANS AND ANIMALS?
We have major shortages of water, and there are increasing shortages of food because we can't grow the crops where we currently do, and as a result, there are people who are hungry, environmental refugees. There are conflicts that break out. We've seen some of that, mainly because of the war in Syria and so on, especially throughout Europe and the pressure that refugees put on other economies. But this is apt to become the sort of thing that becomes widespread by about the 2050s or thereabouts as a consequence of climate change. The general standards of living go down, and the conflicts become endemic. But there are going to be rich people in various places who build walls and protect themselves from it. The other thing we need to mention is that sea level is rising, and sea level is already increasing at a rate of over a foot a century. But that's expected to accelerate somewhat, and that means that many coastal regions—and there are huge numbers of people living in areas that are apt to be affected, and tremendous infrastructure damage can occur. We're already seeing sunny day flooding in places like Miami and Norfolk, Virginia and various other places. This is apt to get worse. And there are other countries around the world, low-lying areas, Bangladesh and many other places in southeast Asia that are in serious trouble.
THEY WILL GO UNDERWATER.
Yes. That's the sort of thing, again, which creates refugees. They no longer have a place where they used to live. So, where do they go?
IN THE WORST CASE, IN THE LAST HALF OF THE 21ST CENTURY, WHAT DO YOU SEE HAPPENING?
Well, this is the worry that there are increased conflicts, and the question then is whether the regional conflicts actually become sufficient that they grow into the next world war. You hate to even think about that when there are nuclear weapons around in various places, but those are the worries that people don't really even talk about.
AND WHAT YOU MEAN IS HUMANS WILL BE FIGHTING OVER WATER AND FOOD AND LAND.
Yes. I think the outlook, if we keep on our current path, is not good."

© 1998 - 2018 by Linda Moulton Howe.
All Rights Reserved.