"I seen three kinds of large, dark-looking figures looking like they … was actually floating toward us." – Calvin Parker, Moss Point, Mississippi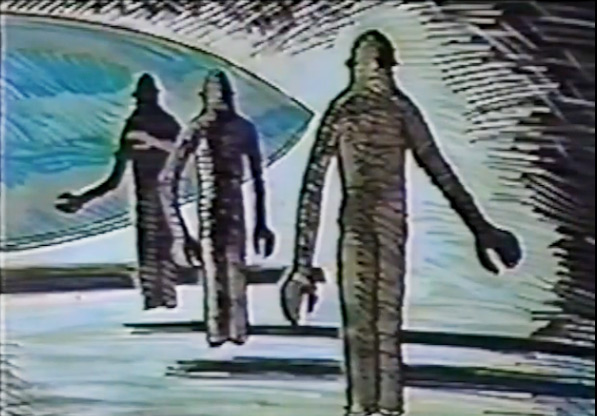 September 7, 2018  Moss Point, Mississippi – Calvin Parker was born on November 2, 1954, in Seminole, Texas. By age 3, his parents moved to the Laurel, Mississippi, region about 110 miles northwest of Pascagoula. Calvin's father worked for the Atomic Energy Commission, also known as the AEC. His work was to drill test holes to detonate nuclear bomb devices deep underground. Calvin's father also worked in Groom Lake, Nevada at Area 51. His father's Mississippi work was for Project DRIBBLE. On October 22, 1964, and December 3, 1966, two nuclear bombs were detonated beneath Hattiesburg, Mississippi, down a 3,000-foot-deep shaft drilled into ancient salt called the Tatum Salt Dome at the Salmon Site.

Those were the early days of the Nuclear Test Ban and the United States was trying to figure out if other nations could secretly explode bombs that seismographs might not be able to detect from deep underground tests. After one of those underground atomic bomb explosions in Hattiesburg, a crew lowered a TV camera into the underground crater. It measured more than 100 feet in diameter. Three months later, the air in that nuclear bomb test hole was still 400 degrees Fahrenheit!  Most of the United States never knew there had ever been nuclear testing in America's deep south. But Calvin Parker's father was there.
At age 18, Calvin dropped out of high school in Laurel and took a job building shrimp boats in Pascagoula at the F. B. Walker & Sons Shipyard. Nearby was another Ingall's Shipyard that built nuclear submarines and battleships for the U. S. Navy. National security concerns in the waters around both those shipyards were serious enough to enforce a safety zone on the East bank of the Pascagoula River. Even today, if you get too close to the Walker Shipyard in Pascagoula, patrol boats will quickly push you back.
By October of 1973, Calvin Parker had rented a room from one of his shipyard colleagues, Charles Hickson. Hickson, at age 42, was like a mentor to teenager Calvin.
October 11th, 1973, turned out to be a really hot day in Pascagoula — maybe 105 degrees F.  Calvin and Charles wanted to go fishing after work, but young Calvin didn't have any fishing equipment. So Charles Hickson loaned him some gear.
The two set off around 5:30 PM to go to an old abandoned shipyard called Shaw Peters that had a grain elevator to unload ship cargo into silos. That's where grain would fall off the elevators into the river and attract fish. And that's where Calvin and Charles dangled their fishing poles into the river — until suddenly, they both saw blue light reflecting from the water in front of them — from Something behind them.
What happened next is what Calvin Parker begged Charlie Hickson to never talk about. But later, Hickson would tell what happened that night and newspaper stories emerged around the world. Hickson would also write a book and did media interviews until he died September 9, 2011, near age 80.
2018 – Calvin Parker Finally On the Record
Now, for the first time in 45 years since that October 11, 1973, night Calvin Parker began speaking this year of 2018. He has also produced a new book with U. K. publisher Philip Mantle released in July 2018, that is the first full public account Calvin has ever given about his and Charles Hickson's abduction by non-humans while they were fishing from that old shipyard pier. The title is Pascagoula – The Closest Encounter: My Story — available at Amazon.com. What Calvin remembers includes three large robotic entities and a small female non-human that communicated with him telepathically.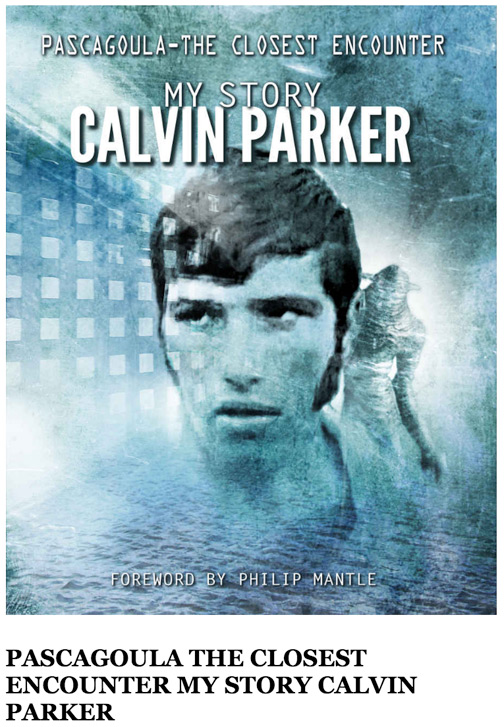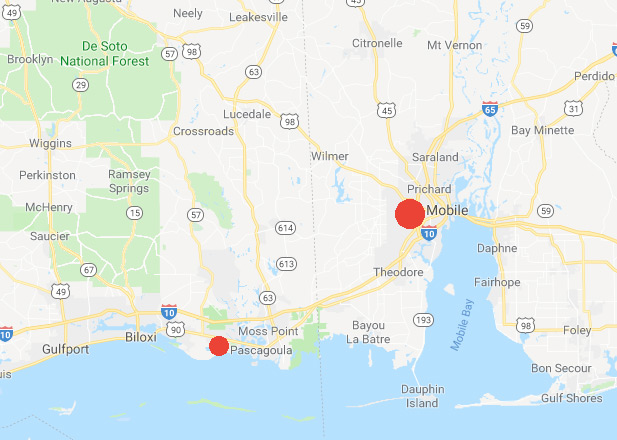 October 11, 1973 – Encounter With Non-Humans
Calvin Parker, Author, Pascagoula – The Closest Encounter: My Story © 2018, Moss Point, Mississippi – "We had drove from the pier and walked from where we parked and was fishing on the pier. And we was looking across the water because I'd seen a big Coast Guard ship, and I was sitting there thinking, 'How do these things float, made out of steel?' About that time is when everything happened. I noticed a blue light. It looked like a light off the top of a patrol car reflecting. Now, I was facing the water then. They come in behind us with a series of blue lights. That's when we stood up and turned around and looked and seen the blue lights.
BECAUSE LIGHT WAS COMING FROM BEHIND YOU SUDDENLY?
Yes, ma'am. And it was so bright it was reflecting from our back across the water. It was sitting up on land, the craft was. And things started happening so fast then. That's when the bright light appeared, and I figured they must have opened a door, and the lights from inside the craft was that bright color.
Three Humanoid-Shaped Androids Without Faces?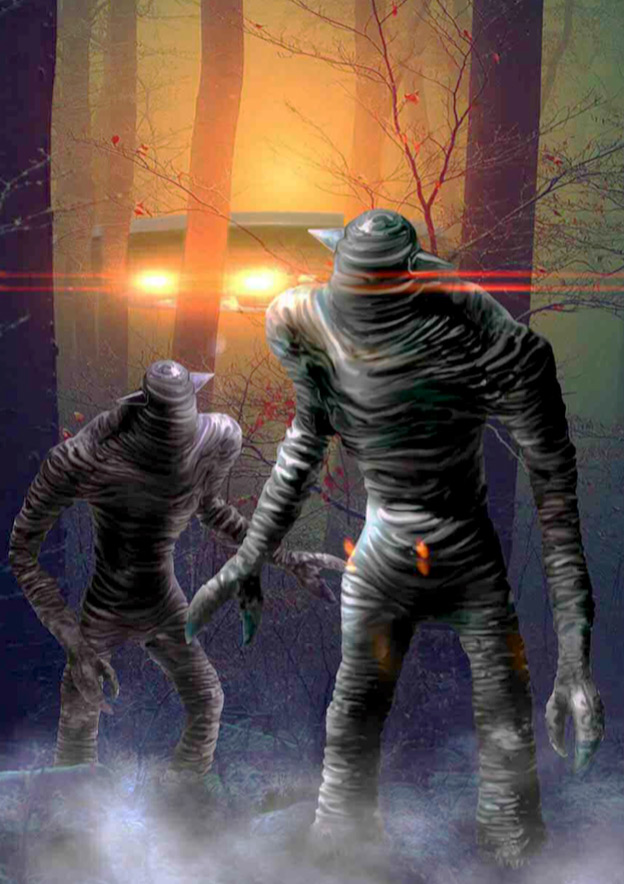 I seen three kind of dark-looking figures looking like they was starting to come toward us. They was actually floating toward us, and when they got probably halfway there, I seen that it was something different. Looked to me like mechanical. They came quick, in seconds, and they got a hold of Charlie, two of them got a hold of him and one myself.
And that's when I heard the little poof of air. I felt like they injected us with something to settle us down. When they got a hold of my arm, I wasn't afraid of nothing anymore, and I come up about a foot or two off the ground, but I was floating. And I was thinking to myself — I could think, but I couldn't move — how did they pick me up without breaking my arm because they just got me by my one arm? They floated us quickly. We went over the top of all of the marsh grass into the craft.
Now, I didn't see Charlie after this. I don't know if he was behind me or in front of me or where he went. But I kept trying to turn my head to find him, and I couldn't turn my head. All I could do was just look straight in front of myself. When they got us to the craft, I was going to try to look—see what made them lights so bright coming out, and I couldn't see any kind of light fixtures at all. It was illuminating from the walls. They got us inside the craft. They took an immediate left, then they took an immediate right, and I went in with this one creature that was on my arm, went into what I call an examination room. And they laid me on something. I don't know if it was a table or I was just suspended there or what, but it was about a 16-degree angle.
And (big robot-type) immediately backed up, and something come out of the ceiling about the size of a deck of cards, and it started revolving around my head real slow. And you could hear it clicking. When it got to the front of my head, it clicked. Then when it got to around the ear on my other side, it clicked. Behind my head, it clicked. And then it clicked to the other side of my head. Then it went back up into the wall.
"Small Female Creature" Emerges
See 1993 secret Budd Hopkins hypnosis transcript excerpt below.
That's when what I call the big ugly creature, had to be some kind of soldier or something, left the room. And then I didn't see a door or nothing because I couldn't turn my head to look for a door, but I could move my eyes to the side, and I call it like a female creature or a feminine because it wasn't real big. This one, humanoid, female-looking creature, came over and started pulling around on my eyes and my nose and looking in my ears and stuff like that.
And then when she got through, I guess the shock was starting to wear off, and I was thinking, you know, I could probably take her, you know, grab her by the damn neck and get out of there. But she didn't move her lips or nothing. Just in her thoughts, she said, "Don't be afraid." And I calmed right down again.
And then she turned and left, and the big mechanical-looking creature come back in. And I'm calling him a robot or soldier. Grabbed me by the arm again and floated my right straight back out to the river. And I could feel myself going above the grass line a couple of foot. And set me down exactly where he picked us up. I was facing the river with my arm stretched out.
Calvin and Charlie Returned to Pier by "Androids"
That's when I heard Charlie.
"Calvin, Calvin, you ok, son?"
And that's when I come to, and this bluish craft thing made a little noise like "ZZZZZ" and picked up off the ground. And then it just disappeared up into the air so fast. It was gone.
WHAT DID CHARLIE SAY TO YOU AT THAT MOMENT?
"Sit down and get our thoughts," is what he said.
We sat down back on that pier. Believe me, it was hard to do because I was ready to get out of there.
And he said, "What happened?"
I said, "I don't want to talk about it. I don't want you to tell nobody, Charlie."
He said, "Well, just act like you passed out or something because I'm going to have to tell somebody."
I said, "No, you don't. You don't have to tell nobody."
CALVIN, WHY WERE YOU SO STRONGLY FEELING THAT?
I don't know. I just had that feeling that we wasn't supposed to tell nobody.
Calvin Parker Feels Released to Talk in 2018
"And I really feel like there's something important fixing to happen, or there's some kind of message I need to get out there." – Calvin Parker, August 2018
BUT CALVIN, IT SOUNDS LIKE THAT 2018 IS A YEAR IN WHICH YOU FEEL FREE TO NOW TALK IN GREAT DETAIL ABOUT WHAT HAPPENED IN 1973.
For some reason, I felt like the burden was lifted off that I could talk about it now. And I really feel like there's something important fixing to happen, or there's some kind of message I need to get out there.
Calvin's Vivid Dreams About Earth Destruction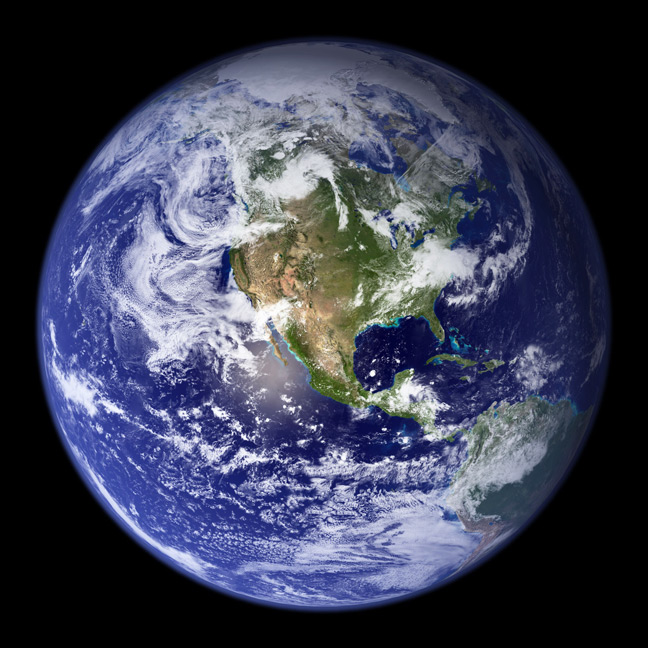 I WAS GOING TO ASK YOU IF YOU'VE HAD ANY VIVID DREAMS THIS YEAR THAT WOULD BE INFORMATION TO GIVE TO THE WORLD POPULATION SINCE YOU HAD THIS INTERACTION WITH THIS ADVANCED INTELLIGENCE?
The people on this planet are destroying this planet. I feel like sooner or later maybe we're going to have to coexist with people from another planet, and I think that time's coming soon, and they want a planet here. They want to know that we're going to take care of the planet along with them. I feel like in the near future, it's probably going to come out.
AND THAT THE BEINGS THAT WOULD COME TO STABILIZE WHAT IS HAPPENING ON EARTH, DO YOU HAVE ANY PICTURE PUT INTO YOUR MIND ABOUT WHICH NON-HUMANS WOULD COME HERE TO HELP US SAVE OUR PLANET?
I think they're actually beings from another planet living on Earth, and they've got permission from people who will borrow their bodies so they can examine us and live along with us and see how that's going to work. So, I really do think they're right here. It might be an inter-dimensional thing. They might travel through dimensions.
HAVE YOU EVER HAD A DREAM SINCE 1973 THAT YOU WOKE UP FROM THINKING THAT THE ROBOTS WERE FROM SOME OTHER DIMENSION?
I have. I've dreamed that several times. One time, I dreamed that, you know, they flashed in, and they told me to come with them. And we went through a dimension that we went to a beautiful place, but their planet had a lot of trees and stuff on it. The trees and all was dying, and they was telling me that their planet was dying and that they'd destroyed it, and that they had to find a place to go.
ALL RIGHT. THE OTHER THING IS, CAN YOU NOW GO BACK IN YOUR MIND'S EYE TO SEEING CLOSE UP THE ROBOT THAT YOU REFERRED TO AS THE BIG, UGLY CREATURE?
The skin on it, have you ever seen a manatee? Similar to an elephant, except they live in the water.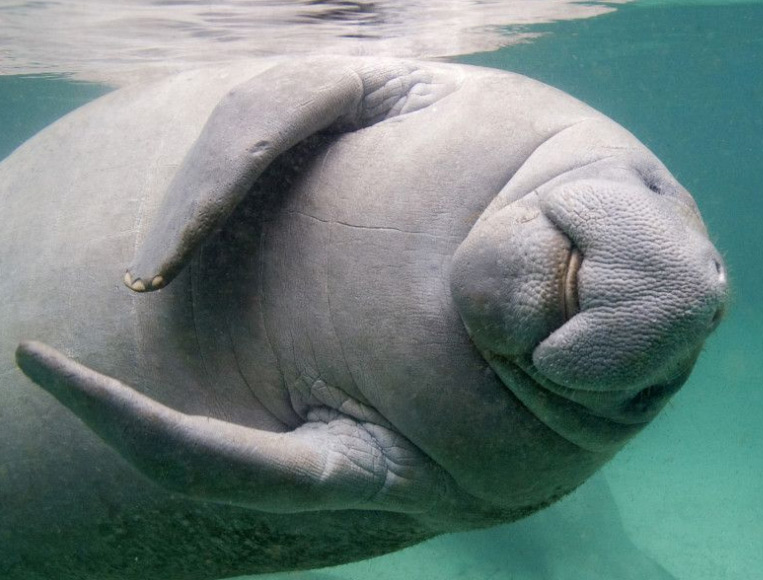 But the skin on it favored a manatee. It was kind of grey, wrinkled skin. I didn't see no facial features. Charlie said he seen facial features. Matter of fact, he had a sketch artist draw. But all I seen was just a grey-looking neck, but I didn't see no mouth or nose or something or ears. Now, on the little being inside the ship, I did.
DESCRIBE HER.
She had eyeballs. They wasn't real big eyes like you would think. They was kind of smaller eyes, and I figured that was because the inside of the ship was so bright, they probably couldn't handle it. I didn't see no ears. And I seen like a little slit for a mouth and a little dainty-looking kind of nose on her. But it wasn't human, but it was kind of a human-looking nose. She was small in frame. I couldn't tell if she had on a uniform or what she had on. And I don't know why I call it a she. It could have been just a small male creature or female creature, or it could have been both, I don't know. There wasn't no breasts or anything. It's just really hard to describe them.
OK. AND YOU WERE GETTING TELEPATHIC THOUGHTS FROM HER AND FROM THE ROBOT?
No, none from the robot. I mean, the robot had a job to do. He did the job. He carried us. He opened the door to the ship, he come out, and he carried us back onboard, then he brought us back, put us out by the river. The only communication I heard between the two of them, and I did hear, it was like a click, click, click, click, click. Both of them kind of did that for a second. Maybe he was being programmed by her, or that was the way they communicated. As far as me and her, all she had to do, I think, was think it, and I knew what she was thinking.
Urgency to Save Earth
YOU HAVE DESCRIBED THE POSSIBILITY THAT WE ARE DESTROYING EARTH AND THAT ANOTHER PLANET WITH ANOTHER SPECIES OF INTELLIGENCE ALSO RECOGNIZES THAT IT HAS BEEN DESTROYING ITS PLANET AND THAT THERE IS GREAT CONCERN ABOUT PRESERVING EARTH.
We got idiots sitting on top of nuclear bombs right now that think that's more important. Instead of trying to feed the people in the world, they want to blow everybody up.
CALVIN, WHY IS IT THAT INTELLIGENCE IN ANOTHER DIMENSION WOULD BE CONCERNED ABOUT THIS DIMENSION AND OUR EARTH?
Well, Earth might be a stopping point. We might be experiments here. We could be an experiment to them.
HAVE YOU HAD ANY VIVID DREAM IN WHICH YOU WOKE UP AND YOU KNEW THAT YOU HAD SEEN A GLIMPSE OF THE FUTURE OF HUMANS ON EARTH?
I have. I think the time's coming in the very near future, I'm talking within a year, that we're going to see the purpose here, and it's going to come out.
WILL THAT PROVOKE THE INTELLIGENCE THAT YOU INTERACTED WITH, THE FEMALE AND WITH THOSE BIG ROBOTS, WILL IT PROVOKE THEM TO COME HERE?
I think it will. I think sooner or later, they've got to come here, and they've got to get everything straightened out. They've already visited Earth. They know what's going on."
October 22, 1973, Clarion-Ledger, Page 10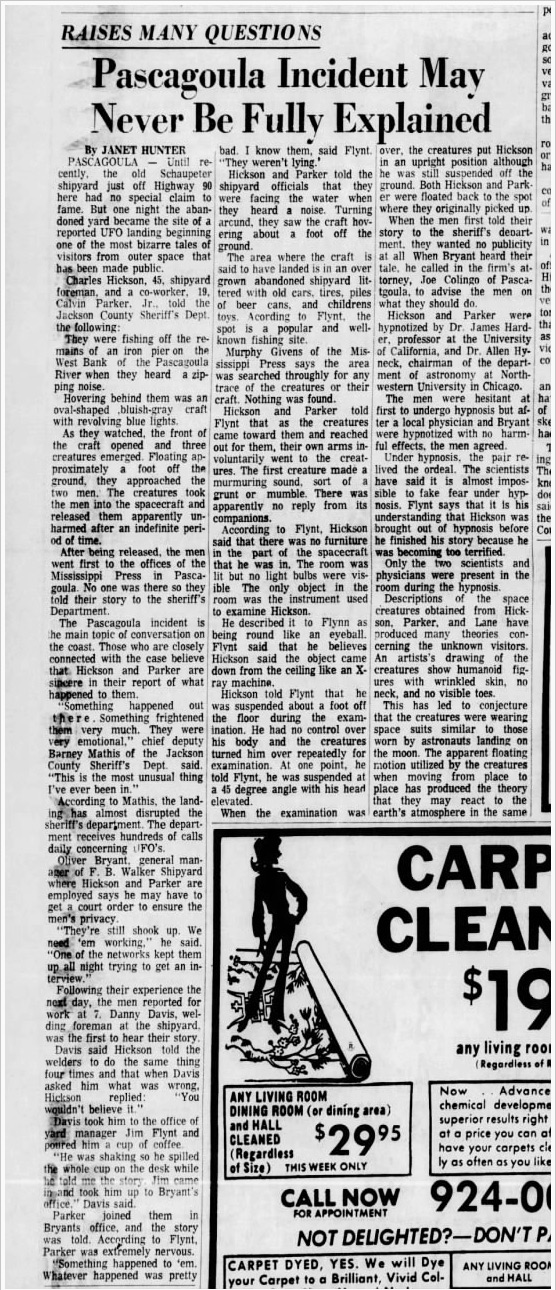 1993 – Budd Hopkins Secretly Hypnotized Calvin Parker
One surprise in Calvin Parker's new book is the transcript of a secret 1993 hypnosis session by Budd Hopkins. Budd was one of the first serious investigators of the human abduction syndrome and the phenomenon of missing time and alien entities extracting sperm, eggs and human minds for unknown reasons. In fact, Budd's first book was Missing Time © 1981.  On pages 387-388 of Calvin's new book is the following hypnosis transcript section concerning the small alien being that Calvin thought was a female that he didn't like and in fact thought had evil intent.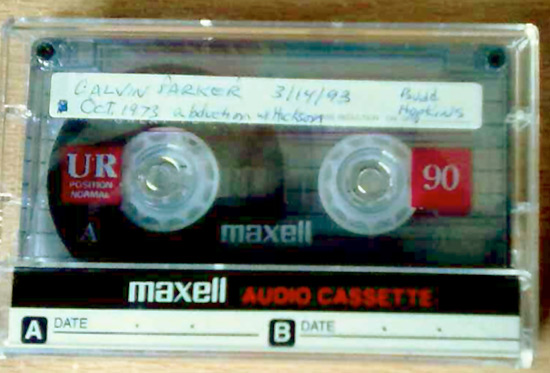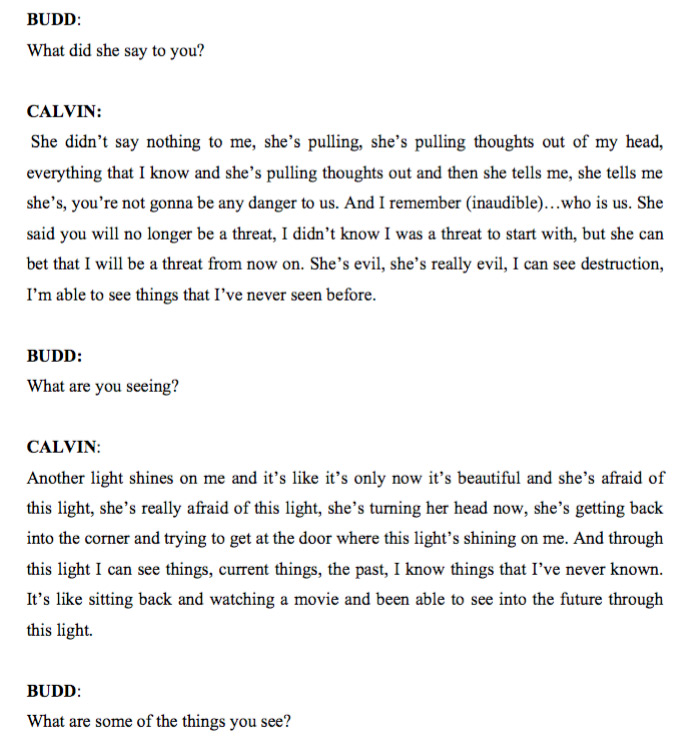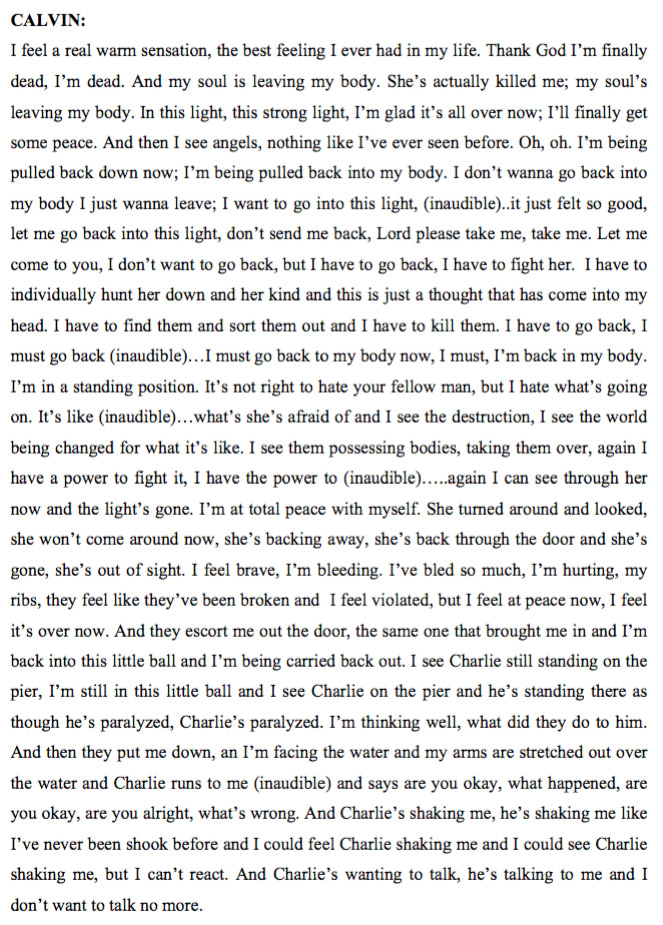 Also see:
07-13-2008 – Part 6: Insights from An Experiencer with Greys and Blond Humanoids
07-09-2008 – Part 5: Insights from An Experiencer with Greys and Blond Humanoids
06-26-2008 – Part 4: Insights from An Experiencer with Greys and Blond Humanoids
06-15-2008 – Part 3: Insights from An Experiencer with Greys and Blond Humanoids
06-13-2008 – Part 2: Insights from An Experiencer with Greys and Blond Humanoids
04-29-2008 – Part 1: Insights from An Experiencer with Greys and Blond Humanoids
---
More Information:
04-14-2014 – Part 10: Hall of Mirrors with A Quicksand Floor
04-06-2014 – Part 9: Hall of Mirrors with A Quicksand Floor
03-31-2014 – Part 8: Hall of Mirrors with A Quicksand Floor
03-25-2014 – Part 7: Hall of Mirrors with A Quicksand Floor
03-16-2014 – Part 5: Hall of Mirrors with A Quicksand Floor
03-14-2014 – Part 4: Hall of Mirrors with A Quicksand Floor
03-10-2014 – Part 3: Hall of Mirrors with A Quicksand Floor
03-08-2014 – Part 2: Hall of Mirrors with A Quicksand Floor
03-06-2014 – Part 1: Hall of Mirrors with A Quicksand Floor
---
Websites:
Betty and Barney Hill Papers from their 1961 missing time abduction encounter with non-human entities archived at the Univ. of New Hampshire: https://www.library.unh.edu/find/archives/collections/betty-and-barney-hill-papers-1961-2006
Project DRIBBLE – Atomic Testing in Mississippi:  https://lsupress.org/books/detail/atomic-testing-in-mississippi/
Human Abduction Investigator:  http://www.kathleen-marden.com/
"Unidentified Flying Objects: Implications On Global Peace and Security" © 2018 by Hilary Nare and Norman Pinduka, Global Journal of Human-Social Science:  https://globaljournals.org/GJHSS_Volume18/2-Unidentified-Flying-Objects.pdf

© 1998 - 2018 by Linda Moulton Howe.
All Rights Reserved.