"I think cyborgs are inevitable, totally inevitable. But fear them not." – Patrick Tucker, Technology Reporter, DefenseOne.com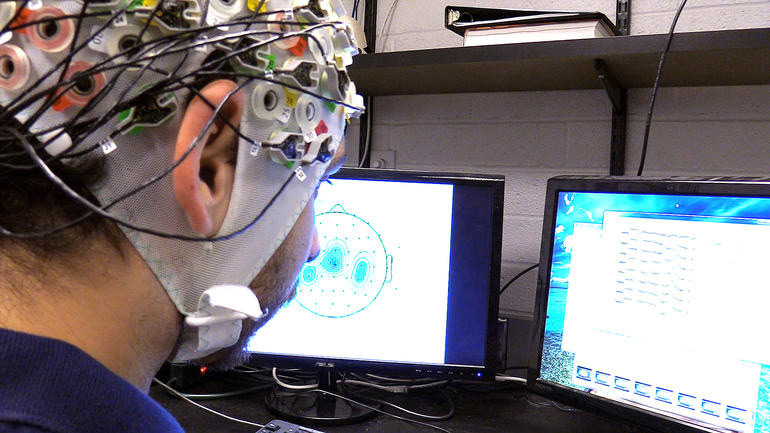 September 28, 2018 Washington, D. C. –  On September 6, 2018, a news headline from DefenseOne.com Technology Reporter Patrick Tucker caught my attention:   "A person with a brain chip can now pilot a swarm of drones — or even advanced fighter jets, thanks to research funded by the U. S. military's Defense Advanced Research Projects Agency, or DARPA."
For the first time ever, DARPA has announced that it has demonstrated the use of telepathic thought from a human brain embedded with a specific kind of computer chip that allows a person to command and control simultaneously three types of drone aircraft by mental thoughts while watching the drones on a screen, as demonstrated in a DARPA simulator.
DARPA's Director of Biological Technology Office in National Harbor, Maryland, says: "The signals from those drone aircraft can be delivered directly back to the brain so that the human brain of that  pilot can also perceive the environment around the aerial drones. It has taken a number of years to try and figure this out. … We actually saw that the brain really cares about collective behaviors of swarms, and now we know where to record from and what to see from the brain signals in order to decode for collective behaviors for aerial vehicles and swarms of robots."
I called DefenseOne reporter Patrick Tucker for an update, and here he is now from his office in Washington, D. C. beginning with how he describes this new frontier.
---
Interview:
Patrick Tucker, Technical Editor, DefenseOne.com, Washington, D. C.  – "New methods of mechanically and electrically connecting brains to computers to achieve new effects, in this particular case, the challenge of connecting a brain to the navigation and steering system of a simulated aircraft. In 2015, they had a big accomplishment where they were able to demonstrate that it was possible by basically putting small electronic chips close to the motor cortex of a patient, someone actually who was paralyzed from the neck down, they could pick up the signals from the motor cortex, relay them through a computer, and show that that person was able to effectively steer a simulated F-35 joint strike fighter aircraft, a very sophisticate military aircraft in a simulated environment. And that was something of a first.
PEOPLE HOOKED UP THROUGH THESE IMPLANTS IN THE BRAIN, WERE THEY WATCHING A SIMULATOR THE WAY A LOT OF PEOPLE ARE INTERACTING BETWEEN WHAT YOUR EYE AND YOUR BRAIN ARE REACTING TO ON A SCREEN?
Right. And in this particular setting, it's entirely signals that are coming from the motor cortex. So, it's sort of a conventional simulator with this very important distinction of the interface between the person and the simulated jet is entirely driven by signals from the motor cortex.
THAT MUST SEEM SHOCKING TO THE GENERAL PUBLIC THAT WE ARE NOW AT A STAGE WHERE TELEPATHICALLY CONNECTED BETWEEN THE BRAIN AND A MACHINE, THAT SOME PILOT SOMEPLACE COULD LITERALLY CONTROL ONE TO THREE PLANES OUT IN THE SKY?
Right, right. Exactly. And that's sort of what brings us to the newest development that was announced last week. Building off that previous research effort, DARPA just this year was able to increase the number of aircraft that an individual just with electronic signals emanating from the motor cortex carried over a brain chip interface was able to steer not one but actually three simulated aircraft. And this is an important detail as well, was able to actually get feedback from the simulated aircraft. So, in many ways, it's closer to what we would call telepathic communication. Relay of electronic signals between a computer interface and a human brain.
A big part of the reason that the Defense Department and DARPA is undertaking this research, part of it has to deal with what's called optimizing soldier performance. They do imagine at some point it might be augmenting the abilities of people to steer a variety of aircraft, to walk farther, to jump higher, that sort of thing. But their more proximate objective is to actually help veterans who have returned from situations overseas engaged in combat where they perhaps are missing limbs.
So, a big part of this research has led to the development of what's called the Luke arm, and it is a prosthetic arm that connects to the motor cortex and functions really very much like an actual biological arm. So, they've made some very important strides in bringing this technology to market. It's received FDA approval, and it's going to be available really for anyone that has suffered an amputation in the entire world. And part of that comes from this research into finding out exactly how the motor cortex functions, figuring out how to collect those electronic signals and relay them to a device that exists in the real world.
PATRICK, WHAT YOU'RE DESCRIBING IS TURNING HUMANS INTO CYBORGS WHERE THERE ARE DISABILITIES OR PEOPLE NEED ENHANCEMENT, LET'S SAY IN A MILITARY ENVIRONMENT, AND TO THAT END, IT WAS ELON MUSK JUST IN THE LAST FEW MONTHS WHO SAID, "FOR HUMANS TO REMAIN RELEVANT IN THE COMING WORLD OF ARTIFICIAL INTELLIGENCE, THEY ARE GOING TO BE FORCED TO BECOME CYBORGS."
Right. So, this is a point that I hear from a lot of different people when you talk to the effects that artificial intelligence and increased mechanization, that evermore sophisticated technology is going to have on human life, one note that continues to sound is this idea of the acceleration of activity, of life almost becoming too fast. There's electronic communication is much faster than biological communication.
And so, what Musk and many others have said, I think it's a fascinating point. It's this idea that in order to keep pace with information technology and mechanical intelligence, humans will have to develop a way to communicate with machines that are thinking, talking, and communicating with one another far faster than them. I do think that his research efforts in that area are fascinating and very worthy because this is a wild and new and important frontier for human development is understanding in much greater detail how the brain works and how it's going to interface with our mechanical, robotic, and artificial environment.
WELL, I THINK IT WAS JUST IN THE LAST YEAR OF 2016-2017 TIME PERIOD THAT ELON MUSK HAS FOUNDED A NEW COMPANY IN ADDITION TO TESLA AND SPACEX, AND THIS IS A COMPANY THAT IS PRODUCING WHAT HE CALLS NEURAL LACE, THE COMPANY IS CALLED NEURAL LINK, AND NEURAL LACE, MUSK HAS DEFINED AS, QUOTE, "BRAIN-COMPUTER INTERFACE TECHNOLOGY IN AN ULTRATHIN MESH THAT IS IMPLANTED IN THE SKULL AND FORMS A BODY OF ELECTRODES WHICH ARE ABLE TO MONITOR BRAIN FUNCTION.
WOULD THIS NEURAL LACE NOW HAVE GROWN FROM DARPA'S RESEARCH, OR WILL DARPA REACH OUT TO GET THE NEURAL LACE TO INTERFACE BETWEEN PILOTS AND PLANES?
Well, much of the really great thing about all of this research right now that's taking place is that this is not classified research, right? This is stuff that has a variety of sources of funding in terms of the outputs of DARPA's efforts, none of that is classified. All of that is kind of available to researchers around the world and the general public. So, you can imagine this research community between the National Science Foundation, the Department of Defense, which got some money for it. Institutions of learning around the world, as well as now the private sector, all of them contributing them to a much greater body of knowledge.
HAVE YOU BEEN ABLE TO TALK WITH ANY PILOT WHO HAS BEEN IN ANY OF THE DARPA RESEARCH TO SEE IF A FULLY FUNCTIONING PILOT HAS, IN SOME WAY, WHETHER IT'S BEEN ON THE OUTSIDE OF HIS HEAD OR AN IMPLANT CHIP, BEEN ABLE TO EXPERIENCE WHAT IT IS LIKE TO TELEPATHICALLY CONTROL A DRONE?
Right. So far, all of the subjects for this research that DARPA's undertaken have actually been paraplegics, in part because they signed on to undertake this experimentation with DARPA, and through that experimentation, they realized some kind of extra motor function in the form of navigating a virtual environment. So, it's not something the Defense Department has done yet where they've taken an actual operational pilot and conducted neuroscience or neurosurgery on that pilot to give them any of these devices and actually implant them. Because that's where you start to get into a really tricky area.
The science right now of neuroscience, it's revealed some wonderful things about how to replace capabilities people have lost either because of congenital effects or because of injury or something like that. Bringing people back to a normal baseline. But if you are talking about moving people beyond that normal baseline and actually giving them something that you might call like super-abilities, this is where there's really no scientific understanding of what that looks like. There's a lot of ethical concerns when you start to talk about how to embark on that experimentation, so you're not going to go down to an air base or an aircraft carrier, probably not in the near future anyway, and find fighter pilots that have cyborg chips that are implanted in them, but at the same time, for people that do suffer from congenital illnesses that have suffered from some sort of injury, that's the more near term future of this sort of research.
AND TUCKER, ARE PARAPLEGICS FOCUSED UPON BECAUSE SOME PARAPLEGICS MIGHT ALREADY HAVE SOME KIND OF AN ELECTRONIC IMPLANT IN THEIR BRAIN TO FUNCTION BETTER?
Yeah, that's a good point. In theory, what you want out of this is something that is upgradeable at minimal invasive expense, right?
ELON MUSK SAYING THAT WE ALREADY HAVE ARTIFICAL INTELLIGENCE THAT IS MONITORING THE BORDER BETWEEN NORTH KOREA AND SOUTH KOREA, THERE HAVE BEEN REPORTS OUT OF JAPAN THAT IN THE PROCESS OF BUILDING AUTONOMOUS, WEAPONIZED ROBOTS FOR MILITARY APPLICATION, THE ROBOTS HAVE TURNED ON THE LAB PEOPLE MAKING THEM. SO, IF WE GO INTO AUTONOMOUS ARTIFICIAL INTELLIGENCE, THAT TAKES THE HUMAN OUT OF THE EQUATION, MUSK IS DEFINING AS AN EXISTENTIAL THREAT.
In many ways, that is true. I think there are a couple of different weapon systems that qualify. I would say that the main effect that it is going to have, particularly on warfare, is that it does accelerate the pace of it. But potentially it also accelerates its conclusion. So, it's impossible to predict in a large human scale way the effects of that acceleration on every dimension of combat or conflict.
BUT ARE YOU AFRAID THAT WE ARE LOOKING AT A FUTURE IN WHICH CYBORG CREATION IS GOING TO INCREASINGLY BE WHAT OUR DEPARTMENT OF DEFENSE IS GOING TO DEPEND UPON?
I don't necessarily—I wouldn't say that I'm actually afraid of that. I might be afraid if other peer nation states were realizing tremendous benefit from it and we weren't.
SO, WE MUST COMPETE IN ORDER TO BE COMPETITIVE WITH OUR INTERNATIONAL ADVERSARIES.
I'm not certain of that.
BUT THAT CYBORGS ARE INEVITABLE?
Yeah. I think cyborgs are inevitable, totally inevitable. But fear them not."
Also see:
04-20-2018 – Artificial Intelligence and Hypersonics — Getting More Money and New Pentagon Office?
04-11-2018 – Artificial Androids Not from Earth
09-10-2017 – A. I. Threat from Weaponized Robots?
More Information:
07-28-2017 – Simulated Universe and New Age of Human Transition to Cyborgs?
06-13-2017 – Part 3 – Secret History of CIA, NSA and DIA Investigations into Extrasensory Perception
05-26-2017 – Part 2 – Aliens: Scientists Search for Extraterrestrial Life
03-30-2017 – Repeating Fast Radio Bursts 2.5 Billion Light-Years from Earth — Alien Intelligence?
02-24-2017 – Part 2: Keys to the Cosmos: Fractal Math, Frequencies and Wave Patterns
01-28-2017 – Are Color-Modulated Rapid Pulses from 234 Stars E.T. Signals?
---
---
Websites:
Telepathy:  https://en.wikipedia.org/wiki/Telepathy
Cyborgs:  https://en.wikipedia.org/wiki/Cyborg
Artificial Intelligence:  https://en.wikipedia.org/wiki/Artificial_intelligence
Robotic Exoskeletons:  https://www.nbcnews.com/mach/innovation/robotic-exoskeletons-are-changing-lives-surprising-ways-n722676

© 1998 - 2018 by Linda Moulton Howe.
All Rights Reserved.