"Until the UFO intelligence is ready to let us know that we know they are here, then we're going to keep playing games with these entities until we get absolute, honest to God hard evidence that they exist. And I think that everything I just said about their ability scares the living bejesus out of our government and other governments. And the humans don't want to admit that."
– John Eric Lowe, retired Police Patrol Officer and Helicopter Pilot, Jacksonville, Nassau County, Florida
September 28, 2018  Jacksonville, Florida –  Twenty-five years ago north of Jacksonville near the Florida and Georgia border, 34-year-old Nassau County Patrol Officer and Helicopter Pilot John Eric Lowe was driving his patrol car in a very rural area known as King's Ferry on the St. Mary's River near Hilliard. Hilliard is 32 miles northwest of Jacksonville and a few miles east of Okefenokee National Wildlife Refuge.
He ended up on a dirt road, driving slowly about a half-hour before midnight. The night sky was clear and he decided to stop and stretch his legs. He parked near a clear-cut area where trees had been cut away, giving a clear view of the ground and sky. As he looked off in the distance, a light caught his eye.
---
---
Interview:
John Eric Lowe, retired Patrol Officer and Helicopter Pilot, Jacksonville region of Nassau County, Florida: "I looked up in the sky, and I caught movement in the air up there. I was thinking that it was probably a jet, but I didn't see the strobes on this object, almost like an LED light, a bright, white light. And this was at some distance. It was miles from where I was at in the sky, but it was still a prominent object that I could see. I'm a helicopter pilot, and I'm familiar with aircraft. I didn't hear an airplane engine droning. I didn't hear rotors. It was quiet. And I watched this object for a little while, and then it moved slowly across my area of vision, which was horizontally. And I noticed that it stopped. When it stopped, I was thinking, "Well, maybe it's a jet and it made a turn, and it's going away from me." But the light didn't get any smaller.
I got my binoculars out of my console on my car, and I look at this object. It was a bright, white light like an LED, and while I was watching it, it began to move again.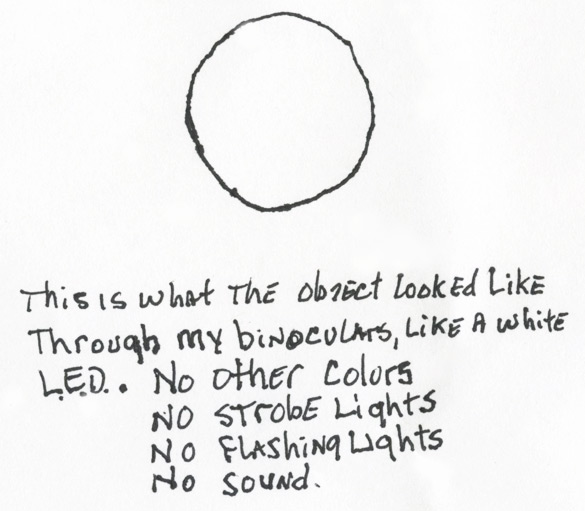 SO, NOW YOU'RE WATCHING THROUGH YOUR BINOCULARS.
Yes, ma'am.
IN THE BINOCULARS, WHAT ARE YOU SEEING IN TERMS OF SHADING OF ANY COLOR OR ANYTHING?
No color, just a plain white orb, and through my binoculars, it was magnified to about the size of a nickel.
I couldn't hold the binoculars very steady even though I was bracing myself on the roof of my patrol car. The object moved slowly, and when it moved out of my field of vision, I refocused without the binoculars looking at it again, and this object stopped again. And when it stopped this time, it went in reverse. I was amazed at what I was seeing. I reached into my console then, and I got an instrument I used whenever I did traffic crash diagrams, which was a straight edge, and I held it up, and I watched this object horizontally go across the top of my straight edge, and it went up off of the straight edge. When it went off of the straight edge, it zig-zagged.
It was a subtle movement. None of this was very fast. When I finally lost sight of it, it just faded out. I just didn't see it anymore. And at night, I learned that when you're focusing on something, you can lose vision of an object, but if you look away from an object, you can catch the movement again out of your peripheral vision. And I tried to do that, and it just wasn't there anymore.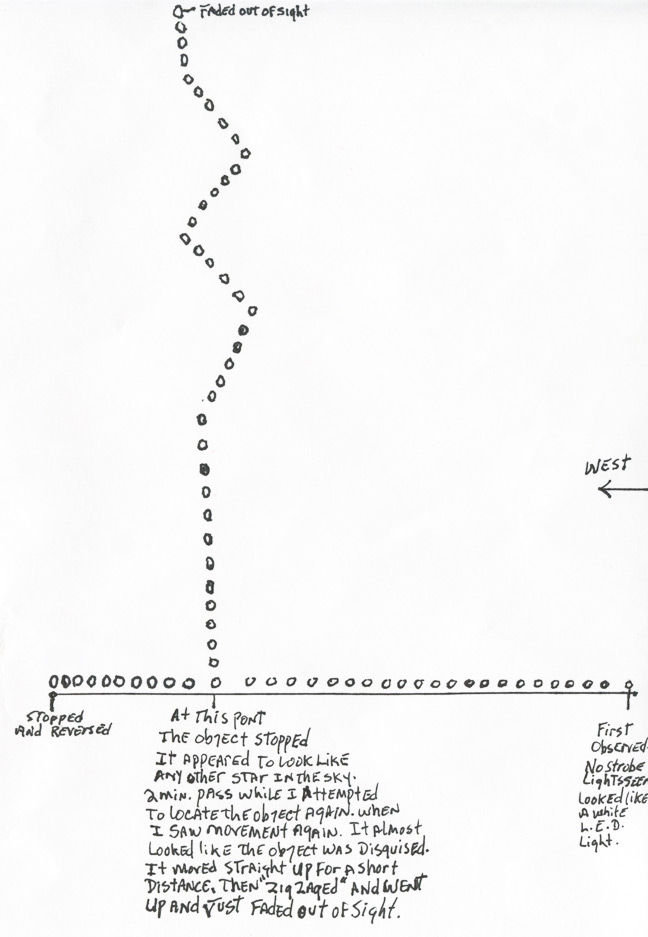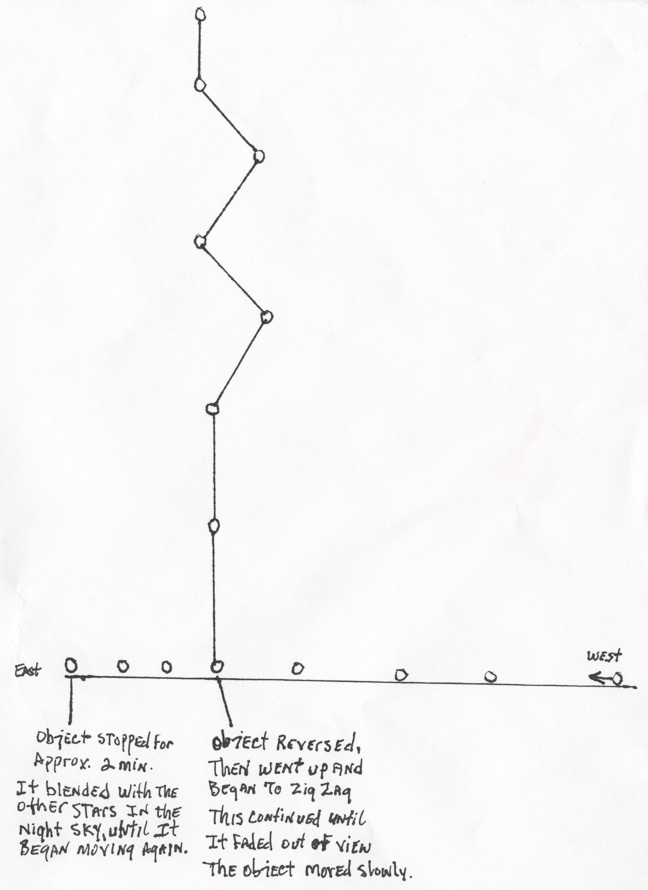 WELL, THAT IS A CLASSIC DESCRIPTION OF THE UFO PHENOMENA FOR CENTURIES, REALLY.
Yes, ma'am.
IT IS AS IF THE PHENOMENA FLAUNTS ITSELF, TAUNTS HUMANS THAT WATCH IT, APPEARS TO BE AWARE OF HUMAN CONSCIOUSNESS ON IT, AND THAT THESE FORWARD, BACKWARD, ZIG-ZAG MOTIONS ARE WHAT HAVE SEPARATED THE UFO PHENOMENA FROM NORMAL AVIATION NOW FOR A CENTURY.
Yes, ma'am.
DID ANYTHING ELSE HAPPEN AFTER THAT? DID YOU RECEIVE ANY TELEPATHIC IMAGES, THOUGHTS? DID YOU HAVE ANY VIVID DREAMS AFTER THAT NIGHT?
No, ma'am. It was humorous that I actually seen this because I read a lot about the subject, the phenomena when I was younger and always found it fascinating. Even if I watched like your program, for instance, I've learned a lot by watching what comes on the History Channel.
YEAH. THE ANCIENT ALIENS SERIES.
Yes, ma'am. Recently, what prompted me to do this is I read the article about Commander David Fravor.
YES.
Retired Navy Commander (David Fravor).
YOU ARE REFERRING TO THE DECEMBER 16TH, 2017 HEADLINE IN THE NEW YORK TIMES ON THE FRONT PAGE ABOUT INFRARED FLIR VIDEO TAKEN BY JET FIGHTER GUN. WHAT WAS YOUR REACTION TO READING THAT HEADLINE?
Well, when I read it, I was immediately drawn to it. I wanted to know more about what the facts were. For the very first time, I saw the video on the History Channel, Ancient Aliens episode, and I stood there with my jaw open watching what this man had been looking through his FLIR, and I would have been amazed and terrified if I was that man. It was fascinating.
LOWE, YOU'RE SPEAKING NOT ONLY AS A LONGTIME CORRECTIONAL OFFICER AND ROAD PATROLMAN, BUT YOU'RE SPEAKING AS A HELICOPTER PILOT.
Yes, ma'am.
SO, YOUR PERSPECTIVE ON WHAT YOU SAW IN THE INFRARED VIDEO THAT WAS PROVIDED BY THE NEW YORK TIMES THROUGH THE ADVANCED AEROSPACE THREAT IDENTIFICATION PROGRAM THAT WAS IN THE PENTAGON.
Yes, ma'am.
FROM YOUR PERSPECTIVE AS A HELICOPTER PILOT, YOU ARE LOOKING AT THIS INFRARED, AND WHAT IS YOUR BOTTOM LINE?
The infrared is picking up a heat signature, and it's reflected back into that camera, and that camera doesn't lie. If there is something out there to be captured that is hot, it's going to pick it up. I've operated a FLIR unit before, and I'm familiar with its operation. You can make that device as intrusive as you need to make it for it to work, which means the intensity of this thing is variable. So, if you're looking through clouds, for instance, and one of those things are there, if it's giving off any kind of a heat signature, you're going to see it. So, these pilots that are looking at these things, they know exactly what they're looking at. And their machinery, their aircraft is measuring distance and speed and the maneuverability is kind of speaking for itself in the video. If you can see this object like the Commander did and see that it's rotating while it's moving, that device is pretty accurate.
RIGHT. WHAT DID YOU PERCEIVE WHEN THE OBJECT, THE UFO, MOVED AND SOME ESTIMATES HAVE BEEN THAT IT WAS MOVING SO FAST?
Right. Moving across the horizon.
BUT ON THE FLIR INFRARED VIDEO THAT WAS FEATURED IN THE NEW YORK TIMES IN DECEMBER OF 2017, THERE WAS ONE OF THE VIDEOS, THE OBJECT MOVED SO FAST OFF TO THE LOWER LEFT, THAT SOME PEOPLE ESTIMATED THAT IT MIGHT HAVE BEEN MOVING ALMOST LIKE A HUNDRED THOUSAND MILES AN HOUR.
Yes, ma'am. I would not doubt that. For aircraft to move that fast—a conventional aircraft at that speed inside our atmosphere would burn up. The wings would be burnt off of that aircraft. Sheer wind friction would just burn that aircraft up if it was moving that fast. The fastest jet known to man, the Blackbird, the SR 17 or 71, that thing flew at Mach III, and when the pilot got out of that, the skin on that aircraft remained white hot for an hour. So, anything that flies that fast is going to have—it's almost like—the shuttle is a good example. When that thing landed, they couldn't just open the door and let those people out. They had to wait for that tile to cool, and that's just simply from air making it so hot. Being superheated like an oven because it just came from outer space into our atmosphere.
Which is something that should impede the speed of an aircraft like that, but these things, those rules just don't apply. The idea of something moving across the spectrum at such a speed in those videos that I have seen, the most recent ones that they released, there's one in particular where you are seeing this object moving across from right to left on the screen. This thing is moving so fast that there is no possible way that that jet could have caught up to it or even closed on it or maintained a certain distance from it to observe it. It just left this F-17 or F-18 in the dust. Amazing. We were lucky to catch it on the FLIR, it was moving so fast.
It boggles the mind and kind of reassures my feeling that we are being visited, and it's more often than people realize, I think. Everyone that says we're alone, I believe that these entities travel in a method that we just are not familiar with whatsoever, and they travel interdimensionally, and they can bend space to get here. And the reason I say that is because in my reading and what I've learned and what I've seen, the only thing that makes any sense to me is that these things just appear out of nowhere because that is the point in which they materialize. So, if you understand what I'm saying  — the object, wherever it comes from, it doesn't choose the exact spot, but when it comes through that portal, we'll call it, and people are present, they're going to see it. And it looks like it just materialized like in so many other cases that I've read about. If we could get our hands on that kind of technology, this world would be a much, much different place.
IT ALSO BRINGS INTO FOCUS THAT WHEN YOU AND SO MANY OTHERS SEE A BRIGHT LIGHT THAT REVERSES, THAT GOES UP, THAT DOES ZIG-ZAGS, AND THEN IT DOESN'T MOVE OFF AND EUCLIDEAN GEOMETRY, IT SIMPLY FADES OUT OR POPS OUT.
That is it exactly. Yes, ma'am.
THAT IS THE INTER-DIMENSIONAL ASPECT OF THE UFO PHENOMENA, POPPING IN AND POPPING OUT.
Right. And I believe that. They probably laugh at our geometry.  (LAUGHS)
You know, honestly, we're so antiquated, I'm sure, to that entity, I'm pretty sure we're laughable. I know we are. We would have to be. If I were them looking back at us, they probably, if they have a sense of humor, I'm pretty sure they probably laugh at us quite a bit.
IT IS WHY THEY SEEM TO FLAUNT THEIR ABILITY IN FRONT OF HUMANS AS IF YOU CAN'T FIGURE THIS OUT.
I think they're toying with us to a degree. Until they're ready, the ball is in the field. Until they're ready to let us know that we know that they're here, then we're going to keep playing games with these entities until we get absolute honest to God hard evidence that they exist. I think that we already have that, and I think that everything that I just said about their ability scares the living bejesus out of our government and other governments, and they don't want to admit that."
Also see:
07-01-2016 – U. S. Navy Flight Engineer Saw Silver Discs and Entrance to Alleged E. T.and Human Collaboration Base in Antarctica
07-01-2016 – Antarctica Retired Navy Flight Engineer Warned by NSA to Stop Talking About Missing Scientists
---
More Information:
09-23-2010 – Part 6:  Beyond Aztec and Wright-Patterson – John Smith's Sexual Encounter with Black-Haired Female
09-20-2010 – Part 5:  Beyond Aztec and Wright-Patterson – John Smith's Sexual Encounter with Black-Haired Female
09-15-2010 – Part 4:  Beyond Aztec and Wright-Patterson – John Smith's Dream Encounter with Blond Children
09-10-2010 – Part 3:  Beyond Aztec and Wright-Patterson – John Smith's Encounter with "Nordic" Non-Humans
08-17-2010 – Part 2:  Aztec, New Mexico – Was Disc Taken to Building 828 in Wright-Patterson AFB, Ohio?
08-13-2010 – Part 1:  Aztec, New Mexico – Was Disc Taken to Building 828 in Wright-Patterson AFB, Ohio?
---
Websites:
Majestic 12 Documents:  http://www.majesticdocuments.com
MUFON:  http://www.mufon.com/
American Presidents:  http://www.presidentialufo.com

© 1998 - 2018 by Linda Moulton Howe.
All Rights Reserved.