"I think it's chicken sh– the way the FBI handled it." – Otero County Sheriff Benny House, Alamogordo, NM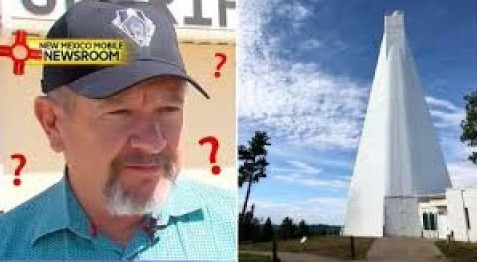 September 28, 2018  Sunspot, New Mexico –  Like the September 20th, 2018, headlines from the U. K. with the phony story that foxes and road kill are the police explanation for more than 500 cat and other bloodless mutilations in the greater London region of England  — there was another breaking news headline last week on September 19-20th, that also seemed suspect of authorities trying to get the media and public off their backs by putting out false stories. The second suspicious headlines was:
Back on September 6, 2018, the Federal Bureau of Investigation closed the National Solar Observatory down and evacuated all personnel and local residents without any explanation. Yellow caution tape was put at the observatory's entrance, windows in houses and barracks were boarded up with wood. Day after day for two full weeks, no one in the media or even the local Otero County Sheriff's office could get any answers from the observatory or the FBI about what had happened.
Nine days later on Monday, September 17, 2018 — in spite of still looking like a ghost town with boarded up houses and no people anywhere, the manager of the observatory — the Association of Universities for Research in Astronomy, known as AURA — announced in a press release that the National Solar Observatory in Sunspot was re-opening. AURA said residents and observatory employees were to return after  "an investigation had been conducted by the FBI of criminal activity that had occurred at the Sacramento Peak observatory."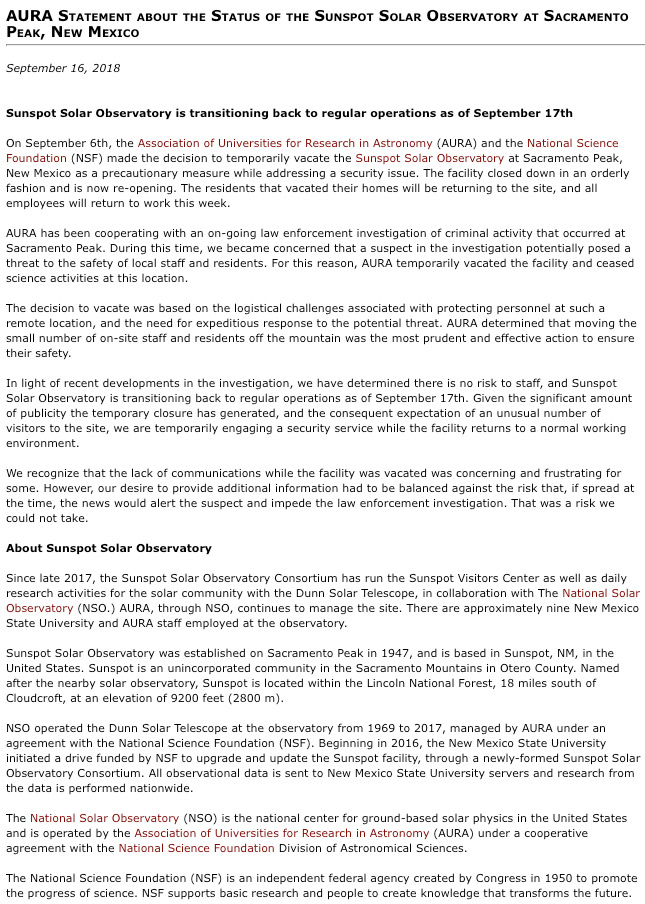 Two days after the so-called re-opening, on September 19th around 4:30 PM, I called Otero County Sheriff Benny House to ask him if he knew what the criminal activity was that the FBI was allegedly investigating? He said the FBI had not told him anything about a child pornography charge and was still upset that the FBI had kept him and his deputies in the dark about why the observatory was shut down on September 6th and not opened until September 17th.
Sheriff House repeated to me on the phone that he thought the FBI secrecy was "chicken s-h-i-t" to keep him and his department from knowing what alleged "criminal activities" the FBI was investigating. Here is Sheriff Benny House from his office in Alamogordo, New Mexico.
---
Interviews:
Otero County Sheriff Benny House, Alamogordo, New Mexico: "I did say that it (FBI handling of observatory evacuation and cause) was chicken shit.
 LMH: WHAT IS THE CRIMINAL INVESTIGATION?
 Sheriff: We don't know. We're not involved in the criminal investigation. All we know is that there was an FBI agent — at least one — on the scene prior to our arrival (on September 6, 2018). What their role was for even being up there, you know, I'm not qualified to speak on that.
 All I know is that a confirmed threat was identified and was put out, but nobody would even identify the threat.
SHERIFF, WOULDN'T YOU EXPECT THAT YOU WOULD BE TOLD WHAT THE THREAT WOULD BE IN THAT NATIONAL SOLAR OBSERVATORY?
Yes, yes! And that's what upsets me. There's criminal investigations going on all over the county at any given time. If they (FBI) need our help, we'll help them. But what the investigation was, I have no idea. The threat is the portion that disturbed me because the New Mexico FBI office were not communicating that to us, which put people's safety at risk — because they (employees) would be responding to an unknown threat. It's just a bad deal all the way around.
WELL, SHERIFF, THERE ARE EMAIL RUMORS THAT HAVE RANGED FROM A BOMB THREAT BY A DISGRUNTLED EMPLOYEE, TO A CHINESE SPY WHO HACKED INTO THE OBSERVATORY'S COMPUTERS TO SPY ON WHITE SANDS MISSILE RANGE AND HOLLOMAN AFB — TO EVEN A HUGE SPACE CRAFT THAT ALLEGEDLY ARRIVED AT THE SUN TO PROTECT EARTH FROM A MASSIVE SOLAR FLARE! DO YOU HAVE ANY INFORMATION ABOUT WHAT THE CONFIRMED THREAT IS?
No! We were going to be the first ones on scene and we need to know what we were getting into.
And they (FBI) called and asked for our help. And then when we got there, they wouldn't tell us what they wanted help with, other then they wanted us to stand by. And you don't ask for a standby unless you feel there is a threat or a potential threat. The FBI would not even tell us why. They were very tight lipped over it. I'm sure they were taking directions from the AURA group. But it's disturbing to me that we weren't told anything.
Now, for what it's worth, this morning (Sept. 19th) I was contacted by the man who runs the New Mexico FBI office and he told me he heard some of my statements and he assured me that he is going to look into it and see if the FBI followed their protocol and we're going to meet up sometime next week and see what both sides can do better in the future."
Federal Search Warrant Reveals Observatory Shutdown Due to Child Pornography
The very next day on September 20, 2018, after talking with Sheriff House who still knew nothing from the FBI, there was a shocking headline by KTSM-TV Channel 9, in El Paso, Texas:  "A federal search warrant reveals that Sunspot Solar Observatory was shut down as FBI agents conducted computer forensic searches for child pornography. … The source of child pornography was traced to an IP address used at the observatory and a source within the building observed a computer with 'not good' images on it."  The federal court documents state that WIFI and a personal laptop in the National Solar Observatory were used to download child pornography.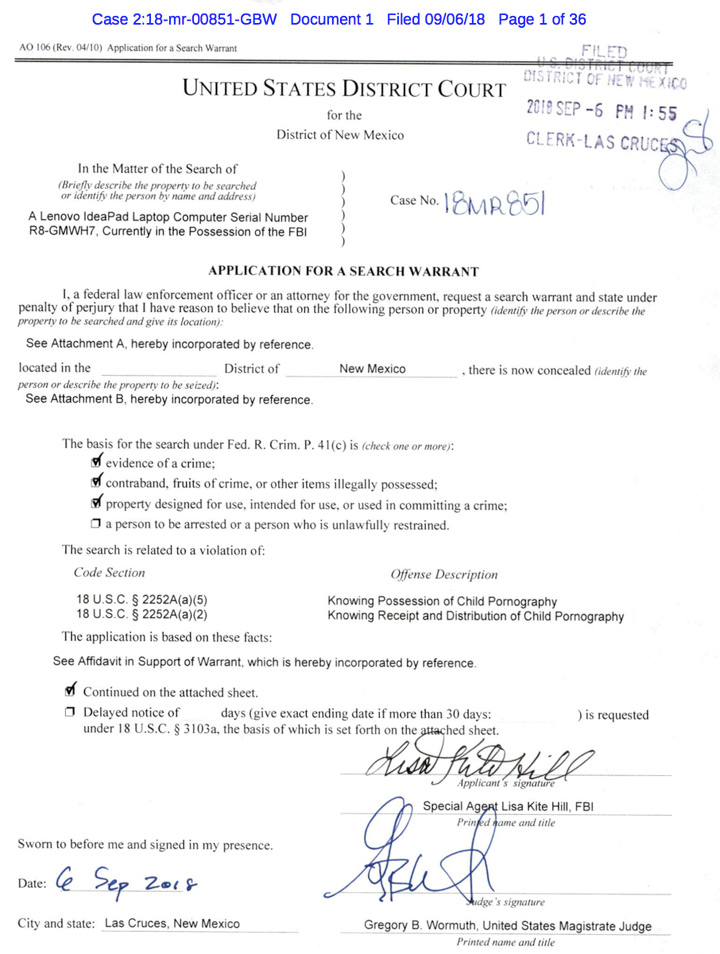 Problem with Child Pornography Search & Seizure
I called the Sheriff again and he said the FBI still had not told him anything about even the child pornography threat.
I asked historian and author Peter Levenda — renowned for his books Sinister Forces and Unholy Alliance — what he thought of such a child pornography charge two weeks after the National Solar Observatory had been closed down by the FBI.
Peter emailed back:  "Child pornography files can be hidden on any computer by an outside agency to discredit a target. It is the worst kind of evidence that can be planted, and the most difficult to refute.
This is the thing, though:  You don't evacuate a building due to child pornography. Child pornography does not explode. It doesn't send out spores that attack the nervous system.
And since when do you remove possible suspects from a crime scene (such as the observatory staff) without having them sequestered so they cannot compare stories? We have to assume that, in a case of child porn, anyone who was at the observatory had to be a possible suspect as a co-conspirator.
And why would you not be forthcoming about a child porn case with the local authorities such as the Sheriff? If the janitor was disseminating child porn through the observatory's internet system, then why close down the post office?
Why tape off the entire observatory site? According to the FBI, the janitor became alarmed when he couldn't find his laptop (which evidently was taken by the FBI). Yet, the janitor has not been arrested. There have been no charges against him so far. There has to be more to the story … or a different story altogether!"
Now today on September 27th, the child pornography explanation has holes and contradictions. Recently I checked in with El Paso ABC affiliate WVIA-TV's investigative reporter Christina Aguayo for her perspective on why the Sheriff would be kept in the dark by the FBI and her perspective now on the child pornography charge. Here from El Paso, Texas, is reporter Christina Aguayo.
Christina Aguayo, ABC-TV's WVIA Channel 7 Investigative Reporter:  "So, they've nailed down a laptop; they've nailed down the person that it allegedly belongs to. So, they have all of that information. If it's child pornography, why would they have to evacuate an entire observatory, even the post office. Why the need to evacuate for 10 days?
When the investigation team went up there — Daniel Fuentes and myself — we were searching around and we found what we thought was a back entrance to Sunspot. Well, actually it was the entrance to Apache Observatory, which sits directly next to Sunspot. And when we went up there, we found three or four people, who were working there. They were not evacuated. So, if this suspect posed such a threat, why weren't they evacuated as well?
But they (AURA and FBI) say there is no longer a threat, right? And in their statement (Sept. 17, 2018 Press Release), they said there is "no further risk to staff and residences." Does that mean he (suspect) has been caught? And if he's caught, where is the arrest record? Where are they holding him?
If he hasn't been caught, then why didn't they arrest him? Does that mean he's on the loose? Are they looking for him?
And if the crime is allegedly child pornography, how much of a threat does he pose to grown adults. Because the last time I checked, they don't have children working at the Sunspot Observatory.
RIGHT.
You know, but they (AURA) say there is no longer a threat, right? In this statement (press release) they say there is no further risk to staff and residents. Does this mean he has been caught? And if he's been caught, where is the arrest record? Where are they holding him? Is that why there was a helicopter there on the first day of the closure?
IT'S REALLY WEIRD, CHRISTINA.
Extremely weird! And when I went up there, what's also weird is when I spoke with the security people they hired to watch over (site), even they had questions of, 'Why were we hired only three days before opening (September 17, 2018)? And if we were only here to take care of possible looting? …
Well, when we were up there the first and second time, there wasn't a soul up there. And if the security team was hired to prevent people from looting the empty residences that were up there, why did they wait until three days before they opened and why are they contracted out another two weeks after that?
And even speaking with some employees in the area, they were saying, 'We were told to say we're happy to be back.'  And that struck me as weird.
Instead of 'We were told we can't comment' or something to that effect — we were told to say we're happy to be back. And I thought, 'Wow, I can't believe you are actually saying that to me!'
THERE WERE BOARDS ON WINDOWS OF HOUSES AND DORMITORIES.
Well, what happened to the threat? What happened to it — because I don't see an arrest record. I don't see a name in the paper. I don't see anything.
There are too many questions that still need to be answered for this to just go away quietly.
DO YOU KNOW HOW THAT OTHER STATION IN EL PASO GOT THESE UNITED STATES SEARCH AND SEIZURE WARRANTS? (KTSM-TV Channel 9 El Paso)
You know, I'm not exactly sure.
IT'S ALMOST AS IF THERE WAS A PLANT.
To provide them with the documents rather than us?
YEAH, LIKE THERE'S GOT TO BE A REASON WHY THAT STATION GOT THESE WARRANTS.
Another question!
IT IS SUCH A STRANGE STORY AND IT HAS COME DOWN TO WHERE REPORTERS ARE HAVING TO TALK WITH REPORTERS BECAUSE THERE IS NOBODY IN AUTHORITY WHO HAS EITHER INFORMATION OR IS GOING ON THE RECORD.
Or even returning any phone calls, emails. And the only reason that Frank Fisher responded to me from the FBI ( Public Information Officer in New Mexico) is because I told him what Sheriff Benny House told me after I presented Sheriff House with the statement from AURA.
And I asked him — I said, 'Well, do you want to respond to what Sheriff House is saying?'
And that's when I finally received that call back and he (FBI) said, "Refer to that statement." (AURA Press Release of Sept. 17, 2018) And then hung up the phone on me.
CAN YOU REPEAT WHAT IT WAS THAT OTERO COUNTY SHERIFF BENNY HOUSE SAID TO YOU?
He said he thought the FBI was chicken bleep and they mis-handled the entire investigation. That they put him in a bad way because they didn't inform him of any potentially dangerous suspect that was either on the loose, or was up on the Sacramento Peak. That they (FBI) were impeding on his ability to protect his citizens and also protect the lives of his officers since they are the ones that have to investigate. Say they go up to Sunspot themselves and they encounter something that they are not ready for or not expecting. He was not informed of any type of potentially dangerous threat.
I TALKED WITH SHERIFF HOUSE ON FRIDAY, THE 21ST, AND HE STILL HAD NEVER HAD ANY CONTENT NOTIFICATION FROM THE FBI ABOUT CHILD PORNOGRAPHY, NOT STOLEN COMPUTER EQUIPMENT, NOT THE POSSIBILITY OF A SPY — HE HAD BEEN TOLD NOTHING.
WHY DO YOU THINK THERE WOULD BE THAT KIND OF DISCONNECT BETWEEN THE FEDERAL BUREAU OF INVESTIGATION CLOSING DOWN THE NATIONAL SOLAR OBSERVATORY AND THE SHERIFF OF THAT COUNTY?
You know, my first thought is that it is something greater going on; it's something of a higher magnitude that maybe has to have higher security clearances.
And I don't believe that the FBI would knowingly have a potentially dangerous suspect on the loose that could harm people and not inform local law enforcement. So I just feel that it might be a bigger issue than this potentially dangerous suspect and it might be something that they do want to keep secret, that they do want to keep under wraps — something that none of us know is going on and that they feel for security reasons, they need to keep in house.
AND CHRISTINA, WHAT YOU ARE IMPLYING IS THAT CHILD PORNOGRAPHY WOULD BE USED AS A COVER FOR SOMETHING ELSE THAT WE STILL DON'T KNOW ANYTHING ABOUT.
Well, it is a question, that is a question."
---
More Information:
09-20-2018 – September 20th UPDATE – Child Pornography Behind Sunspot Observatory Closure — But Is This Truth? — Otero County Sheriff Criticizes FBI Silence
09-02-2015 – Is Our Sun "Going to Sleep" in 2030?
12-19-2014 – Invisible, Mysterious Force Field Protecting Earth from "Killer Electrons"
---
Websites:
National Solar Observatory, Sunspot, New Mexico:  https://www.nso.edu/
AURA, Assoc. of Universities for Research in Astronomy:  http://www.aura-astronomy.org

© 1998 - 2018 by Linda Moulton Howe.
All Rights Reserved.