"In one mutilated cat case, there was a beheading. It was surgical. The wounds were symmetrical and looked as if they had been done with a scalpel." – Dane Walker, Clinical Director, Streatham Hill Vets, South London, U. K., Sept. 23, 2018
---
September 28, 2018  London, England –  On the early morning of September 20th, 2018, headlines from the U. K. proclaimed "Croydon Cat Killer Mystery Solved by Police — Scotland Yard says injuries inflicted on cats were 'likely to be the result of predation or scavenging by wildlife on cats killed in vehicle collisions.'"  Croydon, about 10 miles south of London, is where the cat mutilations were first reported in 2015, and then spread out all around the greater London region to now and ongoing. For people who have been following my cat and other animal mutilation reports in my books, radio, television and Earthfiles for the past four decades, the Scotland Yard press release was preposterous.
Then two days later on September 23, 2018, the U. K. Sunday Express published a contradiction to the police from a veterinarian who had examined some of the mutilated cat bodies. Dane Walker, Clinical Director of the Streatham Hill Vets in South London, told Sunday Express reporter James Murray, "At Streatham Hill Vets we have had several of these (mutilated cat) bodies brought in to us. They have all consisted of clean, surgical type amputations or beheadings. They were NOT done by foxes or wild animals. It is exceptionally rare for a fox to attack a cat and they should not be used as scapegoats for these horrific crimes. … In one case, there was a beheading. It was surgical. The wounds were symmetrical  — and to me it looked as if they had been done with a scalpel. I think the police have been too quick to close the investigation down." – Veterinarian Dane Walker, D.V.M.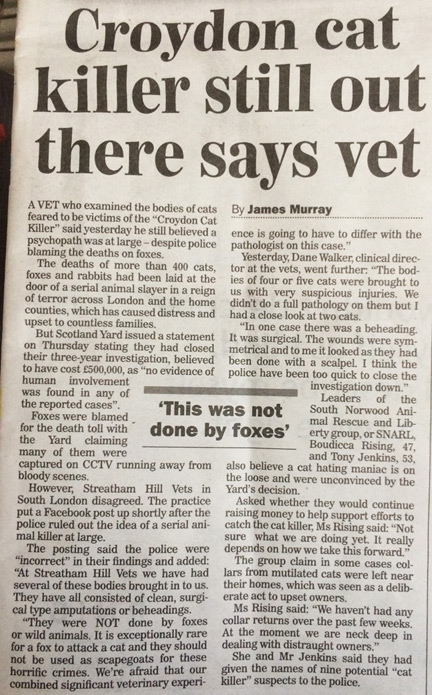 Since 2015, more than 500 cases of mutilated cats have been reported that include bodies being cut in half;  or the head surgically and bloodlessly removed;  or one or more legs and/or tail cut cleanly off. Other mutilated animals have included foxes, rabbits, snakes and a lizard found and photographed with precise, bloodless, surgical excisions — nothing that could ever be mistaken for wild predator attack or being hit by a car. At the end of this Earthfiles report is a link to a history of half-cat mutilations.
One of the most significant medical contributions in the history of the half-cat syndrome is an x-ray by veterinarian Cherie Good, D.V.M. It was a male cat found in Bothel, Washington, in August 2003. The cat was cut in half, but what Dr. Good discovered was that a thin third slice of the cat's middle body had been removed along with all of the cat's internal organs. Dr. Good told me she was looking at precise surgery, not natural predation.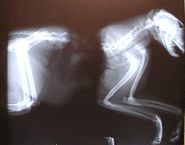 U. K. Police Also Withheld Knowledge of "Mark" Found On Many Mutilated Cats
The leading U. K. citizens group that has been investigating all the animal mutilations since 2015 is called SNARL.  That stands for South Norwood Animal Rescue and Liberty.  The same day that the police announced their official mutilation investigation was ending, SNARL posted at its Facebook the following important statement:
"Early on in the investigation, two years ago, a headless cat was found near his home in Morland Road, Addiscombe. The cat's head was found in Dalmally Road, upright, in the centre of the garden. The body was missing the same, small piece we had already noted on other victims."
What was the same, small piece found in different cat mutilations? Well, on September 21, 2018, I received a phone call from Ian Halling, a computer technician in Gloucestershire, England, who has helped me investigate and report about U. K. animal mutilations for several years. Ian was watching social media for reactions to the U. K. police announcement about shutting down their official animal mutilation investigation.
He had also talked with Jayne Galloway in Potters Bar, England, a few miles north of London where she had lost her gorgeous, large cat, Taz, to a bloodless beheading in October 2017. She also knew about a marking on Taz's belly that the police had found on other beheaded cats, but had told her not to "reveal the trademark." That meant the police never acknowledged the unusual geometric marking on many beheaded cats in their September 20th police announcement about foxes and car roadkill being responsible for the unusual cat deaths.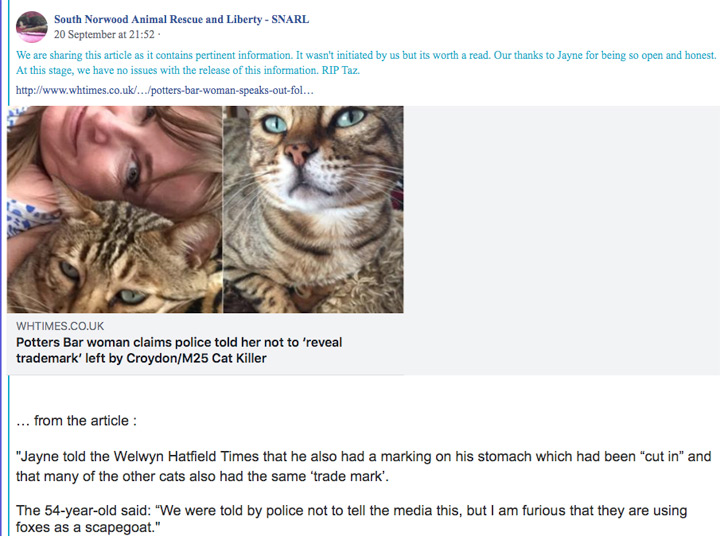 Ian Halling reported to me that social media was exploding with anger at the U. K. police announcement and that he had been able to contact Jayne Galloway to ask about the "mark" on Taz's belly.  The following is my interview with Ian on September 22, 2018, that includes comments in another interview on the record September 24th with Jayne Galloway.
---
Interviews:
Ian Halling,  Computer Technician and Earthfiles.com Contributor, Gloucestershire, England: "The British public are in disbelief that this has happened. They can't believe the  (police cat killer) operation which has lasted three years and cost 500,000 pounds and has been employing police officers over this period has just come to this conclusion.
YES. GIVE SOME EXAMPLES OF WHAT YOU HAVE SEEN AND HEARD FROM THE PUBLIC.
We've had the reaction from the ex-police retired Scotland Yard DCI, and he says, "I'm not convinced it's foxes at all." A lot of the people who've taken to social media are owners of the pets that have been killed themselves, so they can't believe it that this has happened. There's an enormous backlash. Some people are starting petitions to try and overturn the police findings or to try and have an independent study or to present it to MPs. There's a lot of anger and frustration. I can also talk about the media who carried the story. The BBC-TV London news report featured a presenter and a reporter who didn't even seem to believe the story they were reporting. And at the end, I don't think we've heard the last of this.
RIGHT.
Even Sky TV, the other big broadcasting network in the UK, they also featured excerpts which featured the public's disbelief at the police statement. I have in my hand from SNARL, South Norwood Animal Rescue and Liberty, on their Facebook page, they issued the following statement, "We are aware of the notification this morning by the Met Police that they are discontinuing the operation due to new evidences that suggests the injuries to the cats are fox predation, post-road traffic accidents, or other event. As you can imagine, this morning's announcement has come as a surprise."
IT SEEMS THAT ONE OF THE STRONGEST ARGUMENTS AGAINST ALL OF THESE NONSENSICAL HEADLINES FROM THE UK, SEPTEMBER 20TH, WAS POSTED BY SNARL  —  SOUTH NORWOOD ANIMAL RESCUE AND LIBERTY. THAT'S THE NEIGHBORHOOD GROUP THAT HAS BEEN DOING CAT MUTILATION INVESTIGATIONS SINCE 2015. ON SEPTEMBER 21ST,  SNARL RELEASED A STATEMENT THE DAY AFTER ALL OF THE UK POLICE HEADLINES SHOWED THAT SNARL WAS NOT ONBOARD THE POLICE SAYING THAT IT WAS FOXES AND CAR AND ROADKILL.
IN FACT, HERE IS A COPY OF THEIR STATEMENT:  "THE CATS THAT HAVE BEEN DECAPITATED HAVE HAD THEIR HEADS REMOVED IN EXACTLY THE SAME MANNER AND PLACE EACH TIME. WHEN WE HAVE RECOVERED BOTH HEAD AND BODY, THE SAME SMALL PART IS MISSING FROM EACH."
Mutilation "Mark" On Belly of Beheaded Cat, Taz, October 2017
THAT SMALL MISSING PART, KNOWN TO VETERINARIANS AND POLICE INVESTIGATING THE HUNDREDS OF MUTILATED CATS IN THE GREAT LONDON REGION SINCE 2015, WAS FOUND ON THE BELLY OF A LARGE BLOODLESSLY MUTILATED MALE CAT A YEAR AGO IN OCTOBER OF 2017.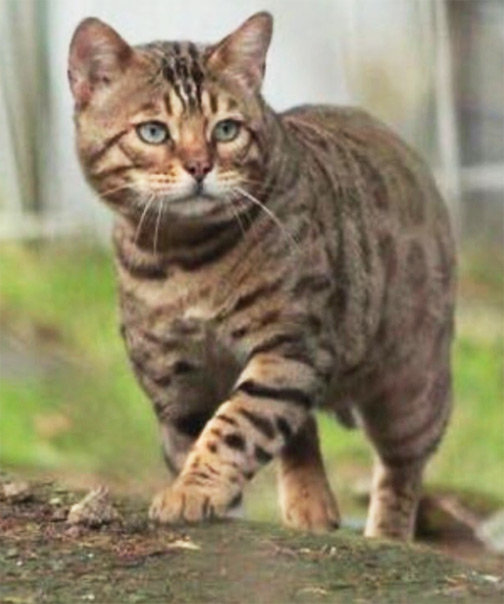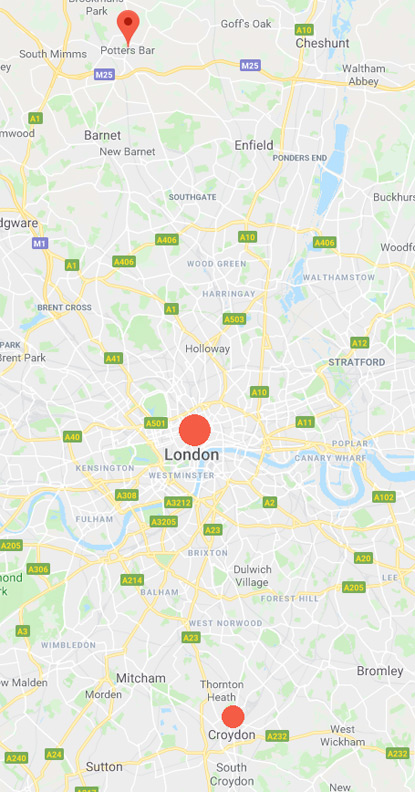 TAZ LIVED WITH HIS OWNER JAYNE GALLOWAY, IN POTTERS BAR, ONLY 10 MILES SOUTHEAST OF ST. ALBANS WHERE BLOODLESSLY MUTILATED ANIMALS HAVE BEEN FOUND THE PAST THREE YEARS, INCLUDING A MONITOR LIZARD AND ROYAL PYTHON OF UNKNOWN ORIGIN FOUND IN A ST. ALBANS FOREST. BOTH TOWNS ARE IN THE GREATER LONDON REGION WHERE SINCE 2015, MORE THAN 500 CATS, RABBITS, FOXES, A SWAN, A DEER AND THE REPTILES WERE FOUND DEAD AND BLOODLESSLY CUT IN HALF OR BEHEADED OR PAWS OR LEGS OR TAILS SURGICALLY EXCISED WITHOUT BLOOD.
POTTERS BAR ALSO FORMS A PERFECT GEOGRAPHIC TRIANGLE WITH ST. ALBANS AND WATFORD WHERE A RABBIT WAS BLOODLESSLY BEHEADED ON OCTOBER 6, 2017.
IAN HALLING WAS ABLE TO PUT ME IN TOUCH WITH JANE THIS WEEK. SHE TOLD ME THAT IF YOU MEASURED TAZ FROM NOSE TO THE END OF HIS TAIL, HE WAS AT LEAST FIVE FEET LONG. JANE TOLD ME SHE LEARNED THAT A SMALL, PRECISE MARK CUT IN TAZ'S BELLY HAS BEEN FOUND ON MANY OTHER MUTILATED CATS IN THE GREATER LONDON REGION SINCE 2015, A FACT THAT THE POLICE HAVE KNOWN ALL ALONG BUT WON'T ADMIT, WHICH MAKES THEIR FOXES AND CARS A CYNICAL LIE TO GET THE PUBLIC AND MEDIA OFF THEIR BACKS. HERE IS JANE GALLOWAY FROM POTTER'S BAR ENGLAND, NORTH OF LONDON.
Jane Galloway, Owner of Taz bloodlessly beheaded in October 2017, and "marked" on his belly, Potters Bar, England:  It was a complete circle on his stomach around his nipple big as a five pence piece, about the size of a dime in America.
SO, A VERY PERFECT CIRCLE OF SKIN, ONLY SKIN DEEP.
Taken off the top layer, a completely round circle.
A PERFECT, DIME-SIZED CIRCLE OF SKIN, REMOVED WHERE ONE OF TAZ'S NIPPLES HAD BEEN ON HIS STOMACH.
Correct
WHEN YOU SAW THIS, DID YOU ASK A VETERINARIAN SPECIFICALLY TO LOOK AT THIS PRECISE, CIRCULAR EXCISION OF TISSUE?
What happened was, I was told to put him in a forensic bag, and then I was told to take him to the vet and have him put on ice, which we did, and then nobody examined him."
Ian Halling Continues Interview
Ian Halling:  Jane said, "We were told by police not to tell the media this. But I'm furious that they are using foxes as a scapegoat."
ON THE DECAPITATED ANIMALS THAT THE SAME SMALL PART HAS BEEN MISSING FROM EACH, AND THE POLICE KNOW IT, SNARL KNOWS IT, AND JANE GALLOWAY, WHO HAD HER CAT DECAPITATED, LEAVING THIS MARK ON ITS STOMACH. SO, THIS SHOWS THAT THE POLICE HEADLINES ARE FALSE.
Yes, the police headlines, they seem to want to wrap it all up and put it down to foxes predating on roadkill. What we've heard, for example, the Streatham vets, that's S-T-R-E-A-T-H-A-M Hill vets, which is a district of London, and they said, "Streatham Hill vets, we've had several of these bodies brought into us. They have all consisted of clean, surgical type amputations or beheadings. They were not done by foxes or wild animals."
AND THAT IS A QUOTE FROM A VETERINARIAN. WHY WOULD THE UK POLICE PUT OUT SUCH PHONY HEADLINES?
It doesn't make sense. The vets have independently carried out these investigations, separate postmortems, but here's what the vets conclude with, they say, "We're afraid that our combined significant veterinary experience is going to have to differ with the pathologists on this case."
THEY ARE TALKING ABOUT A POLICE PATHOLOGIST WHO IS SAYING THAT THEY HAVE FOUND FOX DNA ON SOME OF THESE 28 BODIES THAT THE POLICE HAVE INVESTIGATED.
The police even say the veterinary pathologist who carried out the original postmortems conducted reexaminations on the six bodies in August 2018. He found puncture wounds not found previously on some of the animals and concluded that some had been potentially scavenged. Well, the question is, why, if there were puncture wounds, why were they not found on the first examination?
HOW MANY MONTHS BETWEEN THE GATHERING OF THE MUTILATED BODIES AND THE POLICE TAKING THESE OLD BODIES TO THE PATHOLGIST TO MAKE THIS CONCLUSION THAT THERE WERE PUNCTURE MARKS FROM FOXES?
Yes, and the police do say that they have closed circuit TV, three instances where CCTV was obtained, footage showed foxes carrying bodies or body parts of cats.
WHERE IS THAT CCTV VIDEO FROM THE POLICE SHOWING THE FOX CARRYING A HALF CAT OR A BEHEADED CAT OR A CAT THAT HAS ITS LEG SEVERED? WHERE IS THAT FOOTAGE?
We haven't seen any of that footage, and what's more, SNARL was asked on its  Facebook page about the alleged police video and SNARL said it has not been shown the footage either.
SO, THE DISCONNECT BETWEEN A POLICE OPERATION TO PUT OUT HEADLINES ON SEPTEMBER 20TH, 2018 SEEMS TO ME TO BE, WE WANT TO GET THESE HEADLINES OFF OF THE UK PAPERS. WE WANT PEOPLE TO STOP REPORTING ABOUT THIS, AND WE WANT AN EXPLANATION THAT WILL MAKE HEADLINES, SO THAT 90 PERCENT OF PEOPLE WILL GO AWAY WHILE THE PHENOMENON IS CONTINUING.
Yes, it is continuing, and it was at such a rate where in 2017, I believe, about 250 of the cases of the 500 cases that SNARL are saying were attributed to the UK small animal killer, 250 of those cases occurred during 2017. And you can see we're up to 500 already, and we're just in September 2018.
YOU'RE MAKING THE POINT, TREMENDOUS NUMBERS OF BLOODLESS, CUT IN HALF, HEADLESS, LEGS DISMEMBERED, A MARK ON STOMACHS THAT IS THE SAME FROM BEHEADED ANIMAL TO BEHEADED ANIMAL, INCLUDING FOXES HAVE BEEN MUTILATED. AND THAT MEANS THAT THIS IS LIKE A CHARADE WHILE THE SMALL ANIMAL AND LARGE ANIMAL MUTILATION PHENOMENON CONTINUES AROUND THE WORLD AS WE SPEAK ON SEPTEMBER 22ND, 2018 IN BOTH HEMISPHERES. THE MUTILATIONS DO NOT STOP BECAUSE AUTHORITIES, INCLUDING THE UK POLICE, DECIDE THEY'RE GOING TO GET THE PUBLIC AND THE MEDIA OFF THEIR BACK WITH HEADLINES THAT MAKE NO SENSE."
Also see:
 More Animal Mutilations — Bloodless Pony and Reptiles in England
To report any information about the persistent and horrible cat mutilations from Aylsham to Croydon south of London and beyond, please contact the RSPCA. Requests for anonymity will be honored. Phone: 0300 123 8018.
SNARL Facebook: https://www.facebook.com/South-Norwood-Animal-Rescue-and-Liberty-SNARL-624100301029007/
Royal Society for the Prevention of Cruelty to Animals (RSPCA): https://www.rspca.org.uk/home
---
More Information:
09-20-2018 – Why U. K. Explanation for Half-Cats and Other Animal Mutilations Makes No Sense09-08-2018 – Reward Grows and Task Force Assembled in Olympia, WA Bloodless Cat Mutilations
08-24-2018 – $30,000 Reward for Info About Cat Mutilations in Thurston County, Washington
08-17-2018 – Part 2: Animal Mutilations — More Strange, Bloodless Cattle Mutilations in Argentina
08-12-2018 – Part 1 Animal Mutilations: Half-Cats in Washington and Texas and Mutilated Cattle in Argentina
11-12-2017 – More Bloodlessly Mutilated Rabbits and Cats in U. K.
10-26-2017 – Bloodless Mutilation of Cats, Rabbits and Foxes Ongoing in U. K.
10-13-2017 – Bloodless Half-Cats Reported in Spokane, WA, While Numbers Rise in U. K.
10-10-2017 – Real X-Files from Earthfiles Viewers
10-01-2017 – Animal Mutilation Updates: Argentina and Canada
08-15-2017 – Part 2: More Half-Cats in Baton Rouge, LA, Continue Long History of Half-Cats
08-14-2017 – Part 1: Bizarre, Bloodless Cat and Other Animal Mutilations in Canada and Florida
---
Websites:
SNARL Facebook: https://www.facebook.com/South-Norwood-Animal-Rescue-and-Liberty-SNARL-624100301029007/
Royal Society for the Prevention of Cruelty to Animals (RSPCA): https://www.rspca.org.uk/home
"Body of Mutilated Cat in Golders Green Sparks Fears 'Croydon Cat Killer' Has Struck Again," October 31, 2017, Ham&High: http://www.hamhigh.co.uk/news/crime-court/body-of-mutilated-cat-in-golders-green-sparks-fears-croydon-cat-killer-has-struck-again-1-5257760
Majestic Documents: http://www.majesticdocuments.com
SOM1-01 website by Bob and Ryan Wood:
http://www.specialoperationsmanual.com

© 1998 - 2018 by Linda Moulton Howe.
All Rights Reserved.