"This particular neutron star belongs to a group of seven nearby X-ray pulsars nicknamed 'the Magnificent Seven' that are hotter than they ought to be considering their ages and available energy reservoir provided by the loss of rotation energy." 
 – Bettina Posselt, Ph.D., Assoc. Research Prof. of Astronomy and Astrophysics, Pennsylvania State University, State College, PA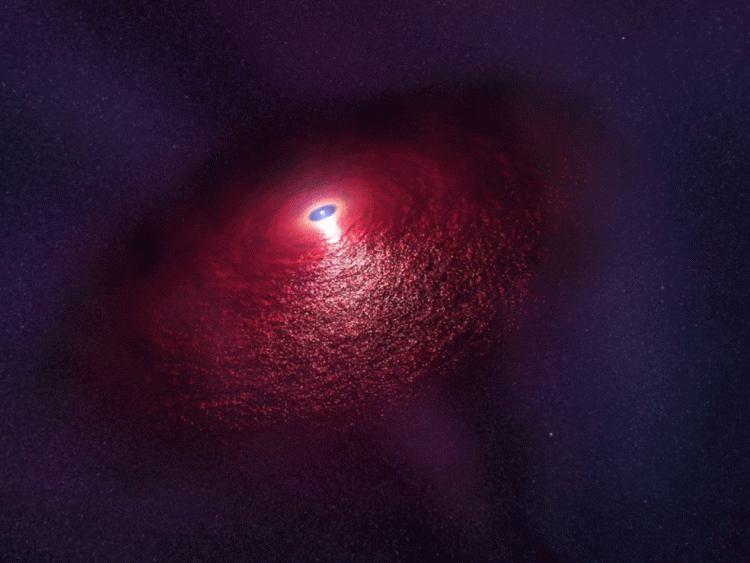 This is the first neutron star in which an extended signal has been seen only in infrared light and the instrument was the Hubble Space Telescope. Neutron stars are incredibly dense residues after a massive supernova of an exploding star. Another name for neutron stars is pulsars because they rotate rapidly and emit time-variable light. This particular neutron star rotates every 11 seconds.
Bettina Posselt, Ph.D., Associate Research Professor of Astronomy and Astrophysics at Pennsylvania State and the lead author of a research paper about this unusual neutron star reports:  "This neutron star belongs to a group of seven nearby X-ray pulsars nicknamed 'the Magnificent Seven'  that are hotter than they ought to be considering their ages and available energy reservoir provided by the loss of rotation energy. We observed an extended area of infrared emissions around this neutron star — named RX J0806.4-4123 — the total size of which translates into about 200 astronomical units or approximately 18 billion miles."
The researchers suggest two possibilities that could explain the extended infrared signal seen by Hubble.
—  There is a lot of dust around the pulsar.
—  Pulsar wind nebula produced when "particles are accelerated in the electrical field that is produced by the fast rotation of a neutron star with a strong magnetic field. As the neutron star travels through the interstellar medium at greater than the speed of sound, a shock can form where the interstellar medium and the pulsar wind interact. The shocked particles would then emit synchrotron radiation, causing the extended infrared signal that is illustrated in the video."  What is unique — pulsar wind nebulae are usually seen in x-rays, so if this is an infrared-only pulsar wind nebula, "it's unusual and exciting,"says Dr. Posselt.
Also see:
04-29-2011 – Cosmic Explosion So Strange Scientists Say It's "Unprecedented"
---
---
---
More Information:
03-30-2017 – Repeating Fast Radio Bursts 2.5 Billion Light-Years from Earth — Alien Intelligence?
01-05-2017 – "Fast Radio Bursts" of Intense Radiation from Galaxy Far, Far Away
06-26-2015 – Artificial Intelligence, Androids and Robots: Do They Threaten Human Civilization?
07-26-2013 – Unidentified Cosmic Radio Bursts Baffle Astronomers
02-26-2012 – Part 10:  U. S. Government Knowledge of "Interplanetary" Craft, 1942 – 2011
04-29-2011 – Cosmic Explosion So Strange Scientists Say It's "Unprecedented"
04-30-2010 – M82 Galaxy's Mysterious Radio Waves
03-07-2010 – Why Are We in A Matter Universe and Not Anti-Matter?
01-14-2010 – Death Stars:  Supernovae and Gamma-Ray Bursts
09-09-2008 – Updated Part 1: Getting Close to the "Big Bang" Inside Large Hadron Collider?
01-16-2008 – Mystery Radio Burst from Outer Space
---
---
Websites:
"Hubble Uncovers Never-Before-Seen Features Around a Neutron Star," September 17, 2018, NASA Hubble.
Neutron (Pulsar) Stars: https://en.wikipedia.org/wiki/Neutron_star
Project BREAKTHROUGH Starshot: https://breakthroughinitiatives.org/Initiative/3
"Could Fast Radio Bursts Be Powering Alien Probes?" March 9, 2017, Harvard-Smithsonian Center for Astrophysics: https://www.cfa.harvard.edu/news/2017-09
"Harvard Theorists: How Sailing Aliens Could Have Caused Fast Radio Bursts," March 10, 2017, The Washington Post: https://www.washingtonpost.com/news/morning-mix/wp/2017/03/10/delightful-thought-experiment-sailing-aliens-caused-furious-and-fast-radio-bursts/?utm_term=.264e71bbc214
"Mysterious Cosmic Radio Blasts Traced to Surprising Source," Nature Int'l. Weekly Journal of Science, January 4, 2017: http://www.nature.com/news/mysterious-cosmic-radio-blasts-traced-to-surprising-source-1.21235

© 1998 - 2018 by Linda Moulton Howe.
All Rights Reserved.