UPDATE with new Oct. 17th NEW video  — October 17, 2018  Albuquerque, New Mexico – During the first ten minutes of tonight's Earthfiles YouTube Channel broadcast, the puzzling "fog" returned in front of Linda as she said: "I'm waiting for a very specific…"
I forwarded a video excerpt of this new returning puzzle piece to the Photoshop analyst who helped me on the first 1-second anomaly, and he emailed back tonight:
" Looks like another one of those wispy, smoky thingies. If you advance the video a frame at a time you can easily see it drifting to the left and upward.
Since both your hand and the wall are lighter than the wisp, it's impossible to tell whether it first appears in front of your hand or behind it, or where it exits or peters out once it's past the dark door edge.
So far we don't have enough evidence to know whether these things are actually coming and going in 3-D space — they could be anomalously manifest in the camera. But whatever they are, they do seem to be well out of the ordunary.
We're not looking at insects, by a long shot.
???? "
Original October 3, 2018 Rapidly Moving "Fog"
There was a 1-second puzzle during my Earthfiles YouTube Channel live streaming podcast on Wednesday, October 3, 2018. I began live at 7:30 PM Mountain from my Albuquerque, New Mexico, office. The puzzle occurred 2 minutes and 32 seconds later into my live streaming YouTube broadcast. I had no awareness of anything unusual. It was not until the next morning on Thursday, October 4, 2018, that Lori Moriarty emailed me: "A fan called attention to something in your video. I would like to put it out to your experts to review. Here are images and repeating videos in wide shot and close up of the mysterious substance."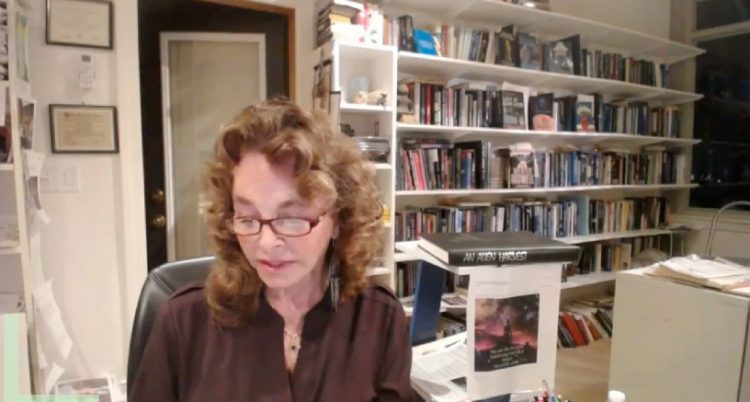 UPDATE Oct. 14, 2018:  Received these comments and a new moving gif of the 1-second puzzle from an Earthfiles viewer below. Thanks a lot, Linda
October 12, 2018
Linda – 
I looked at your recent video of the one-second puzzle,
and I did some image processing to eliminate everything 
in the images except for the puzzle. (Details at end of
this email.) 
I have attached a gif of the results.
The thing that flew through your studio had some
interesting structure. To me it looks like four dots,
all about the same size. The two on its left following
the same track, and the two on its right following the
same track, but the two tracks gradually diverging.
So — I don't know what that is, 
but it is not a puff of smoke.
————————————— Michael .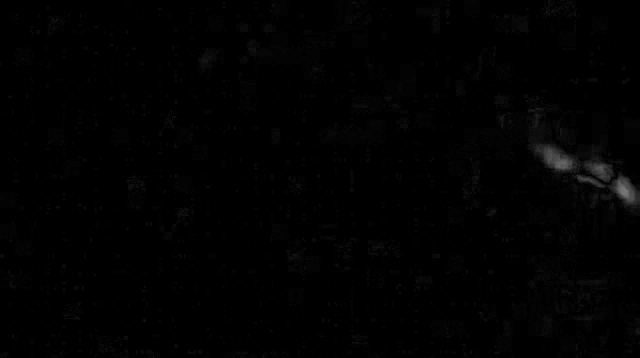 How I made this (moving gif above):
  1. isolated the frames from your video that
     showed the appearance.
  2. did image processing to take the difference between
     consecutive images. (With only the red values from
     each pixel. I should do it again with only blue and only
     green.) This causes any pixel that did not change much
     from one frame to the next to become very dark. Since
     the wraith was moving fast, its pixels are the ones
     changing most — so it gets highlighted.
  3. Enhanced the brightness and contrast as much as I
     could (same in each image) without making all kinds
     of garbage appear.
  4. Made a gif with a delay of a quarter-second between
     each frame. (arbitrary).
Click here to view the original  October 3, 2018 Earthfiles YouTube Channel with the puzzling anomaly at 2:32 to 2:33.
I watched Lori's short, slowed down video. My first reaction was it must be an insect blurred in the video process. But the more I replayed it, the stranger it became. The puzzle looks like a "piece of fog" moving through one of my 2nd story office windows, briefly brightening a white-painted wood book shelf and then rising straight up at a 90-degree angle. All of this takes place within one second: from 2:32 to 2:33 in my Earthfiles YouTube Channel videotape made directly from the live stream.
I sent the slowed down video to a trusted Photoshop and video analyst, who requests anonymity. I also sent it to my colleague and author Whitley Strieber. The analyst wanted to see the original video and we sent it to him and to Whitley. The analyst looped the rapidly moving substance 20 times in close up and here is that repeating video of the rapidly moving puzzle that both men conclude is "anomalous."
Whitley Strieber's Comment: "I've now looked at it a number of times, and it is clearly not an insect or a bat or anything remotely like that. The only ordinary thing it could be is a puff of smoke, but unless there was somebody off camera smoking or something was smoldering, that's out, too. Let's wait for analyst to weigh in, but my vote is in: unknown."
Analyst's Comment: "I'm attaching the clip, which loops 20 times, then again in closeup. The wisp seems to be moving in a straight line, though changing shape to some extent. It's definitely not an insect close to the camera. If you view the clip in a QuickTime player, you can advance it frame by frame using your arrow keys, to get a better look at it. At this point I'd say it's definitely anomalous."
2nd Story LMH Office, Albuquerque, New Mexico
Puzzling substance entered far right window (that does not open) in upper right corner (arrow) about 20 feet above ground. Book shelf can be seen through that window.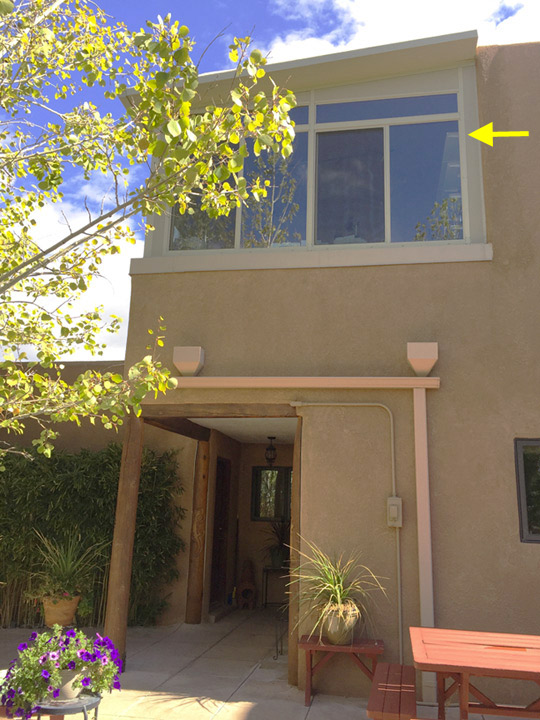 © 1998 - 2018 by Linda Moulton Howe.
All Rights Reserved.