"It's seven times the mass of our planet and it's 500 times further away from the sun than Earth."
– Michael Brown, Ph.D., Astronomer, Cal Tech, Pasadena, California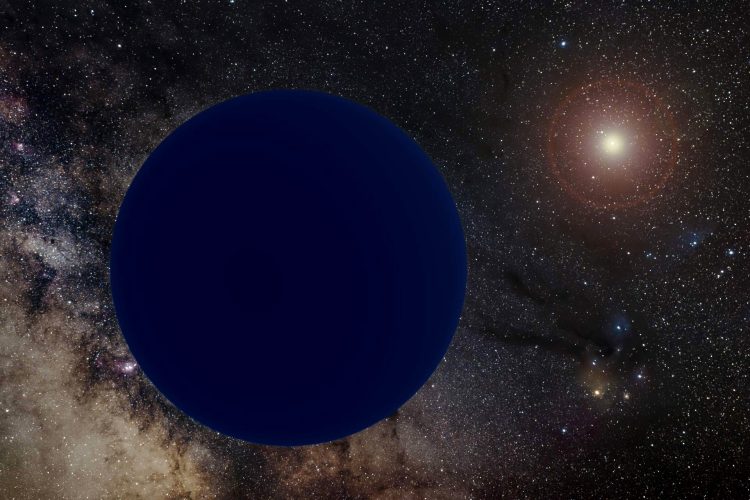 Planet 9X has still not been seen in visible or infrared, but a mass at least seven times the Earth is causing perturbations of large objects in the same place where the Kuiper Belt meets the Oort Cloud far beyond Pluto. Artist's impression of Planet 9X by Tom Ruen / ESO.
October 26, 2018  Los Angeles, California –  Nearly three years ago on January 29, 2016, I reported at this news website, Earthfiles.com (see Archive), and my monthly Coast to Coast AM radio broadcast, that a new 9th planet — or "Planet X" — was indirectly discovered at the far edge of our solar system where the Kuiper Belt and Oort Cloud meet. The Kuiper belt is a disk-shaped residue of rocks, dust and ice left over from our solar system's creation that extends from the orbit of Neptune out far beyond Pluto about 50 Astronomical Units from the Sun.
The Oort Cloud of mostly ice and dust goes much further, starting where the Kuiper Belt ends and extends to 3.2 light-years from Earth in a spherical shape that surrounds our entire solar system, including the Kuiper belt.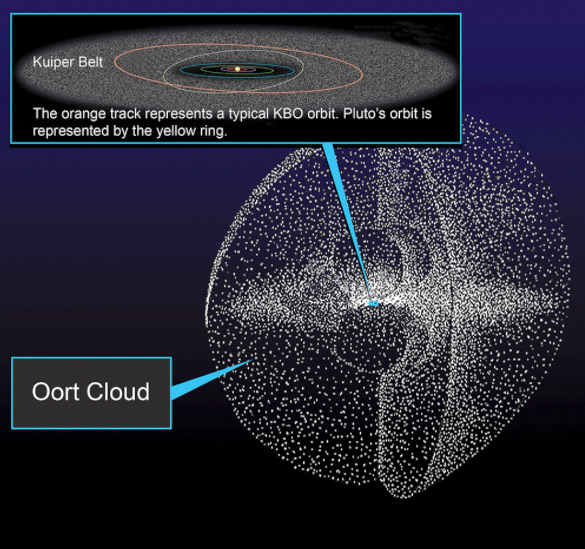 I say Planet 9 was indirectly found because no human on Earth has yet seen the hypothesized massive object — Planet 9 or Planet X.  But, Michael Brown, Ph.D., Professor of Planetary Astronomy at Caltech in Pasadena, announced in January 2016 that he was confident there was a huge object ten to twenty times the mass of Earth moving in a big looping orbit all the way to the Oort Cloud.
Prof. Brown simply calls it "Planet 9" because he is the astronomer that got Pluto knocked down to a dwarf planet after it had been the historic ninth planet of our solar system. It was 2003 and Prof. Brown discovered another dwarf planet he called Eris out in the Kuiper Belt that is more massive than Pluto. So it was Prof. Brown who argued that Pluto should be downgraded from the 9th planet in our solar system to a dwarf planet in the Kuiper Belt that surrounds our solar system. He even wrote a book in 2010 about that change entitled, How I Killed Pluto and Why It Had It Coming.
When I first interviewed Prof. Brown about the massive, but unseen, Planet 9, he told me, "it is like chasing a ghost. Whatever is out there, its mass is so great that its gravitational field pushes half a dozen other Kuiper Belt objects to cluster together on the opposite side of Planet 9's huge looping orbit." That's why so far it is an indirect discovery.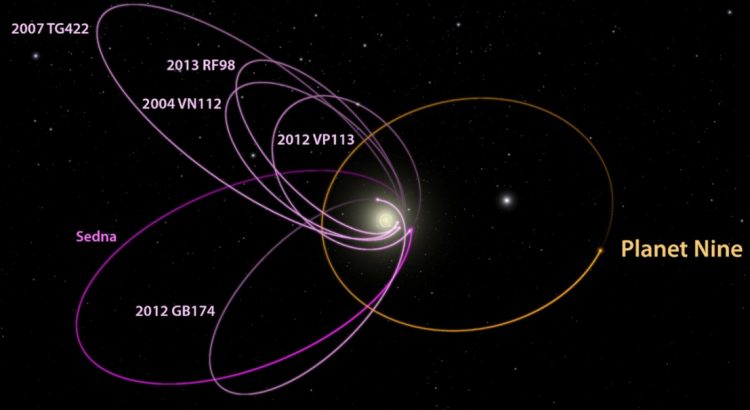 Now in late 2018, after several tries at the Keck and Suburu Observatories in Hawaii to find Planet 9 in visible light and/or infrared, it is still "like chasing a ghost." After more refined computer calculations, Prof. Brown has reduced the expected mass of the unseen planet to be only seven times more massive than Earth. In mid-October 2018, I checked in with him for an update on his search for the illusive Planet 9 and learned that on November 1st, he plans to make yet another trip to Hawaii. This time he thinks there is a chance he'll finally be able to visually find the big, mysterious mass because of computer refinements his team has made on orbits. For example, he told me in a recent interview that calculations place the unseen body "about 500 times further than the distance from the Earth to the sun. So, that puts it at something like 20 times further than Neptune. So, it's a good ways out there."
Prof. Brown has deliberately chosen November 1st to start another search because the newly calculated computer models predict that the Planet 9 mass is close to a constellation that can only be seen by American eyes in the winter.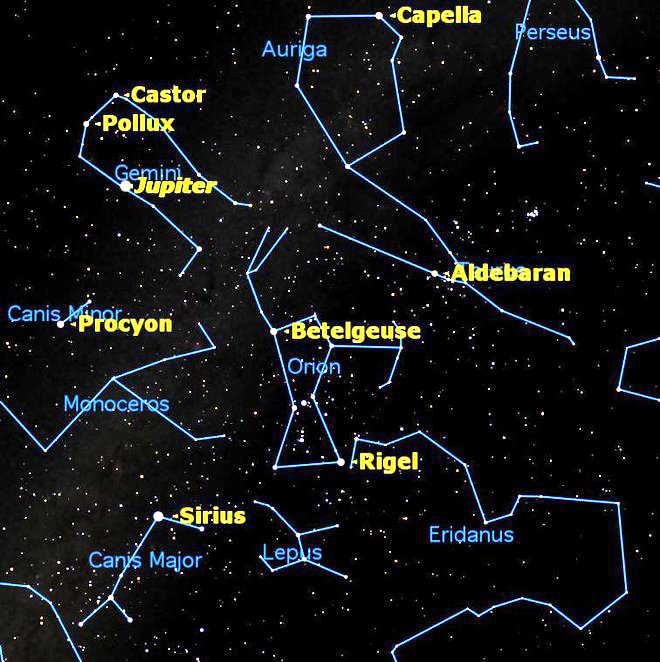 ---
Interview: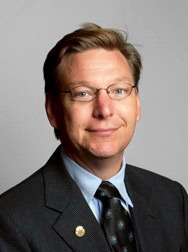 Michael Brown, Ph.D., Professor of Planetary Astronomy, Div. of Geological and Planetary Sciences, California Institute of Technology, Pasadena, California:  "Our predictions are that the planet is in the region of the sky close to the constellation Orion, which is one that everybody knows. The constellation Orion is a winter constellation. That's when it's up in the sky. That's when you can observe it most. So, we have to wait until that constellation is up, until the winter, before we can start looking to where we think it is.
IN NOVEMBER, WHAT DATE WILL YOU START?
November 1, 2018.
THAT'S NOT VERY FAR AWAY. WHAT FREQUENCIES WILL YOU BE LOOKING IN?
The best way to search for this is actually just at visible wavelengths, just like your eye, because so far, the brightest part that we think it's going to have is just the sunlight reflected off of its upper atmosphere. And so, we're just going to look right at what your eye would see just taking pictures with that big telescope.
WHAT ABOUT INFRARED?
Infrared actually is not going to be a very good one for searching simply because we don't have any telescopes with really massive infrared detectors that can look at big areas of the sky at once. Once we find Planet 9, looking at it in the infrared to study it will be very important. But it's not probably the best way to look for it.
Planet 9 So Massive It Tilts Entire Solar System by 6 Degrees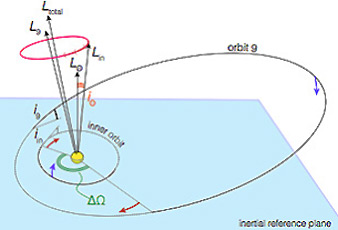 ISN'T IT AMAZING THAT ALL OF THIS IMPACT ON THE SOLAR SYSTEM, THE PERTURBATIONS, AND EVEN TILTING THE PLANE OF THE SOLAR SYSTEM SIX DEGREES TO THE SUN, THAT IT WOULD BE CAUSED BY AN OBJECT OUT IN THE OORT CLOUD THAT WE CAN'T EVEN SEE YET?
Yeah, I think it's pretty fun to think about it. We just don't know where to look yet. It'll be easy to see once we know exactly where to look, I suspect. And then once we see it, then we will study it in detail with, probably, you know, every large telescope on the Earth will suddenly swing in that direction. So, it'll be quite exciting when it's finally found.
THIS NEW PLANET 9 IS HYPOTHESIZED TO BE 5,000 TIMES MORE MASSIVE THAN PLUTO THAT YOU GOT KNOCKED DOWN TO A DWARF PLANET.
Yeah, so it's a good reminder of the difference between things that are not real planets, like Pluto, and real planets. Sometimes, people say, "Oh, this new Planet 9, it's just a little bit bigger than Pluto, right?" No, no, no. It's 5,000 times more massive. This is what we mean when we say a planet in the outer part of the solar system.
Rogue Planet? Or Original Solar System Planet That Got Knocked Out by Jupiter or Saturn?
WHEN WE LAST TALKED, I THINK YOU HAD TWO CATEGORIES OF WHERE MIGHT THIS HAVE COME FROM. WHY IS THIS MASSIVE OBJECT ALL THE WAY OUT THE EDGE OF THE KUIPER BELT GOING INTO THE OORT CLOUD? AND YOU TALKED ABOUT POSSIBLY IT BEING A CAPTURED ROGUE PLANET, OR THAT IT WAS INSIDE OF OUR SOLAR SYSTEM WHERE NEPTUNE AND URANUS ARE, BUT THAT IT GOT KNOCKED OUT BY SATURN OR JUPITER. WHAT DO YOU THINK TODAY?
I still favor the explanation that it came from inside our solar system and got knocked out by Jupiter or Saturn, but until we find it and know exactly what its orbit is and exactly what its composition is, all of this is just speculation. You can probably come up with many different ideas to explain how it got there, but once you find it, I hope, you'll really start to learn why it's there and what it's made out of.
YOU'VE BEEN LIVING WITH THIS NOW FOR THREE YEARS. DO YOU HAVE ANY SORT OF INTUITIVE SENSE OF WHAT IT COULD LOOK LIKE?
My best guess is that it will look sort of like Neptune. We think it's a Neptune-like planet, just a little bit less massive than Neptune.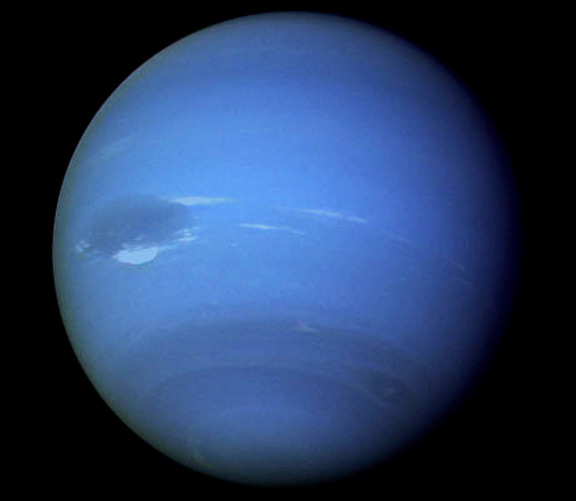 And so, it'll be a gaseous atmosphere. It probably won't have clouds. It's probably too cold to have any clouds up in the atmosphere, so in fact, it might be quite bland. A mostly just kind of greyish-white atmosphere with no features in it, but it's easy to speculate that. We are almost always surprised when we find real objects, and so the one thing that I know for sure is that there will be things about it that we never even thought about that are completely surprising.
Mysterious Planet 9 Is 2.5 Light-Days from Earth 
EXACTLY HOW FAR FROM EARTH TO WHERE YOU THINK THIS PLANET 9 OBJECT IS?
We think it's about 500 times further distance than the distance from the Earth to the sun. So, that puts it at something like 20 times further than Neptune, for example. So, it's a good ways out there.
IS THAT A QUARTER OF LIGHT YEAR?
Oh, no. It's not even close to a quarter of a light year. It's about two and a half light days.
TWO AND A HALF LIGHT DAYS FROM EARTH. IS THAT THE BORDER BETWEEN THE KUIPER BELT AND THE OORT CLOUD?
Well, that's actually a really good question, to which we now don't know the answer. Before we realized that there was a planet out there, we thought we knew about the border. But now that there's a planet where that border we thought was, now we're less sure because we don't know what is beyond that planet, and we don't quite yet know how that planet is affecting what this border is.
WHAT WAS IT THAT MADE YOU, AN ASTRONOMER, REALIZE THAT SOMETHING TEN TIMES THE MASS OF EARTH COULD BE THERE IN THE FIRST PLACE?
Yeah, the clue that there is another planet out in the solar system really came from looking at the very most distant objects that are in orbit around the sun well beyond Pluto. They travel extreme distances. And all of these ones that are this far away all sweep off in one particular direction. And there's no reason they should. They should be randomly around the sky. The fact that they're all off in this one direction can only be explained by the presence of a planet that's perturbing their orbits and keeping them piled up in that direction.
"Goblin" Dwarf Planet Is Further Proof Of Massive Planet At Far Edge of Kuiper Belt

WHAT THE NEW HEADLINES IN OCTOBER OF 2018 ARE ABOUT IS ONE OF THOSE SMALLER OBJECTS THAT'S BEING SWEPT OFF BY WHATEVER THE MASSIVE, WE'LL CALL PLANET 9 THAT YOU DISCOVERED IN 2016.
That's exactly right. Although, I don't use the word discovered yet. I would say we proposed the planet, and when we see it, it will have been discovered.
Is Planet 9, or X, Also Nibiru Described by the Ancient Anunnaki Before Sumerians?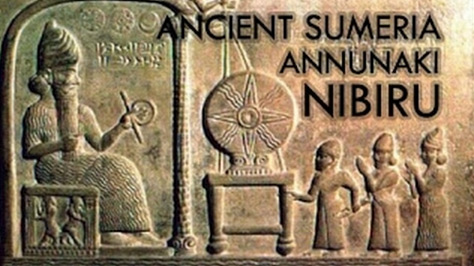 WHAT DO YOU SAY TO PEOPLE WHO ASK QUESTIONS ABOUT ROGUE PLANETS AND THE NIBIRU OF THE ANNUNAKI OR SUMERIAN AND ALL OF THAT BECAUSE IT DOES COME UP A LOT? WHAT EXACTLY ARE ROGUE PLANETS? HOW CAN A PLANET BE WANDERING IN THE UNIVERSE BETWEEN SOLAR SYSTEMS AND GALAXIES?
There certainly are these wandering planets, rogue planets, and they come about from the same sort of reason that we think that Planet 9 is out there. They certainly formed around a star just like our planets did, and then probably a couple of planets got too close to each other, and one of them got tossed out. Usually the smaller one gets tossed out by the bigger one. And in our case, we think that happened to Planet 9, but Planet 9 didn't get tossed quite far enough, so now it's just hanging around on the outer edge. But if it had gotten a little bit closer to, say, Jupiter, it could have been completely ejected from our solar system, in which case it would just be wandering through space. And so, it is absolute certainty that these sorts of things exist. There's no question about it. When people ask me about Nibiru, that's always a funny one because of course that's a conspiracy theory that there's a giant planet that's going to destroy the Earth that NASA knows about and won't tell anybody and things like that. And I try very hard to explain to people that this is just crazy YouTube Internet conspiracy stuff that actually makes no sense.
EXPLAIN FOR A GENERAL WORLD AUDIENCE WHY SOMETHING MASSIVE LIKE A PLANET CANNOT SNEAK UP ON EARTH AND THE INNER PLANETS WITHOUT EVERY ASTRONOMER ON EARTH KNOWING.
If something like Nibiru—I don't know what the latest crazy conspiracy theories are saying how big it is, but occasionally you'll read a headline that it's going to destroy the Earth on some particular date because it's screaming into the inner solar system. Usually, if you just do a very quick calculation, you realize, if it were really coming, it would be so bright that you could see it with binoculars. Every person who owns binoculars on the planet could go look and see it coming. We wouldn't be able to have a NASA conspiracy keeping it secret, and it would have been visible to every backyard astronomer with a telescope for the past decade, and it would have been visible to every professional astronomer for the past 50 years. If all of these people are in on the conspiracy, I don't know anywhere else where that many people are all keeping a secret from the rest of the world.
IF SOMETHING TEN TIMES THE MASS OF OUR EARTH WERE EVEN OUT PAST PLUTO, OUT IN THE KUIPER BELT, WHAT WOULD BE THE OBVIOUS OBSERVATIONAL CHANGES, PERTURBATIONS, IN OUR SOLAR SYSTEM?
In the inner part of our solar system—the inner part meaning the planets that we know of—Planet 9 has no effect whatsoever on the inner planets. And you can figure out why. It's ten—we actually think more like seven now—seven times the mass of the Earth, and it is 500 times further away from the sun than the Earth is. Jupiter, on the other hand, is 300 times the mass of the Earth, it's only five times further from the sun than the Earth is. So, Jupiter has a tremendous effect on the planets in the solar system, and nobody sits around and is worried that Jupiter is going to suddenly come and destroy us. Planet 9 is really far away and quite a bit smaller than Jupiter, so it's affect is really minimal. The one effect that it does have is that over four billion years, it is capable of slowly tilting the orbits of the planets, but even that is just a very, very minor effect.
IF YOU'RE GOING TO HAWAII IN NOVEMBER, AND MAYBE YOU'LL BE SUCCESSFUL THIS TIME, WOULD IT BE POSSIBLE TO TALK WITH YOU IN DECEMBER ABOUT WHAT YOU MIGHT FIND, OR DO YOU HAVE TO WAIT TO DO PAPERS, OR?
Yes, the way the process works is we'll go there in November, we'll collect the data, it'll take us several weeks to a month to process the data from November, and then we're back there the first of December, and we'll do the same thing. And so, if we have found what we're looking for, we will know it within a month or two of collecting those data. And then at that point, we'll announce its existence as soon as we can confirm it. We will have found it, we'll go back to the telescope and double check that it's really there, and then we'll announce its existence right away. We won't make the world wait.
GOOD. SO, JANUARY OF 2019, IT IS POSSIBLE THAT THREE YEARS AFTER 2016, JANUARY WHEN WE DID OUR FIRST INTERVIEW ABOUT IT, THAT YOU MIGHT BE ABLE TO CONFIRM IT?
It's possible. I'm always very optimistic. Konstantin Batygin, my partner in all this, is always much more pessimistic, and so, you know, you should take my optimism with a grain of salt and take his pessimism with a grain of salt. He thinks it will take us another ten years. I think it'll take us one year. So, maybe that means another three years. But I'm still very optimistic."
Also see:
01-27-2017 – Search Ongoing for 9th Planet, So Massive It Tilts Solar System Planets 6 Degrees
---
More Information:
10-22-2016 – Is Our Sun's Mysterious 6-Degree Tilt Linked to A Huge 9th Planet?
01-29-2016 – Gravitational Evidence of 9th Planet 10 Times the Mass of Earth!
03-30-2007 – Fastest Rotating Object in Our Solar System is One of Strangest
09-15-2005 – "Planet X" and the Kuiper Belt's Oddballs, "Santa" and "Easterbunny"
07-30-2005 – Astronomers Report 10th Planet Far Beyond Pluto
03-15-2004 – Most Distant "Icy Planetoid" in Our Solar System Has A Most Baffling Orbit
---
Websites:
Hypothetical Planet 9, or X, by NASA:  https://solarsystem.nasa.gov/planets/hypothetical-planet-x/in-depth/
Nibiru of the Anunnaki:  https://en.wikipedia.org/wiki/Anunnaki

© 1998 - 2019 by Linda Moulton Howe.
All Rights Reserved.