"The loss of sea ice in the Arctic … it went like two or three times faster than the climate models projected. …And ice melting in Greenland and Antarctica will continue to accelerate … and could add to increasing sea level rise, maybe up to three feet higher." 
– Drew Shindell, Ph.D., Coordinating Lead Author, IPCC Report, Duke University, Durham, NC
October 26, 2018  Durham, North Carolina – Thirty years ago in 1988 when the world was waking up to global climate change and potentially dire consequences in the future, at the United Nations many countries came together to form the Intergovernmental Panel On Climate Change, known as the IPCC, to provide objective science data about Earth changes and projected impacts on world politics and economies. By 2015 and the Paris agreement on climate change, many small island nations were so worried about disappearing under rising sea levels that the IPCC committed to doing a 2018 report written by 91 scientists from 40 countries. The question was: should humans restrict global warming to 2 degrees Celsius?  or 1.5 degrees Celsius?  below pre-industrial levels.  The October 2018 IPCC answer is: the stricter 1.5 degrees Celsius limit (2.7 degrees Fahrenheit) should be the new target to achieve and hold in place by 2030. That's only a decade from now.
If our planet continues to warm up above that limit, scientists warn there will be a catastrophe of mass die-offs in coral reefs that will kill off other marine species dependent upon the coral; weather will become more violent in winds, flooding rains and devastating wildfires; weather extremes will cause famine and fighting over land, food and fresh water; and sea level rise will force more and more island and coast populations to move — but to where?
The 2018 IPCC report said the next ten years between now and 2030 are crucial and in order to keep the 1.5 degrees Celsius limit nations must cut greenhouse gas emissions by almost half of what they were in 2010. Solar, wind and other renewable energy sources must replace as much as 67% of today's electricity. The coal industry around the world must be phased out.
The Coordinating Lead Author of the IPCC report says, "There's kind of a head-in-the-sand mentality that has taken root now in Washington, which seems to pretend that this (climate change threat) does not exist. But this was widely acknowledged in the defense community (Pentagon) as recently as three years ago (2015)." He is Professor Drew Shindell, Ph.D., Professor of Earth Sciences in the Earth and Sciences Division at Duke University in Durham, North Carolina.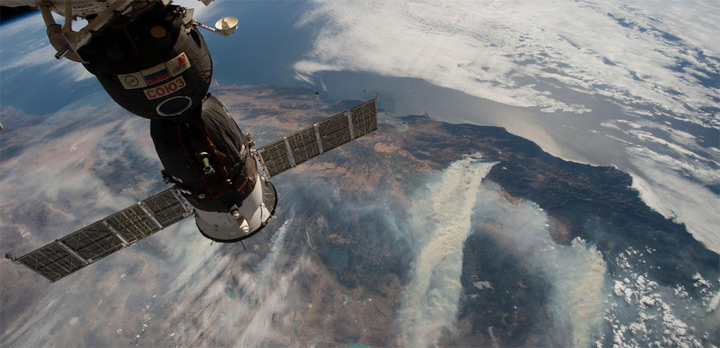 ---
Interview: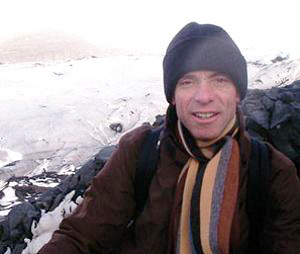 Drew Shindell, Ph.D., Coordinating Lead Author of the IPCC Report, Professor of Earth Sciences, Earth and Sciences Division, Duke University, Durham, North Carolina:  "COULD YOU PLEASE GIVE ME THE TOP FIVE PLACES IN THE UNITED STATES WHERE WATER IS COMING IN, AND FLOODING IS ALREADY MAKING PEOPLE MOVE?
I would say those are Florida, Alaska, and around the Chesapeake Bay in Maryland and Virginia, and Louisiana. So, those would probably be the top five in the United States.
WHERE WOULD BE THE FIVE TOP NATIONS IN THE WORLD THAT ARE NOW ISLANDS AND OTHER PLACES THAT ARE MOST AFFECTED BY SEA LEVEL RISE?
Around the world? Unfortunately, all too many low-lying countries, and that's a large part of why we have this new report, those countries wanted the United Nations to investigate a lower warming target, thinking that two degrees was probably not sufficient to protect them. Those are most of the islands in the South Pacific, also the Maldives in the Indian Ocean, many Caribbean countries, and then there are low-lying countries like Bangladesh where the bulk of the population lives very close to sea level. Nigeria has a huge population right near sea level, but so does most of the world. China and the United States also have enormous populations right at the coast, such as Alaska.
Persistent Flooding and Evacuations to Higher Ground
Alaska
WHERE IN ALASKA?
In Alaska, you have an interesting problem where it's a combination of rising sea levels and melting ice, and the ice protected the shorelines from the waves from the ocean. And without the ice, the waves can reach the shore more easily, and the waves are higher because of rising sea levels, so a lot of coastal communities along the west coast in the Bering Strait area, many of them are already having to be evacuated and moved to higher ground. So, it's not so much the North Slope, but the south and west coasts.
WHO IS PAYING FOR THAT?
I believe that's a combination of federal and state governments.
ALREADY MOVING PEOPLE IN ALASKA FROM FLOODING TO HIGHER GROUND.
Yeah.
Louisiana, Florida, North Carolina, Maryland and Virginia
IS THAT HAPPENING IN LOUISIANA, FLORIDA, NORTH CAROLINA AS WELL?
There's not been so much evacuation of the coast. There's been more what used to be rare flooding events that are now becoming quite common. So, I think there is likely to have to be evacuations in the next couple decades of at least some places. There's an island in the Chesapeake, for example, between Maryland and Virginia, more than half of it is already gone. And we've seen sea water come up through the drains into Charleston, South Carolina, and Virginia where nuisance flooding that was very rare has become so commonplace that governments have had to put up markers so that motorists can see how deep the flooding is, it's so routine. And Florida has been some of the worst. Flooding of streets in the southeast part of the state has become fairly routine as sea level rise has continued, and we've seen an acceleration because both the Greenland and Antarctic ice sheets are melting more rapidly than was expected just a decade ago and dumping more water into the ocean. Unfortunately, what we've been seeing over the past sever decades since we started to generate these projections from computer models, and then watched the models have often been too conservative, and things are happening faster than the models project.
Earth Change Out-racing Computer Models
CAN YOU GIVE AN EXAMPLE OF WHAT HAS BEEN DRAMATIC COMPARED TO THE COMPUTER MODEL?
One thing was the loss of sea ice in the arctic. It went like two or three times faster than the models projected.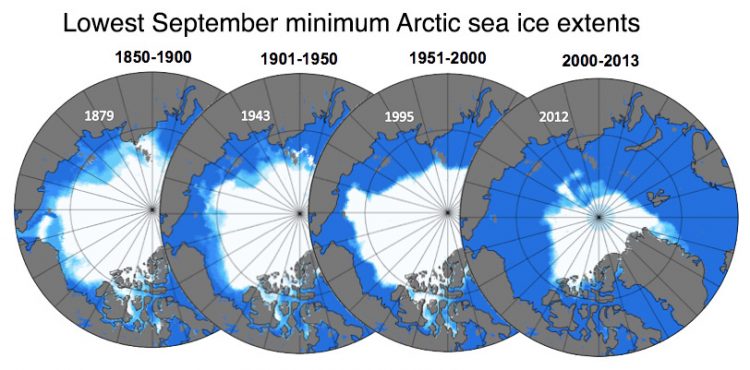 IF THE ARCTIC HAS MELTED TWO OR THREE TIMES FASTER THAN THE COMPUTERS PROJECTED ALREADY BY 2018, IS THAT A HARBINGER OF THE FACT THAT IT'S LIKELY THE WARMING AND MELTING OF ICE WILL KEEP INCREASING FASTER LIKE WHAT HAPPENED IN THE ARCTIC?
Well, we have been observing from satellites that melting of the Greenland ice sheet has been accelerating, so that is definitely a worry. It is an extremely challenging problem to figure out exactly how this massive ice sheet might become destabilized based on, say, melting from the top, water slipping down through cracks in the ice sheet and lubricating the bed below. You know, we worry because the warming has been so fast in the Arctic that the acceleration will continue.
Once-A-Century Weather Is Now Every Other Year
WE'RE SPEAKING IN OCTOBER OF 2018. WHAT WOULD YOU PROJECT WE WILL BE SEEING AS MORE DRAMATIC WEATHER EVENTS BETWEEN 2018 AND 2030?
Less rainfall in the west, increasing water scarcity, greater probability of drought, greater likelihood of high fire conditions, and we see flooding in the east as you get more extreme heavy rainfall events, and more heatwaves everywhere around the country. And we'll even see heat extremes going up in metropolitan areas around the country. So, things like Chicago in the 1990s having a severe heatwave that killed thousands of people, that kind of thing that would happen, you know, maybe every 50 years or so, that will start to become more and more frequent, and it'll begin to happen maybe every decade or so where places like Phoenix will still hit extreme heat for Phoenix. So, even the temperatures in a hot place, they will go up and become even hotter.
YEAH, AND THE NEW YORK TIMES ON SEPTEMBER 25TH DID A LARGE MAP IN A SECTION CALLED "DANGEROUS DAYS: YOUR HOMETOWN IS GETTING HOTTER," AND IT SHOWED THAT IN MIAMI, FOR EXAMPLE, THE EXTRA DAYS OF TEMPERATURES ABOVE 90 DEGREES FAHRENHEIT BY THE END OF THIS CENTURY FOR MIAMI WERE 78 MORE DAYS  — IF MIAMI ISN'T ALREADY UNDERWATER.
So, what was something like a one in a hundred event can become as often as every other year. And so, these really extreme floods, extreme heat, these become much more common in the future and can have devastating consequences.
RIGHT NOW, WHAT ARE COMPUTER MODELS SHOWING TO THOSE OF YOU WHO WORKED ON THE IPCC REPORT ABOUT WHAT WE CAN EXPECT, SAY, IN NORTH AMERICA IN JUST THE NEXT DECADE BECAUSE WE'VE ALREADY REACHED ANOTHER HALF DEGREE WARMER, AND IT'S PROJECTED THAT WE MAY GO UP TO TWO?
It could be substantially worse than even those best estimates.
Politics and Economics Ignore Increasing Greenhouse Gas Threat
BUT THE POLITICS OF THE PLANET DON'T SEEM TO BE SUPPORTING DRAMATIC REDUCTION IN THE GREENHOUSE GASES. IN FACT, IT SEEMS THAT SOME OF THE LARGER NATIONS, THE UNITED STATES INCLUDED, BY ADDING COAL NOW TO AN INDUSTRY THAT WE THOUGHT HAD ENDED, THAT WE ARE GOING TO BE CONTRIBUTING OURSELVES TO INCREASING AMOUNTS OF GREENHOUSE GASES AND ACCELERATING THE AMOUNT OF WARMING SO THAT WE WOULD BE OURSELVES PUSHING THE NEEDLE ON THE COMPUTER MODELS IN WHICH THERE IS EVEN MORE RAPID WARMING.
Well, unfortunately, you've put your finger on it. My guess is that the politicians assume that the problems will only become more severe once they're out of office. And so, if they are thinking of the next two to four to six years, which is most of the political offices, then they are assuming that they can cope with that short a period of time, and it will be somebody else's problem a decade or two decades from now.
MEANWHILE, WE'RE FACING THE FACT THAT THERE PROBABLY WILL BE A LOT OF PEOPLE WHO ARE GOING TO BE FORCED OUT OF HOMES AND HOUSES.  WHAT IS THE UNITED STATES AND THE WORLD GOING TO DO WITH WHAT HAS TO BE FUTURE MIGRATIONS AWAY FROM COASTLINES?
Certainly, there will be an impact. There already are places that are having to be abandoned in both the East Coast and in Alaska due to rising sea levels. And that will only continue to get worse. We will have an increasing number of domestic migrants. But it's really the developing countries where there are far more people susceptible where there are likely to be enormous numbers affected by sea level rise and forced to migrate as their cities become uninhabitable. And that's really one of the things that the report highlights where you get millions of such migrants at 1.5 degrees. But you add many tens of additional climate refugees as you go up to 2 degrees, and that will be a problem for all the wealthy countries because naturally you want to go somewhere where there are better prospects. And so, I think we can expect North America and Europe and parts of Asia to see lots of migrants coming from low latitudes. And in fact, I think we've already been seeing that in Europe. That's part of the reason for the Syrian civil war and intense drought. All of the migrants that were coming up to Europe after that, which led to a lot of the crises there.
SO, DOESN'T THAT MEAN THAT THERE COULD BE A TREMENDOUS INCREASE OF CIVIL STRIFE AND WARS BECAUSE OF THE MIGRATIONS OF PEOPLE AWAY FROM COASTS?
Well, this has been something that has been identified by lots of American officials in the Defense Department and in the Central Intelligence Agency. During the Obama administration, climate change was considered a major threat multiplier and driver of probable future conflicts. And again, there's kind of a head in the sand mentality has taken root now in Washington, which seems to pretend that this doesn't exist. But this (climate change threat) was widely acknowledged in the defense community as recently as three years ago.
SO, GLOBAL CLIMATE CHANGE AND INCREASING WARMTH COULD DEFINITELY BRING MORE WARS?
Yes."
Also see:
08-30-2018 – Why Are 2018 Wildfires So Ferocious?
09-29-2017 – Storms Keep Getting Stronger With More and More Water
---
More Information:
12-18-2015 – Will New Paris Climate Agreement Be Able to Limit Global Warming to 2 Degrees C. (3.6 deg. F.) Above Pre-Industrial Temperatures?
06-03-2002 – EPA Admits Humans Burning Fossil Fuels A Big Factor in Global Warming
02-13-2002 – January 2002 Warmest On Record For Whole World
01-24-1999 – Nuclear Sabotage in Maryland; Bull Mutilation in Colorado; and Global Warming
---
Websites:
"Special Report On Global Warming of 1.5 Degrees C.," October 2018:  http://www.ipcc.ch/index.htm

© 1998 - 2019 by Linda Moulton Howe.
All Rights Reserved.