"The orb was glowing white and lime green light and I'm seeing a person standing inside wearing a gown."
– Retired USAF Staff Sergeant Tony Guy, Winston-Salem, NC, about 1965 sighting
October 26, 2018  Winston-Salem, North Carolina –  If you Google "UFOs in Ancient Paintings," several dozen images and websites will emerge, including a 1561 woodcut found in Nuremberg, Germany, that depicts a large, black, sword-shaped aerial vehicle in the sky where colorful aerial spheres, cylinders, rods surround an illustration of the sun as if it were watching a battle of different technologies over the Nuremberg, Germany, landscape 457 years ago.
Another famously strange painting is a wall fresco from 1350 A.D. entitled "The Crucifixion," by an unknown artist 668 years ago that has a crucified Christ in the center. On either side of him in the sky are angelic beings with wings and two odd aerial vehicles, each containing a human-like figure. The being on the right seems to be looking back from his craft to the being in the other craft behind. This artwork hangs in the Visoki Decani Monestary in Kosovo, Serbia.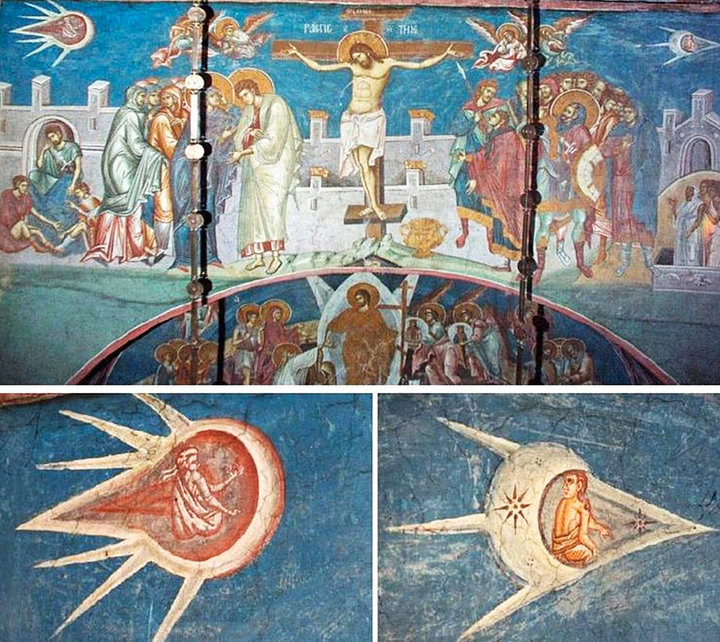 Going back 1,432 years to 586 A. D., another crucifixion painting by Dutch artist Meister des Rabula-Evangeliums  depicts white and dark spherical UFOs in the background sky on either side of the crucified Christ. The UFO on the right has a humanoid face painted on it. This now hangs in the Florence, Italy, Biblioteca Medicea-Laurenziana.
On October 10, 2018, I received the following email from a retired USAF Staff Sergeant named Tony Guy. He also sent me his DD214 to prove his military background, which I have included at the end of this report. His email contained a life experience he wrote up for me entitled: The Experience That Made Me A Believer: We Are Not Alone.  It begins:  "Hi, Linda, My name is Tony. I would like to tell you about something I saw as a black child. I am 57 now, but at the time of the incident, I was 4 or 5 years old in 1965 or 1966. I was in my bed one night and I had woke up and couldn't go back to sleep…"
Here now from Winston-Salem, North Carolina, to tell what stunned him as a child and haunted him to this very day is retired USAF Staff Sergeant Tony Guy.
---
Interview:

Tony Lee Guy, retired USAF Staff Sergeant, Winston-Salem, North Carolina:  "I lived in Dayton, Ohio. I was about four years of age. I lived with my mother, and she had a best friend that she lived with in a two-bedroom apartment.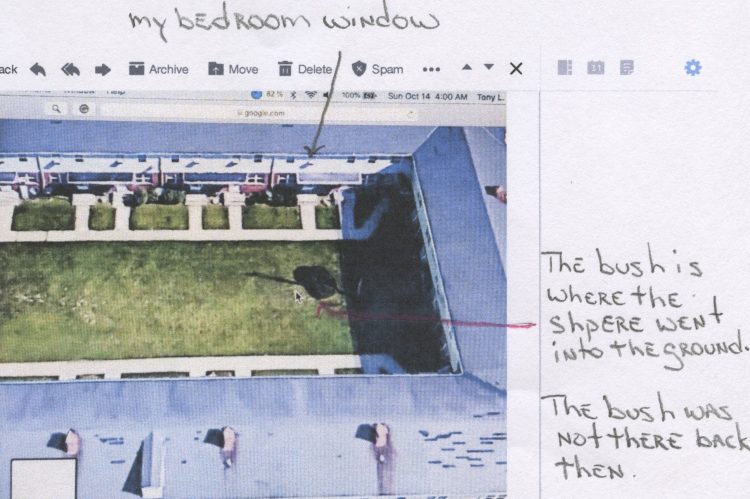 My mother had two children, and my mother's friend had two children, and we were all about the same age. It's a two-bedroom apartment, and it's two levels. You have to go up the stairs to get to the two bedrooms and the bathroom. And I was in my bed sleeping along with my brother and two other kids, and I woke up in the middle of the night. I had trouble going back to sleep, and I'm just staring in the dark, couldn't go back to sleep. So, I decided to get up out of the bed, and I went to the window. And I was just looking out the window, and it was very quiet. I didn't hear any cars. That's how I knew it was very late at night because I didn't even hear a car go by.
So, I'm looking around, and I happen to look up, just look up in the sky, you know, just looking around because there was really nothing to see but a grassy field in between the apartments. And so, I look up, and I see a light, a bright light in the sky. I assumed it was an airplane, that same light I was looking at, because it was the only thing in the sky. I noticed something was coming down, and by the time I noticed it, it may have been about, I'd say, 50 or 60 feet off the ground. The light that I was looking at come down. It was an orb. What I noticed about it was one half of it was soft white color, and the other half of it was neon green color, you know, like the glow sticks that you see at the concerts when they have the glow sticks that are neon green glow sticks?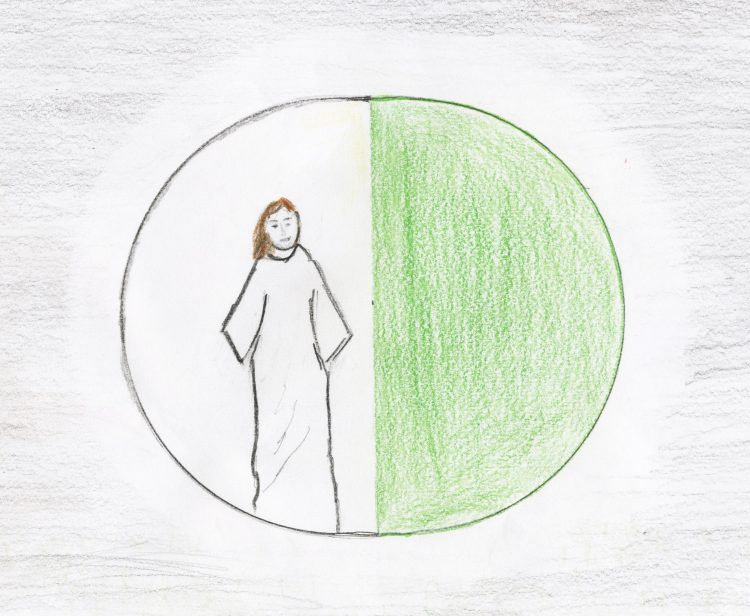 RIGHT.
It looked like that. And I was saying to myself, "This looks almost like a perfect circle, but it's a little off," as if you cut the perfect circle in half and then just pulled it apart a little bit.
A LITTLE WIDER IN THE MIDDLE THAN IT WOULD HAVE BEEN IF IT WERE A PERFECT CIRCLE.
Yeah. And I noticed that where the two lights met in the middle, the soft white light and the lime green light, there was no bleed over. You could clearly see where the neon green ended, and the soft white began. And this object, it looked to be as thin as a balloon.
WHEN YOU SAY IT WAS LIKE A BALLOON, YOU MEAN THAT THE SURFACE WAS TRANSLUCENT, AND YOU COULD SEE THROUGH IT?
Yeah. I could clearly see through it. It was no metal, nothing like that. It was more like a see-through balloon. So thin it was like you're looking at a see-through balloon.
WHAT ARE YOU SEEING?
What I'm seeing is a person standing inside the soft white part wearing a gown, and he's looking up. He's just standing there looking up like he's looking up into the stars. I don't know what he's looking at, but I could clearly see this, and I'm saying to myself, "Look at that! That's a person!"
And keep in mind, I'm no more than 25 to 30 feet from this event. And the only reason I didn't climb out that window that night was because I was like, "If you knock out this screen and go down there, your mother's going to beat you."
(LAUGHS)
You know, a child's thought? That's what I was thinking. I was like, "Man, I want to go, but mom's going to beat me if I do this, you know? I know she is." But I just didn't understand as a kid the significance of this.
"Christ-Like" Figure in Glowing Sphere
SO, THIS IS VERY CLOSE TO YOU AS YOU ARE LOOKING OUT THIS WINDOW. DESCRIBE THE PERSON THAT YOU ARE SEEING IN THE WHITE SIDE OF THIS CIRCULAR ORB.
Well, I'll give you my thoughts at the time, and this is the conversation I was having to myself. I was thinking, "Man, this person looks like God." And then I thought, "I'm not going to say that unless he actually tells me he's God," —  right? And then I thought, "Man, he sure looks like the guy in the picture at church."
DESCRIBE EVERYTHING.
The gown he was wearing, like when you're looking at the soft white, I noticed it was bright, a brighter color than the white light. You can tell the difference between soft white and bright white. I could clearly see that the gown was white
Very bright white. He was looking up, and he was Caucasian, and he had brunette hair, and it came down to I'd say his shoulders, shoulder length. And he was just standing there looking up.
WAS HIS HAIR STRAIGHT, WAVY, OR CURLY?
I'd say it was straight, just like you see when you see these motion pictures, Jesus of Nazareth. It was like that.
WERE YOU CLOSE ENOUGH TO SEE THE SHAPE OR COLOR OF HIS EYES?
No, I wasn't close enough to see that.
WHAT WAS THE SHAPE OF THE GOWN?
From what I could see, it looked like it pulled over his head. It all looked like one solid piece, and it went all the way down to his feet.
COULD YOU SEE HIS FEET IN THIS SPHERICAL CRAFT?
No, I couldn't.
SO, HOW DO YOU KNOW IT WENT DOWN TO HIS FEET?
Because I could see that the orb where he was standing was at the very bottom of it. I could clearly see the whole sphere. It's kind of strange because I could see him in it, but I couldn't look in the green part and see those apartment buildings on the other side.
SO, FROM 25 TO 30 FEET AS A FOUR-YEAR-OLD LOOKING OUT YOUR APARTMENT SECOND STORY WINDOW, YOU ARE ABLE TO LOOK THROUGH THE SURFACE OF THE WHITE SIDE OF THIS SPHERICAL ORB OR CRAFT AND SEE THE MAN INSIDE THE WHITE SIDE?
Yes.
BUT YOU COULD NOT SEE INTO THE LIME GREEN, AND YOU COULDN'T SEE PAST THE LIME AND THE WHITE?
Yes.
THE FACT THAT IT BLOCKED OUT THE APARTMENT BUILDINGS THAT WERE BEYOND IT SEEMS TO SUGGEST THAT EVEN THOUGH IT APPEARED VERY STRANGE TO YOU, THAT IT HAD TO HAVE BEEN SOLID MATTER OR AT LEAST BLOCKING PHOTONS TO HAVE BLOCKED OUT THE BUILDINGS THAT WERE BEHIND IT?
Yes. This sphere is floating down as if you would blow up a balloon and toss it in the air. That's about the speed this thing was coming down. And I was thinking that it was going to land. I needed to get down there and ask this person some questions, you know? But as it got toward the ground, I watched it go into the ground like it wasn't even there.
LIKE THE GROUND WAS NOT THERE?
Yeah. Like the ground wasn't even there. It was there one minute, and then I could see it piece by piece just going into the ground just as easy as you could pass through water. That was it.
DID YOU SEE ANYTHING CHANGE ON THE SURFACE OF THE CRAFT OR HIM AS IT WENT INTO THE GRASSY GROUND?
No. I literally saw no change. I saw no change in the grass and stuff being moved. It was as if, literally, as if the ground wasn't there.
NOW, YOU ARE FOUR YEARS OLD WATCHING THIS, WHAT IS THE VERY NEXT THING YOU DO?
The very next thing I did was, I said to myself, "This is interesting, and I guess you can disappear, travel through stuff like it ain't there." And then I went back to bed and finally went to sleep. (Laughs)
October 2018: Tony's Email to Earthfiles.com
YOU SENT ME BY EMAIL A WRITTEN STORY ABOUT THIS THAT YOU CALLED "THE EXPERIENCE THAT MADE ME A BELIEVER THAT WE ARE NOT ALONE." CAN YOU EXPAND ON WHAT IT WAS IN BEING FOUR YEARS OLD AND SEEING THIS SPHERE WITH A MAN IN IT THAT LEFT YOU WITH THIS RESIDUE THAT YOU WOULD WRITE ME IN OCTOBER OF 2018 "THE EXPERIENCE THAT MADE ME A BELIEVER THAT WE ARE NOT ALONE?"
Well, first off, what I want to say is when I saw this sphere, there was no controls that I could see, anything besides what it was—a little bit bigger than the person that was in it, right? And I'm wondering to myself, "How's he controlling this thing? How's this being done?" I haven't seen that from that day until now. Nothing even similar to that. That told me right then and there that we are not alone because who shows up in the hood wearing a gown floating in an orb? It's just crazy!
AND COULD GO INTO THE GRASSY GROUND AS IF THE GROUND WERE WATER AND THE SPHERE WAS JUST SINKING THROUGH THE SURFACE.
Yes. It's like what you see on the sci-fi channels or something, you know, people passing through walls or dematerializing from one point to another. I can believe it now because I literally watched somebody pass through the Earth as if the Earth wasn't there. No stopping. Just right through.
DO YOU STILL FEEL THAT THIS WAS JESUS CHRIST IN THE SPHERE?
Well, my thoughts were I feel that I'm not going to say that unless that person were to come out and tell me it was him. I can only tell you what I saw. I can't explain it all or whatever.
AS WE'RE TALKING IN OCTOBER OF 2018, WHAT DO YOU THINK TODAY AT AGE 57?
I think it's obvious that our government isn't telling us the truth about a lot of things. And I think that all of this stuff, you know, I've never seen aliens, per se, meaning the Greys or any of them, but I think it's pretty credible now because you have the Internet, and people are posting flying craft, flying cubes, stuff that don't fly is flying — with no moving parts. And I think our government knows a lot, way more than what they're telling us. And I think it all goes together, this UFO stuff to what the government is doing.
AND THAT ALL OF THE ANCIENT HISTORY HAVING TO DO WITH RELIGIOUS FIGURES COULD BE ADVANCED TECHNOLOGIES BEING USED BY ADVANCED INTELLIGENCES IN THIS COSMOS.
Exactly. The aliens, or the extraterrestrials, or whatever name you want to use, they don't want to tell you about it. And so many people are being punished because of something that they saw. Why are you worried about what somebody saw if it wasn't true?
YES.
What does that tell you? Something's going on, ain't it?
YES. AND IT'S VERY REAL AND VERY IMPORTANT.
Yeah. It's very real!"
Also see:
05-26-2010 – Green Beam and White-Haired Non-Humans
---
More Information: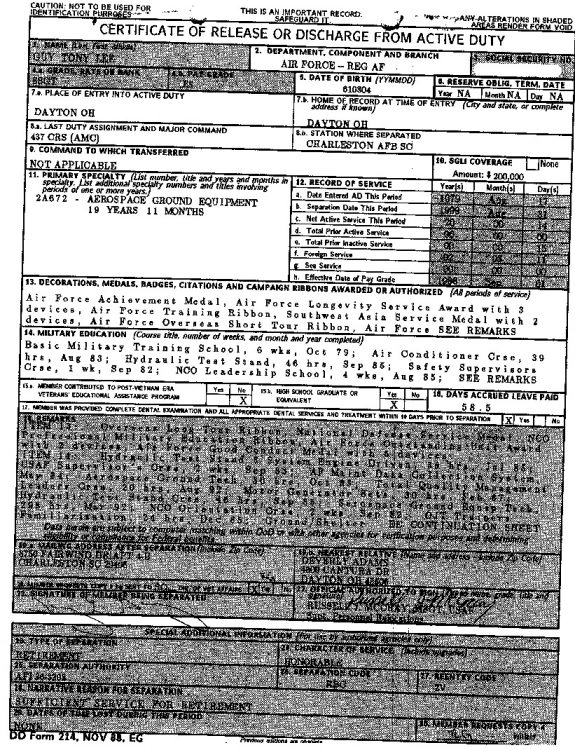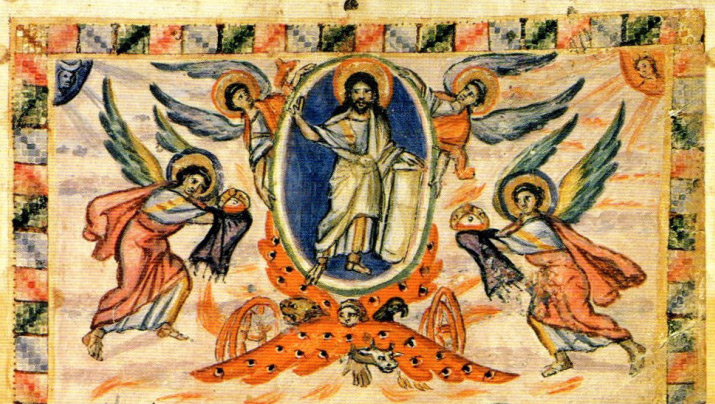 ---
Websites:
10 Works of Ancient Art with UFOs:  http://boredomtherapy.com/paintings-with-ufos/
"UFOs in Ancient Art: Hidden in Plain Sight": https://www.gaia.com/article/ufos-ancient-art
Vanderbilt Divinity Library:  http://diglib.library.vanderbilt.edu/act-imagelink.pl?RC=53846

© 1998 - 2019 by Linda Moulton Howe.
All Rights Reserved.