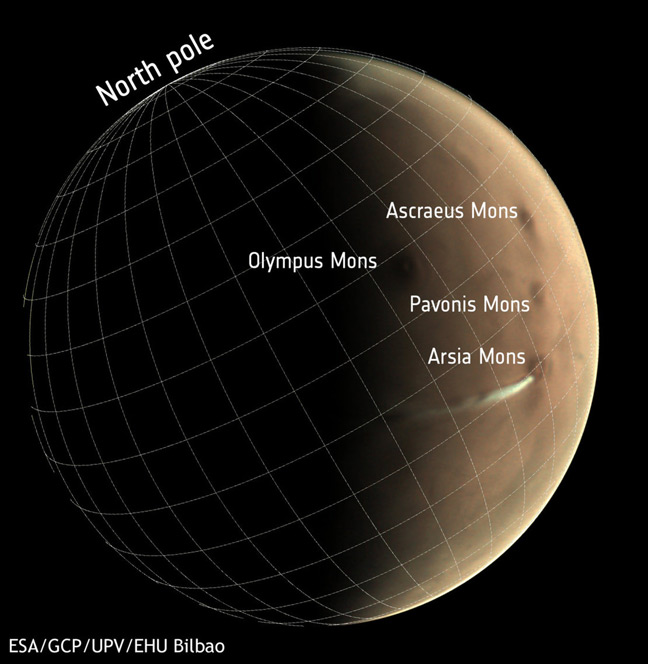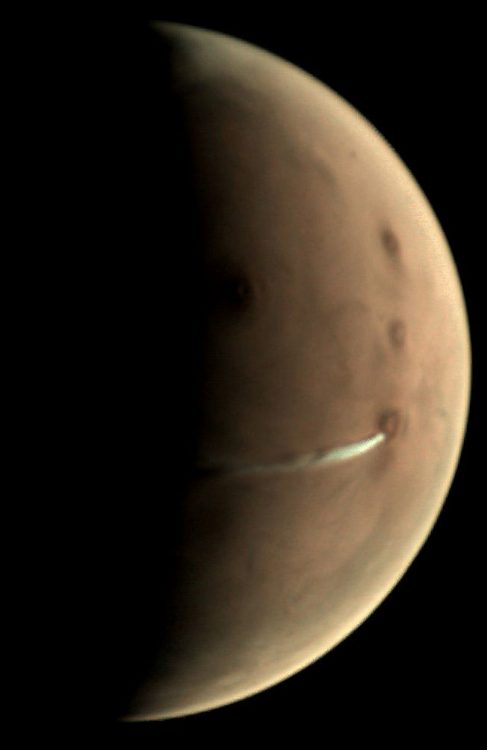 Yes, that's a volcano right below where the long cloud starts. But the volcano is supposed to be extinct. If it isn't, that's a much bigger story than a 930-mile-long (1,500 km) plume of cloud vapour over extinct volcano Arsia Mons that appeared for the first time on September 13, 2018.
Sciencealert.com writes: "While the long white cloud appears to emerge from the summit of a volcano, to researchers from the European Space Agency this is a trick of the eye. Mars has not seen a single volcanic eruption for millions of years, so there's zero chance that Arsia Mons is on the verge of reawakening. Still, even if the plume is not volcanic in origin, the elevated peak of Arsia Mons is still reponsible."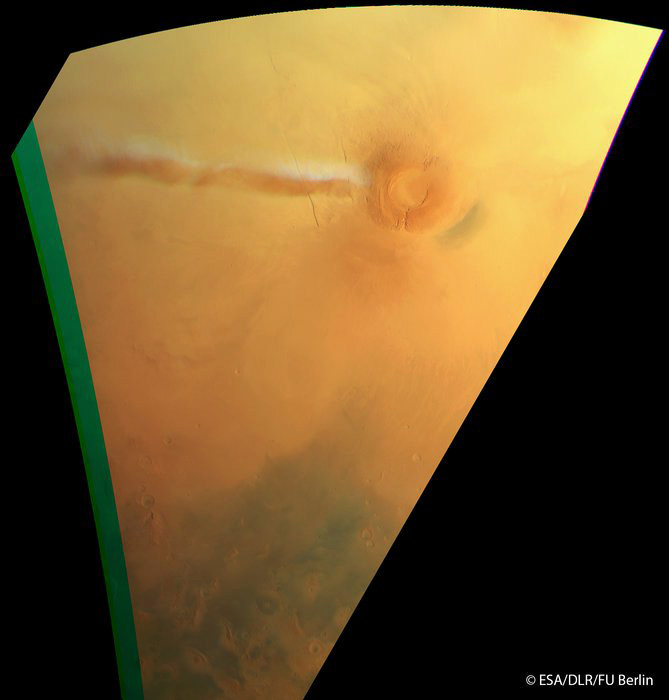 Scientists call it an "orographic cloud." On Earth, orographic clouds form on the downwind side of mountains when dense air close to the surface flows uphill. That flow causes dust particles to expand. Then they cool to a temperature where moisture can condense into water ice on the dust. The extinct Martian Arsia Mons volcano mountain has had such orographic clouds photographed before in 2009, 2012 and 2015. Scientists at the European Space Agency say they have watched the long cloud grow over a morning along the equator.
Follow the development of this cloud via the daily images sent by the VMC:
https://www.flickr.com/photos/esa_marswebcam/
Also see:
08-26-2016 – More Evidence of Ancient Thermonuclear Explosions On Mars At American Inst. of Astronautics and Aeronautics 2016 Space Conference
---
More Information:
08-08-2018 – Elon Musk's SpaceX Holding Secret Mars Workshop Today
07-25-2018 – Underground Lake Reported Beneath Martian South Pole.
07-01-2018 – Oumuamua — Comet? Asteroid? Other? Changing Speed and Course
06-19-2018 – Update: "We're Going to Have A Space Force … And Very Soon We're Going to Mars" – President Trump.
06-13-2018 – One of Largest Storms Ever Seen On Mars Threatens the Opportunity Rover.
06-07-2018 – NASA Confirms Organic Molecules On Mars — Will Life Evidence Be Next?
---
Websites:
Mars Express Press Release About Long White Cloud at Arsia Mons volcanic mountain, October 25, 2018:  http://www.esa.int/Our_Activities/Space_Science/Mars_Express/Mars_Express_keeps_an_eye_on_curious_cloud
SpaceX – Mars:  https://www.spacex.com/mars
"The first SpaceX BFR should make orbital launches by 2020," March 19, 2018, Phys.org: https://phys.org/news/2018-03-spacex-bfr-orbital.html

© 1998 - 2019 by Linda Moulton Howe.
All Rights Reserved.