"Oumuamua showed deviations from a Keplerian orbit at a high statistical significance. We discuss the possible origins of Oumuamua, including the possibility that it might be a lightsail of artificial origin … for interstellar travel."
– Schmuel Bialy, Ph.D. and Abraham Loeb, Ph.D.,  Harvard Smithsonian Center for Astrophysics, Cambridge, Mass. Prof. Loeb is Chairman of Harvard's Astronomy Dept., November 1, 2018
"This is the most extreme orbit I have ever seen."
– Davide Farnocchia, Ph.D.,  NASA's Center for Near-Earth Object Studies (CNEOS), Jet Propulsion Laboratory in Pasadena, California, October 19, 2017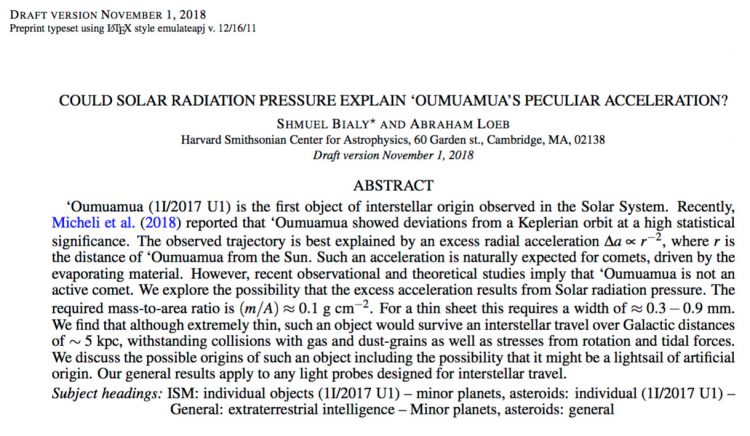 November 4, 2018  Albuquerque, New Mexico –  On October 19, 2017, the first interstellar object ever seen by humans on Earth called A/2017 U1 or "Oumuamua" had been traveling into our solar system near our sun in September 2017 at thousands of miles an hour. Oumuamua in Hawaiian means "scout or leader in a battle."
A year later on October 30/November 1, 2018, the Chair of Harvard's Astronomy Department, Avi Loeb, Ph.D., and his Israel colleague Schmuel Bialy, Ph.D., at Tel Aviv University in Israel have published a paper in the Cornell University Library archive entitled, "Could Solar Radiation Pressure Explain Oumuamua's Peculiar Acceleration?" Their hypothesis is that it could have been traveling with lightsail technology.  Prof. Loeb and other scientists are researching in Project Starshot a possible launch of a small spacecraft powered by the launch energy of laser beams pushing a small computer-craft at 20% or 30% the speed of light toward our nearest star Alpha Centauri.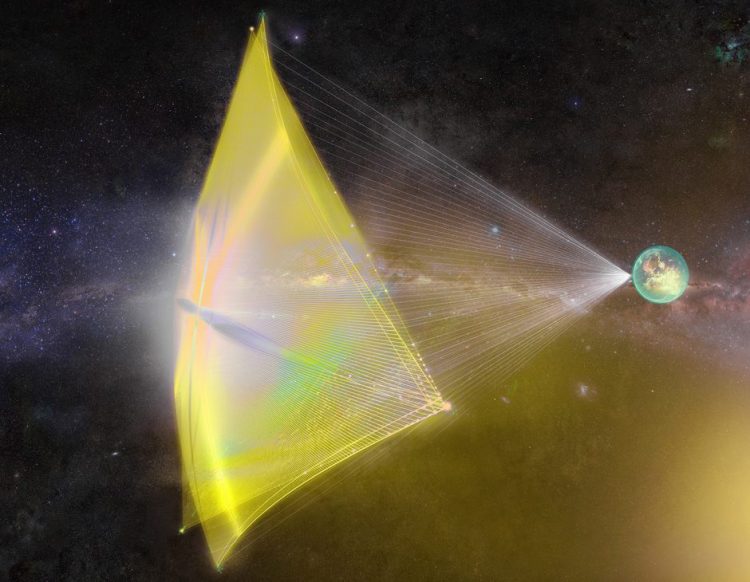 Oumuamua was first discovered a year ago by astronomer Robert Weryk using the Pan-STARRS telescope at Haleakala Observatory, Hawaii, on October 19, 2017, 40 days after it passed its closest point to the Sun. When first seen, it was about 33,000,000 km (21,000,000 mi) from Earth (about 85 times as far away as the Moon), and already heading away from the Sun. Since there was no tail, scientists decided it was not a comet. But no one got any actual images to study. The images distributed on the internet are all computer model illustrations. There is no  spectroscopy either of what Oumuamua's composition was.
"This is the most extreme orbit I have ever seen," said Davide Farnocchia, a scientist at NASA's Center for Near-Earth Object Studies (CNEOS) at the agency's Jet Propulsion Laboratory in Pasadena, California. "It is going extremely fast (the unusual object increased speed and altered orbit) on such a trajectory that we can say with confidence that this object is on its way out of the solar system and not coming back."
The CNEOS team plotted the object's trajectory and even looked into its future. Oumuamua (A/2017 U1) came from the direction of the constellation Lyra, cruising through interstellar space at a brisk clip of  56,880 miles per hour(15.8 miles/second or 25.5 kilometers/ second.)
The object made a hairpin turn under our solar system, passing under Earth's orbit on Oct. 14, 2017,  at a distance of about 15 million miles (24 million kilometers) -— about 60 times the distance to the Moon. It then shot back up above the plane of the planets and increased its speed to 97,200 miles an hour (27 miles per second or 44 kilometers/second) with respect to the Sun. Oumuamua left our solar system speeding toward the constellation Pegasus.
"What's most surprising is that we've never seen interstellar objects pass through before," said Karen Meech, an astronomer at the Institute for Astronomy at the University of Hawaii in Honolulu, specializing in small bodies and their connection to solar system formation.
Oumuamua's Bizarre Trajectory Through Our Solar System
Master geometer and astronomical calendar producer Guy Ottewell, who created the graphic above, reported that, "Oumuamua arrived from the north, at an angle of about 33° (its inclination of 123°, or 90°+33°, means that the direction is retrograde, or opposite to the general motion of the planets). It descended through the plane on August 24, inside the orbit of Mercury; was at perihelion (closest point to the sun) on August 30. It ascended back through the plane on October 13, well outside Earth's orbit. It was nearest to Earth (0.276 a.u.) on October 8. A green line connects it to Earth at the nearest moment, which was some days before the discovery. The view is from 15° north of the ecliptic plane, from a longitude of 350°, and from a distance of 6 astronomical units (sun-Earth distances). The planets are exaggerated 500 times in size, the Sun 5 times. The dashed line shows the vernal equinox direction (the zero point for sky mapping)."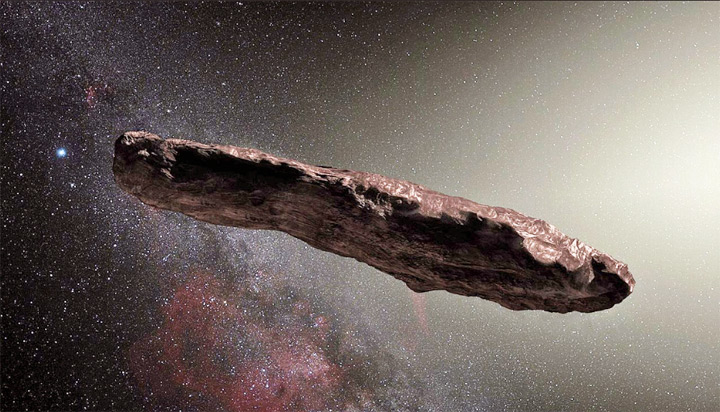 Astronomers concluded from computer modelling that Oumuamua was long, with estimates varying from about 230 by 35 meters (800 ft × 100 ft) in size to half that size. How scientists could report that the object was dark red in color without images is not explained, but dwarf planet Sedna out in the Kuiper Belt is dark red.
Oumuamua had significant elongation and rotation rate, so it was thought to be metal-rich with a relatively high density. Oumuamua tumbled over its longest length, rather than smoothly rotating around its shortest diameter. Further, it moved so fast relative to the Sun that there is no chance it originated in our Solar System. That also means that Oumuamua could not be captured in a solar orbit, so it will eventually leave the Solar System and resume traveling through interstellar space. Where Oumuamua originally came from and how long it has been traveling in outer space among the stars is unknown.
Back in October 2017,  Prof. Avi Loeb, Ph.D., Chairman of the Astronomy Department at Harvard University, along with other scientists, were listening for any signals from the object because even then there were speculations that the interstellar traveler might be artificial in origin, a scout craft camouflaged as an asteroid or comet.
Also see:
07-01-2018 – Oumuamua — Comet? Asteroid? Other? Changing Speed and Course
---
More Information:
01-04-2018 – The "Juvenile Taboo" Against Telling Truths About An Alien Presence
03-30-2017 – Repeating Fast Radio Bursts 2.5 Billion Light-Years from Earth — Alien Intelligence?
04-05-2016 – Interstellar Travel with Laser Light Propulsion

---
Websites:
"Could Solar Radiation Pressure Explain 'Oumuamua's Peculiar Acceleration?" October 30/November 1, 2018, by Shmuel Bialy, Ph.D.,  and Abraham Loeb, Ph.D., Cornell University Library arXiv.org:  https://arxiv.org/abs/1810.11490
"Could Oumuamua Be An Extra-Terrestrial Solar Sail?" October 31, 2018, Universe Today: https://www.universetoday.com/140391/could-oumuamua-be-an-extra-terrestrial-solar-sail/

© 1998 - 2019 by Linda Moulton Howe.
All Rights Reserved.