"F

or several years prior to fiscal year 1962, the Air Force had studied a proposed satellite inspector (SAINT) system, which would examine

unidentified objects in space

and determine their characteristics, capabilities or intent."
—  July 2015 FOIA-released NRO document from June 1966 archived in the USAF Historical Division Liaison Office entitled, "The Air Force in Space. Fiscal Year 1962," that identifies SAINT as an acronym for Satellite Inspector
"

W

e are indeed in conflict with various alien beings — some of which are cybernetic. We continue to lose many good men to this quiet 'conflict.' Different types of alien craft have been located on Earth, the moon and on Mars. Some alien craft we still can't penetrate or board."
— U. S. Navy Special Ops analyst to Earthfiles, December 2018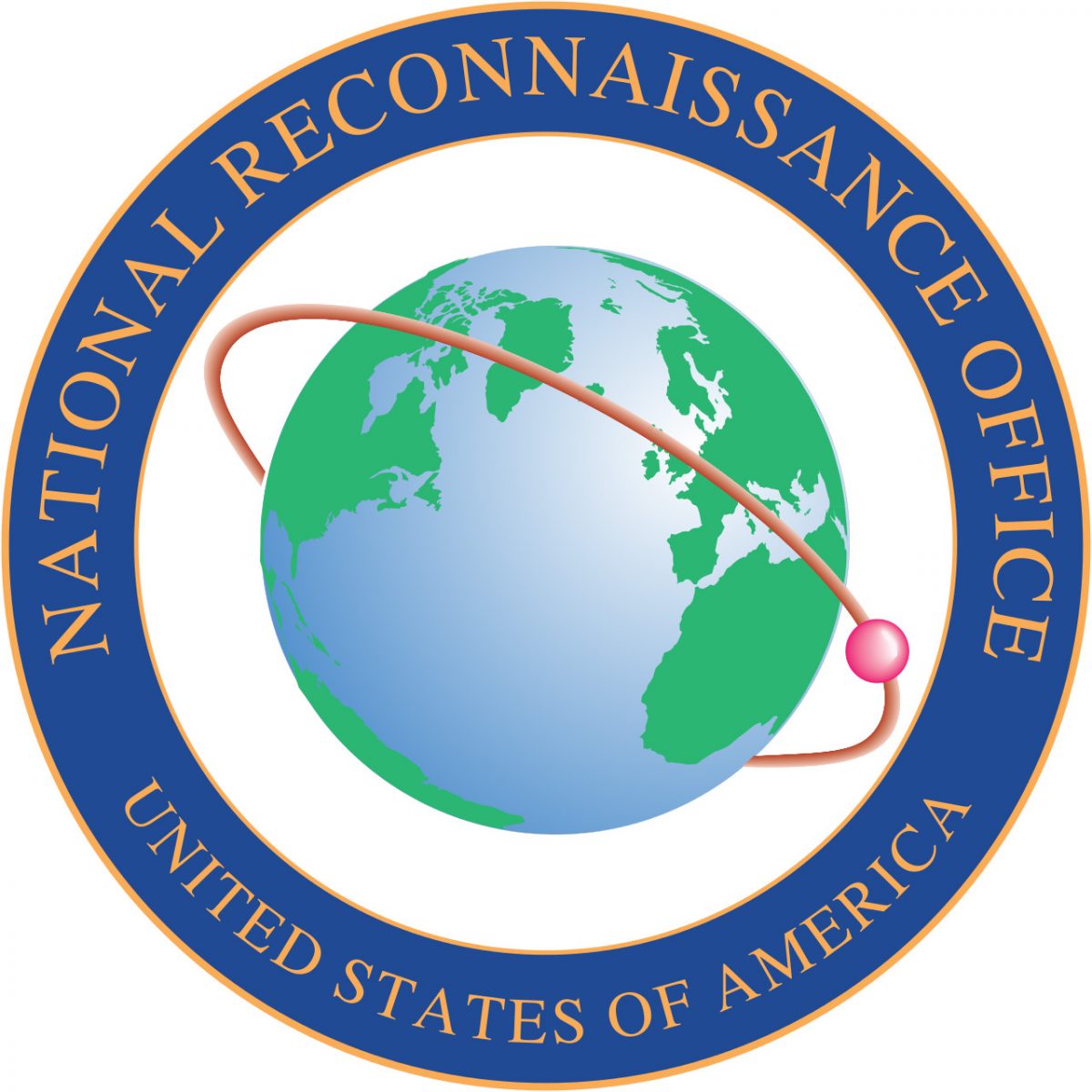 Return to Part 1.
January 13, 2019  Albuquerque, New Mexico – Secret space programs and secret astronauts. I discussed the subject with my long-time friend Winston Keech from North Yorkshire, England. Win is an engineer, IT analyst and inventor of the Volatile Pin in credit and debit card processing. Win has worked for Rolls Royce and IBM and is currently patenting a new IT invention and producing products for the health care industry. He is very interested in the Jon Lavine allegations of secret Apollo 18, 19 and 20 because in his U. K. science and engineering work, Win Keech says he has long heard rumors about an alien presence on the moon and a secret NASA Apollo 20 mission.
In fact, Win is convinced that from its creation by U. S. President Harry S. Truman on September 18, 1947, that the Central Intelligence Agency (CIA) was tasked to monitor and analyze what intelligences were behind the UFO phenomenon on Earth and if the alien presence had a base on the moon.
Manned Orbiting, or Orbital, Laboratory: MOL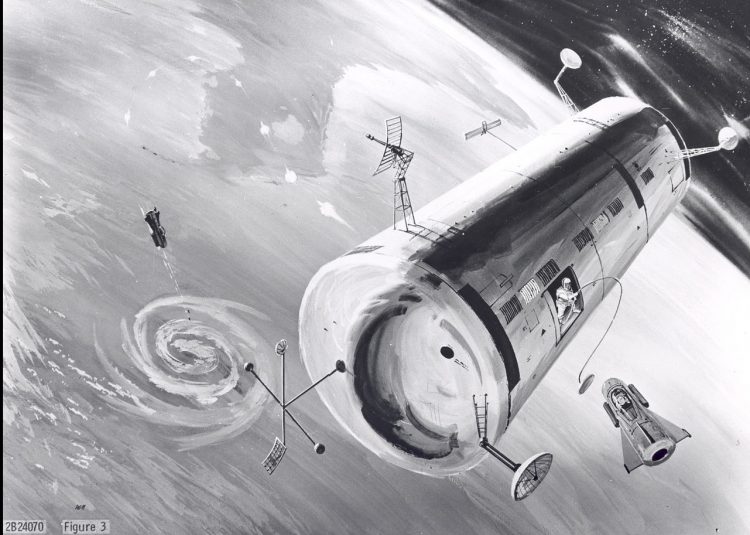 It is true that the United States Air Force secretly developed a spy program called Manned Orbiting, or Orbital, Laboratory, also known as MOL. After several years of highly secret development, MOL was first announced to the American public on December 10, 1963, as a creation of the U. S. Air Force.  But collaborating behind the MOL scenes was the highly classified National Reconnaissance Office (NRO) that was officially established on September 6, 1961, but was not acknowledged publicly until its official declassification on September 18, 1992. The MOL defense contractor was Douglas Aircraft Co. and the goal was to use secret USAF astronauts to spy on the Earth from an orbiting satellite monitored by the NRO.
So there were secret astronauts in secret space suits that worked for MOL. But by 1969, unmanned reconnaissance satellites had proved they could spy on our planet more efficiently and cheaply, so the MOL program was cancelled.
Secret MOL Spacesuits Found in 2005
But thirty-six years after MOL's secrets were closed down, security agents in 2005 at the Cape Canaveral Air Force Station in Florida got into an old locked storage room called Launch Complex 5/6 Museum. There they found two blue spacesuits that were not NASA's. These were made for the secret 1960s MOL program. One was labelled double-oh-8 (008) with the name "Lt. Col. Lawyer." The other spacesuit was labeled double-oh-7 (007) like the James Bond movies, but did not have a name. Some of those secret MOL astronauts went on to work for NASA.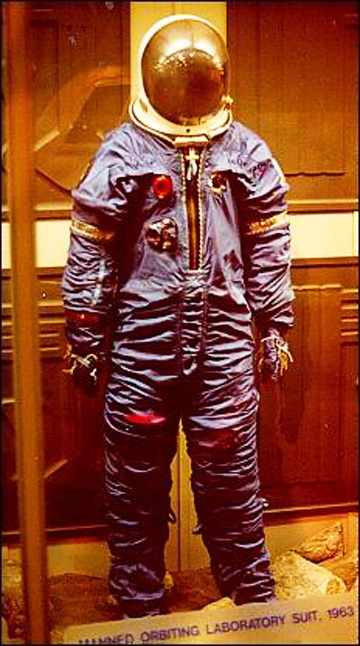 Top Secret NRO Documents About MOL Finally Declassified in July 2015
In response to a FOIA request by Ben Wright McGee, who produces Astrowright.com, the clandestine National Reconnaissance Office in July of 2015 declassified more than 20,000 pages concerning MOL program documents and images. Some of the documents are about a MOL-related program called SAINT, a USAF military space program along with Blue Gemini, which produced the vehicle used to get to and from an orbiting spy reconnaissance MOL.
FOIA Revelations About NRO Satellite Inspector Program SAINT
This is a section excerpted from a June 1966 NRO document archived in the USAF Historical Division Liaison Office entitled, "The Air Force in Space. Fiscal Year 1962," which identified SAINT as an acronym for Satellite Inspector. From Page 93, Satellite Inspector, it states:  "For several years prior to fiscal year 1962, the Air Force had studied a proposed satellite inspector (Saint) system, which would examine unidentified objects in space and determine their characteristics, capabilities or intent." [Editor's emphasis.]
Further the last paragraph below states that in the MOL summary/history document entitled, "History of the Manned Orbiting Laboratory (MOL) Program" (2/1/1970:
"On his return to the Pentagon, (Robert) McNamara (Secy. of Defense from 1961 – 1968) asked Secretary (Eugene) Zuckert (Secy. of the USAF from Jan. 24, 1961 – Sept. 30, 1965)  to review USAF space projects to determine their applicability to the following four missions: 
1)  Inspection and destruction of hostile satellites; [Editor's emphasis.]
2)  Protection of U. S. satellites from destruction;
3)  Space reconnaissance;
4)  And use of near-earth orbit effective weapons."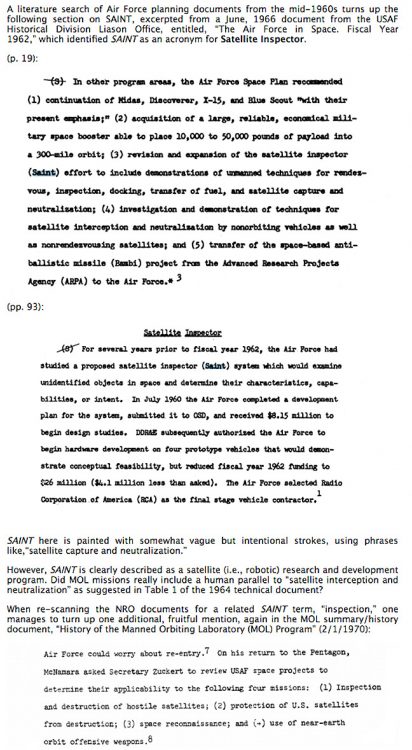 So, MOL and SAINT had secret missions to examine unidentified objects in space  (UFOs) and to determine their characteristics, capabilities or intent — plus inspection and destruction of hostile satellites (UFOs) and to protect United States satellites from destruction. What MOL would have provided was a human military presence orbiting around Earth with the knowledge and mission to detect and destroy "hostile satellites" that imply not long after World War II ended that U. S. intelligence was concerned about "unidentified objects in space" that could include unidentified "hostile satellites." [ Editor's emphasis.]
Below is another July 2015-FOIA-released document that includes "Table 1, Astronautic Missions of Naval Interest," in 1968 – 1970 that also mentions SAINT and another related USAF program called MIDAS, whose missions on the left are blacked out.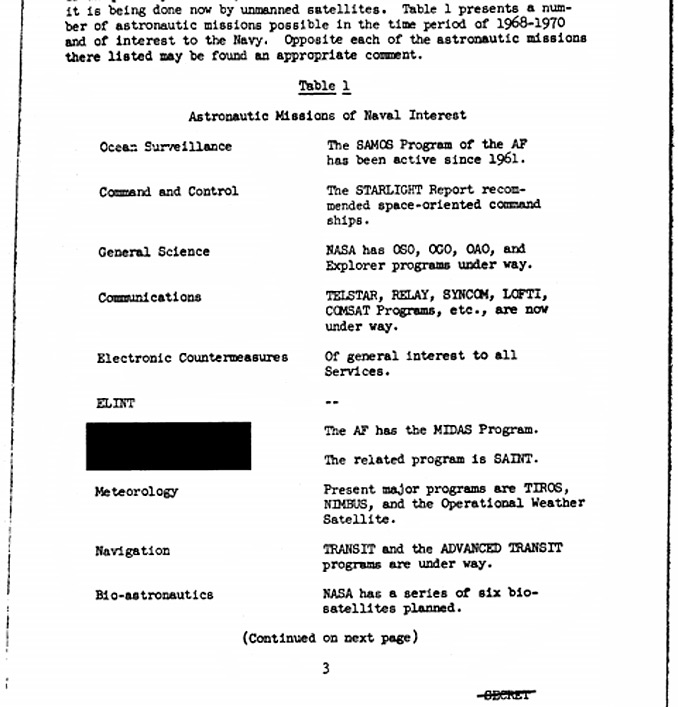 Another NRO Secret: Keyhole Reconnaissance Spacecraft.
One Became the Hubble Telescope
Win Keech told me another space secret since the 1970s has been the National Reconnaissance Office and its Keyhole series of advanced, digital imaging, reconnaissance spacecraft, known as Keyhole: KH-9, KH-10, KH-11 and KH-12. The optics were built by Perkin Elmer in Waltham, Massachusetts, for those American Keyhole spy satellites. One of the KH spy satellite optical units ended up turned around to aim toward outer space instead of the Earth — and it's called the Hubble Telescope!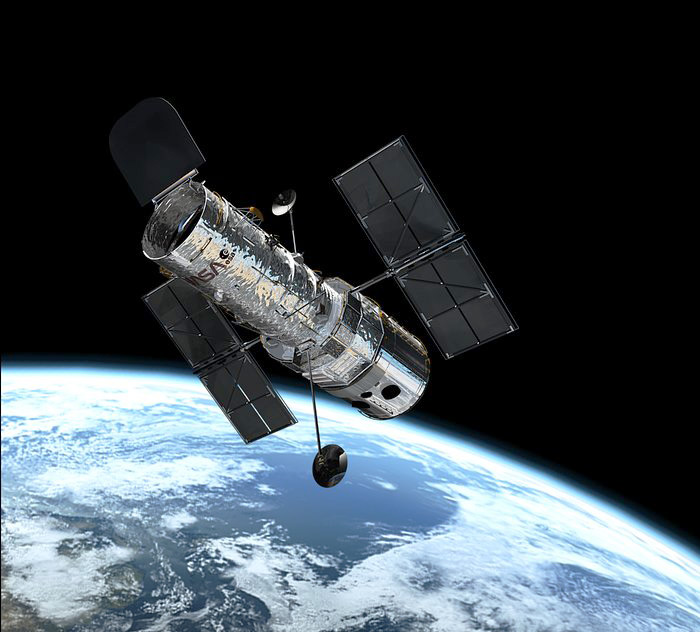 If the NRO spycraft had such spectacular optics, some spies must have been studying the moon long ago and reporting signs of an alien presence as unidentified lights have been seen moving across the lunar landscape. Then eventually the spindle or cigar-shaped object was photographed by Apollo 15 in July 1971 on the back side of the moon lying in a rut alongside a crater. Winston Keech sent me a series of what he describes as NASA-numbered frames he has had to study of the spindle or cigar-shaped-object that are shown in my interview with him below.
---
Interview: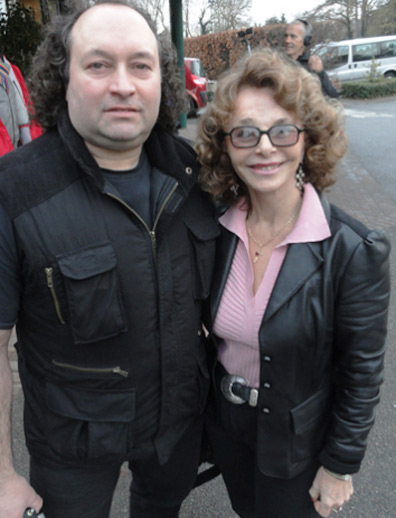 Winston Keech, Engineer, IT analyst and inventor of the Volatile Pin in credit and debit card processing, North Yorkshire, England:  "There was definitely a secret and parallel military space program behind NASA. It was in 2005 when the spacesuits were found at Cape Canaveral for that program called MOL. That was the Manned Orbital Laboratory — an orbital laboratory system, which was being used for reconnaissance over the Earth, especially the Soviet Union. And this is a program which used Titan rockets launched from Vandenberg AFB.
IN FACT, I HAVE IN FRONT OF ME A WIRED ARTICLE (see Websites below) THAT GOES BACK TO JUNE 3, 2005, THIRTEEN YEARS AGO, ABOUT THE DISCOVERY THAT NASA HAD A MANNED ORBITING LABORATORY PROGRAM, THE SECRET MOL NASA PROGRAM WITH SECRET ASTRONAUT SUITS FOR SECRET PEOPLE THAT WERE NOT DISCOVERED UNTIL THE 2005 TIME FRAME.
Yes, that's absolutely correct. And having denied for years that there was a parallel (secret military) spaceflight project. In 2005, they found a locked room, which had some of the suits from that project.
YOU WROTE TO ME:  "THE CREWS FOR THE MOL MISSIONS ARE LISTED, BUT I DON'T SEE JON LAVINE ON THAT LIST. THAT DOESN'T MEAN HE WASN'T PART OF IT, BUT DOES INDICATE THAT HE WAS NOT PUBLICLY ACKNOWLEDGED MOL.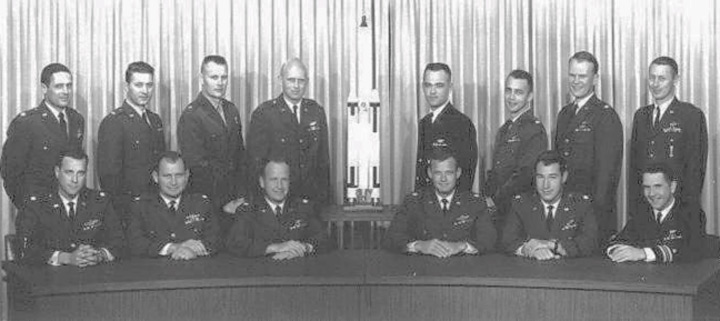 YOU CONTINUED: "WAS MOL THE MANNED KH-10 SPY SAT SYSTEM THAT FORMED THE BASIS OF THE OPTICS THAT BECAME KH-11/12/HUBBLE?   I BELIEVE THE LENTICULAR REENTRY VEHICLE WAS ALSO PART OF THAT REQUIREMENT AND WITH A SIMILAR OPERATIONAL MISSION — EXCEPT IT ALSO CARRIED FOUR SMALL NUKE MISSILES.
"MOL WAS REPLACED BY KH-11, AND THEN INCIDENTALLY, THE REASON THAT THE HUBBLE WAS SHORTSIGHTED AT FIRST IN ITS MIRROR PROBLEM IS THAT THE ENGINEERS MISTAKENLY FITTED THE STANDARD KH-12 MIRROR — WHICH IS DESIGNED TO FOCUS FROM EARTH ORBIT DOWN ONTO THE EARTH'S SURFACE — NOT OUT INTO THE INFINITY OF SPACE."
WIN, CAN YOU BREAK YOUR EMAIL DOWN? THIS SEEMS IMPORTANT INFORMATION IN RELATIONSHIP TO SECRET SPACE OPERATIONS, SECRET NASA OPERATIONS, SECRET TELESCOPES, AND SECRET ASTRONAUTS.
Yes. In the 1970s and 1980s, we were in the height of the Cold War. And there was a drive to get the maximum reconnaissance, the maximum definition of what does your opponent have in terms of deployable machinery and troops. And we saw that play out with the intrigues over the U2 spy planes, the SR-71 blackbird. We saw this playing out in public.
But in the background were a whole series of advanced reconnaissance satellites that were being developed. And the Keyhole series, the KH series, were the cutting edge of that. And then there was the transition to the Manned Orbital Laboratory idea, which had the first ever electronic camera CCD systems to replace film. So, those KH series MOLs had very powerful optics and some of the very earliest CCD cameras, which then transmitted the information directly back to Earth receiving stations.
The MOL capsule was basically a large Gemini capsule that was modified to take a very large camera system at the front and have astronauts at the back. And they were to operate this camera system to get the details of the Soviet sites that they were interested in. Then miniaturized, powerful, reliable computer systems were able to replace reliably the position of the astronauts. And this was the start of the KH-11 series. Then that became further enhanced to become the KH-12, which is the series that is the Hubble telescope, which is nothing more than a KH-12 spy satellite pointed the wrong way.
That was supposed to have a modified mirror, but due to a manufacturing error, they manufactured one that was designed to point at the ground. So when the KH-12 spy satellite was turned around to look out into the cosmos, it had only approximately a 200-mile focus as opposed to an infinity focus. And that was why there was subsequently a mission to correct the shortsightedness of Hubble!
SO, YOU'RE SAYING THAT THE HUBBLE TELESCOPE GREW OUT OF SECRET SPY MISSIONS THAT INVOLVED THE VERY FIRST CAMERA CCD TRANSMISSIONS FROM AN ORBITING SATELLITE DOWN TO THE EARTH FOR SPYING, REPLACING THINGS LIKE THE U2 MISSION.
SO, THE WHOLE DEVELOPMENT OF THINGS LIKE THE HUBBLE IS RELATED TO SECRET PROGRAMS THAT WERE SPY PROGRAMS THAT WOULD HAVE INCLUDED A SECRET NASA PROGRAM?
Absolutely. And Hubble is repurposed out of data technology from the Keyhole program. The fact that you have a telescope that can see to the far reaches of our universe shows the power of these telescopes and how they were superb pieces of engineering and that they would have been very, very protected in terms of their technology and their capabilities because if you can imagine the public is aware of the Hubble, what is the capability of the system that replaced it? And the answer is significantly better.
"KH" STOOD FOR KEYHOLE.
Yes. The electronic camera system series was Keyhole, and with KH-12, it's possible to read from orbit the writing on a baseball.
If Hubble Spycraft Optics So Fine, What Could Be Seen On the Moon?
WIN, IF IT'S TRUE THAT THE HUBBLE TELESCOPE IS TURNING AROUND A KH-12 TO LOOK OUT INTO SPACE INSTEAD OF FROM SATELLITE ORBIT DOWN TO THE SURFACE OF THE EARTH, THEN YOU CAN ALSO SAY THAT PART OF THE KH PROGRAM MAY HAVE BEEN TO BE SECRETLY STUDYING THE MOON TO LOOK FOR AN ALIEN PRESENCE.
I HAVE BEEN TOLD THAT THE UNITED STATES GOVERNMENT KNEW THAT THERE WAS AN ALIEN PRESENCE ON THE MOON IN THE 1950S. ALSO, WHEN LT. COL. PHILIP J. CORSO WROTE HIS BOOK, THE DAY AFTER ROSWELL — RELEASED IN JULY OF 1997 ON THE 50TH ANNIVERSARY OF THE UFO CRASHES IN ROSWELL —  HE PUT IN THE BOOK THAT PROJECT HORIZON, WHICH HAD BEEN SO TOP SECRET IN THE 1950S AND 1960S HAD TO DO WITH THE STUDY OF THE MOON BECAUSE HE SAID PRIVATELY THAT U.S. AUTHORITIES KNEW THERE WAS AN ALIEN PRESENCE ON THE MOON THEN.
I think it's likely. The whole 1980s development of the Star Wars SDI (Strategic Defense Initiative)  project was publicly put forward as a system to shoot down ICBMs coming up out of the Soviet Union. But what was SDI really about? And the answer is, I'm quite certain — it was designed to point the other way out into space. It was about seeing things coming from outside the Earth.
RIGHT.
Part of that would be that you need the longest-range alert of something that's coming in. So, this is why you would want to point something like Hubble into the distance because you want to see something that's coming in.
AND TO STUDY THE MOON. THAT WOULD HAVE PROVOKED NASA TO GET TO THE BACK SIDE OF THE MOON.
Absolutely. We seem to have had the capability to go there in the 1960s with the Saturn V. That's why Horizon was based upon that. So, if we haven't got an observation base up there on the moon, the only reason can be that there is something that doesn't want us there. And that may be the real reason behind these subsequent missions — Apollo 18, 19 and 20 — if they occurred as rumored.
"Memory Wipes" from CIA's MK-ULTRA
JON LAVINE SAID HE KNEW THAT HE HAD "MEMORY WIPES," MORE THAN ONCE, IN ORDER TO CONTROL HIS INFORMATION.  CAN YOU ELABORATE ON THIS CONCEPT OF USING HYPNOSIS AND CHEMICALS FOR MEMORY WIPES AND MEMORY REPLACEMENT?
Yes. The MK-ULTRA system has been available since the 1950s to 1960s. If you read Cathy O'Brien's excellent book, [ Trance: Formation of America © 1995 ], she even states that in the 1970s when she was being programmed, she was taken to NASA sites for some of the programming, which may have a bearing on this also. [ Editor's emphasis.]
Methods that were used were largely trauma-based. There tended to be failures of some of the programming, personality bubbles that had been created, which contained the memories locked away, suddenly started merging and reintegrating, and then the memories started coming back. And that's certainly what this chap (Lavine) is describing, previously unobtainable personality fragments that had been put into him and programmed. And by removing memories, you can add memories of things that never happened in the external reality, and you can also remove things that happened that you experienced in external reality that you don't want anybody to know about. So, all those things are possible, and they are very well documented now.
LAVINE COULD BE LIKE THE MANCHURIAN CANDIDATE THAT WAS A MOVIE DECADES AGO?
He could be. That's exactly the kind of mind programming that people were subjected to in those days, and it could be that he's simply the information patsy. He's set up to release this information in a soft fashion that may cause controversy, but may get the information out there to the point that it can't be redacted from the record.
American law courts, for instance, they call it "muddying the pool." So, they will come out with something that is outrageously wrong as an accusation to the person that is on trial. And then the judge will say, "Strike that from the record because that is nonsense."  But once it's been put out there, the jury can't unhear it. They are then influenced by being exposed to it. So, it may be the same — this (Lavine) may be something that puts out the information because even if it's disinformation, there will be a certain amount of real information there.  Once it's out, it can't be unheard. It's out there. It's on the record.
So, it serves the purpose, and it serves as a stepping stone to get a fuller understanding of the story. And I think only when we get the hard facts will we ever know. And that could be difficult. But certainly, a lot of the real facts in this resonate with a lot of people, which seem to point to the fact that there is a real story behind here. It's just that the way it's come out isn't a fully clear picture. And it's going to take some work and some effort to find out what is the real story. And I think when we find the real story, we're probably going to be amazed!"
Special Ops Encrypted Message Nov. 28, 2018
On December 1, 2018, right after my November 28th Coast to Coast broadcast about Jon Lavine, I received an encrypted message from an active U. S. Navy Special Ops man, who I have met and am convinced he has encountered alien entities and seen alien archaeology in his military missions.
He wrote:
"We are indeed in conflict with various alien beings — some of which are cybernetic. We continue to lose many good men to this quiet 'conflict.' Different types of alien craft have been located on Earth, the moon and on Mars. Some we still can't penetrate or board. We have made headway in replicating such advanced technologies by reverse engineering. As you can imagine, there is so much more — and very serious events are still being kept from the public. As you know, the alien capabilities, abilities for mind control and communication and technology are far superior to us and are stealthy and scary. And frankly, it is often difficult to discern who you might be dealing with due to the different alien capabilities."
Also see:
12-Part "Hall of Mirrors with A Quicksand Floor"

Return to Part 1.
---
More Information:
01-08-2019 – Part 2 – Were CIA MK-ULTRA Amnesia "Mind Wipes" Used to Control Secret NASA Programs?
01-06-2019 – Part 1: Trying to Separate Facts from Fiction in Strange Jon Lavine Tale
01-05-2019 – Elon Musk Tweet Links Apollo 11 Astronaut Neil Armstrong to Alien Presence
01-03-2019 – China's Chang'e-4 Made History Today By Landing On The Far Side of the Moon
06-07-2018 – NASA Confirms Organic Molecules On Mars — Will Life Evidence Be Next?
04-26-2018 – Scientists Trying for First Photo of Milky Way Galaxy's Black Hole
---
Websites:
U. S. Air Force Manned Orbiting Laboratory (MOL): https://en.wikipedia.org/wiki/Manned_Orbiting_Laboratory
"007 Spacesuit Found In Storage," June 3, 2005, Wired:  https://www.wired.com/2005/06/007-spacesuit-found-in-storage/
Rediscovering the USAF's MOL:  https://astrowright.wordpress.com/2018/06/20/the-curious-case-of-mols-missing-mission/
National Reconnaissance Office (NRO):  https://en.wikipedia.org/wiki/National_Reconnaissance_Office

© 1998 - 2019 by Linda Moulton Howe.
All Rights Reserved.