"The production of amnesia, which could be regularly and successfully produced is of extreme importance."
— CIA's MK-ULTRA Director,  Sidney Gottlieb, Ph.D., chemist and CIA spymaster, to a Rutgers University scientist, in typed letter dated December 6, 1956. Underline emphasis by Dr. Gottlieb.
Return to Part 1.
January 8, 2019  Albuquerque, New Mexico – A trusted colleague of mine over the past thirty years is physicist and aeronautical engineer Robert Wood, Ph.D., who retired from McDonnell Douglas Corporation in 1993. By then, he and his son, Ryan, had taken a serious interest in documents about the UFO phenomenon that evolved to an extraordinary find in the summer of 2001. That's when Bob Wood received nine pages from a man named Timothy Cooper that looked like they had been scorched in a fire and he called them the "burned memo."
Cover Letter, Plus 8 Tabs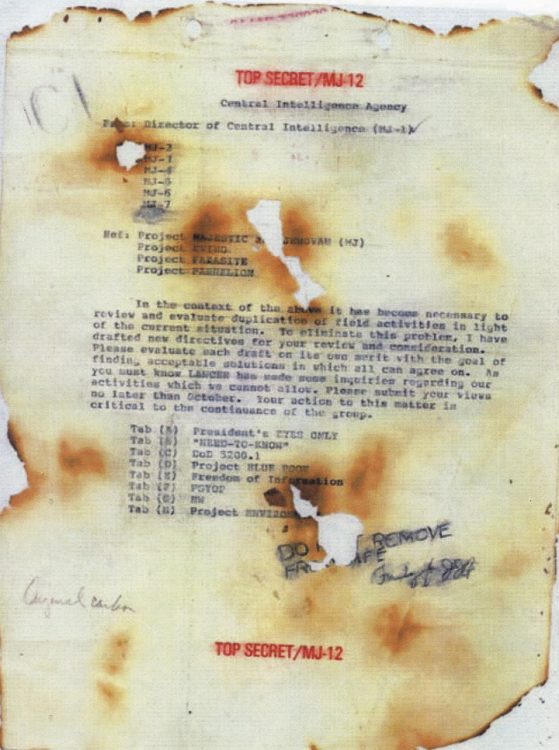 There is no date, but each page has a red ink stamp top and bottom that says: "TOP SECRET/MJ-12." The first cover page above shows the sender is "From: Director of Central Intelligence ( MJ-1)."
Then there is a list to whom the memo is sent to:  MJ-2, MJ-3, MJ-4, MJ-5, MJ-6, MJ-7, followed by a grey smudge, so it is not clear if MJ-8 was there as well. But MJ-9 through MJ-12 are not on the list.
Next is "Ref:  Project MAJESTIC and JEHOVAH (MJ); Project EVIRO; Project PARASITE; Project PERHELION."
Then this paragraph:  "In the context of the above (References), it has become necessary to review and evaluate duplication of field activities in light of the current situation. To eliminate this problem, I have drafted new directives for your review and consideration. Please evaluate each draft on its own merit with the goal of finding acceptable solutions in which all can agree on. As you must know, LANCER
[ Pres. John F. Kennedy ] has made some inquiries regarding our activities, which we cannot allow. Please submit your views no later than October (was it 1963 before November 22, 1963 assassination?)   Your action to this matter is critical to the continuance of the group."
Then there is a list of 8 Tab attachments A through H.
Next is the hand written warning: "DO NOT REMOVE FROM SAFE" and the initials "JJA."
Bob Wood was told that these pages came from a safe owned by James Jesus Angleton, Director of CIA Counter-intelligence from 1954 to 1975. Allegedly after James Angleton died on May 12, 1987, the document leaker pulled the 9-page memorandum from a fireplace fire that was burning up Angleton's most sensitive MJ-12 secret files — but this "burned memo" retrieved from the fire is in its original carbon copy format.
Tab A:  UFOs Are A National Security Threat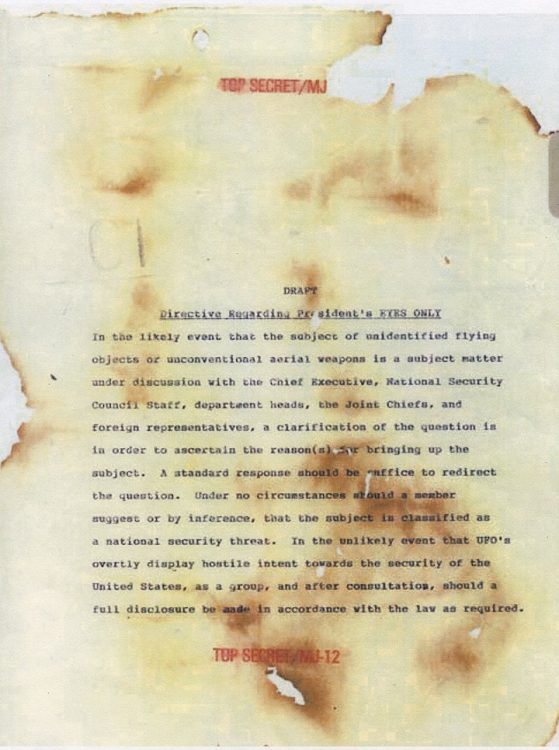 The first attachment Tab A states: "In the likely event that the subject of unidentified flying objects or unconventional aerial weapons is a subject matter under discussion with the Chief Executive [JFK], …  Under no circumstances should a member suggest or by inference, that the subject (UFOs) is classified as a national security threat."
Tab G:  Projects MK-ULTRA and ARTICHOKE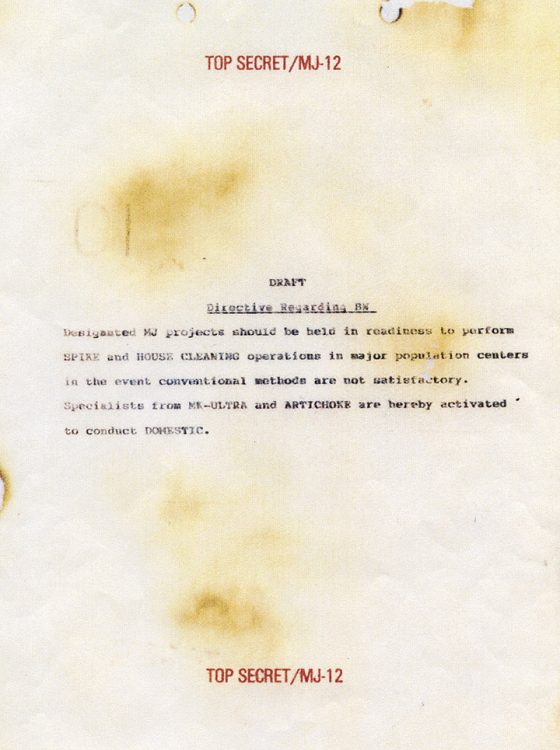 Then jumping to Tab (G), that scorched page clearly shows the All Caps "CI" for Counterintelligence used by Angleton stamped above the title:  "DRAFT Directive Regarding BW" [Biological Weapons].
"Designated MJ projects should be held in readiness to perform SPIKE and HOUSE CLEANING operations in major population centers in the event conventional methods are not satisfactory. Specialists from MK-ULTRA and ARTICHOKE are hereby activated to conduct DOMESTIC."
Wikipedia says a memorandum by CIA strategist Richard Helms to CIA Director Allen Welsh Dulles on April 20, 1953, indicated ARTICHOKE and Project MK-ULTRA had the goal to  "get control of an individual to the point where he will do our bidding against his will and even kill himself."
Approved by CIA Director Allen Dulles on April 13, 1953, MK-ULTRA was not one project – it was 162 different SECRET projects covertly financed by the CIA in contracts to various universities and  research foundations. At least 80 institutions and 185 researchers participated in MK-ULTRA, but many did not know their research funding was coming from the CIA.
One example of how the CIA worked are funds provided to a private research foundation operated by Charles Geschickter, which were in turn used for a research building at the Georgetown Medical Center in Washington, D. C. In 1977, Geschickter testified before the Senate committee that over a period of thirteen years up to 1967, his foundation had funded over $1 million of research at Georgetown and $2 million of research at other universities. The Georgetown research related to drugs that produced amnesia.  And because the money moving around in the secret MK-ULTRA system was classified as "private money" for research, the Federal government even provided matching funds!
The Congressional Church Committee report in 1976 found that in the MK-DELTA program, "Drugs were used primarily as an aid to interrogations, but MK-ULTRA/MK-DELTA materials were also used for harassment, discrediting, or disabling purposes."
Recently, John Greenewald at The Black Vault — after using FOIA since 1996 to ask the CIA for MK-ULTRA documents — received more on Project ARTICHOKE. So now he continues his interview with me from his office in Castaic, California.
---
Interview: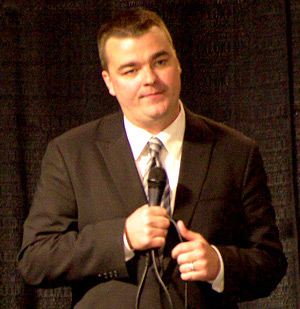 John Greenewald, Creator, The Black Vault.com, Castaic, California:  "JOHN, IN YOUR CURRENT BATCH OF MK-ULTRA DOCUMENTS, HERE IS ONE CALLED MEMORANDUM PROJECT ARTICHOKE.
IT IS ABOUT THE "STUDY OR USE OF 'SPECIAL' INTERROGATION METHODS AND TECHNIQUES … KNOWN TO INCLUDE THE USE OF DRUGS AND CHEMICALS, HYPNOSIS, AND 'TOTAL ISOLATION,'   A FORM OF PSYCHOLOGICAL HARASSMENT."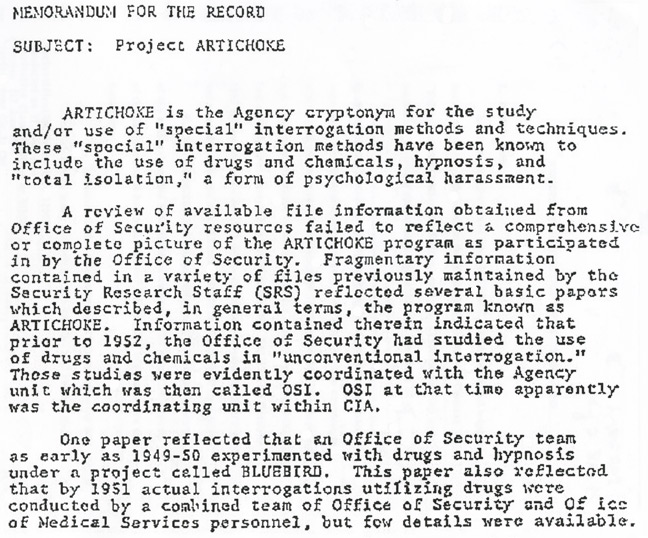 THE ARTICHOKE MEMORANDUM GOES ON AND SAYS THE PROJECT BEFORE ARTICHOKE WAS BLUEBIRD. AND BLUEBIRD WAS DRUGS AND HYPNOSIS BEING TESTED BY THE CIA ALL THE WAY BACK TO 1949 TO 1950.  WHAT TODAY, JOHN, AT THE END OF 2018, ARE THEY DOING THAT WE KNOW NOTHING ABOUT?
And that's the big question because when you see documents like this — and BLUEBIRD and ARTICHOKE did come out in the 1977 Congressional hearing.
I believe the Department of the Army was doing some research also, and the Navy. It wasn't quite like MK-ULTRA, but they were starting to do defensive research like if a Soviet officer or agency was to capture one of our people, what could they extract? Because to a point, that was part of what mind control was — bringing down those morals, bringing down the training, bringing down the ability to say, 'Hey, no, I'm not going to talk to you.'  To get into their mind and extract whatever they want.
The CIA caught wind of that (Soviet mind control) very early, and they started taking a lot of that research. It's believed that before the CIA really funded things like MK-ULTRA, they were starting to take Department of the Army research and realized, 'Hey, this isn't just something we can do for defense. We can do it for offense. We can capture those agents, and we can collect that intelligence. We can get all of that.'  And so, ARTICHOKE, BLUEBIRD, MK-ULTRA, DELTA, NAOMI, all of them — the laundry list of programs that they did.
Now, fast-forward. Granted, the documents are destroyed, and granted the CIA says that they have never had an interest in this, that they don't do this research — but look at what they also say about the documents themselves and what I can disprove. And look at how much they're covering up on stuff that's six, seven decades old!
If they're doing that to cover up 60-70 years ago what the agency was doing, and if it puts a blackeye on the agency, fine, you know, get it all out there, put it out in the open. The NSA's still around. Edward Snowden put a blackeye on them, but they didn't go anywhere, and they're probably still doing the same stuff that Snowden revealed.
And so, I think the same thing is true here. And yet, the CIA is still pushing hard to cover up 60-70 years ago. It begs to ask the question, 'What are you guys doing now?'
Because they obviously don't care about honesty. They don't care about laws. That's just history. That's just what they do. And so, it begs for all of us to ask that question: 'If they are pushing back this hard on information from 60-70 years ago, what are they doing now? Who are they working with?'
MK-ULTRA Hid In Plain Site
And the other thing, too — you had pointed out some of the universities and pharmaceutical companies used that were a prime example of hiding in plain sight to where in some cases, these universities did not realize that the research that they were doing was playing a much bigger role in a much grander project like MKULTRA.
They didn't know that that's what they were doing. So the CIA was kind of farming out certain aspects of the research to this university or that university, and none of them knew they were all essentially working for the same program. And yet, that's how the CIA was able to get away with this, creating those front companies to work with the universities and make all of that make sense. So, now the scientists are going home, they just think they're working at some university, or they got a research grant, but the minute they make their reports, or they make their discoveries, that is then taken by the CIA and put into a much grander, sinister plan.
Sounds conspiratorial and like a Hollywood blockbuster film, but that is exactly what was revealed in the Congressional testimony and the Senate hearing and ultimately what these documents reveal — that they were reaching out to the private sector trying to get people outside of the agency to contribute their knowledge, their intelligence, and play a much grander picture. And those letters that black out who the money is  from and who it's to — make it very challenging to put some of those pieces together. But we can see some of their objectives, and those objectives were frightening.
AND WHERE IT CAME DOWN TO FUNDING, AND 'COVER MECHANISM,' THAT MEANS HOW ARE THEY GOING TO COVER UP WHATEVER THE EXPENDITURE IS TO TRANSFER FUNDS?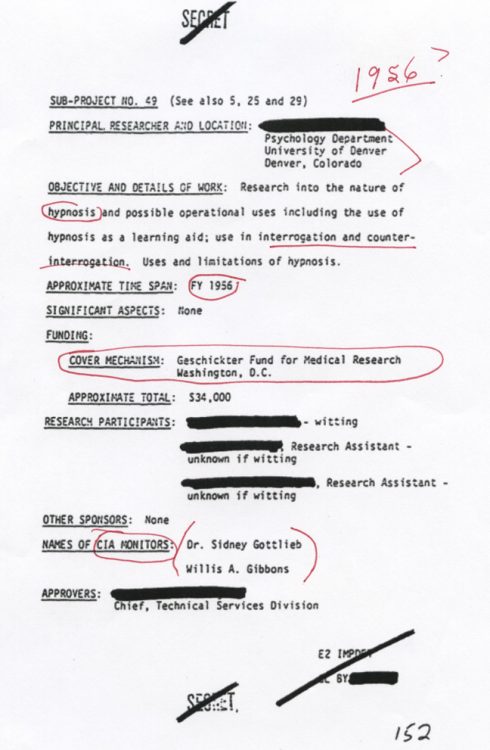 THERE WERE A LOT OF THESE CALLED 'STERILE CHECKS.' YOU FIND THAT TERM THROUGHOUT ALL THESE DOCUMENTS MUST MEAN THAT NOBODY COULD EVER TRACE IT BACK TO THE ORIGINATOR OF THE FUNDING. THEY HAVE USED INSTITUTIONS UPON INSTITUTIONS TO CHANNEL MONEY. AND THEY GET TO A POINT WHERE THEY COULD BUILD A GEORGETOWN MEDICAL CENTER, BUT IT'S ACTUALLY CIA MK-ULTRA MONEY IN THE FIRST PLACE.
Yeah. And what's key about these documents in this era is that the Freedom of Information Act (FOIA) did not exist when this was going on. It was passed in the Senate in 1965 and the House in 1966, and it was signed into law by President Johnson on July 4th, 1966. That is years and years after these documents, these paper trails, were essentially in the CIA archives and really did put the blackeye on that agency.
And I think a lot of people should realize that when these documents were written, when these subprojects were created, when the funds were transferred, when they were creating these front and shell companies to, in essence, do business with the private sector, the CIA  never imagined at that point that one day there would be a law that allowed you and me to request those documents and get it out into the open.
CIA's Richard Helms Wanted To Destroy All MK-ULTRA Documents After FOIA Became Law
And I think that that's what played a role in ultimately — I believe it was 1973 — where Richard Helms, CIA, went in to destroy everything (MK-ULTRA files). The FOIA was starting to ramp up as something that was a viable tool. It wasn't like on July 5th, 1966 there were thousands of people that were using the FOIA. There was no Internet, there was nothing. And a lot of people didn't know what the FOIA was.
So, I think once people (in CIA) started to realize we (Americans) could use this (FOIA law), the general public could figure out what the CIA was doing. Helms realized we can't let this stuff get into the public domain. And that's when the fires got lit and some of this stuff literally went on fire or got shredded, and it was gone for good.
So, that's a key point in this era of our history that they never thought any of these documents would see the light of day, and when that opportunity came, they needed to squash it real quick by shredding them.
WHAT WAS GEORGETOWN MEDICAL CENTER DOING WHEN  IT CLAIMED LATER THEY HAD NO IDEA?
THE CIA WAS MAKING SURE THAT IT HAD PEOPLE INSIDE OF THE BRAND-NEW GEORGETOWN MEDICAL CENTER THAT WERE, THIS WAS THE QUOTE, 'FUNDED OVER ONE MILLION DOLLARS OF RESEARCH IN AMNESIA.'
THIS IS WHAT IT SAID IN A WIKIPEDIA SUMMARY HAVING TO DO WITH THE PRIVATE GESCHICKTER FOUNDATION USED TO FUNNEL FUNDS TO CREATE A BIG GEORGETOWN MEDICAL CENTER RESEARCH BUILDING IN WASHINGTON D.C.
HERE IS A QUOTE: 'IT APPEARS THAT THE FUNDS WERE USED FOR HUMAN AND ANIMAL EXPERIMENTS RELATED TO DEFENSE AGAINST INTERROGATION AND BRAINWASHING. ALTHOUGH GEORGETOWN UNIVERSITY DENIED ANY KNOWLEDGE OF SUCH EXPERIMENTS.'
JOHN, IT'S THE IDEA THAT THE CIA IS TALKING ABOUT HOW IT WILL COVER UP THE FUNDING FOR THE ASPECTS OF MK-ULTRA THAT THEY WANT RESEARCHED.
AND IT SAYS, 'IN 1977, DR. GESCHICKTER TESTIFIED BEFORE THE SENATE COMMITTEE THAT OVER A PERIOD OF 13 YEARS, UP TO 1967, HIS FOUNDATION, THE PRIVATE ONE, HAD FUNDED OVER $1 MILLION DOLLARS (from CIA) OF RESEARCH AT GEORGETOWN UNIVERSITY THAT GEORGETOWN DENIED IT HAD ANY KNOWLEDGE THAT IT WAS CONNECTED TO HUMAN AND ANIMAL EXPERIMENTS.'
FROM WHAT YOU'VE BEEN DEALING WITH SINCE YOU STARTED YOUR FOIA REQUESTS ALL THE WAY BACK IN THE END OF THE 90S UP TO TODAY, WHAT IS YOUR REACTION THAT THE GEORGETOWN RESEARCH RELATED TO DRUGS THAT PRODUCE AMNESIA, THAT WAS WHAT THEY WERE AFTER, AND THAT LATER, WHEN THERE WERE THE SENATE HEARINGS, GEORGETOWN MEDICAL CENTER SAYS THEY KNEW NOTHING?
Yeah. My reaction to that is I'm not surprised because when these funds were getting funneled into these universities, some, it's believed, had knowledge of what they were doing and what projects they had a hand in. Others had no idea. And when they got those (CIA) funds, FOIA didn't exist.
Fast-forward, now all of a sudden, the spotlight's on the CIA, documents have been shredded. That in itself was illegal. On top of that, now they're kind of under this scrutiny, and so, they're going to deny it.
What's interesting about the documents when it comes to the research on animals is you realize that was not just confined to one university.  They were doing experiments on animals with drugs trying to manipulate the brain. They were doing that all over the place. And they were doing that throughout many, many years.
And in my opinion, when I look at these documents in conjunction with MK-ULTRA, you realize the progression of what they wanted to achieve. When they're implanting electronic devices into dogs and cats, not just for tracking, but to see if literally they could tap into a nervous system and essentially control another biological being."
December 6, 1956 Letter from Sidney Gottlieb, Dir., MK-ULTRA, to Rutgers Univ. Scientist, Names Blacked Out
In a December 6, 1956, letter likely from CIA's MK-ULTRA Director,  Sidney Gottlieb, Ph.D., chemist and CIA spymaster, to a Rutgers University medical person, Gotlieb stresses: "The production of amnesia, which could be regularly and successfully produced is of extreme importance."
indicates interest in mass hypnosis of public events by asking: "Any ideas concerning the use of Hypnosis or suggestion by orators to audiences of various sizes – this is important, particularly tricks of oratory, voice level studies …and any knowledge you may have of large audiences being affected by moving pictures, television broadcasts … and the possibility of developing a speaking technique before large audiences, which would include mannerisms designed to haighten group susceptibility.
… the matters we are discussing are most sensitive and are very highly classified. If you wish to keep the list of subjects for consideration, cut them out of this letter and destroy the rest."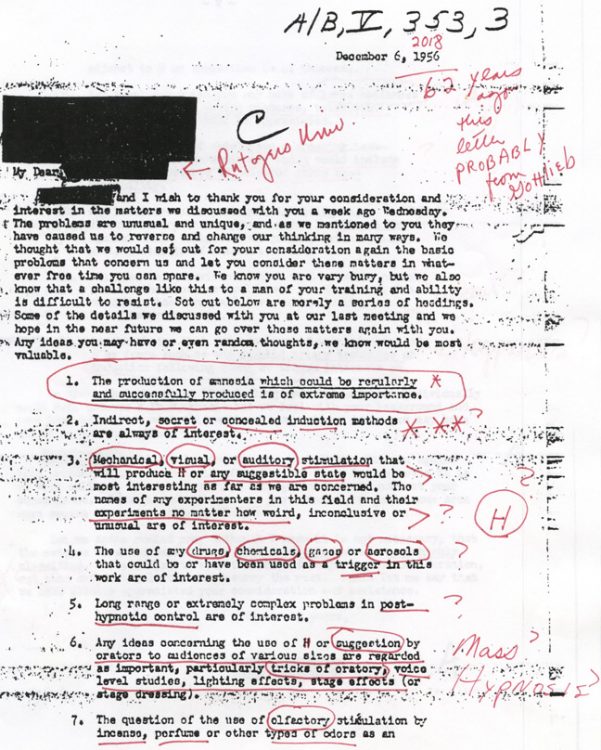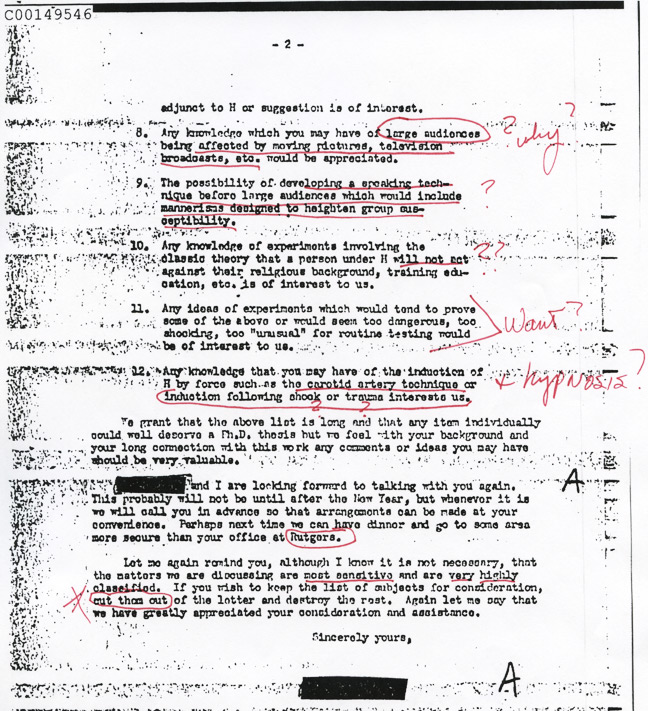 Return to Part 1.
Continued in Part 3.
Also see:
04-18-2011 – Part 1: Original Scorched Carbon of CIA Memo Links Government UFO Cover-Up and JFK Assassination
---
More Information:
04-16-2015 – Part 3: Maze of Deception
04-13-2015 – Part 2: Maze of Deception
4-18-2011 – Part 5: Original Carbon of Scorched Memo, Project JEHOVAH and Physicists Oppenheimer and Einstein
04-18-2011 – Updated – Part 3: Original Carbon of Scorched Memo Links to Government UFO Cover-Up and JFK Assassination
04-18-2011 – Part 4: Original Carbon of Scorched Memo Links to Government UFO Cover-Up and JFK Assassination
04-18-2011 – Part 2: Original Scorched Carbon of CIA Memo Links Government UFO Cover-Up and JFK Assassination
---
Websites:
MK-ULTRA:  https://en.wikipedia.org/wiki/Project_MKUltra
History Channel's Cold War and Project MK-ULTRA:  https://www.history.com/topics/us-government/history-of-mk-ultra

© 1998 - 2019 by Linda Moulton Howe.
All Rights Reserved.