"Is it possible that during the evolution of NASA's space programs that the CIA was actively controlling leaks with MKULTRA methods? Is Lavine's now 71-year-old mind incapable of telling the difference between implanted false memories and real truths from nearly 50 years ago?"
–  Linda Moulton Howe, Reporter and Editor, Earthfiles.com, Albuquerque, New Mexico
January 6, 2019 Albuquerque, New Mexico –  In my November 29th Coast to Coast and Earthfiles reports posted in my Real X-Files, I focused on a 71-year-old Florida retiree named Jon Harold Lavine, who sent me a birth certificate and approved my showing a portion below at Earthfiles, which states Jon Harold Lavine was born on July 20, 1947, to parents Harold Arthur Lavine and Mary Elizabeth Wertz at Mary Fletcher Hospital in Burlington, Vermont.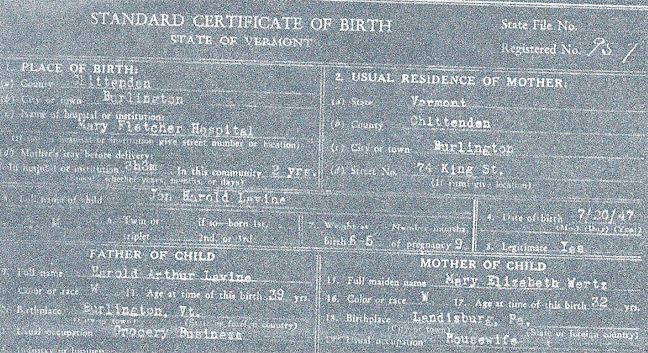 In late October 2018, Lavine had posted a blog entitled I've Decided To Come Clean  where he wrote, "during the period 1969 to 2008, I worked with NASA, CIA, NSA and NRO. My work with them involved both Apollo and Space Shuttle flights."
In his blog, Lavine claimed he had been a secret astronaut on Apollo 17, the last official NASA mission, but was also on two more secret moon launches after that — Apollo 18 and 20. Lavine said they were military reconnaissance missions kept highly classified by the CIA and NASA so the public and media would not know about an alien presence on the moon that our government had been concerned about since the 1950s onward.
In fact, U. S. Army Lt. Col. Philip J. Corso in his important 1997 book The Day After Roswell revealed that as early as 1959, the Dept. of Defense was planning a secret Project Horizon to place a manned military outpost on the moon to deal with an alien presence and for "defense of the lunar base against attack if required."
June 8, 1959  Project Horizon by Army, Navy,
Air Force, Army Ballistic Missile Agency
Project Horizon was a 1959 study to determine the feasibility of constructing a scientific / military base on the Moon, at a time when the U.S. Department of the Army, Department of the Navy, and Department of the Air Force had total responsibility for U.S. space program plans. On June 8, 1959, a group at the Army Ballistic Missile Agency (ABMA) produced for the Army a report entitled:  Project Horizon, A U.S. Army Study for the Establishment of a Lunar Military Outpost.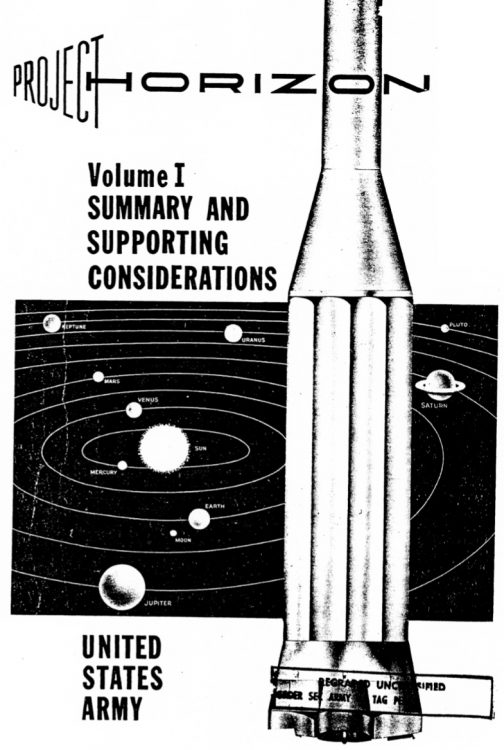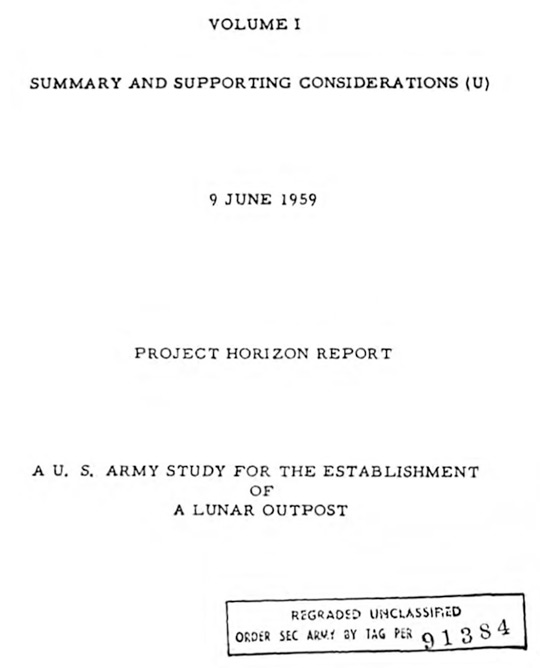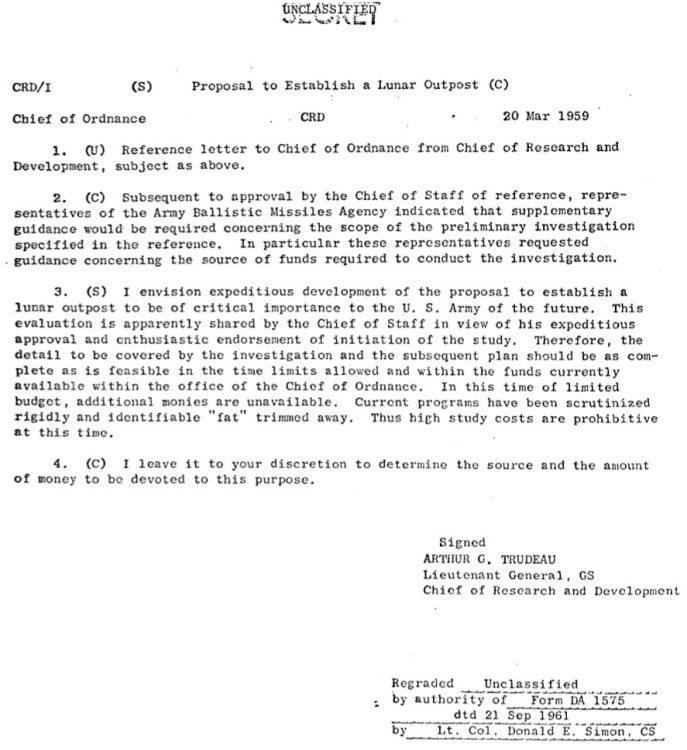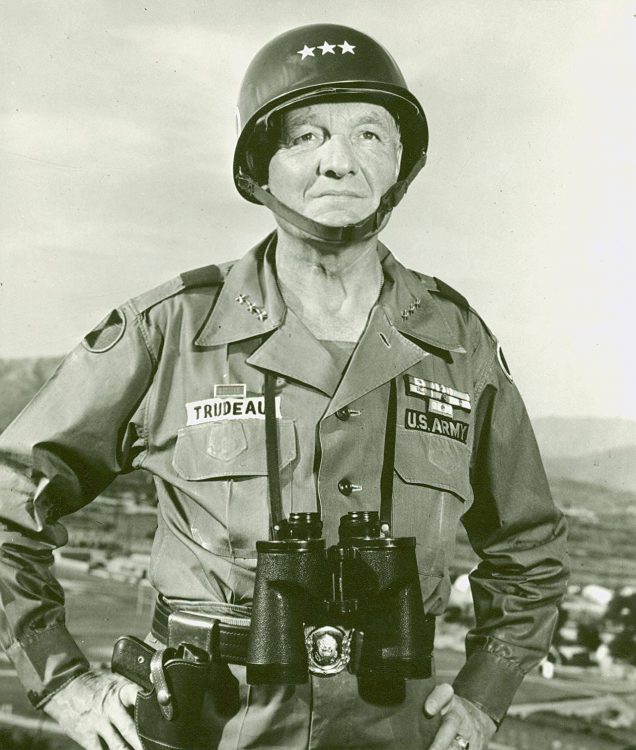 If Lavine Is A USAF Commendation Medal Recipient, Secret Astronaut and TR-3B Pilot,  Why No Clear Record of Pilot Training?
In November 2018, Jon Lavine sent me military records, his birth certificate and other documents. Lavine alleged his father was a close friend to aviation and aerospace tycoon Howard Hughes, who considered Lavine a bright teenager and allegedly got him a job with the CIA before Jon graduated from high school. During Vietnam, Lavine said he worked for the National Security Agency and was trained to be a pilot and eventually a secret astronaut. He received a USAF Commendation Medal for "meritorious service as a Communications Specialist … from 17 March 1967 to 16 March 1968.  …The energetic application of his knowledge has played a significant role in contributing to the success of the United States Air Force mission in Southeast Asia. The distinctive accomplishments of Sergeant Lavine reflect credit upon himself and the United States Air Force."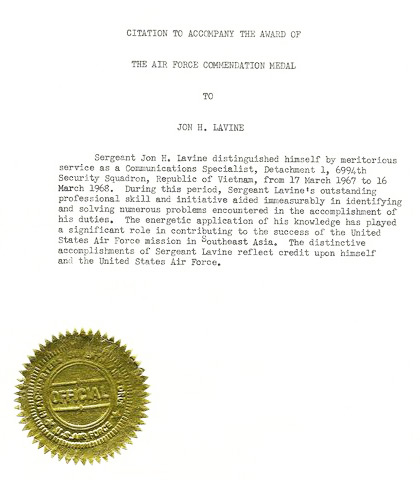 After my November 29, 2018, COAST broadcast, I asked retired U. S. Navy Captain Mark Wood to analyze Lavine's military records. On December 6th, Captain Wood wrote to me:
 Retired U. S. Navy Captain Mark Wood:  "Lavine told you he flew advanced planes, including the TR-3B. But there is no record in Jon Lavine's DD214s of his ever having gone through any type of Military Flight Training in the Navy, or Air Force, or Army. He was a radio tech in Vietnam for a unit that monitored Viet Cong low power radio transmissions. According to the DD214, he never saw combat, never left his base, but somehow he received an Air Force Commendation Medal award.
After leaving active duty, he went to the Univ of South Florida for awhile, apparently to re-enter the military via Navy Officer Candidate School in Newport, Rhode Island, where he received a commission as a line officer and was assigned to a Naval ship for two years.
Lavine has worn glasses for a long time, which should have been a problem in the 1970s in the military. There was no Lasik surgery so you couldn't be a pilot. Even with contact lenses, you couldn't be a pilot. So how did he fly airplanes, let alone a TR-3B, as he claims, that would be more complicated and would require years of expertise and experience to fly?" 
Jon Lavine's reply to Mark Wood's questions:
"I never went through 'official' military flight training in the Navy, or Air Force, or Army.  My DD214 does NOT say I 'never' saw combat or 'never' left my base, but simply mentions that I saw 2 years of duty in Vietnam. Combat is normally not put on a DD214.  But, base changes or unit changes could be on a DD-214, but missions and temporary duty aren't.  I was in Vietnam, however, during the 1968 TET Offensive and that should tell you something.  And, yes, I did receive the Air Force Commendation Medal for military merit.  Note:  In Vietnam there were no safe bases, not even Air Force Bases.  We were attacked at least twice monthly, usually with mortars.
I received a Bachelor's Degree in Philosophy, not 'for a while.'  Actually I was assigned to a Navy ship for 3 years.  But it was a 'Special Program,' the Black Special Access Program, cut it short.
Yes, glasses will stop someone from becoming a pilot in the TRADITIONAL ARMED FORCES, but not Naval Intelligence Operations.  At first I wore goggles.  NASA used contacts, and later telekinesis was used."
August 12, 1974, Jon Lavine FBI Clearance
for Chief of Naval Personnel, Washington, D. C.
Further, Jon Lavine provided "FBI clearance paperwork" dated August 12, 1974, from which I have excerpted information from the top and bottom of the Department of Defense National Agency Check Request from the Chief of Naval Personnel, Department of the Navy, Washington, D. C., for FBI clearance on Jon Harold Lavine.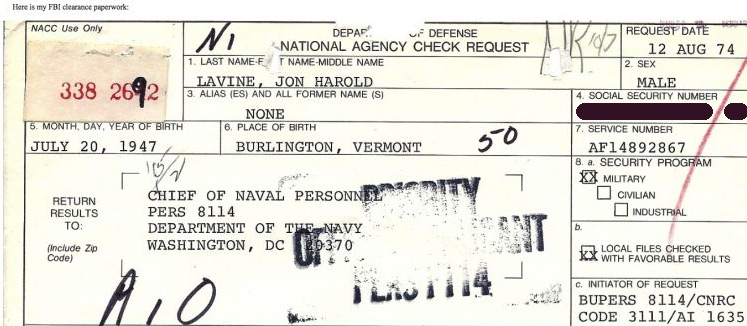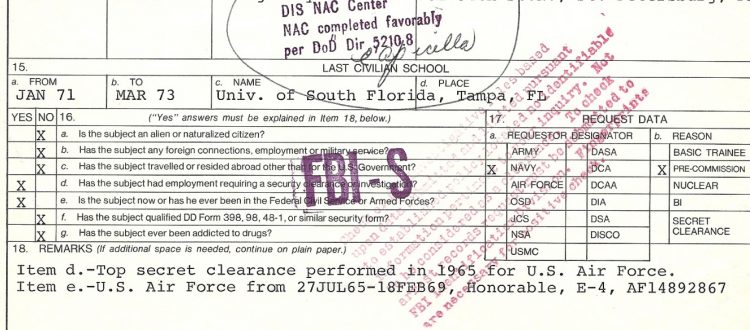 Lavine Dishonest Claims
1) Lavine distributed the enlarged, blurry photo below on his October 30, 2018, web blog claiming this was him dressed in an Apollo astronaut suit and helmet, wearing a fake nose piece to disguise him for the allegedly secret December 1976 Apollo 20 launch.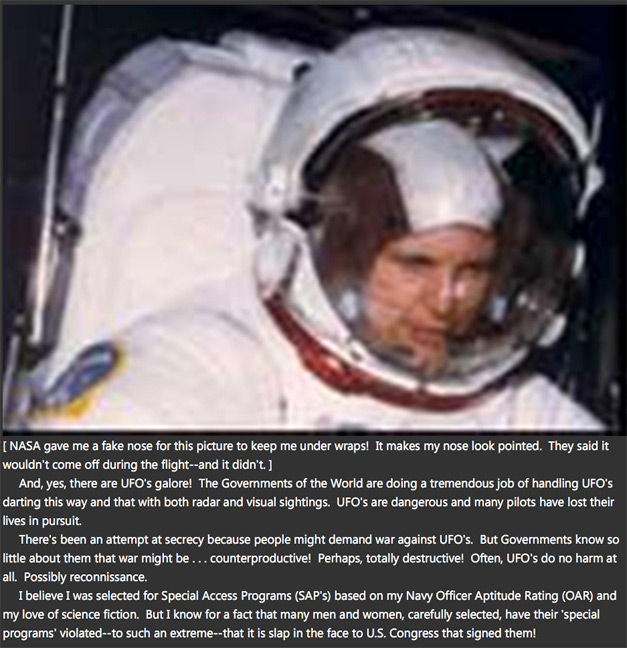 Researcher John Hacherian discovered that Lavine's original October 2018 blog photo allegedly of Lavine wearing an Apollo astronaut suit appears to actually be an official NASA archived photo S89-32483  of Astronaut and Geologist Kathryn Sullivan in 1989 during her preparation for thermal vacuum tests of NASA STS-31 tools.

Please note the original URL bar in the below screen shot that Earthfiles Reporter and Editor Linda Moulton Howe made during her December 17, 2018, search at the search bar address clearly visible where researcher John Hacherian found the Sullivan photograph and emailed to Howe, who opened up the URL to look at original archived 1989 photograph:     science.ksc.nasa.gov/mirrors/images/images/pao/STS31/10063520.htm  
On December 17, 2018, the URL was active and went directly to the Kathryn Sullivan NASA astronaut photo. But by January 1, 2019, the URL has been made inactive by unknown source/s. One speculation is that perhaps the sudden NASA web problem is related to the Trump government shutdown? Clicking on the NASA Archive link now brings up a NOT FOUND Error message.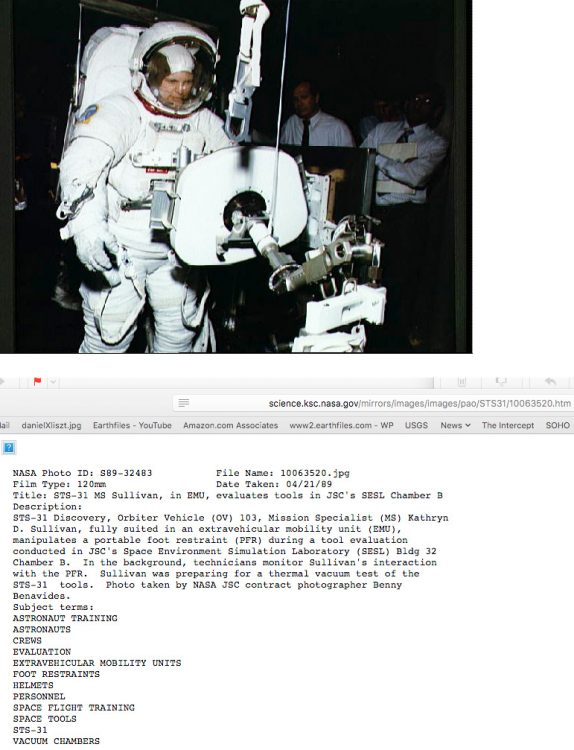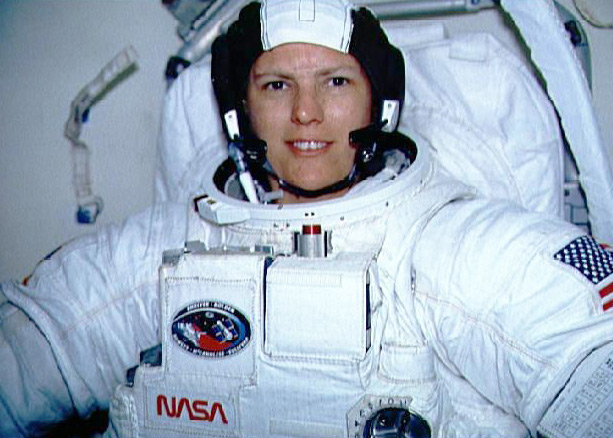 John Hacherian also emailed me on January 4, 2019:  "Kathryn Sullivan is wearing an EVA suit designed for the Space Shuttle missions. It is different from the Apollo EVA suits.  But that doesn't mean I believe Jon. If you're asking me if I know FOR SURE that it is Kathryn Sullivan in the picture and not Jon Lavine, I can't say that with 100% certainty. It looks like Kathryn Sullivan, and I would have to go by the NASA archive photo and write-up (below).  I think you'd have to run facial recognition software to make a more objective, definitive claim." [ Editor's Note:  Extravehicular activity (EVA) is any activity done by an astronaut or cosmonaut outside a spacecraft beyond the Earth's atmosphere.]
Jon Lavine's comment on NASA's original 1989 S89-32483 photograph of Astronaut Sullivan:
"I got that photo from Richard Hoagland's post on the 'Mystery Astronaut'.  I knew I was a mystery astronaut so I put it into my Corel Paint Shop program, removed the dark covering and it looked just like me!  Also, this photo was sent to Ken Johnston Sr. by NASA because they thought it was him.  I do remember flashes of light just before entering the Command Service Module on Apollo 20 and had been given a fake nose piece, just the tip, because photos were to be taken.  And, yes, the Secret Operations people have makeup artists in the wings at all times.  Also, Katherine Sullivan looks so much like me I can't help but wonder if she is, just maybe, related!  I'm of Irish descent and the male side goes back to King Niall.  Later this name became O'Neal."
2) Lavine also insists the secret Apollo 20 launch in December 1976, was on a Saturn V rocket from Vandenberg AFB about 160 miles northwest of Los Angeles. Researching Saturn V history, there has never been a report of a loud Saturn V launch from Vandenberg AFB that would shake the ground for 50 miles out. All Apollo Saturn V launches were from Kennedy Space Center in Fort Lauderdale, Florida.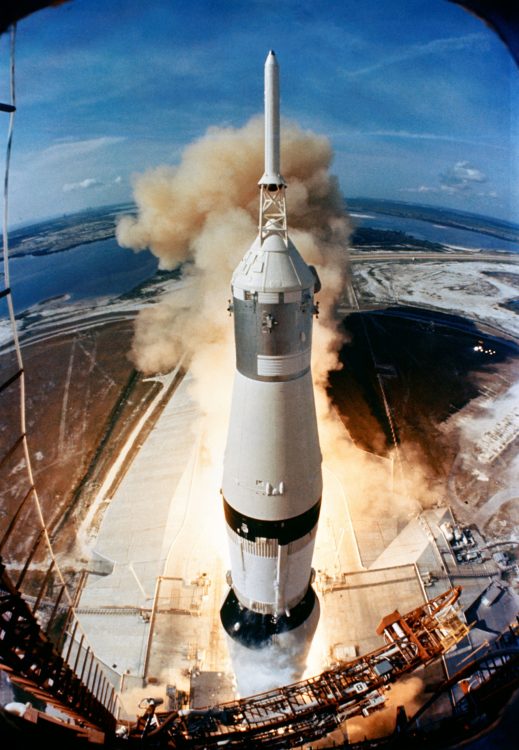 Jon Lavine's comment:
"Actually I don't insist it was a Saturn 5.  [I may have initially insisted.]  It may have been a Saturn 1B.  After talking to Linda Moulton Howe, I managed to pull some more memory out of my dusty 40+ year, MK Ultra mind wiped casket.  I remember asking William Rutledge why we didn't have a rover vehicle.  [Initially I thought we did.]  He replied that they had lightened the load both by using new lightweight materials, and removing the rover, because it was a Saturn 1B that was used.  The Saturn 1B fit the Titan 2 silos.
Also, Vandenberg AFB is 80 miles from the interstate road and is 100 miles North of L.A.  It is the place of Secret Launches!
I also remember now being told that the CSM had sunk after we got off!  I'm suspicious, however, that this was a ruse to cover up what we brought back.  When we got out of the CSM, it didn't show any signs of sinking."
[ Editor's Note:  The Apollo command and service module (CSM) was one of two principal components of the United States Apollo spacecraft, used for the Apollo program, which landed astronauts on the moon between 1969 and 1972. The CSM producer was North American Aviation starting in November 1961. ]
3) Then there is that photograph of an alleged Grey being on the moon that Lavine claims he photographed with a high resolution Hasselblad camera during the December 1972 Apollo 17 mission in the moon's Taurus-Littrow valley. The Alien's big, black shiny eye depicts a reflection of a lunar module and what Lavine calls an "Earth set" of our planet lowering on the moon's horizon.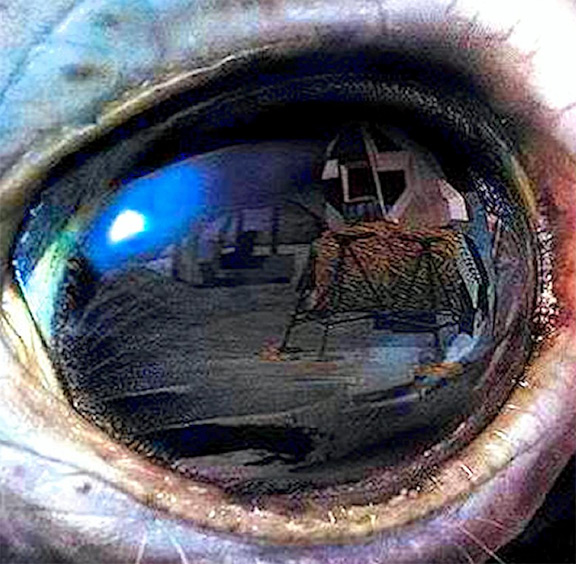 But retired Navy Captain Mark Wood says the lunar module reflection does not orient correctly and is likely an artist's illustration. Further, producers of the 2005 XBox video game, AREA-51, say the Grey alien photo came from their digital production. Other sources suggest it is possible the CIA planted an actual Grey alien close-up photograph in the video game world as counterintelligence so the public and media would never take seriously any leak of a real photo of a Grey alien taken on the moon.
Jon Lavine's comments:
"I didn't put the image in the Alien's eye.  I'm the world's worst artist!  The fact is it correctly depicted the scene on the Moon.  The Grey's head isn't shaped like ours.  Their eyes are more angled.  And, the lens, the equivalent of sunglasses, is curved. The Alien did pull up in his moon buggy close to the Lunar Module. 
"This image also shows the Earth setting in the background behind one of the 3 mile high mountains near the Taurus-Littrow valley.  And, it didn't continue to set but stayed where it was when we retired for the night in the Lunar Module.  Whether or not it set completely behind the mountains I don't know.  Based on firsthand knowledge that reflected image is real.  There is now, however a new image floating on the Internet showing what appears to be a building in the background.  This image has recently been put on and is false.  Whether or not Government Intervention is involved or someone decided to play around I don't know."
4) About Lavine's claim of a low Earth setting on the horizon of the Taurus-Littrow valley where Apollo 17 landed, NASA's historic Apollo 17 photographic Archive shows commander Eugene Cernan holding an American flag during the mission's first EVA on December 12, 1972, with a half-Earth high above Cernan and not near the horizon. The NASA photo credit is astronaut Harrison Schmitt.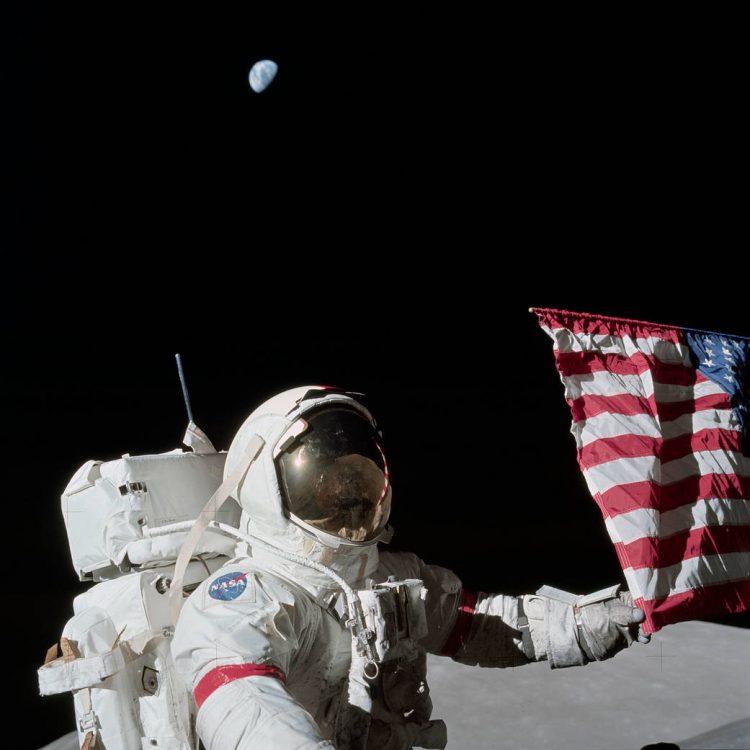 5) Lavine insisted that in December 1976, he traveled on a Top Secret Apollo 20 investigation of a 3-mile-long cigar-shaped UFO in a crater on the moon's far side that had been photographed five years earlier by Apollo 15 in August 1971.  The NASA photographs below of a long, spindle or cigar-shaped object in a crater have been distributed on the web as originally photographed by Apollo 15 and or Apollo 17, but NASA's official archive of Apollo photographs are not easily organized for public access.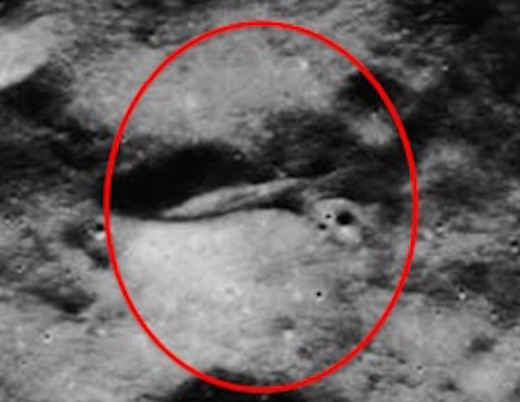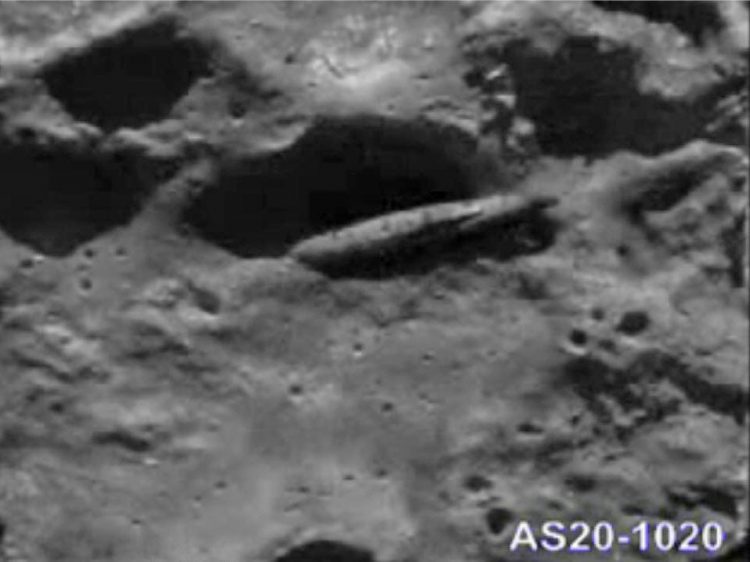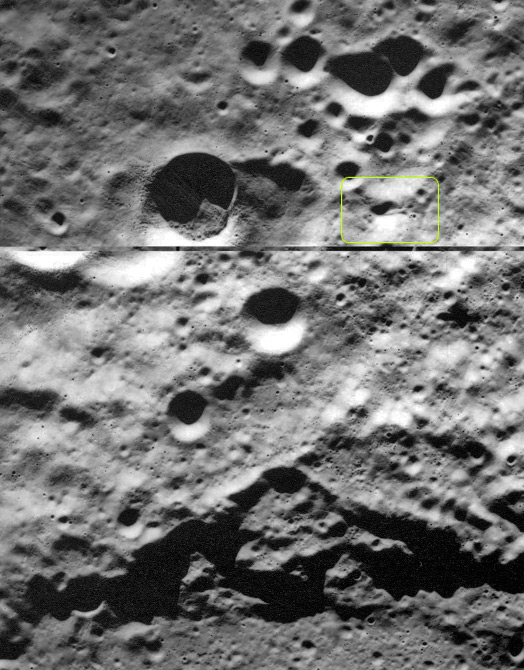 6) Lavine claims he and an astronaut named William Rutledge entered the ancient UFO and found a dead and deteriorated Grey alien and a strangely preserved female pilot on the flight deck of the huge UFO. When I first talked with Lavine on the record about the bizarre story, he brought up the French YouTube producer, Thierry Speth, who in April 2007 began to release a series of web videos about a secret manned Apollo 20 on the far side of the moon. But Lavine suggested the CIA was behind the YouTube releases as fiction in order to squash any retired NASA sources that might want to whistleblow about the real Apollo 20, which is what Lavine says he is doing! Lavine also complains about "memory wipes" to keep him from remembering his classified NASA mission.
If Lavine's memory was wiped, was it re-filled with false memories? Beginning in 1953, the CIA officially sanctioned mind control research called MK-ULTRA. Is it possible that during the evolution of NASA's space programs that the CIA was actively controlling leaks with MK-ULTRA methods? Is Lavine's now 71-year-old mind incapable of telling the difference between implanted false memories and real truths from nearly 50 years ago?
Jon Lavine answered my question this way on January 1, 2019:
"I don't believe false memories were used, though it's possible. There were, however, after every secret mission a mind wipe. This actually caused embarrassment on a Space Shuttle mission because I didn't remember to pull down the Sun Visor on my helmet.  I didn't remember it had one!  I was the pilot and this tended to detract from my credibility while in Space! To sum up, everything I've said is true to the best of my knowledge and recall. 
Signed,  Jon LaVine   (Editor's Note: Capital V is last name variation Jon uses for his birth certificate name Lavine.)
Mind Manipulation by CIA's MK-ULTRA
Another investigator who has used Freedom of Information requests to get a large number of CIA MK-ULTRA documents from the 1950s through 1970s is John Greenewald, creator of The Black Vault.com. John says he is in a "battle with the CIA" to get still-withheld MK-ULTRA documents.
---
Interview:
Linda Moulton Howe:  "John, when you go back to the 1977 Senate hearing, they called MKULTRA 'the history of torture in the United States.' And just to give the audience a sense of what kind of content we are talking about, it goes into how the CIA wants 'mechanical, visual, auditory, drugs, chemicals, gases, aerosols and hypnotic control in order to produce amnesia and any other behavioral modification that they want.'
John Greenewald, Creator of The Black Vault.com, Castaic, California:   "The MKULTRA program were doing really dark, sinister things. There are additional documents in addition to the one you just read from where it shows exactly what they were going for. What is scary is that there are other project names that are completely redacted. So, the project names themselves are still classified, even though we've had the Congressional hearings and the testimony in those hearings MKNAOMI; MKDELTA; MKULTRA — all these various program names that have come out over the years. These documents prove that there is more.
And what's also interesting about the documents that redact the project names is that the objectives of those research programs are also in some cases entirely redacted and and classified. What in the world could be worse than what you just read?
So, there is some really dark stuff here and it is not in the public domain. So I think a lot of these documents — they have never seen the light of day before. It's pretty mind blowing!
We know at the time that the CIA was creating front companies that were working with some universities and pharmaceutical companies and so on in order to achieve the objectives of MKULTRA. The funding, however  — a lot of that was destroyed — meaning the actual paper trail about how to figure out where some of this money came from and where it went. They would get people who had no idea they were going to be subjected to LSD and hypnosis and weird experiments. They (CIA agents) would go to bars and they would pick up women; bring them back to these CIA safe houses / hotel rooms and they would have a 2-way mirror. And they would start to see how they could ultimately extract information from people just off the street — no medical pre-screening, no nothing!
And when you look at some of the financial records that did survive, it's a fairly creeply thing to start thinking about what they were really doing and what type of experiments they were really undertaking.
And now I'm seeing all of these new documents — or at least some of them are new in the sense that they have never been out (in the public). So it's making me realize that there are probably a lot more that survived, but the CIA is actively covering this up!"
Continued in Part 2.
Also see:
01-05-2019 – Elon Musk Tweet Links Apollo 11 Astronaut Neil Armstrong to Alien Presence
01-03-2019 – China's Chang'e-4 Made History Today By Landing On The Far Side of the Moon
---
More Information:
12-21-2018 – 50 Years Ago on Christmas Eve 1968, Apollo 8 Photographed This Earth Rise
12-17-2018 – Will Trump Launch Space Command This Week?
12-15-2018 – Christmas Comet Came With Green Glow!
11-04-2018 – Oumuamua's Peculiar Acceleration – Harvard Scientists Discuss Possible Extraterrestrial Lightsail Power
10-19-2018 – Part 3:  U. S. Government Knowledge of "Interplanetary" Craft, 1942 – 2011
10-18-2018 – Part 2:  U. S. Government Knowledge of "Interplanetary" Craft, 1942 – 2011
10-17-2018 – Part 1:  U. S. Government Knowledge of "Interplanetary" Craft, 1942 – 2011
---
Websites:
Project Horizon, Volume I: Summary and Supporting Considerations, SECRET Proposal to Establish a Lunar Outpost, March 20, 1959:  https://history.army.mil/faq/horizon/Horizon_V1.pdf
The Black Vault.com:  https://www.theblackvault.com

© 1998 - 2019 by Linda Moulton Howe.
All Rights Reserved.