"Explaining FRBs has become one of the biggest unsolved problems in astrophysics in the last few years."
— Kendrick Smith, Ph.D., Cosmologist, Perimeter Institute for Theoretical Physics, Waterloo, Ontario, Canada
"FRBs have to be trillions of times brighter than a pulsar. That's one followed by 12 zeros. That's huge! We have no idea how to make something that bright."
— Shriharsh Tendulka, Ph.D., Astronomer and CHIME team member, McGill University, Canada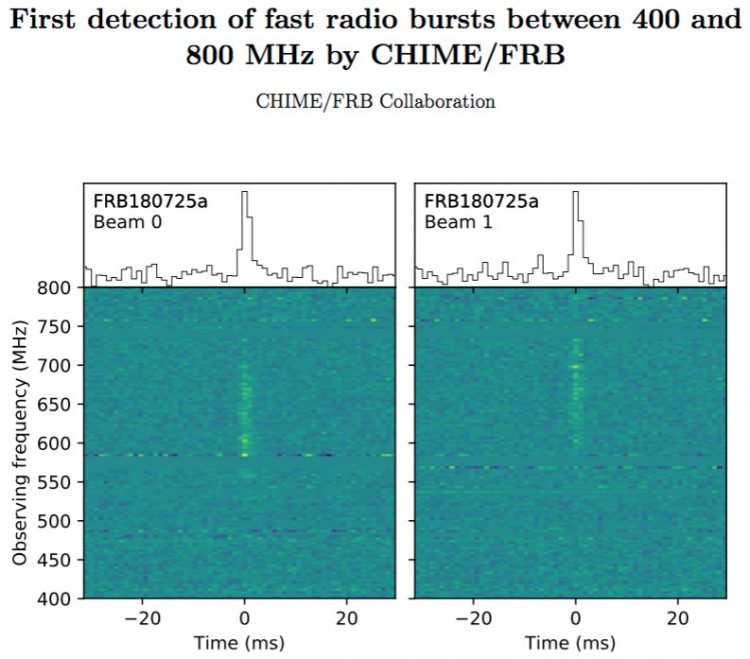 January 31, 2019  Vancouver, British Columbia, Canada -What has been making at least seventy very powerful and "fast radio bursts (FRBs)" over the past two decades from many different parts of our universe, including at least eighteen from the same small galaxy 2.5 billion light-years from Earth where the phenomenon was first seen to repeat from the same unknown source on November 2, 2012?  That repeater was known as "FRB 121102."  The significance of that repeating fast radio burst was that whatever was emitting the powerful energy bursts was not destroying the emitter.
This fact has astonished astrophysicists because the power of these mysterious "fast radio bursts" is 500 million times the power of our solar system's sun. But each documented burst to date has lasted only about 3 to 5 milliseconds — without any afterglow.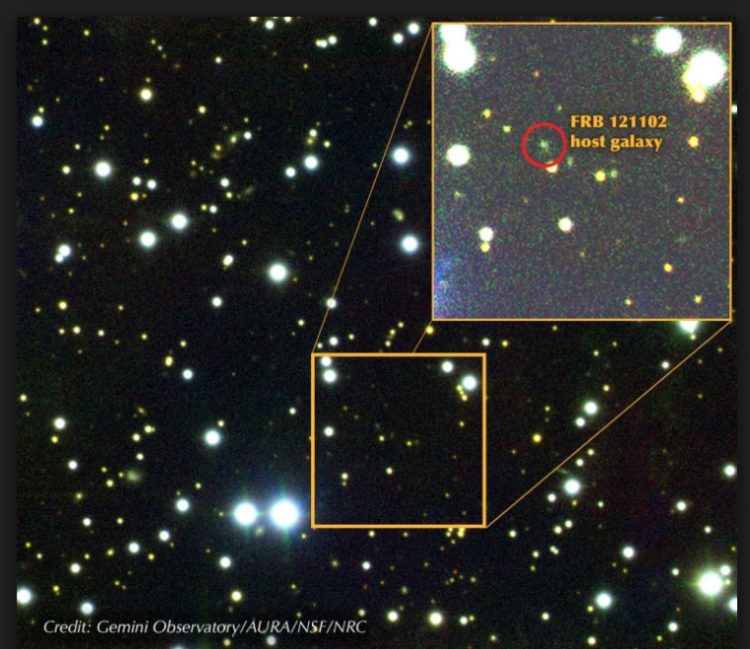 Now this month on January 9, 2019, the journal Nature contained a report from Canadian astronomers who have discovered thirteen new fast radio bursts — and only the second  repeating fast radio burst since FRB 121102 seven years ago. This new repeater is known as FRB 180725a (above dynamic spectrum). The instrument that caught these FRBs is a new radio telescope in British Columbia called CHIME:  Canadian Hydrogen Intensity Mapping Experiment.
Astrophysicist Ingrid Stairs, Ph.D., Professor of Astronomy in the Department of Physics and Astronomy at the University of British Columbia in Vancouver, Canada, said, "We certainly hoped that the new CHIME telescope was going to be able to discover a lot of fast radio bursts. And we had the good luck to find 13 of these things in the pre-commissioning phase." That means that the CHIME telescope was not even running at its fullest capacity and was only looking at 25% of the cosmic sky it has been constructed to study when it is in full operation.
This CHIME research is the first time that FRBs have been detected in the 400 to 800 megahertz (MHz) radio band. Previously, FRBs were mostly found near 1400 MHz.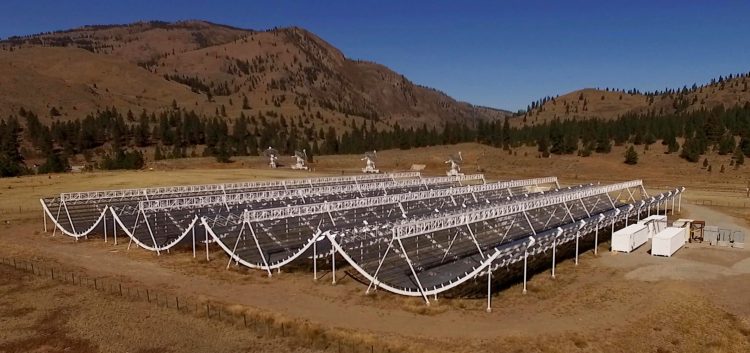 Fast Radio Bursts Are "Trillions of Times Brighter Than Pulsars"
Another astounding FRB research fact was pointed out by astronomer Shriharsh Tendulka, a member of the CHIME team at Canada's McGill University. For fast radio bursts to be detected in other galaxies far from Earth in the Milky Way galaxy, it means that an extremely powerful magnetic field is producing a signal along the radio frequency band that "has to be trillions of times brighter than a pulsar. That's one followed by 12 zeros. That's huge! We have no idea how to make something that bright."
Astrophysicist Ingrid Stairs is encouraged by the second repeating fast radio burst that CHIME discovered and says, "The fact that we found a second one so quickly implies that there could be lots more (repeaters) out there."
---
Interview: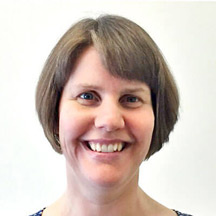 Ingrid Stairs, Ph.D., Professor of Astronomy, Dept. of Physics and Astronomy, University of British Columbia, Vancouver, Canada:  "We found that one of our 13 fast radio bursts was repeating. There had been a new burst recorded, and some alert person in the collaboration said, 'Hey, wait a minute; that comes from basically the same position on the sky, and it has the same amount of dispersion as this burst that went off in August.' And so, then we started really combing through all of our data very carefully, and we found that there were in fact several other events that had gone off.
WHAT YOU'RE SAYING IS THAT YOU'VE NOW FOUND A REPEATER, AND THAT THAT REPEATER HAS REPEATED SIX TIMES IN YOUR DATA.
That's right. We have six separate pulses from this thing in our data, or six separate bursts. They came on different days, so they're too far apart in time for us to really be able to tell if there's any regularity. And we don't know if there is going to be any repetition like that. The first repeater doesn't really show any kind of periodicity in it. But we'll have to have a lot more data in order to get to that.
YOU'RE INTERESTED IN THE POSSIBILITY OF PERIODICITY BECAUSE IT MIGHT MEAN THAT IT WAS SOMETHING THAT WAS REPEATING A PROCESS THAT IS CAUSING THE FAST RADIO BURSTS?
Yeah. Most of the reasonable models for the fast radio bursts, some kind of compact object like a neutron star or a black hole. There are many neutron stars that have quite high magnetic fields and are magnetars, and many of these give off quite loud bursts of energy. We've seen them mostly at x-ray and gamma ray energies within our own galaxy. Some of them emit in radio as well. The energetics aren't perfect, but it may be that these are related to fast radio bursts in some way. So, if they are neutron stars, we'd expect them to be spinning and rotating, and so if the emissions coming from a particular place on the surface of the star, then we would expect that to be reflected in some kind of periodicity.
Repeating Fast Radio Bursts Mean the Emitter Source Is Not Being Destroyed
ISN'T THE SIGNIFICANCE OF THE FACT THAT IN YOUR NEW WORK THERE WAS ANOTHER FRB REPEATER MEAN THAT WHATEVER THIS ENORMOUS ENERGY IS, IT DID NOT DESTROY THE SOURCE?
Exactly. That is a crucial point that I was getting to. One of the things the repeater did was to make the point that for at least some of these fast radio bursts, whatever was causing the radio emission could not destroy the source.
Up to that point, there had been a lot of theories that it involved two neutron stars merging, or some star being destroyed by a companion, that kind of thing. So, for at least the repeaters, we know that it can't be a completely destructive event that happens. This doesn't necessarily mean that all FRBs are the same as repeaters. We're still trying to disentangle whether they are two separate classes of events—repeaters and non-repeaters?  Or if there are similarities between them, and they have the same ultimate radio burst production mechanism. We don't know that at this stage.
Hopefully, that's one of the questions we'll eventually be able to answer because the CHIME telescope should be able to find lots and lots and lots of FRBs over the next several years. But anyway, with the publication of several more one-off fast radio bursts, it got us up to about the time CHIME turned on. So, the state was that (since 2012), we knew of about 60 or so of these fast radio bursts, and one of those was a repeater. [CHIME has added 13 FRB, including the second known repeater, bringing the total FRB to about 73 and counting.]
What Does It Mean That FRBs Have Been Found in High Radio Frequencies and Lower Radio Frequencies?
We have learned something new about fast radio bursts just with the initial set of detections from CHIME. And what I mean by that is that most of the fast radio bursts that had been detected up to that point with CHIME were at comparatively high radio frequencies around 1.4 gigahertz. That's a frequency that's used a lot in radio astronomy because hydrogen has a nice strong emission line there.
There had been one fast radio burst detected at around 800 megahertz, which happens to be at the top of the CHIME observing band. But other surveys that had been conducted at lower frequencies, like 300 – 400 megahertz, had not found anything. So, we were a bit worried that maybe at the lower part of our band, which runs from 400 – 800 megahertz, or you know, sort of in the general region of where broadcast TV is and cell phone signals, we were worried that at the low end of our band, maybe the signals wouldn't be there. They might be scattered completely so they were spread out and made invisible. So, we were a little bit concerned that we might not see much in the lower part of our band.
But with these 13 first fast radio bursts that we've seen in our early pre-commissioning period, we do see several that have emissions down to 400 megahertz, which is great. That means they are visible at these low frequencies. They're not all completely scattered, although many of them do show a good amount of scattering as well. So, that's something we've learned right off the bat.
Another thing that came out of these 13 first fast radio bursts is that based on the amount of scattering that we do see, which is a sort of smearing out of the pulse and has to be caused by reasonably dense regions of ionized gas, is that if the fast radio bursts are coming from Milky Way-type galaxies, then they have to be coming from slightly special regions within those galaxies. Maybe a place where there are lots of new stars being formed, maybe inside a young supernova remnant, or maybe close to a very massive black hole. We can't tell the difference between those possibilities. All we can say is that the density of the ionized gas needs to be fairly high around the places where these things are produced.
DO YOU THINK THAT BOTH OF THE REPEATING FAST RADIO BURSTS HAVE COME FROM THAT SAME DWARF GALAXY [FRB 121102 host galaxy]?
No. No, they were coming from different directions on the sky.
COMPLETELY?
Yeah, yeah. Completely different directions.
Could Fast Radio Bursts Be Evidence of Advanced Transport Technology?
LET'S SHIFT GEARS TO THE HYPOTHESES OF WHAT FAST RADIO BURSTS COULD BE. I HAVE INTERVIEWED AVI LOEB, THE CHAIR OF THE HARVARD ASTRONOMY DEPARTMENT. HE AND OTHERS HAVE HAD  FASCINATING PROPOSALS, ONE WAS PUBLISHED WITH THE HYPOTHESIS —
Yes.
— THAT THE FAST RADIO BURSTS COULD BE SIGNATURES OF THE LASER ENERGY THAT PROF. LOEB AND OTHERS ARE NOW GOING TO START TRYING TO USE IN PROJECT STARSHOT TO SEE IF THEY CAN GET SMALL, BASICALLY SMALL COMPUTERS TRAVELING AT 20 – 30 PERCENT THE SPEED OF LIGHT BY LASER PUSH ON LASER SAILS.
Yeah.
AND HEADED TO PLACES SUCH AS MARS OR ALPHA CENTAURI OR WHEREVER. NOW, IT IS SUCH AN INTERESTING IDEA THAT I WONDER  — CAN YOU TAKE US THROUGH YOUR THINKING ABOUT THE POSSIBILITY THAT WHAT WE'RE TRYING TO DO WITH PROJECT STARSHOT NOW MIGHT BE LIKE AN ADVANCED VERSION OUT THERE OF THESE FAST RADIO BURSTS?
Well, you know, I'm pretty skeptical of any alien explanation for these things. I mean, they're coming from all different directions on the sky, right? They're seen with telescopes in Australia. They're seen with telescopes here in Canada, you know, in the northern part of the sky, in the southern part of the sky. All kinds of different distances. It just seems really inconceivable that groups of aliens in all these different galaxies would have the same kind of signaling technology, laser technology, whatever, happening at the same time and, you know, being directed toward us.
Why No Reports of Fast Radio Bursts Prior to First 2001 Discovery?
THE REASON WHY WE ONLY SAW A FAST RADIO BURST FOR THE VERY FIRST TIME IN 2001 DATA AND REPORTED IN 2007 AND NOT BEFORE 2001, WHAT IS THAT REASON?
Well, that's because it wasn't until sort of the 1990s or so that people were sampling fast enough in order to even make a detection of these things. The signal is going up and then down again with a timescale of three milliseconds.
If you're doing a survey where you're sampling at say, ten milliseconds, the signal is going to get mostly washed out. It might show up in one sample, but it wouldn't be as bright as it would be if you had sampled it at three milliseconds, or even better, at one or half a millisecond.
The other thing to keep in mind is that, yes, there might be about 1,000 of these (FRBs) going off every day in the sky, but the sky is really big, and you have to be looking in the right place at the right time in order to see them. Part of the reason we've found so many of these things with CHIME is because we have quite a large field of view. And so, we have a better chance of finding anything at all just because we're staring at such a large part of the sky.
More Upcoming FRB Searches with CHIME
WHAT ARE YOUR NEXT STEPS TO FOLLOW UP THE RESEARCH THAT YOU'VE PUBLISHED IN NATURE HAVING TO DO WITH STAYING ON TOP OF WHAT'S HAPPENING WITH FAST RADIO BURSTS?
Yeah, well, so we're still looking for new things with CHIME. And we're going to try to get time with the repeater on interferometric telescopes and hopefully get a good localization of it. And we're also introducing this new capability on CHIME where we'll be able to store snippets of the data for the brightest bursts and really process it in many different ways. Hopefully we'll get a handle not just on their positions but on shorter timescale structure that we currently can't see and maybe some information about the magnetic field as well. A lot could still come out of CHIME in the next several years.
IF YOU START SEEING MORE AND MORE REPEATERS, WHERE WILL THAT RESEARCH GO?
Well, that would be great. Hopefully, we would be able to observe them all with interferometers and really find their positions on the sky and see what kinds of commonalities there are for those sources. You know, are they in the same kinds of regions in the same kinds of galaxies? Do they come from all kinds of different places? How are they related to the fast radio bursts that only seem to go off once? I think there's a lot to be found out there, and more and more examples, and more observations will help us to do that."
Also see:
03-30-2017 – Repeating Fast Radio Bursts 2.5 Billion Light-Years from Earth — Alien Intelligence?
---
More Information:
11-04-2018 – Oumuamua's Peculiar Acceleration – Harvard Scientists Discuss Possible Extraterrestrial Lightsail Power
09-30-2018 – Unusual Infrared Light from Spinning Neutron Star —  "Never Before Seen" Features?
09-27-2018 – New Brain Chip Enables Telepathic Control of Multiple Aerial Drones or Planes.
06-26-2018 – Are Advanced Cosmic Intelligences Countering Dark Energy Expansion By Harvesting Stars?
03-06-2018 – Exoplanet Near Earth's Nearest Star Might Have Been Scorched by Gigantic Solar Flare
08-30-2017 – Distant Galaxy Emits 15 New Fast Radio Bursts
05-30-2017 – Bigelow Aerospace Founder Tells CBS's 60 Minutes On May 28th "There Is An Existing Presence, An E.T. Presence" On Earth Now
05-26-2017 – Part 1 – Aliens: Scientists Search for Extraterrestrial Life
05-26-2017 – Part 2 – Aliens: Scientists Search for Extraterrestrial Life
03-30-2017 – Repeating Fast Radio Bursts 2.5 Billion Light-Years from Earth — Alien Intelligence?
01-05-2017 – "Fast Radio Bursts" of Intense Radiation from Galaxy Far, Far Away
07-26-2013 – Unidentified Cosmic Radio Bursts Baffle Astronomers
---
Websites:
CHIME Telescope:  https://chime-experiment.ca/
Project Starshot:  http://www.planetary.org/multimedia/space-images/spacecraft/breakthrough-starshot-1.html

© 1998 - 2019 by Linda Moulton Howe.
All Rights Reserved.