"What I got back from those eyes was raw intellect. There wasn't an ounce of mercy or kindness or empathy or anything that's good. Nothing good. I got the feeling that it was there collecting information. Like they were Darwin."
— Terry Lovelace, Esq., about tall, pinkish-grey alien entity on huge triangular craft
January 31, 2019  Garland, Texas – Devil's Den State Park in Arkansas covers 2,500-acres in Washington County, near West Fork in northwestern Arkansas. The ground is largely sandstone. In fact, it's the largest concentration in the United States. It was built in 1933 by the Civilian Conservation Corps and was named after a local cave called Devil's Den.
That 20th Century name echoed what the region had become in the 19th Century. All the sandstone caves, bluffs, ravines and crevices were perfect hideouts for outlaws in the 1800s until the American Civil War that began in 1861. That's when guerilla fighters in the Confederacy hid out and attacked Union Army supply lines and civilians. Even the only town ever built at Devil's Den was destroyed by a flood in 1893, leaving only the cemetery.
But by the 1970s, Devil's Den State Park was renovated with pavilions, cabins, trails, a dam and spillway on Lee Creek that forms Lake Devil. That's when two U. S. Air Force buddies living in Missouri and serving at Whiteman AFB decided that June 1977 in their early twenties would be a perfect time to try camping at Devil's Den park. That summer Terry Lovelace was in his fourth year of a 6-year-term with the U. S. Air Force from October 25, 1973, to October 24, 1979.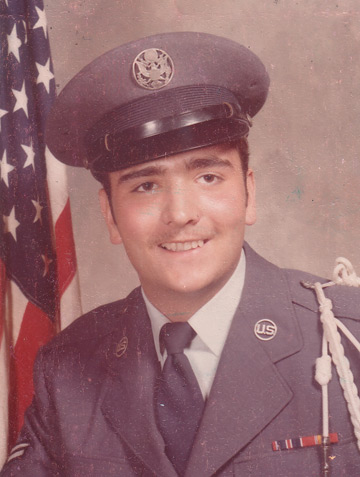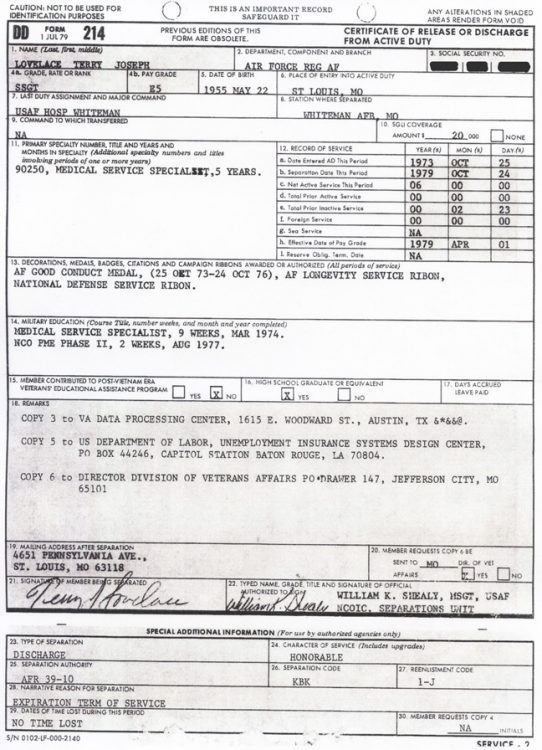 Terry was happily married and best friends with a colleague he calls "Toby," who was also happily married. But for this first camping trip, the two men decided it would be safer and easier to go on their own without their wives.
What happened in their first hours at their camp site is now the subject of a 2018 book entitled, Incident At Devil's Den, A True Story by Terry Lovelace, Esq (see More Information below).  Terry, now 63 years old, earned a Juris Doctor degree at the Western University of Michigan Law School after his Air Force days. He also earned a Bachelor's Degree in Psychology at Park University in 1979. Terry began his legal career in private practice in civil litigation and criminal defense. He entered public service as an Assistant Attorney General and later as General Counsel for LBJ Tropical Medical Center in the U. S. Territory of American Samoa. Later he was an Assistant Attorney General for the State of Vermont until his retirement in 2012.
The following interview begins with what happened after they set up their tent and were looking at the night sky when Toby was first to see three "stars" in a triangular pattern that his amateur astronomer eyes did not recognize.
---
Interview: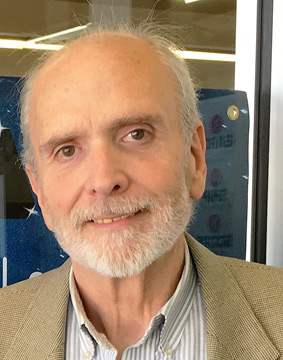 ---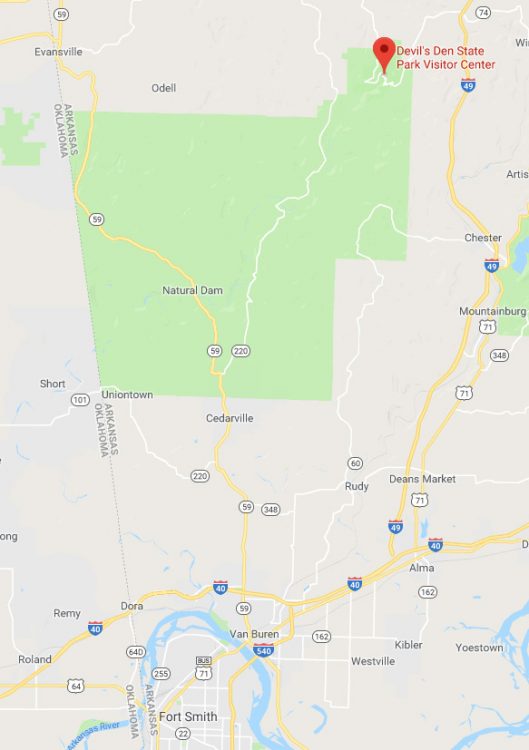 Terry Lovelace, Esq., retired Vermont Asst. Attorney General and former U. S. Air Force Staff Sergeant, Whiteman AFB, Missouri, about his June 1977 abduction along with his USAF buddy "Toby" by a huge triangular craft from a camp site in Devil's Den State Park, Washington County, Arkansas:  "Toby turns his head to the left, and he says, "Hey, man, over there, those three stars, what are they?" And then they moved. They rotated at first, turned like they were on an axis, and they rotated almost 360 degrees. We were excited. "Hey, wow! Look at this! Did you ever see anything like this?"
The stars stopped, and then they started to move straight up in the air. The higher they got, the further apart the three points of light of this triangle grew apart, and you could see that inside the three stars of this triangle, it was jet black as opposed to the night sky outside, which was dark blue. This was one solitary object. And we saw it move past stars, and they would blink out until it had moved past, and then the star would blink back on. And that confirmed that, yeah, we're looking at one solid object. And this thing eventually moves and stops directly over our heads, and it is enormous. I'm guessing 3,000 feet in the air.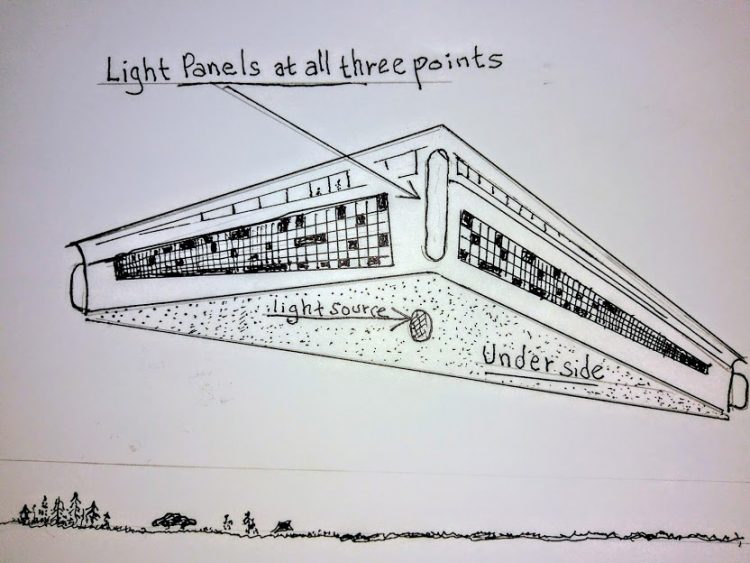 ANY SOUND FROM THIS HUGE THING?
No. We didn't hear any sound, and the tree frogs and the normal sounds of the forest were very, very still. And Toby said—he had this cheap flashlight—and he said, "I'm going to signal it." And he held the flashlight up over his head, and he flashed it three times.
As soon as he brought his hand down and lay the flashlight down, directly from the center and underneath this thing, there came a column of white light. And it was only about six inches in diameter, and it was centered directly in the middle of our campfire, which was now just pretty much embers anyway. A pencil-thin blueish-purplish light came on from underneath dead center of this triangle. And it hit the campsite.
Then this little beam of light, it was like someone took a switch, it would be on for a millisecond, then they flipped the switch off, and then it would move, then flip it back on. So, we never saw the light move, we just saw it turn on and it would be here and then there and here and then there and dancing all around the campsite. And then that stopped, and we both just lay there.
And Toby says, "I guess the show's over." And I grabbed my air mattress, he had his, and we dragged them into our little tent, and I didn't bother to undress, I didn't bother to take my boots off. And I fell on the air mattress, and the last thing I remember was hearing Toby snoring softly. And I was just out.
"They took us, Terry … and they hurt us." – Toby
My next memory is noise. And this is like an engine running. It's not so much loud as it is powerful. If you've ever stood next to a train locomotive, there's that strong pulsing that reverberates in your chest. I could hear this noise. I'm awake, but I'm not with it. I'm trying to claw my way back into consciousness. And there's this flood of greenish and white and occasionally yellow, but mostly greenish and white light flashing into our tent and lighting it up like a 300-watt bulb in these flashes.
I get up, and I realize I'm in a lot of pain. Every muscle in my body hurt. Got to my knees, and that's when I could see that Toby had been crying because I could see tracks of tears down his face. My God, what could move this man to tears? He was shaking. Then I realized I was trembling, too. So, something was out there.
Toby's on his knees. He's peeking out through this tent, through the little flap. And I pull the flap back, and I look out. And I see these little kids. And there's about a dozen, maybe 15, and they're paired up in groups of twos and threes, kind of wandering around this meadow. And that's when Toby said, "Those ain't no little kids. They took us, Terry. Do you remember? They took us, and they hurt us."
Huge Triangular Craft 30 Feet Over Campsite Meadow
I was absolutely terrified out of my wits. Never in my life had I been so scared. This thing that we watched that we saw earlier in the evening had descended. It's now 30 feet over the meadow. So, now we could see because it was so close how big this thing actually was. A city block on each leg of the triangle, and I estimated its height at five stories. It was like someone had levitated a five-story office building and suspended it 30 feet over this meadow.
Little Grey Alien Android "Worker Bees" with
"Forward, Backward Hinged" Knees
A column of white light about 30 feet in diameter shining down from the center of this thing, and we're watching these little guys. Clearly, these were not humans. Like, their knees bent foreword and backward. It was like their knees were hinged both ways.
YOU SAW THEIR KNEES SWIVEL FROM FRONT TO BACK TO FRONT TO BACK?
Yeah, kind of. Yes. This was not the gait of a human being. Also, the tips of their hands was with their knees. Their arms were longer than they should have been. Their heads were disproportionately large but not grotesquely so. We weren't close enough that I could see clearly their eyes or facial features. But these little guys would walk in pairs and in threes into this column of light and stop, and then they would dissolve. In the span of about two seconds in this light, they would just disappear.
Terry and Toby Abduction in "Brilliant White
Flash and Twirling Sensation"
I can recall the sensation of leaving the tent. And that was a brilliant white flash and a twirling sensation. And then it was like BOOM, we're in there.
IN THAT BIG TRIANGULAR CRAFT?
Yes, when I found myself inside, the interior gave the impression that it was twice as large. The interior size did not match the exterior size.
WHAT WERE YOU SEEING IN THAT HUGE INTERIOR SPACE?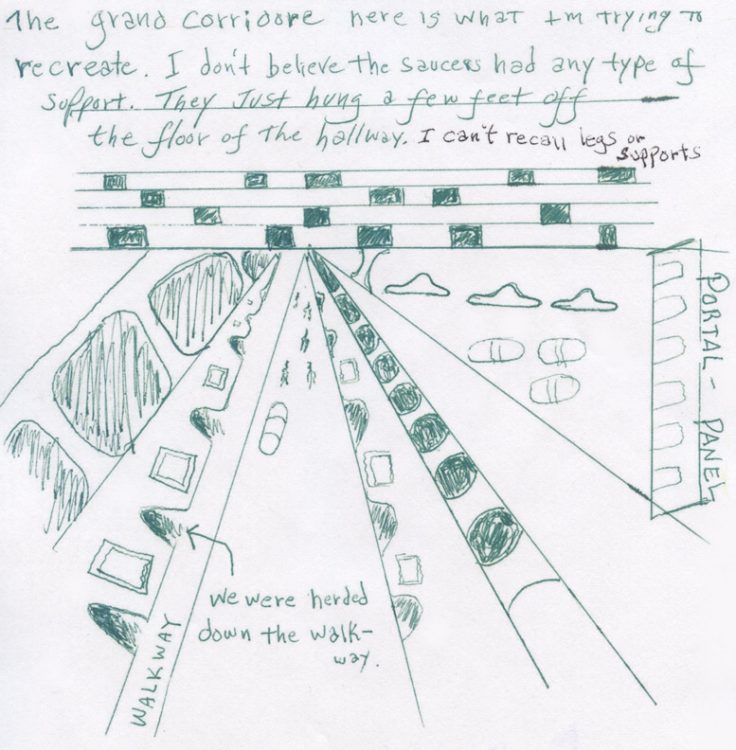 The first thing that I noticed was the light. There were light panels all over the place, and it was brilliantly lit on the inside. So much so that it hurt my eyes. My eyes were nearly swollen shut, as were Toby's, after this incident. But the inside of the place was just incredibly brightly lit. Everything was stainless steel or white. There were light panels on the floor, on the walls, and on the ceiling that emitted light. I saw three flying saucers, three disks, and they were lined up in a neat little row just like aircraft below a carrier deck. There was a dome in the center of each disk that was kind of smoothly molded into the top of the thing.
There were panels (along corridor) that I thought were windows.
WHAT WERE THEIR SHAPE?
Square. Perfectly square.
Terry and Toby Paralyzed Except Could Move
Eyes and Sees Other Humans — Some Nude; Others Like Military
WHAT HAPPENS?
Toby and I were standing next to one another, and we were paralyzed. All I could move was my eyes, and I assume that's all that Toby could move. I'm straining my eyes to look at these saucers. That's when I noticed that there were a group of people that were all nude, and they were frozen like us.
THESE ARE OTHER HUMANS?
They are other human beings. They're nude. And it's a mixture of men, women, and children. They're close enough that you could see the terror in their eyes. They were as afraid as we were, but they were segregated from us. We weren't a part of their group.
DID YOU HAVE ANY INSTINCT TO CALL TO THEM?
I couldn't speak. There were two other things that happened there that were very important.
Earth Human Military Presence On Huge Triangle Craft?
And that was I noticed the guys that were other human beings. They wore distinctive uniforms, tan uniforms with a round, orange-colored patch insignia on their shoulders, and there were five or six. One of them was a woman who appeared to be Hispanic or Latino. She had her hair in a ponytail. The other men that we saw were all guys our age, 22, with military haircuts, trim and fit. Completely ignored us. Would not look in our direction. Would not look in the direction of the other people.
TERRY, AM I UNDERSTANDING THAT YOU HAD THE IMPRESSION THAT IN ADDITION TO YOU AND TOBY, ALONG WITH A GROUP OF HUMANS THAT ARE ALL NUDE, PARALYZED, MALE, FEMALE, AND CHILDREN — THAT THERE WERE FIVE OR SIX WHAT LOOKED TO YOU LIKE HUMAN BEINGS IN THESE BIEGE JUMP UNIFORMS WITH PERHAPS AN ORANGE ROUND PATCH ON THESE UNIFORMS, THAT THESE HUMANS IN UNIFORM SEEMED TO BE WORKING INDEPENDENT OF YOU AND TOBY AND THIS OTHER GROUP OF HUMANS IN THIS HUGE SHIP?
They did not seem to be hybrids. They just gave me the impression that they were human beings.
WHY WOULD HUMAN BEINGS FROM EARTH BE WORKING IN A CAPACITY THAT LOOKS ALMOST MILITARY-LIKE INSIDE OF A HUGE TRIANGLE THAT AT DEVIL'S DEN IN ARKANSAS YOU AND TOBY HAVE BEEN PICKED UP BY A BEAM?
You know, I ask that question every day of my life, huge question. I can draw the assumption that these human beings were working in concert with the ETs. The little guys, I call them worker bees, and the little guys were grey, ashen grey.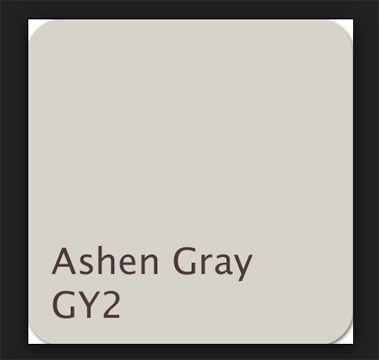 Alien Being "In Charge"
"It knew everything about me." – Terry Lovelace
But there was a taller being about six-foot-tall who was not grey but was kind of a pale pink with a bit of ashen color to it. This being had larger than average eyes, black, and wore a uniform with a V-neck. Whatever this thing was, it was clearly in charge. It carried itself with an air of authority. I never saw it communicate with anybody, but my gut told me that this was the guy that was running the show.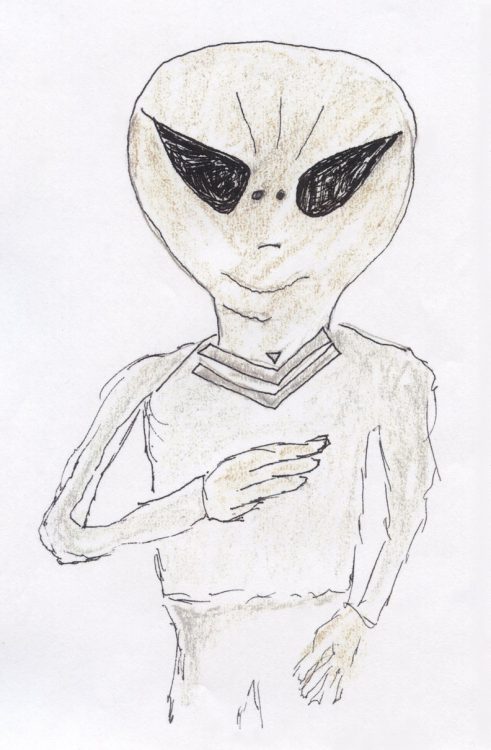 HOW TALL WAS THIS BEING IN CHARGE?
A little over six-foot-tall.
OVER SIX FEET.
I can't move my head, but I can move my eyes and I could see there was motion. And I move my eyes as far left as I could, and at that same instance, this guy must have turned to his right. The being raised its hand. It raised its hand from down below its waist to up about chest height. That's the only way that I knew there were four long fingers because when it turned and we locked eyes, it moved its arm across its upper torso, and that's when I saw the four long fingers.
And I think it was by accident we locked eyes. In that millisecond when we established contact with our eyes, that thing was in my head. It felt like it knew me, it knew my wife, it knew my plans, it knew my secrets. It knew everything about me. What I got back from those eyes was raw intellect. There wasn't an ounce of mercy or kindness or empathy or anything that's good. Nothing good. I got the feeling that it was there collecting information. Like they were Darwin."
[ Editor's Note:  Charles Darwin was a 19th Century geologist and biologist, best known for his 1859 book On the Origin of Species. His hypothesis was that all species of life have descended over time from common ancestors. This branching pattern of evolution resulted from natural selection in the "survival of the fittest" over the weakest. By the 1870s, scientists and the educated public had accepted evolution as a fact.]
Huge, Silent Triangular UFOs Described in whistleblower-leaked:  "SOM1-01 MAJESTIC-12 GROUP SPECIAL OPERATIONS MANUAL: Extraterrestrial Entities and Technology, Recovery and Disposal TOP SECRET/MAJIC EYES ONLY printed in 1954, U. S. Government Printing Office, Washington, D. C.
Paragraph 9. Description of Craft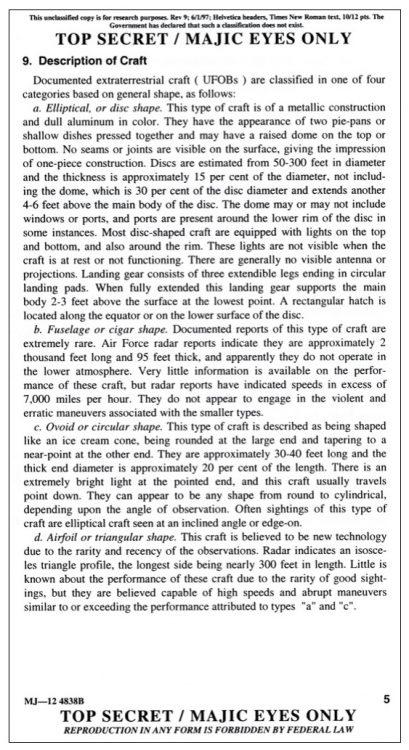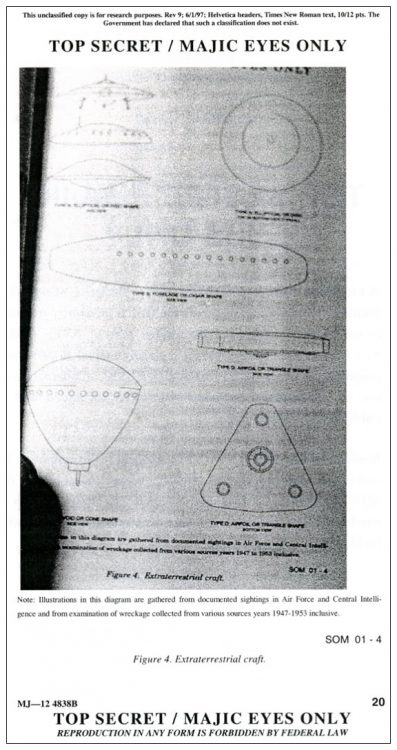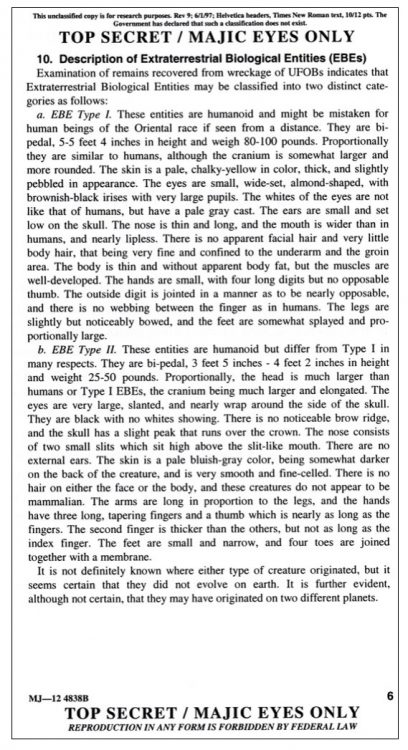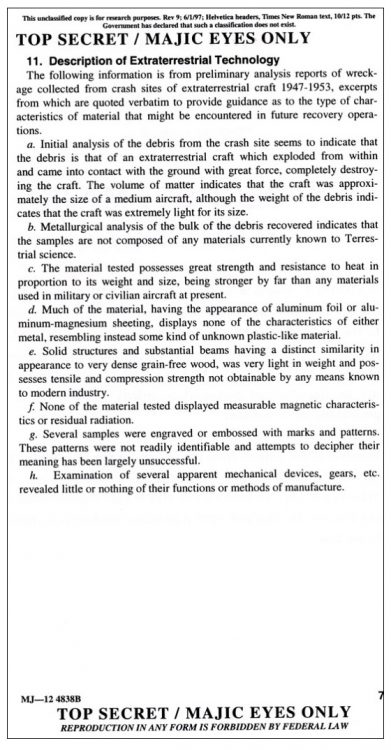 If anyone has more firsthand information about the SOM1-01 document or facts about the current status of non-human interactions with Earth, please email [email protected] All requests for confidentiality are honored.
Also see:
---
More Information:
Available at Terry Lovelace Website; and Amazon.com.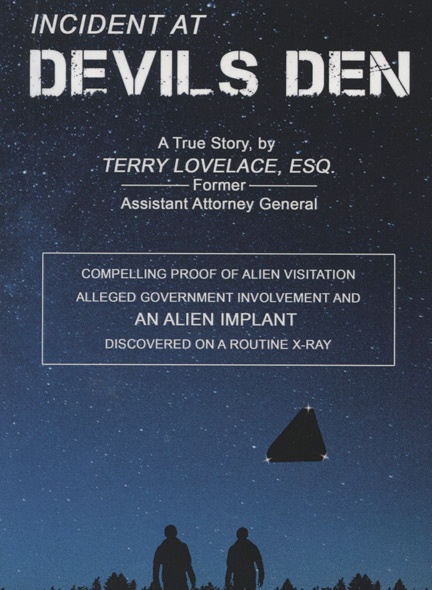 09-26-2014 – Part 2: Large Aerial Triangle Reports from 1800s to Present
04-08-2014 – Email from Earthfiles Viewers about Aerial Triangles, Metal Sounds and High Strangeness
01-28-2014 – Strange Humanoid Encountered in Canada Garage
11-05-2012 – Viewer Letters About Unidentified Aerial Triangles and Odd Lights
11-25-2009 – Mysterious Aerial Lights and Beams in Pennsylvania Woods
10-21-2007 – Viewer Comments About Big Triangles and Lights – In Conflict?
03-16-2007 – Tenth Anniversary of March 1997 Phoenix Lights: What Was the 2-Mile-Long Triangular Craft?
12-02-2005 – Abduction by Grey ETs in Huge, Black Triangle 
09-21-2005 – Silent, Unidentified Aerial Triangle Entered Thunderstorm Over Fairborn, Ohio
---
Websites:
Terry Lovelace Website:  http://www.terrylovelace.com/
The Majestic Documents About An Alien Presence:  http://www.majesticdocuments.com
SOM1-01 MAJESTIC-12 GROUP SPECIAL OPERATIONS MANUAL: Extraterrestrial Entities and Technology, Recovery and Disposal TOP SECRET/MAJIC EYES ONLY printed in 1954 at U. S. Government Printing Office, Washington, D. C.:  http://www.noufors.com/Documents/SOM1-01%20Special%20Operations%20Manual.pdf

© 1998 - 2019 by Linda Moulton Howe.
All Rights Reserved.