"To breach the integrity of the skin and to penetrate to the level of the fascia where these (anomalous implant) things are embedded into your muscle tissue would leave a scar. But there is no scar. I don't know, I have never seen this before." 
— Radiologist examining Terry Lovelace right leg x-rays, V. A. Medical Center, Dallas, Texas, October 22, 2013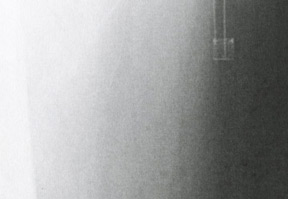 February 2, 2019  Garland, Texas – Terry Lovelace and Toby found themselves "being herded" by "little grey guys" down a big corridor inside the huge alien triangular craft. They found themselves turning left off the main corridor into a hallway lined with rows of what looked like foetuses in various sizes of growth suspended in aquarium tanks filled with pink liquid. They could hear a woman screaming somewhere in the distance and then Terry also heard the voice of his friend, Toby, yell, "Oh, my God!"
Next up, Terry finds himself on a table being examined by a tall, greenish-brown praying mantis insect with compound eyes and multiple appendages holding silver instruments. The tall insect entity appears to be a scientist "just doing its job," which was to interact with Terry's lower back. He was only 22 years old then and doesn't understand why he had so much pain from whatever the insect scientist was doing. But he would learn back on Earth in an Air Force examination that his lower back was prematurely deteriorating. Which came first? The human body weakening earlier than it should? Or did the non-humans experiment on Terry's lower back for unknown reasons? Or were the alien beings trying to help him?
---
Interview: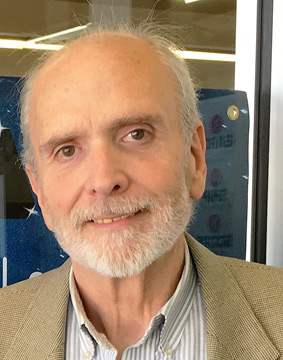 Terry Lovelace, Esq., retired Vermont Asst. Attorney General and former U. S. Air Force Staff Sergeant, Whiteman AFB, Missouri, about his June 1977 abduction along with his USAF buddy "Toby" by a huge triangular craft from a camp site in Devil's Den State Park, Washington County, Arkansas:  "And we're walking down a huge corridor walkway. After turning into hallway on my left (arrow and red words), to my right were rows and rows of aquariums.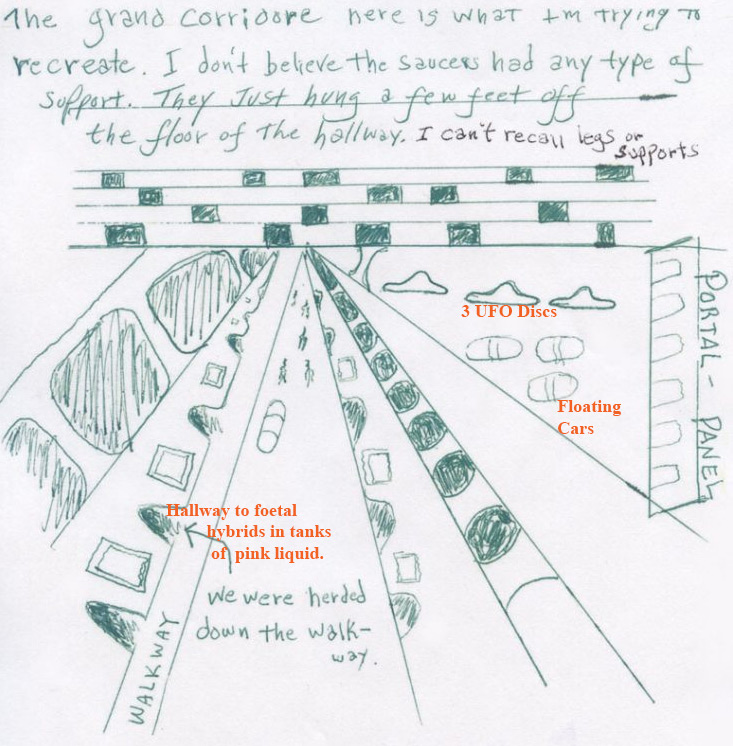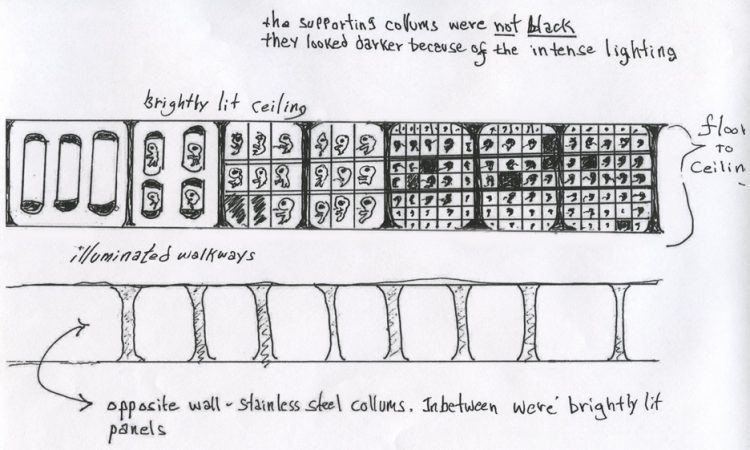 And they were full of pink water, and they have living things in them of assorted sizes. I don't think they were human either. I think that they were hybrid. These things were there being fed and nurtured and bred and engineered, whatever they were. The smaller ones especially had that curved shrimp-like thing in their development. And I did not want to look at them, but I couldn't take my eyes off them. And one of them twitched. I was looking at it, and an eyeball in this thing twitched. And when it did, I just lost it. I remember screaming. For some reason, that terrified me. And that's been a consistent nightmare. This thing making eye contact with me. There was a stainless-steel panel, and there was etched in it a floral pattern. And I thought it was odd that they would put a decorative floral panel.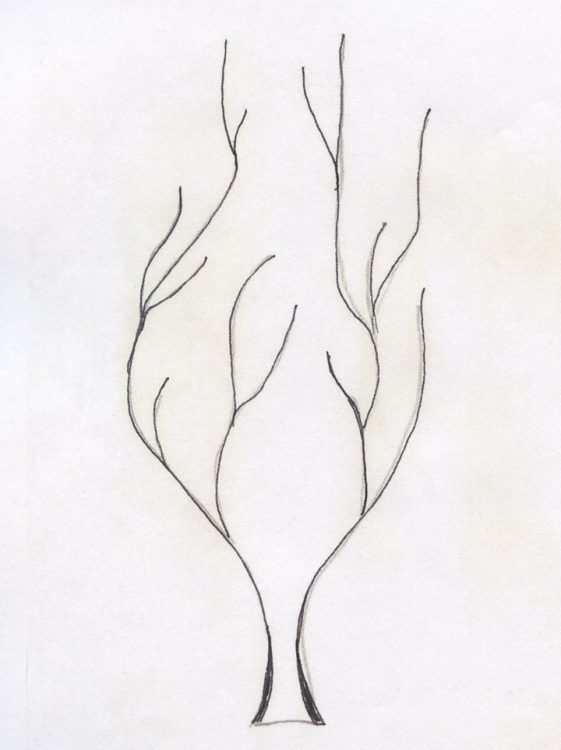 IT MIGHT NOT HAVE BEEN A FLORAL PANEL. IT MIGHT HAVE BEEN A PATTERN RELATED TO THEIR GENETIC HYBRIDIZATION.
Sure could have been because it was a winding tree-vine type of thing. There were glyphs of some kind on the wall.
WHAT GLYPHS?
Etched into the metal, I recall a triangle, a circle, a thing that I call the pipe wrench. It's like the letter F lying with the flat side down. There were two chevron-shaped images in a pair.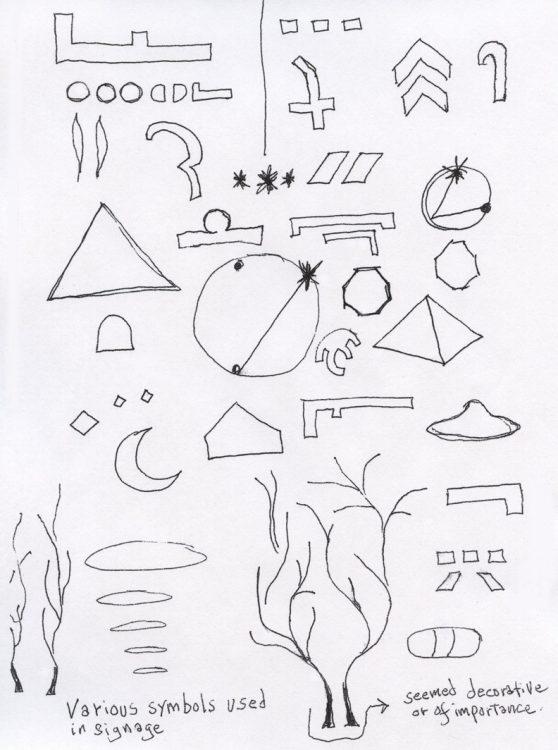 ARE THEY ALL INSIDE OF A RECTANGLE YOU ARE REFERRING TO AS THE BOX?
Yes, that's right. It's like an outline.
SORT OF LIKE EGYPTIAN WHEN THEY WOULD WRITE INSIDE OVALS OR RECTANGLES.
Yes.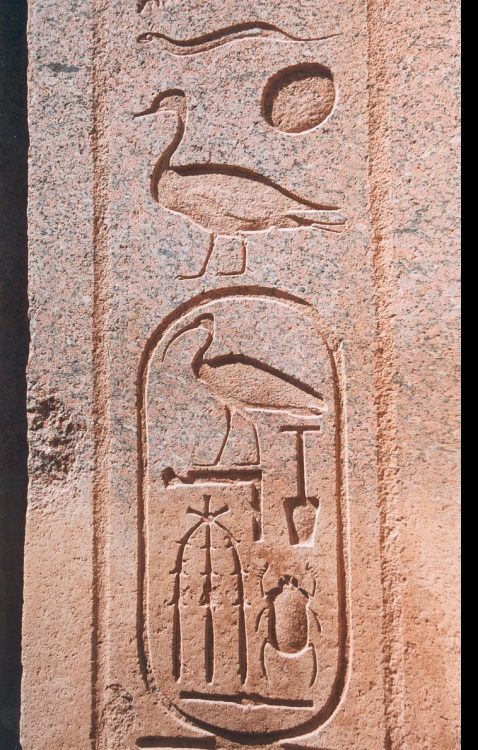 Was Huge Triangular Craft Silent Inside?
WAS EVERYTHING AROUND YOU IN THAT EXPERIENCE OF BEING IN THAT CRAFT WITH THE TALL SIX-FOOT-TWO BEING IN CONTROL AND ALL OF THE LITTLE TWO-FOOTERS CARRYING OUT WORK, WAS IT ALL COMPLETELY SILENT?
No. The sounds were slight. It was the sound of the shuffling of feet. You could hear entities walking. It wasn't a loud noise or a lot of noise, but it certainly wasn't silent in there. And there was, oh my God, a woman that was screaming.
WHAT WAS SHE SAYING IN THE SCREAM?
She wasn't saying any audible words. She was screaming like she was in pain. At some point, Toby, he was to my left, and then he wasn't. And I heard him scream, "Oh my God! Oh my God!" No other words, like the woman. And then it was my turn. And I was nude, then I was on the table. And I recall that the table was warm because human bodies had been on it.
Tall Praying Mantis Entity Interacts with Terry's Lower Back
And I recall screaming. With my eyes looking down, I could see my chest and my abdomen expand as I'm screaming, and I'm puzzled because I'm screaming as loud as I can, and I can't hear anything! And there's the praying mantis-headed thing about six-foot-tall.
YOU'RE SAYING THE WORDS "PRAYING MANTIS." WHAT ARE YOU LOOKING AT?
I'm looking at a triangular-shaped head with bulbous eyes on either side, and they are multi-faceted. If I got up and could look closely into its eyes, I would see like a mirror image just like you would of an insect.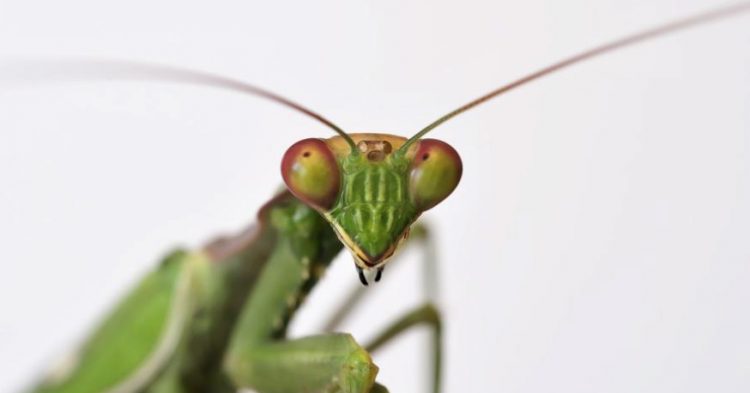 WHAT COLOR ARE YOU LOOKING AT?
I want to say green, brownish-green. I get a flash of silver because this thing is using these tools, and they had me in an odd position, and they're doing something to my lower back. I don't know what they did, but it was very painful. And I look at the bug thing with a head about the size of a watermelon.
THAT'S BIG.
It was big.
WHAT COLOR WERE THE EYES?
The eyes were a greenish-brown. It had long forearms, and at the end of the appendage, there were fingers that ran up the forearm. So, it was able to hold onto and manipulate three or four tools in one hand.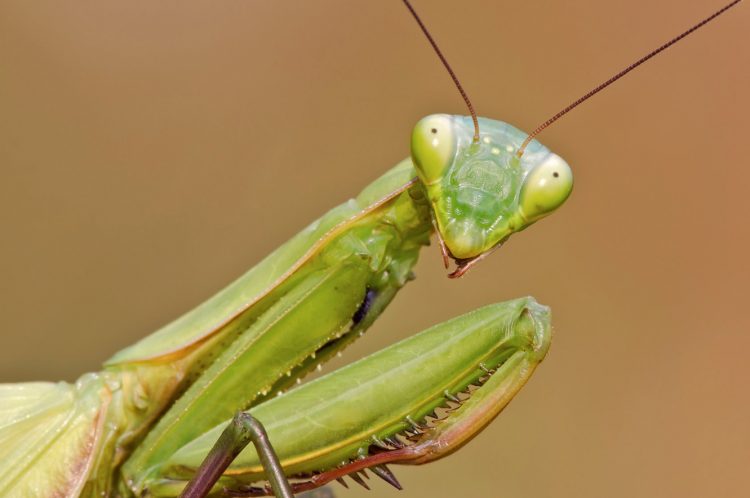 Praying Mantis "Scientist"
I must be screaming because that's when it spoke to me telepathically. And I could sense from its voice in my head) that it was annoyed. And it said, "Why are you screaming? You know we don't hurt you. You know we take you back."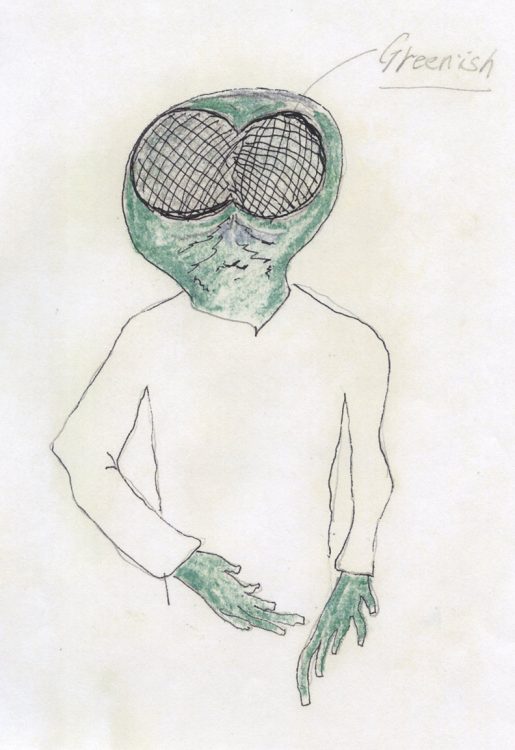 And he hit me on top of the head with a finger, and then that's it. I was out. And I got the feeling that if this thing could talk to me, it would be something along the lines of, "Eh, just doing my job, man. Another day at work." The six-foot-tall thing, yeah, different vibe from him totally. And that's what makes me think that the six-foot-tall pinkish-pasty-looking, more humanoid being, was the one in charge.
DID YOU GET ANY TELEPATHIC OR IMAGE OR ANYTHING FROM THE PRAYING MANTIS ABOUT WHY THE PRAYING MANTIS WAS INTERACTING WITH YOU AT ALL?
No. I knew he was doing something to my lower back.
Back to Camp Site
WHAT'S YOUR VERY NEXT MEMORY AFTER THAT?
My very next memory is being dropped off. That's when they kicked us out. That's when we were about six feet to the right passenger side of my car, about 25 feet from the tent.
YOU AND TOBY WERE DROPPED OFF ON THE GROUND BETWEEN YOUR CAR AND THE TENT, WHERE YOU HAD STARTED OUT IN THE TENT ASLEEP.
That's correct.
SO, NOW DESCRIBE AS BEST YOU CAN WHAT YOU ARE REMEMBERING THAT YOU SEE, HEAR, AND DO AS YOU BECOME CONSCIOUS.
We were outside the car, and I remember being physically dragged back inside the tent. But I was barely conscious. And then once inside the tent, I was out. I was unconscious. And I don't know how much time passed. And that's when the lights woke me up, and that's when I discovered Toby was on his knees next to me, and that I was in pain.
THAT HE WAS CRYING.
And he was crying."
From June 1977,  Age 22, to Thirty-Six Years Later On
October 22, 2013, Age 58 — Anomalous Objects in Terry's Right Leg
In 1979, a couple of years after Terry Lovelace was honorably discharged from the U. S. Air Force on Whiteman Air Force Base in Missouri, he had taken up running for exercise. That's when he noticed a spot above his right knee that went numb when he jogged.
Then 34 years later on October 22, 2013, at age 58, Terry's leg gave out completely. He fell and ended up in the Dallas, Texas, Veteran's Administration Medical Center Radiology Department staring at X-rays of his right knee and thigh. A female radiology tech took x-rays and radiograms. Then a male radiologist told Terry that one anomalous object above his right knee was made of metal with wires attached and wanted to know what had happened — how did the metal object get into Terry's right leg? Terry answered that he had no idea how anything got in his leg without his knowing, but that since 1979 when he ran a couple of miles, there would always come a "numb spot" where the radiologist showed him the strange metal object on the x-ray.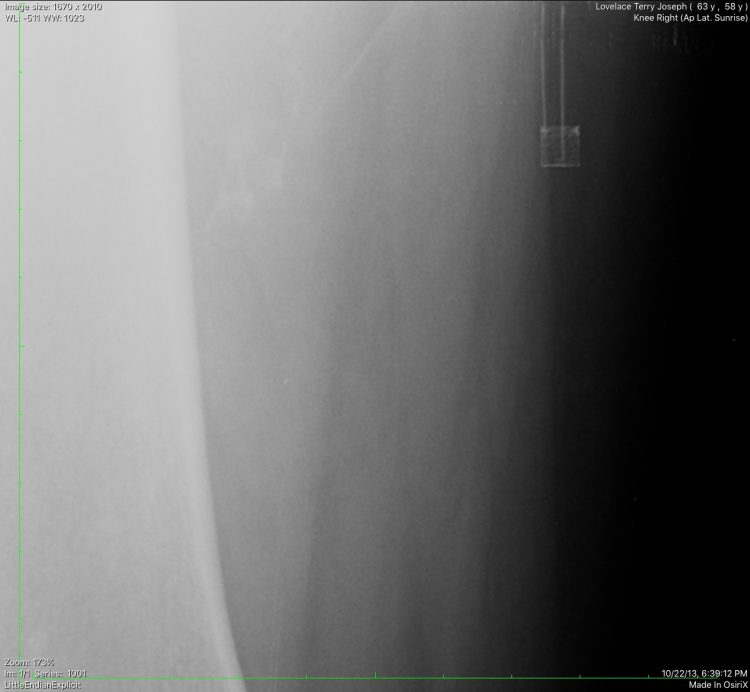 The radiologist said there must be scar tissue and looked on the skin surface and in radiograms of the subcutaneous tissue in which the metal implant was embedded. After his detailed exam, the radiologist admitted he could not find any scar tissue and was puzzled.
Further, in x-rays of Terry's right knee, there was a 5-petalled flower-like object that glowed white.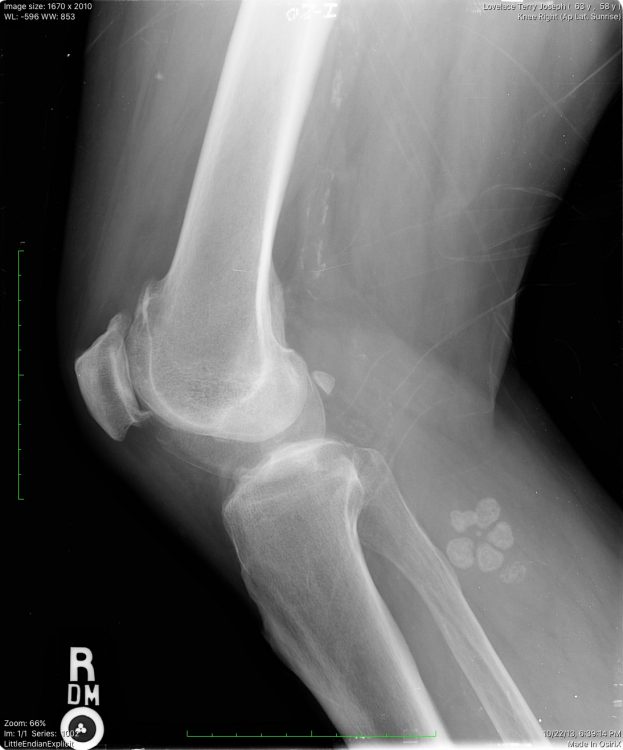 The radiologist hypothesized that it was a Baker's cyst, which would have caused Terry's right leg to collapse that day. But that radiologist and another that I showed Terry's x-rays to for analysis told me that the Baker's cyst would be her professional diagnosis as well.
[ Editor's Note:  Baker's cyst is a fluid-filled cyst that causes a bulge and a feeling of tightness behind your knee. … A Baker's cyst, also called a popliteal cyst, is usually the result of a problem with your knee joint, such as arthritis or a cartilage tear.]
But she conceded that she had never seen a Baker's cyst present with such uniform geometry before. Another medical doctor raised the question: if the metal square with wires was an alien implant, could the petalled flower object be another alien implant deliberately camouflaged as a Baker's cyst?
Terry Lovelace describes his interaction with the Dallas, Texas, V. A. radiologist on October 22, 2013, after his right leg had collapsed and his wife took him to the V. A. Medical Center's Emergency Room and Radiology Lab:   "I asked to see my x-rays. The x-ray technician was confused. She says, 'Did you suffer a shrapnel wound? Have you been in a car accident? How did you get this piece of metal in your leg, and how did you get this wire in your leg?'"
I said, "I don't have the slightest idea what you're talking about." And she took a couple more sets of x-rays. Come to find out, she took 24 films. [But Terry only received 5 x-rays two weeks later after he asked to have a record of what was found in his October 22, 2013, right leg collapse radiology examination.]
There was obviously something unusual about them because they were up on the radiology board. And the tech popped them up on the screen. First, there were two things immediately noticeable. Number one, there was at the very top and to the far right of the x-ray, you'll see what looks like a little computer chip. And it has two wires attached to it, and those wires run straight up toward my head. That, I didn't understand at all. What I did understand was this computer chip-like device lay directly underneath that numb spot. So, that's what makes me think that this computer chip-like device was implanted in my leg, probably in 1977 (during the triangle UFO abduction of Terry and Toby from Devil's Den camp site).
WOULDN'T YOU ASSUME THAT IT WAS JUNE 1977 WITH THE ABDUCTION OF YOU AND TOBIAS FROM DEVIL'S DEN INTO THAT HUGE TRIANGULAR SHIP, WHERE YOU WERE PUT ON A TABLE AND YOU'RE NOT CERTAIN WHAT THEY DID (to your lower back)? BUT IT IS LIKELY THAT THESE IMPLANTS WERE PUT INTO YOUR RIGHT LEG THEN?
I think 1977 is absolutely when they were put in. But if you place it on a timeline, the numb spot didn't occur until 1979.
I'M LOOKING AT THE X-RAY OF YOUR RIGHT LEG SHOWING THAT SQUARE OBJECT WITH THE TWO VERY STRAIGHT WIRES GOING UP FROM IT. AND RIGHT BELOW IS AN X-RAY THAT SHOWS A ONE, TWO, THREE, FOUR, FIVE PETALED FLOWER PATTERN.
Yes. The radiologist referred to that as a "florette." And he said, "Hm?"
I asked him, "What are these, doctor?"
And the female x-ray technician said, "I've never seen anything like these before."
The radiologist said, "I don't recall ever seeing anything like this, but I think these things, based on their density, I think they're the same density as bone." He was concerned that I would have a scar. He really thought that these were foreign objects that somehow got introduced into my skin and under my leg.
'He poked me in the knee and said, "You're going to find that it'll be right here. Watch. I'll show you."
And he starts looking at my knee. There's no scar. Then he looks below and above my knee. There is no scar. And he had an assistant, and she went and retrieved that handheld blacklight to examine my knee because I guess scar tissue will fluoresce under a black light. And the two of them looked at my knee for a while, and they could find no scar because there is no scar.
And I asked him, "Doctor, how often is it that you find a foreign object embedded inside the human body without there being a corresponding scar?"
And he said, "Never."
He said, "To breach the integrity of the skin and to penetrate to the level of the fascia where these (anomalous implant) things are embedded into your muscle tissue would leave a scar. But there is no scar. I don't know, I have never seen this before."  He seemed genuinely befuddled, confounded.
IT'S INTERESTING TO ME BECAUSE I HAVE INTERVIEWED SO MANY PEOPLE IN THE HUMAN ABDUCTION SYNDROME, AND ONE OF THE ANOMALIES EVERY ONCE IN A WHILE, IS AN IMPLANT SOMEWHERE IN THE HUMAN BODY BUT NO SURFACE SCAR OF ANY KIND.
Yes! I read something by (podiatrist) Roger Leir, DPM, (who found odd foreign objects in feet of people in the human abduction syndrome he examined) that said one hallmark of a genuine alien implant is the lack of scar tissue."
Also see:
November 9, 2018:  High Strangeness Files about EBENs.
---
More Information:
Available at Terry Lovelace Website; and Amazon.com.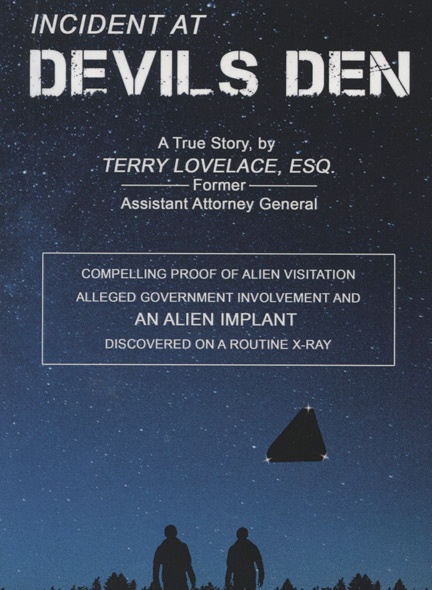 09-26-2014 – Part 2: Large Aerial Triangle Reports from 1800s to Present
04-08-2014 – Email from Earthfiles Viewers about Aerial Triangles, Metal Sounds and High Strangeness
01-28-2014 – Strange Humanoid Encountered in Canada Garage
11-05-2012 – Viewer Letters About Unidentified Aerial Triangles and Odd Lights
11-25-2009 – Mysterious Aerial Lights and Beams in Pennsylvania Woods
10-21-2007 – Viewer Comments About Big Triangles and Lights – In Conflict?
03-16-2007 – Tenth Anniversary of March 1997 Phoenix Lights: What Was the 2-Mile-Long Triangular Craft?
12-02-2005 – Abduction by Grey ETs in Huge, Black Triangle 
09-21-2005 – Silent, Unidentified Aerial Triangle Entered Thunderstorm Over Fairborn, Ohio
04-05-2013 – Part 4: Taxonomy of Extraterrestrial Biological Entities (EBEs)
03-29-2013 – Part 1: 12,000-Year-Old Gobekli Tepe – Is It Linked to the Star Deneb in the Cygnus Constellation?
03-29-2013 – Part 2: 12,000-Year-Old Gobekli Tepe – Was It A Soul Recycling Machine Linked to Deneb in the Cygnus Constellation?
03-11-2013 – Part 3: Taxonomy of Extraterrestrial Biological Entities (EBEs)
03-03-2013 – Part 2: Taxonomy of Extraterrestrial Biological Entities (EBEs)
02-26-2013 – Part 1: Taxonomy of Extraterrestrial Biological Entities (EBEs)
---
Websites:
Terry Lovelace Website:  http://www.terrylovelace.com/
The Majestic Documents About An Alien Presence:  http://www.majesticdocuments.com
SOM1-01 MAJESTIC-12 GROUP SPECIAL OPERATIONS MANUAL: Extraterrestrial Entities and Technology, Recovery and Disposal TOP SECRET/MAJIC EYES ONLY printed in 1954 at U. S. Government Printing Office, Washington, D. C.:  http://www.noufors.com/Documents/SOM1-01%20Special%20Operations%20Manual.pdf

© 1998 - 2019 by Linda Moulton Howe.
All Rights Reserved.