"Imagine taking a pile of metal five times larger than the Big Island of Hawaii and burying it underground. That's roughly how much unexpected mass we detected."
— Peter James, Ph.D., Asst. Prof. of Planetary Geophysics, Baylor's College of Arts & Sciences, Waco, Texas
June 11, 2019  Waco, Texas – This week a science team at Baylor University reported "Mass Anomaly Detected Under the Moon's Largest Crater," which is the lunar South Pole-Aitken Basin on the back side that never faces Earth. Their research is published in the current journal Geophysical Research Letters.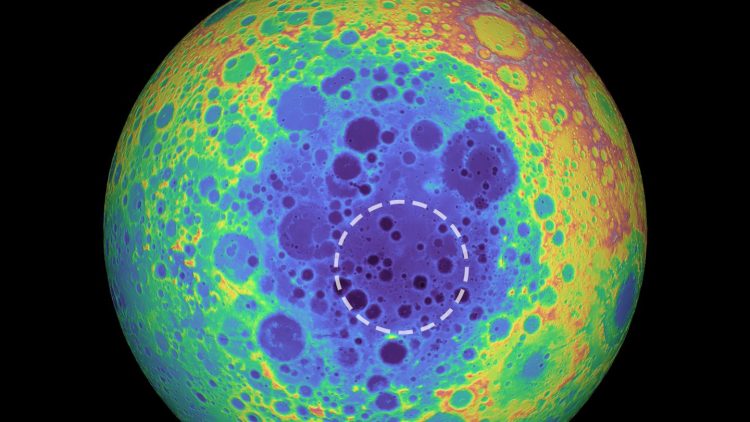 Baylor University planetary geophysicist Peter James, Ph.D., discovered the massive gravitational anomaly by analyzing data from spacecraft used for the NASA Gravity Recovery and Interior Laboratory, also known as the GRAIL mission. "When we combined the GRAIL data with lunar topography data from the Lunar Reconnaissance Orbiter (LRO), we discovered the unexpectedly large amount of mass hundreds of miles underneath the South Pole-Aitken basin," Prof. James said in a Baylor University news release. See Websites below.
One speculation about what is causing the huge, mysterious anomaly is perhaps a lot of metal on an asteroid that crashed into the Moon's backside mantle and is still embedded there. Prof. James says, "Imagine taking a pile of metal five times larger than the Big Island of Hawaii and burying it underground. That's roughly how much unexpected mass we detected."
Prof. James estimates that the deep crater causing the gravity anomaly is oval-shaped and at least 1242 miles in diameter (2000 km).  The dense mass — "whatever it is, wherever it came from" — is weighing the basin floor downward by more than half a mile. Computer simulations of large asteroid impacts suggest that, under the right conditions, an iron-nickel core of an asteroid may be dispersed into the upper mantle, which is the layer between the Moon's crust and core, during an impact.
"We did the math and showed that a sufficiently dispersed core of the asteroid that made the impact could remain suspended in the Moon's mantle until the present day, rather than sinking to the Moon's core,"  Another possibility is that the large mass might be a concentration of dense oxides associated with the last stage of lunar magma ocean solidification.
Prof. James says the South Pole-Aitken basin might have been created about 4 billion years ago of our 4.6 billion-year-old solar system. Astronomers describe the Aitken lunar dark side crater as "the largest preserved crater in our solar system."
Another Mysterious Deep Magnetic Anomaly
Is In Wilkes Land, Antarctica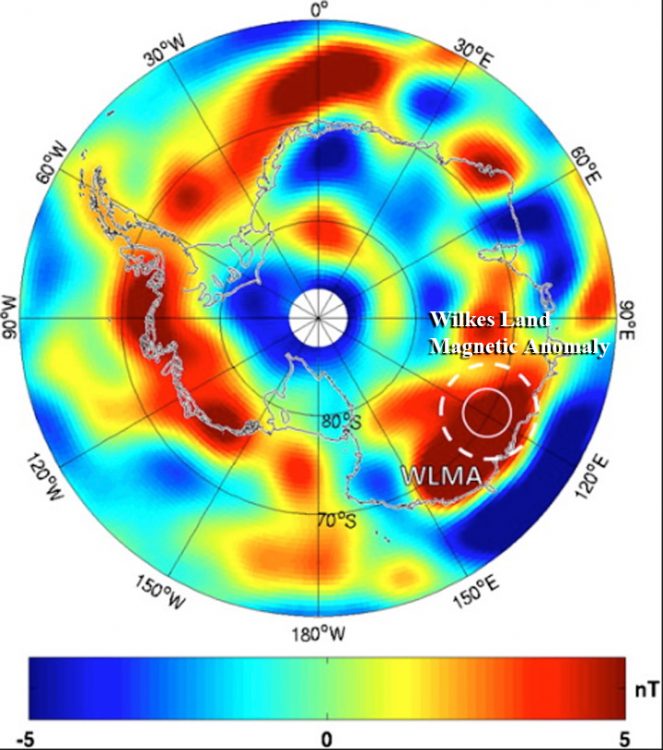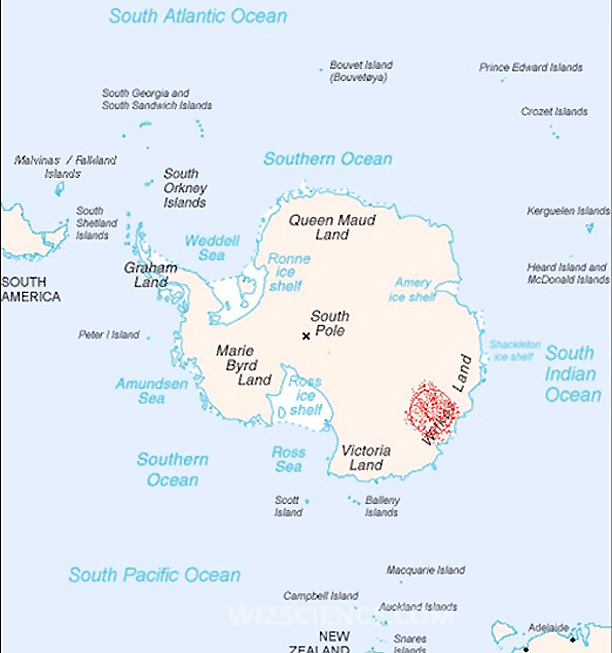 In my Part 3 videos of the military whistleblowers, U. S. Navy Seal Spartan 1 and U. S. Marine Spartan 2, I asked Spartan 1 about the Wilkes Land Magnetic Anomaly, also known as WLMA. This is the strongest magnetic anomaly on planet Earth, marked on the above magnetic fields map between the 70 and 80 degrees South latitudes and 120 degrees East longitude.
Here is excerpt from my Part 3 video available at my Earthfiles YouTube Broadcast Channel:
S-1 Commander Navy Seal: "What I've heard is that the Wilkes Land Magnetic Anomaly (WLMA) is a portal. A portal takes you from one structure to another; or to a vessel outside our atmosphere, like an invisible elevator. This particular portal was underground inside a structure (built by extraterrestrial  humanoids long ago).
LMH: WHAT DOES IT LOOK LIKE?
S-1: It has a frame. It has hieroglyphics. Whatever the meanings were, we still don't know. But the structure, or the frame of this portal, acted like a wormhole from Point A to Point B."
Also see: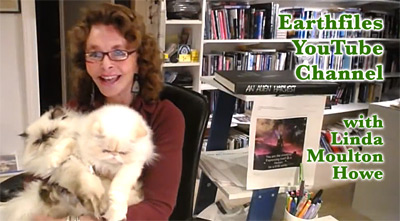 Countdown Clock Piano Music: Ashot Danielyan, Composer
Linda Moulton Howe's Antarctica Whistleblowers YouTube links
Parts 1 and 2 on Feb. 20; Part 3 on April 3; and Part 4 on May 15, 2019.
---
More Information:
12-22-2017 – Did A UFO Blow Up NASA's Ranger 3?
11-22-2017 – Nov. 12, 1963, JFK Wants to Review "All UFO Intelligence Files Affecting National Security"
05-30-2017 – Bigelow Aerospace Founder Tells CBS's 60 Minutes On May 28th "There Is An Existing Presence, An E.T. Presence" On Earth Now
10-28-2016 – Part 3: Hacked Podesta Emails — Alien Bad Guys? Good Guys?
07-02-2016 – NASA Photo Lab Tech Saw Negative of Alien "Object" On Moon Blacked Out.
07-01-2016 – Former NASA Engineer Says 5 Structured Domes in Moon Crater Photo Blacked Out
---
Websites:
Mass Anomaly Detected Under the Moon's Largest Crater, June 10, 2019, Baylor University Media: https://www.baylor.edu/mediacommunications/news.php?action=story&story=210457
On the Detection of the Wilkes Land Impact Crater, August 17, 2018, Earths, Planets and Space:  https://earth-planets-space.springeropen.com/articles/10.1186/s40623-018-0904-7

© 1998 - 2019 by Linda Moulton Howe.
All Rights Reserved.