Star Trek lovers will agree that this Martian dune photographed by NASA's Mars Reconnaissance Orbiter (MRO) "looks conspicuously like the famous Star Trek Starfleet logo."
— June 12, 2019 Tweet by HiRISE NASA MRO camera team, Univ. of Arizona, Tucson, AZ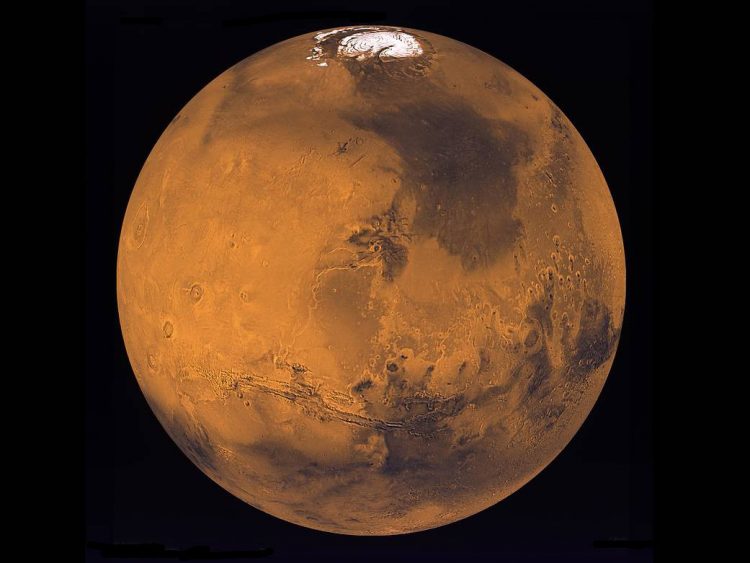 June 14, 2019  Tucson, Arizona – Earlier this week on Wednesday, June 12, 2019, the Mars Reconnaissance Orbiter (MRO) HiRise camera team at the University of Arizona in Tucson, tweeted a photo update of a Martian sand dune that closely resembles the famous chevron-shaped TV Star Trek logo for the Starfleet.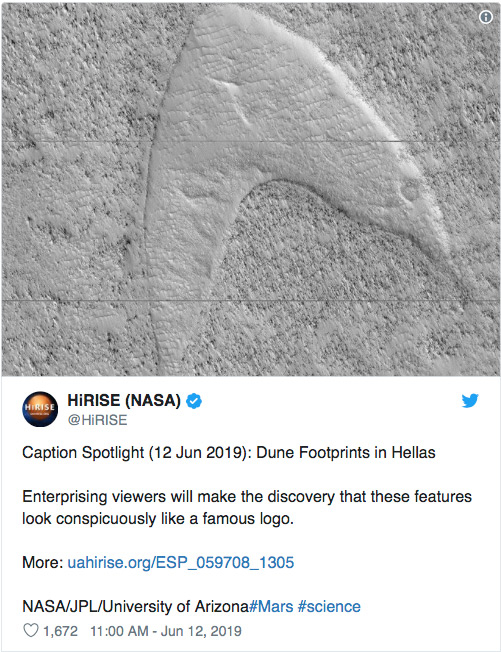 "These are also called 'dune casts' and record the presence of dunes that were surrounded by lava," said planetary scientist Ross Beyer. Here is a wider MRO view of chevron-shaped Martian sand dunes.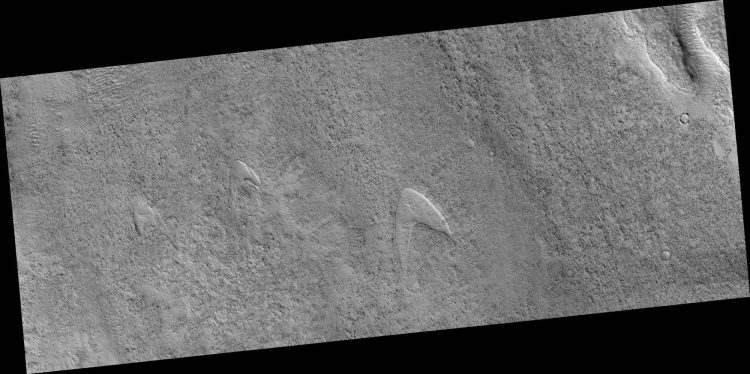 The chevron Star Trek Starfleet shapes were found in the southeast Hellas Planitia region of Mars, created by wind, lava and dunes. The Hellas Basin (map below) is the largest visible impact crater known in our Solar System. At some point in Martian history, crescent-shaped dunes were in the area. An eruption sent lava spilling out, moving around the dunes, but not covering them. As the lava cooled, the chevron dunes were solidified on the red planet's surface.
Hellas Planitia in Hellas Basin On Mars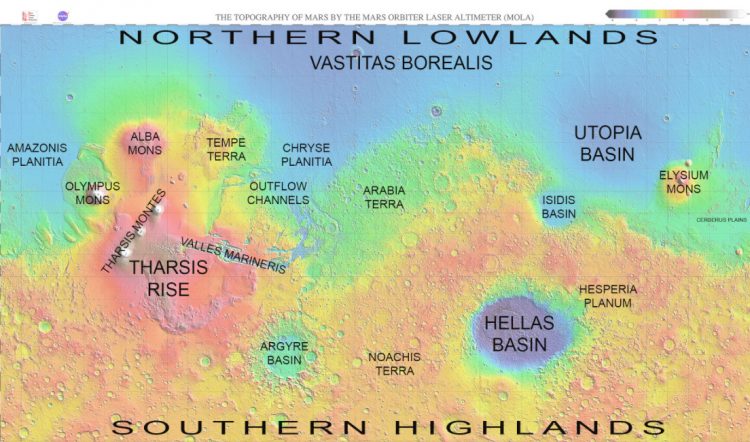 Also see:
11-01-2018 – Mars: Why It's A Strange Cloud and Not Volcano Smoke.
---
More Information:
08-08-2018 – Elon Musk's SpaceX Holding Secret Mars Workshop Today
07-25-2018 – Underground Lake Reported Beneath Martian South Pole.
07-01-2018 – Oumuamua — Comet? Asteroid? Other? Changing Speed and Course
06-19-2018 – Update: "We're Going to Have A Space Force … And Very Soon We're Going to Mars" – President Trump.
06-13-2018 – One of Largest Storms Ever Seen On Mars Threatens the Opportunity Rover.
06-07-2018 – NASA Confirms Organic Molecules On Mars — Will Life Evidence Be Next?
---
Websites:
Latest HiRISE Camera Tweet News:  https://twitter.com/hirise?lang=en

© 1998 - 2019 by Linda Moulton Howe.
All Rights Reserved.