"As Stephen Hawking says, the general consensus is that any comet or asteroid greater than 12 miles (20 km) in diameter that strikes the Earth will result in the complete annihilation of complex life – animals and higher plants."
— The DailyGalaxy, August 10, 2019
"This huge Great Red Spot anticyclonic storm is roughly the diameter of Earth and is rolling counterclockwise between two bands of clouds that are moving in opposite directions toward it."
— ESA/Hubble Public Affairs
News Update August 10, 2019:  A massive object hit Jupiter on Wednesday, August 7, 2019, and was big and bright enough for amateur astronomer Ethan Chappel to see with his telescope. Chappel tweeted, "Imaged Jupiter tonight. Looks awfully like an impact flash in the SEB (broadest, darkest belt near Great Red Spot on Jupiter)."
Ethan Chappel Tweet Animation of August 7, 2019 Impact Flash On Jupiter: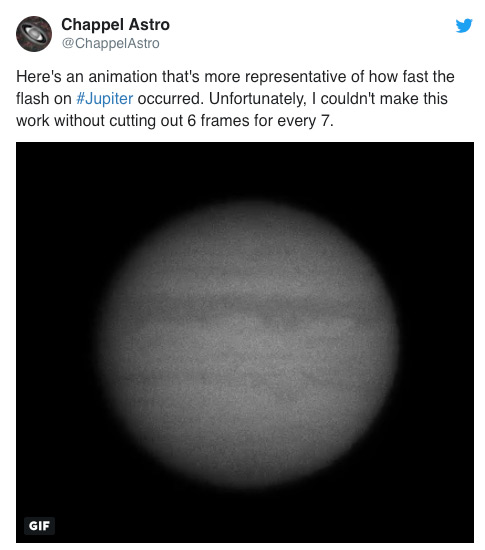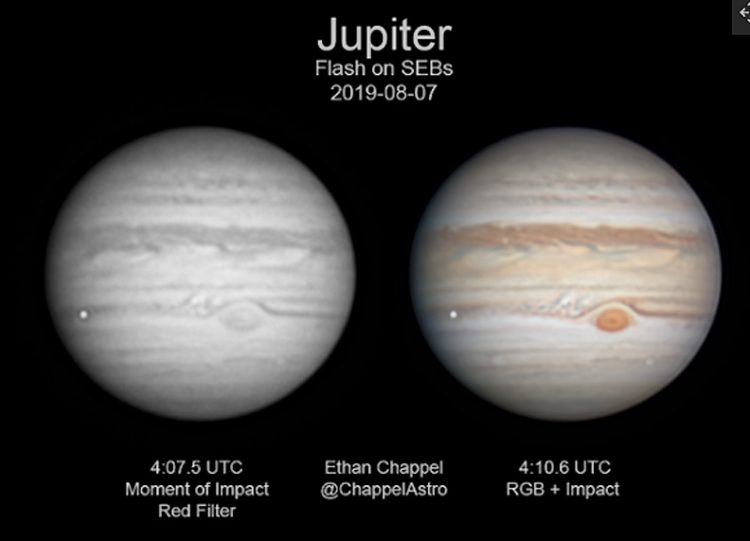 August 9-10, 2019  Baltimore, Maryland – A few weeks ago on June 27, 2019, the NASA/European Space Agency Hubble Space Telescope made a new and detailed image of Jupiter and its amazing bands of colored clouds, including the Great Red Spot, when Jupiter was at its closest distance in 2019:  644 million km from Earth. This extraordinary image was made with Hubble's Wide Field Camera 3.
ESA/Hubble News reported:  "Among the most striking features in the image are the rich colours of the clouds moving toward the Great Red Spot. This huge Great Red Spot anticyclonic storm is roughly the diameter of Earth and is rolling counterclockwise between two bands of clouds that are moving in opposite directions toward it.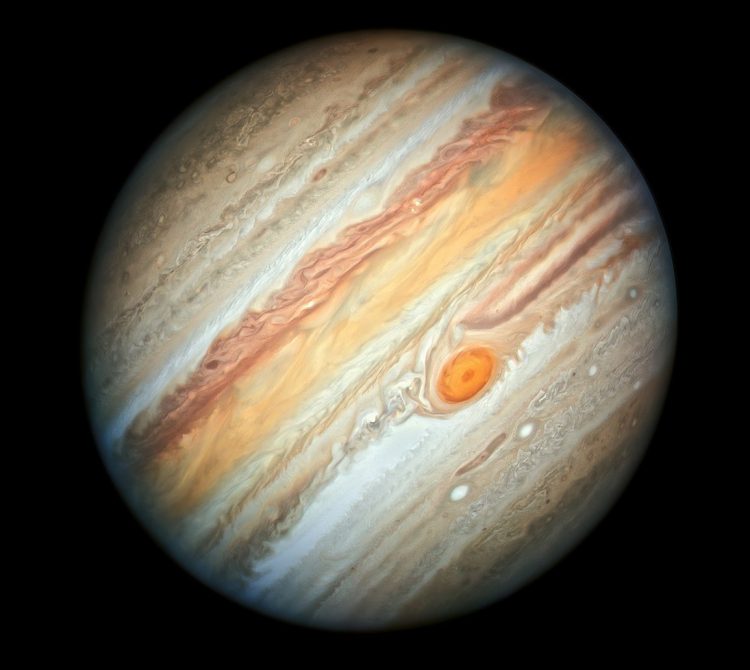 Jupiter's Mysterious Great Red Spot 
In 1665, Giovanni Cassini described a "permanent spot" on Jupiter that was likely his seeing the seemingly ever-present Red Spot storm. The new June 2019 image confirms that the huge red storm, which has raged on Jupiter's surface for at least 150 years, continues to shrink. The reason for this is still unknown, so Hubble will continue to observe Jupiter in the hope that scientists will be able to solve the Red Spot puzzle. Much smaller storms appear on Jupiter as white or brown ovals that can last as little as a few hours, but even some of those continue for centuries.
Jupiter's Great Red Spot rotates counter-clockwise, with a period of about six Earth days or fourteen Jovian days. Measuring 10,160 miles (16,350 km) in width as of April 3, 2017, Jupiter's Great Red Spot is 1.3 times the diameter of Earth. The cloud-tops of this storm are about 5 miles (8 km) above the surrounding cloud-tops.
Infrared data have long indicated that the Great Red Spot is colder — and so higher in altitude — than most of the other clouds on Jupiter. But oddly, the upper atmosphere above the storm has substantially higher temperatures than the rest of the planet. Sound frequencies rising from the turbulence of the huge storm below have been proposed as an explanation for the heating of this region.
Cyclone Spinning Below Jupiter's Great Red Spot
The thin, brownish worm-shaped feature south of the Great Red Spot is a cyclone, a vortex spinning in the opposite direction to the turning ingredients of the Great Red Spot spin. Researchers have observed cyclones with a wide variety of different appearances across the planet. The two white oval features are anticyclones, similar to small versions of the Great Red Spot.
ESA and Hubble report: "The Hubble image also highlights Jupiter's distinct parallel cloud bands. These bands consist of air flowing in opposite directions at various latitudes. They are created by differences in the thickness and height of the ammonia ice clouds; the lighter bands rise higher and have thicker clouds than the darker bands. The different concentrations are kept separate by fast winds which can reach speeds of up to 650 kilometres per hour."
Also see:
03-17-2018 – NASA's Dangerous Juno Mission Will Soon Try to Reach 3,000 Miles from Jupiter's Cloudtops Without Being Destroyed

© 1998 - 2019 by Linda Moulton Howe.
All Rights Reserved.